Many people, whether vegans or those considering veganism, have concerns about whether a plant-based diet can supply all the nutrients they need to stay healthy. The short answer is: yes, it sure can! As we explain in more detail when looking at vegan vitamins & supplements, there is very little, if indeed anything, in the way of nutrients that cannot be obtained through vegan-friendly foods.
With that in mind, it still takes some thought and planning to ensure your vegan diet covers all bases from a nutritional point of view. Of course most people don't have a degree in nutrition or a well-equipped lab in which to analyse the nutrient content of all the food they are going to consume. But most people do possess a little common sense, and the common sense way to get all the right nutrients is to follow a balanced diet.
What is a Balanced Diet?
There are plenty of fad diets kicking around that people can get their teeth into. Conventional wisdom – and indeed advice from nutritionists and governmental and non-governmental organisations – suggests that a so-called balanced diet is the best option in terms of promoting a person's health and longevity. But what exactly is a balanced diet?
In essence, it is just as it sounds and simply involves eating a wide variety of foodstuffs from the main food groups. By eating a range of fruit and vegetables, nuts and seeds, starchy carbohydrates and dairy (or vegan-friendly dairy alternatives), humans can obtain the protein, fibre, fats and sugars needed, as well as all the various vitamins and minerals.
There is no single foodstuff that contains all the nutrients that are essential for humans, so we are required to select a mix of foods in order to satisfy our needs. Which, frankly, is a lot more interesting anyway – who wants to eat the same food every day? Here we give a little more detail about the different groups and about the Dietary Reference Intakes (DRIs) suggested for people to be healthy.
Macronutrients & Micronutrients
Those familiar with Greek will know that macro means "big" and micro means "small". In dietary terms, the difference between macronutrients and micronutrients is one of scale: you simply need to consume more macronutrients to maintain a healthy body than you do micronutrients.
In general terms, macronutrients are usually considered to be carbohydrates, fat and protein, though some also consider fibre and in generic terms "energy" (I.E. calories) as such. Micronutrients are the more specific vitamins and minerals the body requires in small quantities. Here we take a look at the daily requirements of the main nutrients.
Daily Nutritional Requirements for Adults
Typical Value
Unit
Daily Requirement* – Adult Male**
Daily Requirement* – Adult Female**
Energy
kcal
~2600
~2100
Fat
%
<35% of daily energy
<35% of daily energy
Saturates
%
<11% of daily energy
<11% of daily energy
Carbohydrate
%
50% of daily energy
50% of daily energy
Of which sugars
%
<5% of daily energy
<5% of daily energy
Fibre
g
30
30
Protein
g
0.75 per kg of bodyweight
0.75 per kg of bodyweight
Salt***
g
<6
<6
Minerals
Calcium
mg
700
700
Iron
mg
8.7
14.8
Magnesium
mg
300
270
Phosphorous
mg
550
550
Potassium
mg
3500
3500
Sodium***
mg
1600
1600
Zinc
mg
9.5
7.0
Copper
mg
1.2
1.2
Selenium
µg
75
60
Iodine
µg
140
140
Vitamins
Vitamin C
mg
40
40
Thiamin
mg
1.0
0.8
Riboflavin
mg
1.3
1.1
Niacin
mg
17
13
Vitamin B6
mg
1.4
1.2
Folate
µg
200
200
Vitamin B12
µg
1.5
1.5
Vitamin A
µg
700
600
Vitamin E
mg
4
3
Vitamin D
µg
10
10
*Figures taken from the 2016 Nutrition Requirements document from the British Nutrition Foundation
**Note there are other variables that can affect the requirements. Seek professional advice where applicable.
***6g of salt is the maximum recommended intake whilst the sodium requirement is the minimum level generally needed to maintain health and is included within that salt.
Nutrient-Rich Vegan Foods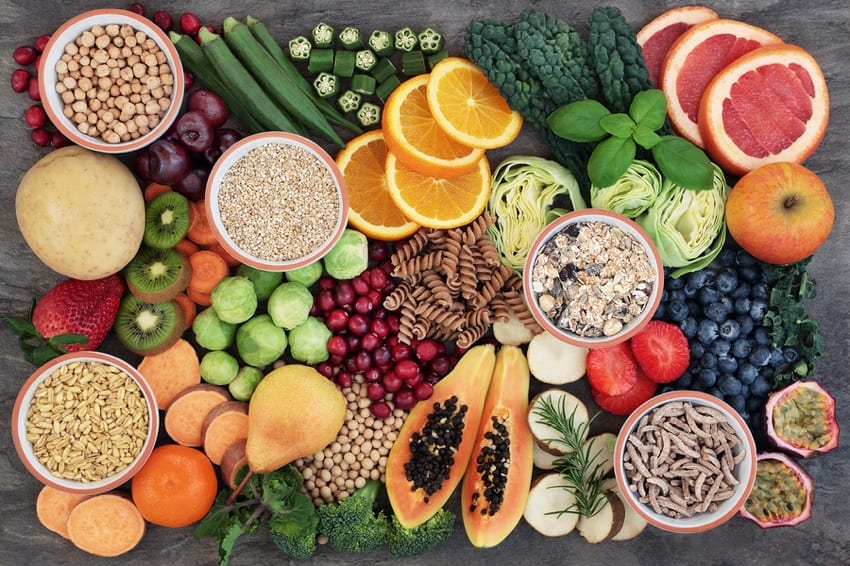 There are very few essential nutrients that are not readily available from a plant-based diet. Certain vitamins (e.g. Vitamin D) and minerals (e.g. Iodine) take a little more forethought than something like protein (as there are loads of great vegan sources of protein). But here are some options if you think you are lacking in any of the main nutrients people might seek to consume more of.
Vegan Sources of Essential Nutrients
| Typical Value | Vegan Food Sources |
| --- | --- |
| Fibre | Rye, most wholegrains, legumes |
| Protein | Seitan, tofu, chickpeas, nutritional yeast, lentils, beans, tempeh, edamame |
| Calcium | Fortified milk alternatives, broccoli, kale, calcium-set tofu |
| Iron | Lentils, soy beans, nuts and seeds, chickpeas, kale |
| Magnesium | Nuts and seeds, quinoa, avocado, edamame |
| Phosphorous | Garlic, lentils, kidney beans, brown rice, apricots |
| Potassium | Sweet potatoes, spinach, chard, white beans, beets |
| Zinc | Chickpeas, lentils, beans, nuts, whole grains |
| Copper | Nuts and seeds, shiitake mushrooms, tempeh |
| Selenium | Brazil nuts |
| Iodine | Seaweed |
| Vitamin C | Broccoli, pineapple, kiwi, peppers, oranges, spinach, mango, berries |
| Thiamin | Nuts and seeds, nutritional yeast, soy beans, white beans, seaweed |
| Riboflavin | Fortified cereals, almonds, mushrooms, buckwheat, prunes |
| Niacin | Nutritional yeast, chilli powder, buckwheat, sunflower seeds |
| Vitamin B6 | Soy beans, bananas, chickpeas, prunes, chia seeds, kale, peppers |
| Folate | Spinach, peanuts, sunflower seeds, peas, celery, leeks |
| Vitamin B12 | Soy beans, fortified milk alternatives, Marmite |
| Vitamin A | Carrots, fortified cereals, kale, spinach, chard, romaine lettuce |
| Vitamin E | Sunflower seeds, hazelnuts, almonds, wheat germ oil, pine nuts |
| Vitamin D | Fortified milk alternatives, sun-exposed mushrooms, fortified orange juice |
Reference Nutrient Intakes (RNIs) vs Recommended Dietary Allowance (RDA) vs Dietary Reference Values (DRVs)
Nutrition, like many fields that rely on science, is a world of acronyms. These can become confusing, especially when you're trying to work out what the information on a food label means, whilst traipsing two young kids around the supermarket. As such, it can save a lot of time and hassle if you know your RDIs from your RDAs and DRVs (and that's just the start of it!).
According to the British Nutrition Foundation, the UK uses a set of Dietary Reference Values (DRVs) to produce a "series of estimates of the energy and nutritional requirements of different groups of healthy people in the UK population". There are four types of DRVs, namely:
The Four Types of Dietary Reference Values
Estimated Average Requirements (EARs) – This is an estimate for the average required of a nutrient for a given population, meaning that around half will require more, and around half will require less.
Reference Nutrient Intakes (RNIs) – More usefully, the RNI of a nutrient refers to the amount required by 97.5% of a given population (e.g. adult males) to make sure they meet their nutritional needs.
Lower Reference Nutrient Intakes (LRNIs) – The LRNI refers to the amount of a nutrient required by the lowest 2.5% of a population whose requirements are particularly low.
Safe Intake – When there is not enough evidence to set one of the above values, the Safe Intake is used to suggest a value that is safe for the vast majority of people and below a level at which detrimental effects could occur.
The most useful DRV for the majority of people is therefore the Reference Nutrient Intake, often just referred to as the Reference Intake (RI). Bear in mind, though, that these values vary based on whether someone is male or female, their age and in some cases how much they weigh, as well as variations in metabolism and endocrinology, growth, pregnancy and lactation and menstruation.
Also bear in mind that there is a lot of inconsistency when it comes to food labelling and some might refer to Recommended Daily Amount (RDA), which has been replaced by the RNI (or RI).
Traffic Light Labels on Food
A lot of people don't have the time (or inclination) to read food labels in detail, so a "traffic light" system of food labelling was introduced in the UK. It is not compulsory and does not appear on all foods, but it is increasingly being adopted by food retailers and producers. While the system has come in for some criticism for being too vague, it at least offers a snapshot of whether a particular food veers towards the healthy or not-so-healthy end of the spectrum. It doesn't tell you if it is vegan, of course, but can find out more about that in the Is It Vegan? area of the site.
The traffic lights refer to whether a foodstuff contains low (green), medium (amber) or high (red) levels of fat, saturated fats, sugar and salt, with the parameters for food and drink shown below. As these four items are all things that many people eat too much of, green/low is considered good with red/high considered bad.
Traffic Light Food Label Parameters – Food
Substance
Green (low) per 100g
Amber (medium) per 100g
Red (high)
Fat
less than 3g
between 3g and 17.5g
more than 17.5g per 100g
or 21g per portion
Saturated Fats
less than 1.5g
between 1.5g and 5g
more than 5g per 100g
or 6g per portion
Sugar
less than 5g
between 5g and 22.5g
more than 22.5g per 100g
or 27g per portion
Salt
less than 0.3g
between 0.3g and 1.5g
more than 1.5g per 100g
or 1.8g per portion
Traffic Light Food Label Parameters – Drinks
Substance
Green (low) per 100ml
Amber (medium) per 100ml
Red (high)
Fat
less than 1.5g
between 1.5g and 8.75g
more than 8.75g per 100ml
or 10.5g per portion
Saturated Fats
less than 0.75g
between 0.75g and 2.5g
more than 2.5g per 100ml
or 3g per portion
Sugar
less than 2.5g
between 2.5g and 11.25g
more than 11.25g per 100ml
or 13.5g per portion
Salt
less than 0.3g
between 0.3g and 0.75g
more than 0.75g per 100ml
or 0.9g per portion
When displayed on labels, the traffic lights can refer to 100g/ml of the food/drink, or a defined portion size. To make matters somewhat more confusing, the defined portion size is often not the obvious one.
For example, a drink or bar of chocolate that most people would consider to be a single serve might be classed as two servings, with the nutrition based on half of the sold product. An example of how it might be displayed is given below.
It can sometimes be a challenge to follow a truly balanced diet, but variety is the spice of life, and if you mix things up and use some of our nutritious vegan recipes in your diet, you stand a very good chance of fulfilling all your nutritional requirements from plant-based ingredients.