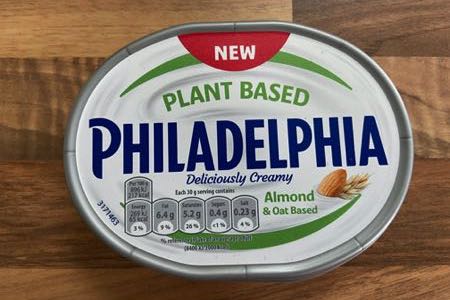 Philadelphia cream cheese is a much-loved, versatile kitchen staple for many non-vegans but now there is a genuinely superb plant-based version for vegans to enjoy! We have looked at vegan cheese substitutes and indeed vegan cream cheese substitutes before and it is safe to say that they are not always the best but having sampled (perhaps a little too extensively!) Plant Based Philadelphia we can confidently say that vegans will be thrilled with this product.
How Does Vegan Philadelphia Taste?
There are lots of criticisms levelled at vegan versions of different dairy cheese and cheese-based products. Sometimes they are too sweet, others can be cloying, occasionally they taste a little too strongly of coconut or some other base that has replaced the dairy, whilst many spread-style options are grainy or texturally just not quite right.
However, the people behind this vegan Philly have really nailed it and both our vegan and non-vegan taste-testers agreed. It lacks the same milky, "dairyness" of the original (which was invented in New York, not Philadelphia, more than 150 years ago) but has the same cooling, creamy texture and mouthfeel that is so important to the core products.
Aside from that milkiness that non-vegans will be used to, the only minor criticism we could level at this spread is that it has a very slightly sweet taste. This is despite the fact it actually contains less sugar than Philadelphia Original and is, in fact, very low in sugar. Even when used as a savoury cheese substitute this isn't off-putting though but it really comes into its own when using Plant Based Philadelphia in sweet dishes.
It is really easy, for example, to use this excellent product to make a cracking vegan cheesecake, whilst it would also work well as the basis for vegan icing for your favourite vegan cake. Every vegan has their own food that they miss and if yours is Philadelphia we think you'll be really satisfied with this, whether you use it as part of a quick, relatively healthy and certainly very easy snack, or you get a bit more creative and use it to make dessert.
What Is Plant Based Philadelphia Made Of?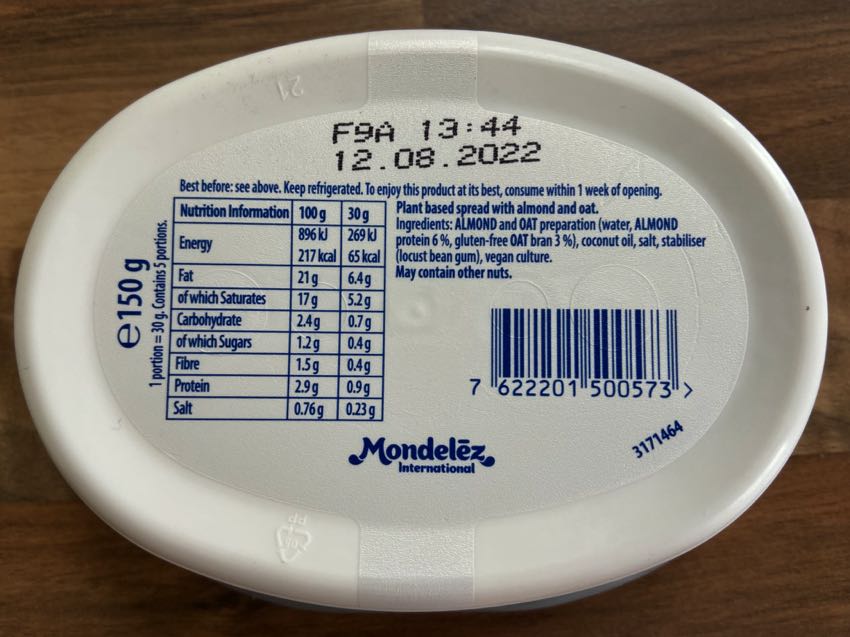 Why this product works is, we believe, down to the way they have combined three different base ingredients that are often used to make vegan milks. It uses almonds, oats and coconut milk and, for those who do not like heavily processed vegan food, contains relatively few ingredients. The full list is:
Almond & Oat Preparation (Water, Almond Protein 6 %, Gluten-Free Oat Bran 3 %)
Coconut oil
Salt
Stabiliser (locust bean gum)
Vegan culture
That really isn't many ingredients and most of them are minimally processed, "normal" ingredients that many vegan cooks would use on a regular basis. We've talked about locust bean gum elsewhere on the site and, needless to say, it isn't made from locusts! It actually comes from the seeds of the carob tree and, as such, is fully vegan.
Do Philadelphia Do Any Other Vegan Options?
Sadly, for the time being, it is only the single plant-based option that is available. When it comes to non-vegan versions of this popular cream cheese there are a few to choose from. There is a light version (with 40% less fat than the original, though as we explain below, the vegan option itself is lower in fat than the standard Philly), an even lighter "Lightest" Philly, as well as Garlic & Herbs, jalapeño-flavoured cream cheese, Philadelphia minis, a sweet version (featuring milk chocolate) and a range of snacking version (containing breadsticks alongside the standard cream cheese).
If Plant Based Philadelphia proves as big a hit as we predict it will then we would not be at all surprised to see Kraft expand their vegan offering. Adding flavours would be simple enough whilst it would also, we assume, be easy to create a sweet, plant-based offering using vegan chocolate. Watch this space…
Vegan Philadelphia Nutrition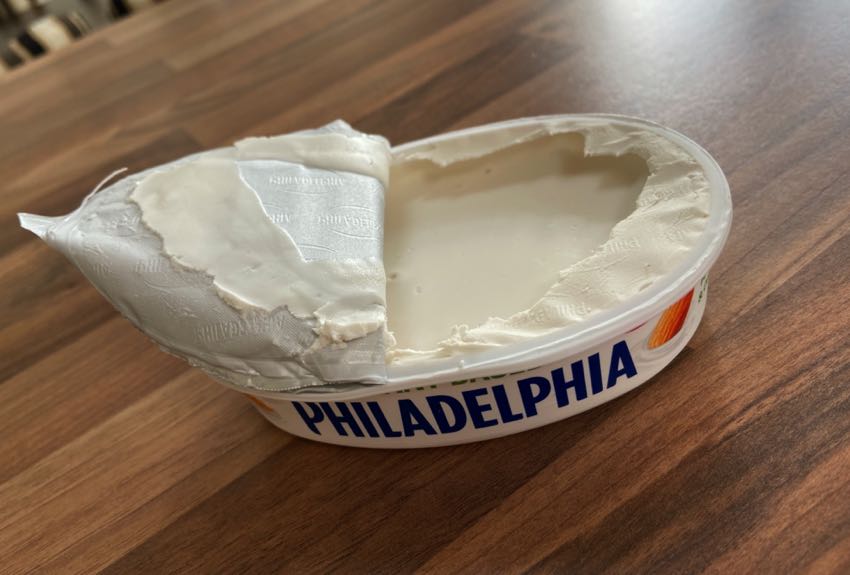 Fat and calories are far from the only things that matter when it comes to eating healthily but for those looking to lose weight they are certainly very important. And whether you are looking to slim down or simply control your calorie intake, it is good news when it comes to Plant Based Philadelphia because by these, and certain other metrics, it is at least no worse, and sometimes healthier than the traditional version of this product.
| (Values per 100g) | Plant Based Philadelphia | Original Philadelphia |
| --- | --- | --- |
| Calories | 217 | 226 |
| Fat | 21g | 21g |
| Of Which Saturated | 17g | 14g |
| Sugar | 1.2g | 4.3g |
| Fibre | 1.5g | 0.2g |
| Protein | 2.9g | 5.4g |
| Salt | 0.76g | 0.75g |
In truth, there really isn't a huge amount of difference between the two, nutritionally speaking. It may be slightly surprising to some that the vegan option has more saturated fat but a difference of 3g per 100g isn't much, especially considering a standard serving of Philly is around 30g. Those wanting to reduce their sugar intake will be better off with this plant-based cream cheese whilst it also provides more fibre.
The Original variety contains almost twice as much protein but neither offers a huge amount and any vegans wanting to up their protein intake can choose from the many high-protein vegan foods or supplement with one of the many excellent vegan protein powders. The reality is that most people aren't spreading Philly on a nice toasted bagel for their health, but rather because it is a tasty, quick snack, breakfast or lunch! That said, it is good to know that Plant Based Philadelphia is certainly no worse than the original.
Conclusion
Vegan Philadelphia is here and it is a real winner. One of the best vegan versions of any cheese product we have ever tasted, this is a great call for use in both savoury and sweet dishes and meals. As a direct substitute for the original non-vegans may not be fooled, even though the texture/consistency is superb. However, used in something like a vegan cheesecake we are highly confident that even your fussiest anti-vegan relative would be beaten and would have to admit they liked it even after you told them the dessert in question was entirely plant based!