Seitan, which is pronounced say-tan, is one of many brilliant vegan meat substitutes and is, in our humble opinion, one of the better meat alternatives out there in terms of texture and flavour: it actually tastes quite nice.
Assuming you wanted to know more than just that, we'll now look at all things seitan, including its history, what seitan is made from, its many uses, seitan's nutrition and basically anything else we can think of that might be of use to a budding seitan chef.
All About Seitan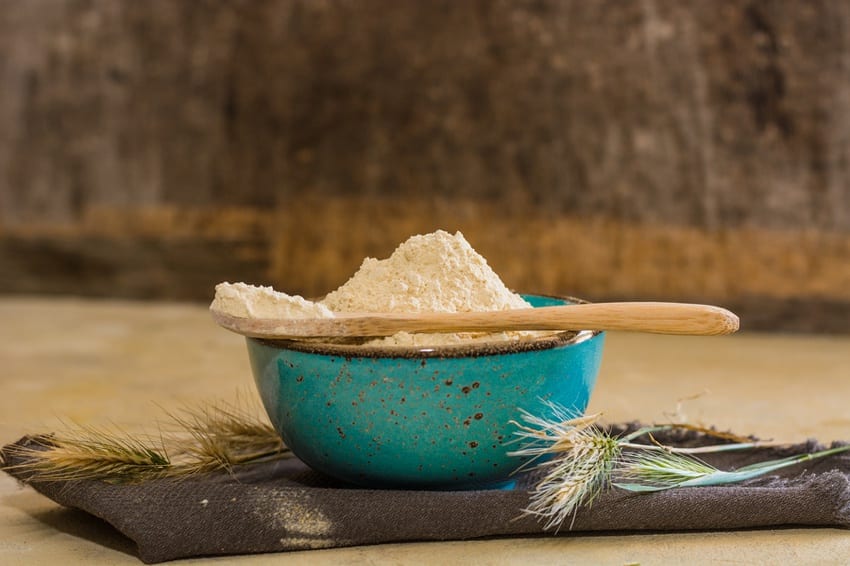 Beyond the fact that seitan is an excellent meat substitute and a fine vegan source of protein, what is it? What and how is seitan made? Well, quite simply, seitan is gluten, the main group of proteins of wheat (gluten makes up about 80% of the total protein content of wheat).
Straight away this means seitan is not suitable for the increasing number of people who are gluten intolerant to one degree or another. Whilst bread and other foods on the gluten-intolerant naughty step contain relatively small amounts of gluten proteins, seitan is essentially pure gluten.
What It's Made From
For those who do want to consume seitan it is good to know that making it from scratch is perfectly plausible. The gluten proteins are easy enough to isolate when you use wheat flour as your starting point. Because the proteins are cohesive and also insoluble in water, if you take a very basic wheat flour dough and then knead it in water the substances that are water-soluble will wash away, along with the starch.
That will leave you with, in essence, a lump of gluten. This is cooked and usually flavoured to give you a finished product that goes a long way towards matching the firm texture of meat. Many meat-eaters, and indeed lots of vegans, dislike the soft texture of tofu; but seitan really does come very close to matching the firm, chewy, resistance of meat. Just without the cruelty and suffering!
These days, seitan can be bought readymade in a whole range of forms but many vegan cooks prefer to buy what is called vital wheat gluten. In simple terms, this means the hard part has been done for you and the starch and other non-gluten content of the wheat has already been removed. In essence, this is powdered seitan and we'll look at this a little more when we consider in more detail how to make seitan.
How to Use Seitan
Seitan, as with most vegan alternatives to meat, is very versatile and can be used in a whole host of ways. One of the best vegan dishes we have had was a seitan doner kebab from the excellent and excellently named food truck, Doner Summer (tagline "Vegan as F*ck"). Highly recommended and comes complete with that distinct doner smell on your fingers. It is almost certainly the healthiest, cleanest, tastiest, dirty food you can get!
As we will explain when looking at the history of seitan, it has been used for many hundreds of years to create imitation venison and jerky, among other things, and it is also commonly used in China and neighbouring countries to create "duck".
Texture
It is an interesting addition to your vegan armoury because it offers a very different texture to, for example, jackfruit. Jackfruit is great in vegan dishes where a softer, slow-cooked texture is required but seitan is much chewier, in a good way, and offers a more fibrous meaty option. This can be especially good for new vegans who might occasionally have cravings for the meat they have chosen to banish to the past.
Tan Pups
One of the first commercial seitan products was called Tan Pups, made by Boston couple Nik and Joanne Amartseff in 1972. These were essentially seitan nuggets, deep-fried in a breadcrumb batter. Seitan can be used in this way to create cutlets and chops, whilst it also makes a very good substitute for beef in many dishes.
Dishes with Seitan
You can buy seitan pieces from online supermarkets, such as Ocado and the Vegan Kind, and these can be used almost however you want. They are excellent in a stir fry, in curries and even as additions in salads. We have tried seitan ribs (who wants bones anyway?!), seitan burgers, seitan satay, sausages and even steak.
Whilst it is certainly more suited to some dishes and types of foods than others, it really is very versatile. Why not experiment and give it a try in something entirely new where you would traditionally use meat?
How to Make Seitan
Nowadays almost all people who make seitan will use vital wheat gluten as their starting point. This saves you having to separate the gluten from the wheat and means you can miss the fairly laborious and messy process of kneading your base dough under water.
Vital wheat gluten, essentially 100% pure gluten, is widely available these days and if you can't find it in your regular supermarket, almost all health food shops and vegan-focussed shops will sell it. This base product is around 80% protein by weight, with 100g of vital wheat gluten containing 81g of protein, 9g of carbs (of which just 1.6g is sugar) and around 5g of fat.
Whilst it is also used by bakers to add elasticity to some doughs and to help bind them, we rather suspect that most people who use vital wheat gluten domestically nowadays do so to make seitan. It really is rather easy and once you get to grips with the basics you will be more confident in tweaking the recipe and method in order to create different types of seitan for use in different recipes.
One of the many great things about seitan is that it is cheap, with the base gluten costing around £4 per kilo and about 35% more if you opt for an organic product. Depending what recipe you use, this amount of gluten will make around three times that much finished seitan. That means you should end up with around 3kg of high-protein, cruelty free "meat" for around £6 (when other ingredients are factored in). That's amazing value so let's get to it!
As said, depending what you want to make with your seitan there are slightly different recipes and techniques. The following recipe is a good all-rounder that leaves you with seitan that you can use for stir fries, meat balls, curries, roast dinners and sandwiches. And just about anything else.
Recipe for Making Seitan
Ingredients
250g of vital wheat gluten
50g of chickpea flour
50g of nutritional yeast
100ml reduced salt soy sauce
1 tsp garlic powder
2 tsp onion powder
2 tsp tomato puree
2 tsp paprika
1 litre of vegetable stock
400ml of water
Method
Dry Ingredients – Mix the gluten, flour, yeast, and spices and powders together in a large bowl
Wet Ingredients – Combine the soy sauce, tomato puree and (hot) water in another bowl
Mix – Slowly add the wet ingredients to the dry, mixing together to form a dough
Knead – Knead the dough for around five minutes adding more gluten if the dough is too wet
Shape – Shape into a regular-shaped block
Poach – Poach for an hour in the vegetable stock in a covered saucepan, turning occasionally; Make sure there is enough stock to cover the seitan and add more stock or water if needed
Cool – Remove from the heat and allow the seitan block to cool while resting in the stock
Your seitan is now ready to use as you see fit. Store it in the stock for up to three days (we've used it after five days and lived to tell the tale, but it might be better to play it safe). Alternatively, you can freeze (in the stock) for use at a later date.
Nutrition
One of the major advantages of seitan over some alternative faux meat products is that it is very simple, contains hardly any "ingredients" and is relatively lightly processed. Whilst many finished dishes will use flavourings, marinades, sauces, glazes and the like, the base product is very simple. That means that nutritionally speaking it is a straightforward and healthy picture, because seitan is really just, more or less, pure protein.
That means it is great for those following a high protein, low carb diet, or anyone, for example a vegan bodybuilder, looking to add extra protein to their diet. It is low in fat and as if this wasn't already sounding great, it packs a decent mineral punch too.
| Nutrient | Amount per 100g of Seitan |
| --- | --- |
| Calories | 134 |
| Protein | 24g |
| Total fat | 0.2g |
| Fibre | 1.5g |
| Sugar | 1g |
| Iron | 1.5mg |
| Zinc | 1mg |
| Calcium | 50mg |
| Potassium | 250mg |
| Copper | 0.2mg |
Note that the figures listed above are the average taken from a range of sources and seitan products. The exact figures will vary according to what wheat or vital wheat gluten is used, how the seitan is made and how much water or broth is used in its preparation.
History of Seitan
Much as some parts of the media would like to paint veganism as a modern fad, it is clear that many religions and cultures have chosen to eschew meat and, to a lesser degree, all animal products for thousands of years.
The words vegetarian and vegan didn't exist then, but for well over 1,000 years cooks, especially Chinese and Japanese Buddhists, have recreated the chewy texture and savoury taste of meat using nuts, beans and, of course, grains.
Yuba, otherwise known as tofu skin or bean curd skin, is essentially layered sheets of coagulated soy milk protein (it tastes better than it sounds!) and is one such product made using soy beans. Seitan is simply another such food, thought to have been invented at some time around the sixth century by noodle makers in China.
Meaning of the Name
Seitan is the Japanese name for this and derives from a number of words but chiefly the "tan" in shokubutsusei tanpaku ("sei" can have many meanings, including "made from" and "the nature of", among others). In China it became known as mien chin by the 1200s, meaning "muscle of flour" and by the 11th century it was very much a common part of meat-free monastic cooking.
Whilst the Internet is now awash with amazing vegan recipes where clever people have found ingenious ways to recreate animal-based dishes in a cruelty-free fashion, it may amaze you to learn that there are recipes almost 1,000 years old for seitan-based venison and even jerky.
Making Its Way West
Harold McGee talks of these vegan pioneers in his brilliant "On Food and Cooking" and also of how fermented gluten was used as an early version of monosodium glutamate due to its high savoury- and umami-packed glutamic acid levels.
It is unclear exactly how and when seitan came to the West but we can be confident it had done so by the early part of the 18th century. According to William Shurtleff and Akiko Aoyagi's History of Macrobiotics (1715-2017), the first known reference to wheat gluten in Europe came in Bartolomeo Beccari's De Frumento (Concerning Wheat) in 1745.
Beccari was a professor of medicine in Bologna, considered to be Italy's food capital, and he describes a process of washing dough to separate the gluten. The word "seitan" would not be used in the West until much later, with Shurtleff and Akiko Aoyagi claiming it wasn't until the 1969 publication of the macrobiotic cookbook "Cooking Good Food" that it appeared in print.
However, gluten-based foods had been around much earlier. Shurtleff and Akiko Aoyagi (these guys know their stuff!) point out that by 1900 there had been 80 publications in Europe and the US on wheat gluten and that it had first been used (in the West) as a food in the 1830s.
Seitan Boom in 1970s
It didn't really enter the fringes of everyday life until the 1970s though, following on from its discovery by followers of a macrobiotic diet and then latterly vegans and vegetarians. In the 1970s, a number of seitan products were launched and it was increasingly mentioned in cookbooks.
This growth in awareness of seitan was slow but steady until more recently. Over the last few years we have seen a huge leap in the number of people following vegan or vegetarian diets. This has helped fuel a related jump in the use and awareness of seitan.
Mainstream Consumption
With the advent of billion-dollar meat substitute companies and increasing interest from Silicon Valley and beyond, seitan is now just one of a huge number of alternatives to meat from which people can choose.
However, having been around for almost 1,500 years – and more to the point, being a really good "product" – we're confident it will continue to become ever more mainstream and consumption will grow. Its texture and versatility are major pros, as is the fact it is far more natural and less processed than some of the other meat alternative options.