There are so many fantastic fruit and vegetable options open to vegans (and non-vegans) that it's almost possible to obtain all your nutritional requirements from the produce aisle of the supermarket alone. But most meals require a little more, and there are plenty of food cupboard staples that many vegans like to have in their pantries.
Here we list our Top 10 Vegan Pantry Staples, which could be particularly useful for new vegans or those planning to transition to a plant-based diet. We'll point out some of the best staples when it comes to health benefits, convenience, versatility and value for money. Some of these are great standbys when you are short on fresh food, others are perfect when want a quick snack and others are also great to help make brilliant meals. Some are all three!
Quick Reference
For more detailed information, simply click on the link to jump to that item within the article.
Now let's give you a little more information that convinced us these were the top 10 staples that vegans should always have in their food cupboards. Of course, opinions will be divided about the most desired or important vegan essentials to keep well stocked, so let's kick things off with a vegan-friendly food that divides opinion like no other…
1. Marmite
Anecdotally it really does seem to be the case that people either love or hate Marmite. As you might well already know, Marmite is vegan, and this salty yeast extract has a massive added bonus for those following a plant-based diet who fall firmly on the 'love' side of the debate: it is a great source of vegan B vitamins, something that is very important given the lack of plant-based sources available.
A typical (8g) portion of Marmite contains the following useful bits and pieces:
Thiamin (B1): 56% of Reference Intake (based on average adult)
Riboflavin (B2): 39% of Reference Intake
Niacin (B3): 34% of Reference Intake
Folic Acid (B9): 50% of Reference Intake
Vitamin B12: 76% of Reference Intake
According to an article published by the Independent, Marmite has plenty of other benefits too. These include helping you sleep, staving off dementia and even acting as an insect repellent! Leave it out of your grocery shop at your peril.
2. Lentils
Lentils might have been mocked for decades as the food of choice for washed out hippies (as exemplified by Neil from the Young Ones). But it is worth knowing that this humble legume can be a healthy and nutritious addition to a variety of meals.
High in both fibre and a great source of vegan protein, but low in fat and calories and naturally gluten free, they have a low glycaemic index so they can fit into the healthiest of vegan diets with ease. Also, if combined with a wholegrain, lentils can provide the same quality of protein that can be obtained by eating meat. Lentils are also a good source of iron for vegans, with half a cup worth of green lentils offering up a tidy 15% of your daily requirements of both iron and folate (based on an average adult).
One of the best things about lentils though is their sheer versatility. Traditionally used in the cuisines of India, Pakistan and Bangladesh, lentils have also been very popular for centuries in the Mediterranean and Middles East regions. They are the key ingredient for dal, and can also be used to bulk up pasta sauces, curries, casseroles, salads, or frankly just about anything!
3. Beans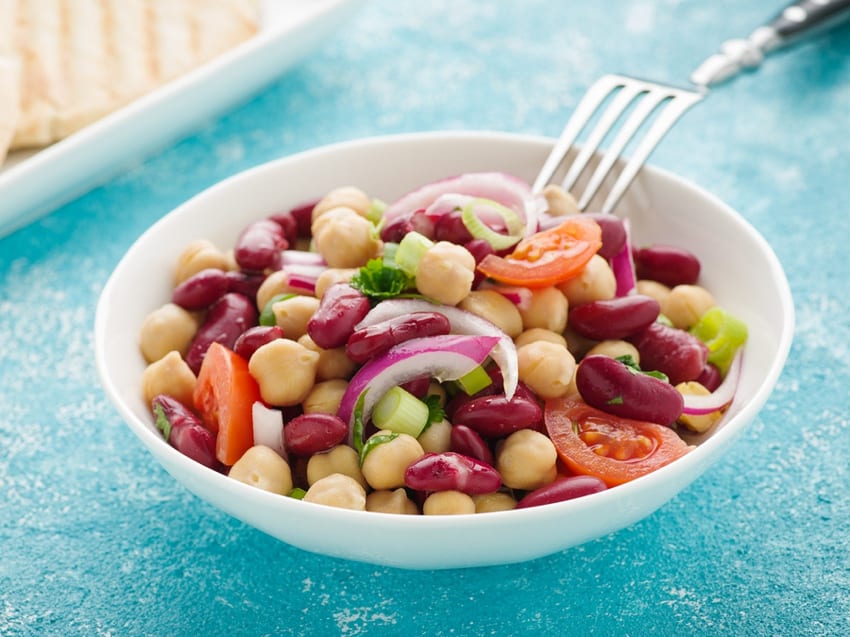 Baked beans, kidney beans, cannellini beans, butter beans, black beans, pinto beans, adzuki beans, garbanzo beans (aka chickpeas)… okay, we might just be listing beans here, but the point is that there are loads of different types available! Whichever happens to be your personal favourite, stocking the kitchen cupboard with beans of whatever sort is a great move for vegans (and non-vegans for that matter).
Beans of all sorts are not only very tasty, highly versatile and good value, they are also extremely nutritious. They are high in protein, fibre, complex carbs, folate and iron. Whether bought dried or in tins, beans are a seriously beneficial addition to any dish. To give you an idea of what a typical bean packs, here are the approximate nutritional numbers for a few of our favourite beans.
Chickpeas
A typical cup of chickpeas will contain roughly:
Protein – 14.5g
Fibre – 12.5g
Folate – 71% of Reference Daily Intake (RDI)
Manganese – 84% of RDI
Copper – 29% of RDI
Iron – 26% of RDI
Note that chickpeas have a very special extra benefit: the water in which they have been soaked (whether in your standard tin of chickpeas or whatever vessel you've used to soak your own) is known as aquafaba; it can be used as a vegan-friendly egg substitute in all sorts of dishes from meringues to mousses, to chocolate brownies to vegan mayonnaise.
Soybeans
A typical cup of soybeans will contain roughly:
Protein – 28.5g
Fibre – 10.5g
Folate – 24% of Reference Daily Intake (RDI)
Manganese – 70% of RDI
Copper – 29% of RDI
Iron – 48% of RDI
Riboflavin (B2) – 28% of RDI
Phosphorous – 41% of RDI
Kidney Beans
A typical cup of kidney beans will contain roughly:
Protein – 13.5g
Fibre – 13.5g
Folate (B9) – 23% of Reference Daily Intake (RDI)
Manganese – 20% of RDI
Thiamin (B1) – 20% of RDI
Copper – 16% of RDI
Iron – 16% of RDI
4. Nuts & Seeds
Many vegans can struggle to find tasty, satiating snack fodder when they first transition to a plant-based diet… but nuts and seeds tick those boxes and plenty more besides. Nuts and seeds are nutrient dense with plenty of calories in the form of complex carbohydrates and (mostly unsaturated) fats, as well as protein, fibre, vitamins and minerals.
Vitamins & Minerals in Nuts
Some of the vitamins and minerals that are not always easy to get from a plant-based diet can be obtained relatively easily from nuts and seeds. Here are some examples of the best nut and seed sources from that you can get some of these vitamins and nutrients:
Vitamin E – Almonds, Hazelnuts
Magnesium – Cashew Nuts, Brazil Nuts
Omega 3 – Walnuts, Chia Seeds
Selenium – Brazil Nuts, Sunflower Seeds
Zinc – Pumpkin Seeds, Pine Nuts
Iron – Sesame Seeds, Pumpkin Seeds
Calcium – Poppy Seeds, Almonds
So, instead of grabbing your favourite bag of vegan-friendly crisps next time you're feeling peckish between meals, why not have a handful of mixed nuts and seeds instead? More micronutrients, more protein, more fibre and packed full of good fats. Result!
5. Vegan Stock Cubes & Gravy
Thankfully, there are plenty of vegan-friendly stock cubes and gravy granules on the market these days. Although Bisto is not strictly vegan in the eyes of many (including the manufacturers themselves) because they handle animal products in the same factory they make Bisto in, some people following a plant-based diet will class it as fine to consume.
To be on the safe side, though, there are loads of other options that are definitely fine for vegans to consume. And, of course you could always make your own vegan stock or gravy. Using the likes of onions, celery, carrots, dried mushrooms and whatever other vegetables, herbs and spices you fancy, you could muster up a great vegan gravy to accompany your vegan Sunday lunch.
6. Tinned Tomatoes
Yet another healthy, very versatile staple for the food cupboard, tinned tomatoes can be used in pasta sauces, curries, soups, casseroles – basically whatever you fancy. Just like fresh tomatoes, those that come in a tin are good sources of vitamin C and fibre and they are low in calories too. They also contain some potassium, magnesium, calcium, vitamin A and vitamin B6. They are also cheap and, being tinned, last for ages.
If you are looking for a quick, cheap, nutritious bowl of vegan stodge, chuck a tin of chopped tomatoes into a pan, add chickpeas (or whatever your favourite bean happens to be), some spinach or kale and whatever spices you fancy. Heat it up, give it a stir, and voila! You have yourself a bowlful of top vegan nutrients, prepared in a couple of minutes and at a cost of little more than a quid.
7. Breakfast Cereals
There are a decent number of vegan breakfast cereals, from Fruit 'n Fibre to Special K, Shredded Wheat and Shreddies. And with many of them being fortified with various vitamins and minerals, as well as being pretty healthy in the first place, they can be a great way to start your day, doused in your favourite vegan milk alternative.
Most breakfast cereals provide a decent dose of fibre, with many also providing a good amount of protein. Typically made up of complex carbs, they are also an excellent source of energy to see you through till lunchtime.
8. Herbs & Spices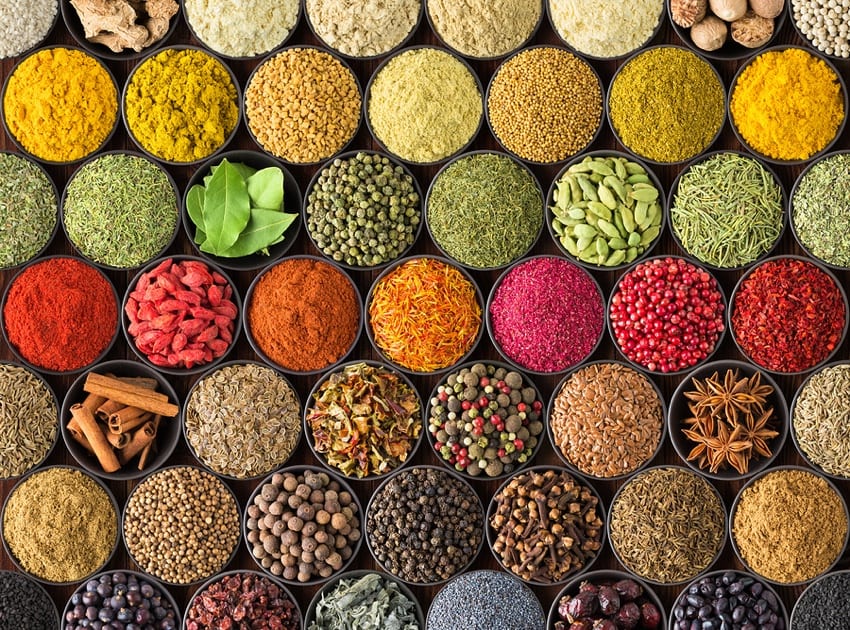 Long gone are the days when vegan cuisine could be accused of being dour and tasteless. There are so many imaginative and inventive vegan recipes around, in the various vegan cookbooks and online, that those following a plant-based diet need never be found wanting in the flavour department.
Whether you are following vegan recipes or inventing your own dishes, it certainly pays to have a good supply of herbs and spices in the pantry. It doesn't take a lot to add some fantastic flavour combinations to whatever dish you are hoping to create, and the more you experiment the more you will come to appreciate and understand the various combinations that work to enhance the natural flavours of the fresh ingredients you are using.
Uses & Benefits of Spices
Not only that, herbs and spices are surprisingly good from a nutritional perspective. As well as being very low in calories, they often contain minerals and nutrients that are not always readily available on a vegan diet. Here are some of our favourite herbs and spices, along with some of their uses and benefits.
Cardamom – Good source of magnesium and zinc and a great, flavoursome addition to curries and other dishes.
Ginger – With a distinctive and appealing flavour, ginger has been used in all sorts of cuisine over the centuries and has been reported to possess anti-inflammatory and anti-microbial properties. Not as nutrient-rich as some herbs and spices, but one of the most versatile whether cooking savoury or sweet dishes.
Coriander – Used in a wide range of dishes but particularly in curries and Middle Eastern cuisine. A fine source of vitamin A and vitamin K, it also has some beta carotene, vitamin C and folic acid.
Turmeric – A solid source of vitamin B6, turmeric also contains significant amounts of potassium, iron and manganese. There are numerous health benefits of including turmeric in the diet that have been suggested by research studies.
Basil – Great source of vitamin K and vitamin A, with plenty of manganese, iron and copper thrown in for good measure.
Oregano – Iron-rich and also with plenty of calcium and manganese, there is a solid dose of vitamin K and vitamin E too.
9. Quinoa
Dubbed something of a superfood in recent years, quinoa has been a staple in the Peruvian Andes for thousands of years and was called "the mother of all grains" by the Incas who considered the crop to be sacred. And for good reason too: this humble grain is packed full of a wide range of nutrients.
Nutrients in Quinoa
As well as being a great energy source because of the complex carbs it contains, quinoa also provides a solid 14.1g of protein per 100g, with 7g of fibre too. But delve a little deeper and you will find that it also contains significant amounts of the following:
Vitamin B1
Vitamin B2
Vitamin B6
Vitamin B9
Copper
Iron
Magnesium
Manganese
Phosphorous
Zinc
Quinoa can be used in place of rice or pasta (both of which are nutritionally inferior in most regards) in main dishes, salads, as an accompaniment to a vegan barbecue… the options are endless.
10. Nutritional Yeast
Because of its vaguely nutty or cheesy flavour, nutritional yeast is sometimes used as a substitute for cheese in a number of vegan dishes. But it is often for its nutritional value rather than its flavour that vegans like to add this to their diet.
Containing all nine amino acids, it offers a complete protein, and is also one of the best vegan sources of vitamin B12. Moreover, because many varieties of nutritional yeast are fortified, there are usually plenty of other vitamins and minerals included too, such as folic acid, iron, zinc, and vitamins B1, B2, B3 and B6. Cheaper than many supplements, nutritional yeast can be a good way for vegans to ensure they get all their B vitamins through their diet.