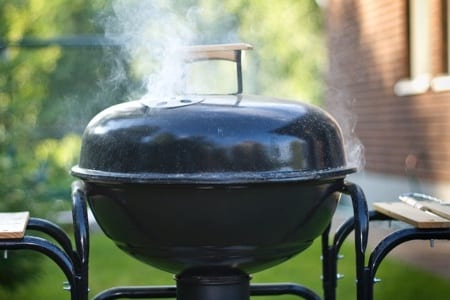 Crack open the beers, get the charcoal glowing… it's barbecue season! Depending when you're reading this, of course! Barbecues are synonymous with summer in Britain, even if the weather doesn't always cooperate. But does the unstoppable rise of veganism threaten British barbecue culture? Are great BBQs incompatible with plant-based eating? Not a bit of it.
There are loads of fantastically tasty vegan-friendly options that are perfect for the barbecue. This article is perfect if you are having a barbecue and you don't know what to serve your vegan friends (other than bread and salad). Or, indeed, if you are a vegan who fancies some inspiration for the next time you're trying some garden-grilling gastronomy.
Note that we'll just give the basic details of each dish or food item here as most are straightforward and self-explanatory (e.g. barbecued pineapple slices… simply putting pineapple slices on the barbecue!). If you want more detailed or elaborate options, check out our vegan recipes section. We'll also give some pointers on vegan barbecue etiquette, covering common questions such as – should I use a different grill for a vegan?
What to Cook at a Vegan Barbecue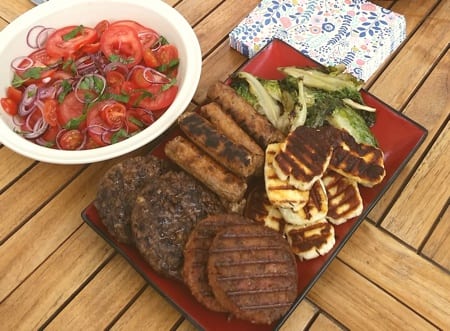 Some people put a lot of thought and effort when planning and executing a barbecue. Others just want to make things as simple as possible so they can spend more time with friends, family and cans of ice cold beer. Here we're veering towards the low-hassle end of the spectrum for those who don't want to spend days marinating ingredients or hours slow-roasting their show-stopping centrepiece.
That's not to say we're compromising on flavour, of course. And, thankfully, there are lots of salsas, barbecue sauces and other condiments that are vegan friendly to add a little spice to your veggie burger. So, let's kick things off with some options for those who like their burgers and sausages without the need for animals to die.
Veg on the Barbecue
There are literally thousands of edible plants in the world, and whilst you might not find quite that many in your local shop, there is no reason not to find two or three of them that work well on the barbecue. Here are some of our favourites.
Veg Option
How to Grill
Celeriac Steaks
Celeriac emerges as a triumphantly tasty morsel when cooked on the barbecue. It pays to keep things simple: cut into slices of approximately 2cm, brush both sides with sesame oil or olive oil, season with salt and pepper, roast on the barbecue for around 25 minutes, turning occasionally, then serve up with a little lemon juice and whatever fresh herbs you fancy.
Cauliflower Steaks
Cauliflower has a reputation in some quarters as being a little on the bland side, but the beauty of this cruciferous cutie is that it soaks up flavours.

Grill your cauliflower steaks (of about 2cm thickness) for 5 minutes on each side on the barbecue before smothering it in a vegan-friendly barbecue sauce then returning to the grill for a few minutes on each side. The result will satisfy vegans and turn the heads of non-vegans.

Char-Grilled Aubergine
Aubergine cooks very nicely on a barbecue as long as the slices are thick enough (around 3cm) to prevent it drooping through the grill.

Marinating the aubergine in a vegan-friendly teriyaki sauce prior to cooking adds a fine dose of flavour – though they are still very satisfying when served "naked".

Sweetcorn
Sweetcorn is a BBQ classic that even confirmed meat-eaters will be familiar with. Cooked on the cob it is a true delight, with the smokiness a perfect addition to the veg's natural sweetness.

You can par-boil first or otherwise cook partly on a lower heat or in foil before finishing over a hotter part of your barbeque to add colour. Slather in a vegan butter substitute or dust with a little lime zest and chili flakes. Then tuck in!

Potatoes
The humble spud is great cooked on a BBQ, with jackets cooked in foil among the coals a fantastic option. Alternatively, par-boil some thick slices before coating in well-seasoned oil and griddling.
Vegetable Kebabs
The crunch and flavour of barbecued vegetable kebabs is hard to beat, and these simple, versatile offerings will be lapped up by vegans and non-vegans alike. Simply take you pick of your favourite veggies, chop them up and thread them onto a skewer.

Some of the best options to include are red onions, courgettes, mushrooms, peppers, cherry tomatoes and butternut squash (par-boil firmer items prior to cooking). Prior to placing on the barbecue, brush with olive oil and sprinkle with sea salt and perhaps some dried oregano or basil. Alternatively, brush with oil infused with chillies.
Vegan Meat Alternatives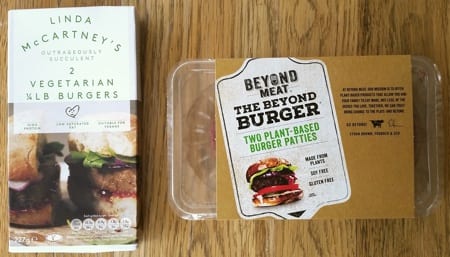 While there are loads of imaginative vegan options for the barbecue, sometimes ex-meat eaters quite fancy tucking into a burger or a sausage at a summer gathering. Luckily, meat-free alternatives have come a long way in recent years and the texture and flavour of the best vegan-friendly sausages and burgers are not a million miles away from the meat products on which they are based. As an added bonus, the meat-free versions come with free karma points, not to mention comparative health benefits.
And, if meat eaters sample some of them, they might even be converted to veganism! Some of the best products are hard to distinguish from their animal-based counterparts, especially if people don't know in advance they are getting a vegan version. And even more especially if people have enjoyed a vegan beer or two!
Meat-Free Burgers
When we stock up for our vegan-friendly barbecues, we always make sure we grab a load of Linda McCartney Quarter Pounder Burgers. Unlike some meat-free burgers, they cook well on the barbecue and sizzle and colour in a similar manner to a meat burger. Flavour-wise, they stack up well too.
Another great option for vegan-friendly burgers is the Beyond Burger, from the US plant-based food company, Beyond Meat. Now available in the UK, the Beyond Burger is made predominantly from pea protein, and cooks, looks, smells and – dare we say – even tastes like a burger made from meat. It is likely it would fool meat-eaters at a barbecue into believing they were eating real cow flesh. Of course, some vegans are not particularly craving the look, taste and texture of meat, but others might will welcome it – safe in the knowledge that only a few peas had to "die" for the titillation of their taste buds.
There are some satisfyingly sumptuous burgers created from beetroot or mushrooms that are fine and dandy when cooked in the oven, but some of these have a tendency to dry out or stick and crumble on the barbecue. That can be remedied to an extent by brushing the burgers with a little olive oil or, our preference, sesame oil, the latter also adding an earthy, nutty flavour and aroma.
Meat-Free Sausages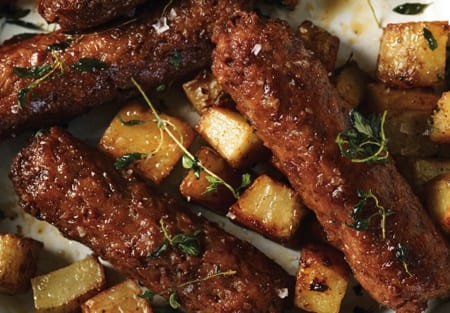 As with meat-free burgers, good old Linda McCartney delivers on vegan-friendly sausages too, with the standard Vegatarian Sausages being a solid choice for a sausage that retains enough moisture to remain tender to the bite even when slightly charred. Or, for a little variety, the Vegetarian Red Onion & Rosemary Sausages fit the bill well. Both cook well on barbecues and don't suffer the oft-seen issue of sticking to the grill rack that blights the likes of Quorn and other vegan sausages when cooked over hot coals. Whether you are enjoying the standard sausages or any of the other flavour, note that these can char quite quickly so no getting distracted if you are on chef duty.
Cauldron is another brand who has been able to produce vegan-friendly sausages that tick the right boxes when it comes to barbecues: they cook well, they look inviting and, crucially, they actually taste nice. Their Vegan Mediterranean Sausages float our boat and though they are not as "meaty" as some on the market, they pack plenty of flavour.
Other Meat-Alternative Options
Meat
Is There a Vegan Replacement?
Pulled Pork
Much has been made in recent years of the rise of the jackfruit and its ability to imitate pulled pork. While there is no doubt this can be a welcome addition to a barbecue or garden party, it doesn't work to actually cook the jackfruit over the coals, unless using a pan.

It would be a case of preparing your pulled pork jackfruit in the kitchen when sorting your salads and other sundries, then bring it out once sorted.

Steaks
Steaks are one thing that haven't really been sufficiently replicated for vegans as yet. There are a growing number of vegan steak alternatives on the market though, with some of the best readily available options we've sampled being produced from seitan (wheat gluten).
Chicken Wings
Okay, there are some things that food companies are never going to be able to replicate for the meat-free masses. On the other hand, there aren't too many vegans who are too eager to gnaw flesh from bones, so it's no great loss.
Rack of Ribs
As with chicken wings, ribs are another thing vegans must consign to the "not for me" bin. Of course these can be imitated with various meat-free constituents and, like steaks, seitan fits the bill, as well as anything out there. As long as you cover it in a gorgeous, gloopy barbecue sauce, seitan "ribs" are certainly passable substitutes.
Salads & Accompaniments
Salads are so versatile that there is literally no limit to the vegan-friendly combinations available to anyone with either a bit of imagination or a decent cookbook or two. Nuts and seeds are often plentiful in a vegan's diet and adding them to some of your salad options is sure to be appreciated. Keeping salads light and colourful tends to work well at a barbecue at which a lot of the food can be a little heavy and monochrome. Of course, making them taste nice is the number one priority and here are some of our favourite barbecue salad combinations.
Note that you can always put your own twist to any salad and almost anything goes, but if you need some more specific guidance, check out our vegan recipes section.
| Vegan Salads | How to Prepare |
| --- | --- |
| Rice Salads | Using wild rice as a base for a salad can work very well, especially with chopped walnuts, chard or other flavoursome leaves and some roasted beets. |
| Melon Salads | Using watermelon, Galia melon or cantaloupe melon in your salads exudes a taste of summer. Adding citrus, butterbeans, avocados, spring onions and perhaps a few jalapeños, and you've got yourself a fine salad combo. |
| Vegan Potato Salad | There wasn't a barbecue in the 1980s or 90s in the UK that didn't have a massive vat of potato salad in attendance – most of which was left at the end! But if you fancy knocking up this old favourite, simply use vegan-friendly mayo instead of the usual stuff, and Bob's your mum's brother. |
| Vegan 'Slaw | This is an excellent accompaniment to any barbecue, and it's unlikely anyone will realise it hasn't been made with real mayonnaise. Just mix together shredded cabbage (it's good to have some red and either some green or white) with some shredded carrots, in vegan mayonnaise; then throw in some fresh parsley, some cider vinegar, a bit of vegan-friendly mustard, some salt and pepper and some celery seeds, give it a good stir and, voilà, you have your vegan 'slaw. |
Vegan Desserts on the Barbecue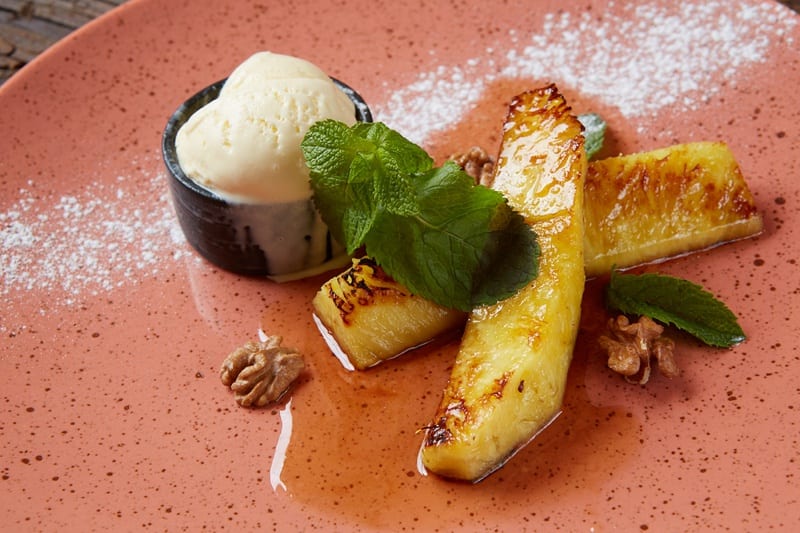 It's often the case that people pig out (for want of a better expression) to such a degree at a barbecue that the thought of scoffing a dessert is far from their minds. But if you want to cater for those with a sweet tooth, here are some quick and easy vegan-friendly dessert options for you.
Vegan Desserts
Notes
Barbecued Pineapple Slices
This is a great option as pineapples roast beautifully well over hot coals, forming a caramelised crust that is accentuated by the slight charring.

It pays to use a fresh pineapple rather than the tinned stuff. It can be served as it comes or with vegan ice cream and/or a drizzle of maple syrup.

Barbecued Vegan-Chocolate Bananas
An old favourite and for good reason. Simply slice a banana lengthways and while still in the skin, stuff in some vegan-friendly chocolate buttons of your choice, wrap in foil and place directly on the embers (once they have cooled a little towards the end of their barbecuing life). After 10 minutes or so, carefully unwrap and tuck in.
Fruit Salad
After a whole lot of stodge, a fruit salad can be a great, light dessert at a barbecue. Obviously, it doesn't need cooking, and it can be prepared in the morning or even the day before and put in the fridge before serving it to anyone who wants a cleansing bite after their seitan steaks.
Vegan Ice Cream
Vegan-friendly ice cream is getting better all the time, and even Ben & Jerry's have some vegan options available. Our pick of vegan ice creams at the moment is the Caramel Pecan Praline flavour from Booja-Booja (though we're always happy to sample alternatives!).
Vegan Barbecue Etiquette
If you are hosting a barbecue and some of your guests are vegan, there are few things that might help things run smoothly. Here are a few dos and don'ts to ensure the vegans at your event feel the love.
The Dos & Dont's of Vegan Barbecue
Notes
DO offer vegans more than salad & bread
Just take a look at all the vegan-friendly barbecue options above… many of which are cheaper than meat options!
DON'T encourage vegans to eat meat
Most vegans don't really appreciate people trying to reintegrate them into the world of flesh-eating. They've made their choice, accept it. With a smile.
DO plan, plan, plan
It's worth having a chat to your vegan friends prior to the event to see if there are any particular things they fancy or things to avoid. You don't want to have stocked up on seitan steaks and ribs only to find out on the day the guests follow a gluten-free diet!
DON'T point out the beer they are drinking isn't vegan
Another thing sure to raise the heckles of vegans is when people see it as their duty to analyse everything they eat or drink in the hope of catching them out with something that isn't 100% vegan.

If someone hands a beer to a vegan at a barbecue, it is possible they will take a sip without studying the label. If they do, give them a break! Luckily, there are plenty of vegan drinks available, so why not stock up on them in advance?

DO use different implements
If at all possible, use different implements when handling meat and meat-free items on the barbecue. Some vegans might be fairly chilled about this, but others will not.

Ideally, using different barbecues if you have more than one, or different grill racks if using one barbecue is advised. It makes sense from a food hygiene perspective anyway. At the very least, reserve one portion of the BBQ (grill) for vegan-friendly items only so all your hard work preparing vegan kebabs isn't undone by having them covered in meat juices.

DON'T ask them to mind the chicken wings for you while you go to the toilet
Some vegans are not going to be all that keen tending to sizzling chunks of bird flesh while you are otherwise engaged. They are generally kind souls though, so in all likelihood, they'll be happy to go to the fridge and get the beers in!
DO let vegans pick the music
Everyone knows* vegans have a much better taste in music than non-vegans (*This is not based on any scientific research at all).
DON'T feed vegans meat "for a laugh"
Those of a sadistic nature might think it amusing to serve vegans a real meat burger in the guise of a meat-free burger. It is not amusing. In the same way that workers at your favourite burger joint spitting in your real meat burger is not amusing.
DO buy some vegan-friendly drinks
Vegans don't just drink water & almond milk, so why not stock up on a few bottles of vegan wine to help get the party started?
DON'T let the non-vegans eat all the vegan-friendly food
Many of the vegan-friendly barbecue options are so tasty that it is likely the non-vegans attending will sample them and then go back for more.

Obviously, the vegans won't be lapping up the burned chicken wings that are left behind, so don't let the non-vegans eat all the tasty vegan morsels before the vegans have had their fill. Or of course, you could just cook loads of vegan-friendly options and then everyone's happy!
Now you're armed with the vegan-friendly barbecue options and the vegan barbecue etiquette to go with it, all you need now is the charcoal, booze and the sunshine. Roll on barbecue season! And, here is a delicious vegan barbecue to get you in the spirit of things…