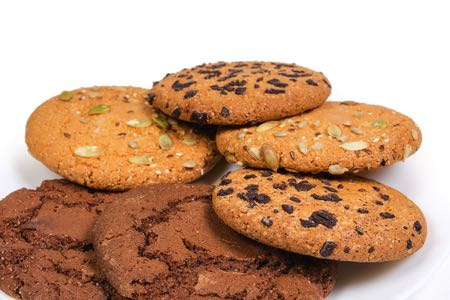 Sometimes nothing more is required than a nice cup of tea with a tasty biscuit or two. But, for vegans, trying to find a top notch biscuit that doesn't contain any animal products can sometimes be tough. Well, not any more. Because here we give you the full lowdown on the best vegan biscuits around.
So, whether you like chocolate chip cookies, sandwich-style biccies, or even the humble Rich Tea, there will certainly be some fine vegan-friendly biscuit options for you. We'll take a look at the best options in various categories of biscuit (from cookie to everyday options) but first let's give our verdict on the Top 10 Vegan Biscuits available in the UK.
Note:
 The biscuits in this article do not contain any animal products, but some might have been made in factories that handle milk or other animal-derived products. Some vegans would not accept these as fully vegan, while people with certain severe allergies (for example to milk) might decide to avoid these in case there has been any
cross-contamination or cross-contact
(terms we will explain in more detail later). Note that some of these listed might also contain
palm oil
.
Jump To: Top 10 | Vegan Chocolate Chip Cookies | Vegan Sandwich Biscuits | Vegan Everyday Biscuits
Top 10 Vegan Biscuits
1. McVities's Hobnobs Choc Chip
Vegans around the country will be heartened to know that both the original Hobnobs and, our preference, the Choc Chip version, are vegan friendly!
With a texture and mouthfeel that is hard to beat, a good balance of sweetness and oats, and the strength to withstand a good couple of dunks in your cuppa, Hobnobs take top spot for us… after all, they are the SAS of the biscuit world (at least according to Peter Kay).
2. Planet Organic Triple Chocolate Protein Cookie
Not only is this cookie very chocolatey, it also packs a decent vegan protein punch while also being gluten free and vegan. Containing pea protein, chia seeds, almonds, brown rice protein and more, this well-balanced biscuit is well worth tucking into.
3. Doves Farm Lemon Zest Cookies
These gluten free cookies from the Doves Farm "Freee" range are perfect for those looking for that bite of lemon zest with their cuppa. Available from Planet Organic, they compare well to premium cookies but they are excellent value for money in comparison.
4. Nairn's Dark Chocolate Chip Oat Biscuits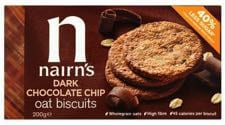 Nairn's Oatcakes have long been a vegan snack staple, but their flavoursome biscuits are well worth checking out too, especially the Dark Chocolate Chip ones.
5. Ginger Nut
A true classic of the biscuit world, Ginger Nuts are widely available, both the original McVitie's version and various supermarket own-brand versions. They are a solid, satisfying biscuit that can handle tea dunking with ease.
6. Bourbon Biscuits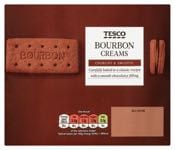 Another old school favourite that has lasted through the decades without every requiring a redesign, the Bourbon is a sandwich style biscuit that holds its appeal across the generations. Vegan versions are available in most supermarkets, including Tesco and Asda, and they are usually amongst the cheapest biscuits on the shelf!
7. Tesco Oaty Rounds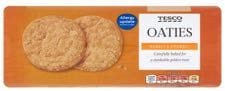 Also known as Oaties, these are very similar in appearance, style and taste to the original Hobnobs biscuits. However, the Tesco own-brand version get the nod over Hobnobs for our Top 10 on the basis that they are less than half the price. Imitation is the sincerest form of flattery, and Tesco have flattered well in this case.
8. Fox's Party Rings

No children's party is ever really complete without a plate or two piled high with Fox's Party Rings. Their brightly coloured appearance might well hint at one or two nasty additives, but in fact they colours are from concentrates of things like safflower, radish, apple and blackcurrant. These probably still won't give you one of your five a day, but they are plenty of fun!
9. Kookie Cat Salted Caramel Almond Cookie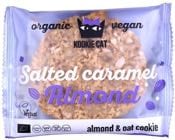 Here you will find a very sumptuous biscuit that balances sweetness with a satisfying texture. Available from various outlets, including Planet Organic.
10. Oreos
One of the most popular and widely available biscuits in the world, Oreos might look like they'd be full of milk-based products, but as we discuss in our dedicated Are Oreos Vegan? article, they don't actually contain any non-vegan ingredients. However, on the Oreo UK website the company who makes them states, "Oreo have milk as cross contact and therefore they are not suitable for vegans."
Despite this, there are many vegans who simply disregard the risk of cross-contact on the basis that there are no animal-derived ingredients deliberately contained within. Ultimately, the choice is yours, but we've added them to our Top 10 lists because they are so darn tasty!
Other Heroes of the Biscuit World
There are plenty of other noteworthy heroes of the biscuit world that almost made it into the Top 10, but let's spare a thought for the many contenders who just fell short of greatness. Here we'll run through the main options for those willing to look beyond the elite (and yes, we have included the Rich Tea biscuit… out of sympathy).
Vegan-Friendly Biscuits by Category
To keep things in some semblance of order we'll present the best vegan biscuits options based on their particular category, covering everything from shortbreads to sandwich, biscuit bars to party biscuits. In the name of completeness, we will include any that we have already mentioned in our Top 10 in their appropriate category.
So, let's kick things off with perhaps the most sought-after biccies of the lot: chocolate chip cookies.
Vegan Chocolate Chip Cookies
While many biscuits that contain chocolate contain milk or other animal-derived ingredients, a decent (and growing) number do not. Here are the top chocolate chip cookie options for vegans:
| Biscuit Name | Company/Brand | Notes |
| --- | --- | --- |
| Raw Vegan Cookie | My Raw Joy | One of the few really good raw vegan biscuits that we've tried, the cacao and white chocolate cookies (which are available at Planet Organic) have a soft, fudgy texture and just enough sweetness (from agave nectar rather than refined sugar) to make them hard to resist. The raw white chocolate pieces add that little bit of luxury to this fine cookie. |
| Vanilla and Choco Drops Cookie | Kookie Cat | Made predominantly with oats and cashew nuts, with some coconut blossom nectar, bourbon vanilla and chocolate chips thrown in too, like their sister biscuit featured in the Top 10, this individually wrapped cookie offers great flavours and texture. |
| Chocolate Chip Cookies | Le Moulin Du Pivet | A high end option from a well-established French biscuit maker, these cookies taste like they have just been cooked at your local bakery. Available from Planet Organic. |
| Choco Cookies | Vegan Bakery | Available from TheVeganKind Supermarket, these are fairly standard in taste and texture, but decent enough value compared to some of the more premium options and nicer than the cheapest around, so essentially a fine middle-ground option for a vegan cookie. |
| Chocolate Chip and Orange Cookies | Biona Organic | The orange zest contained in these bulky cookies gives a nice tang that certainly adds to the overall flavour. These can be found in various health shops or at Planet Organic, and they are well worth tracking down. |
| Hobnobs Choc Chip | McVities's | Details in Top 10 list. |
| Dark Chocolate Chip Oat Biscuits | Nairn's | Details in Top 10 list. |
| Triple Chocolate Protein Cookie | Planet Organic | Details in Top 10 list. |
Vegan Sandwich Biscuits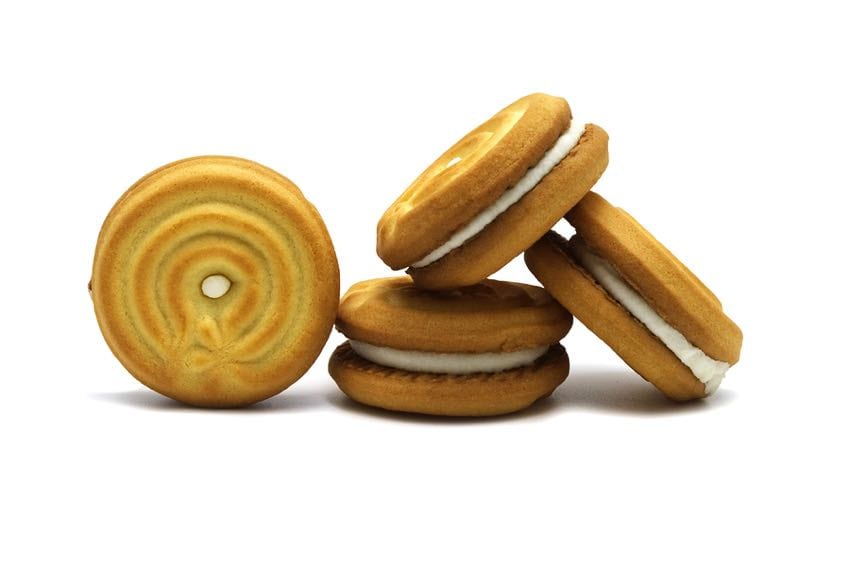 While original versions of custard creams and Jammie Dodgers are out of reach for vegans, there are alternatives that tick all the right boxes, with plenty more besides.
| Biscuit Name | Company/Brand | Notes |
| --- | --- | --- |
| Jammy Wheels | Lovemore | Available from Ocado, these are a vegan-friendly version of the classic Jammie Dodgers (the original Burton's Biscuit version of which contains milk whey). Along with Fox's Party Rings, these go down particularly well at children's parties, though you don't have to be a kid to love them! |
| Double Sandwich Biscuits | Veganz | Available from TheVeganKind Supermarket, these two-tone sandwich biscuits are made with quinoa, among other things, and have a creamy cocoa filling and a reassuring dunk-ready sturdiness. |
| Free From Custard Creams | Asda | While most custard cream biscuits contain milk or milk derivatives, the own-brand "free from" version from Asda doesn't have any animal products. Some would argue they are not quite as good as the originals, but then if you've been a vegan for a while you'll probably have forgotten anyway so they could be worth a try. |
| Custard Creams | Lovemore | Lovemore come up with the goods again by providing a vegan-friendly version of a sandwich biscuit classic. These are better than the Asda version, but with a price tag to match. |
| Lemon Cake Style Double Biscuits | Veganz | Another solid sandwich biscuit from Veganz (available from TheVeganKind Supermarket), but this time with a refreshing lemon flavour that brings a hint of summer to your tea break. |
| Bourbon Biscuits | Tesco and others | Details in Top 10 list. |
Vegan Everyday Biscuits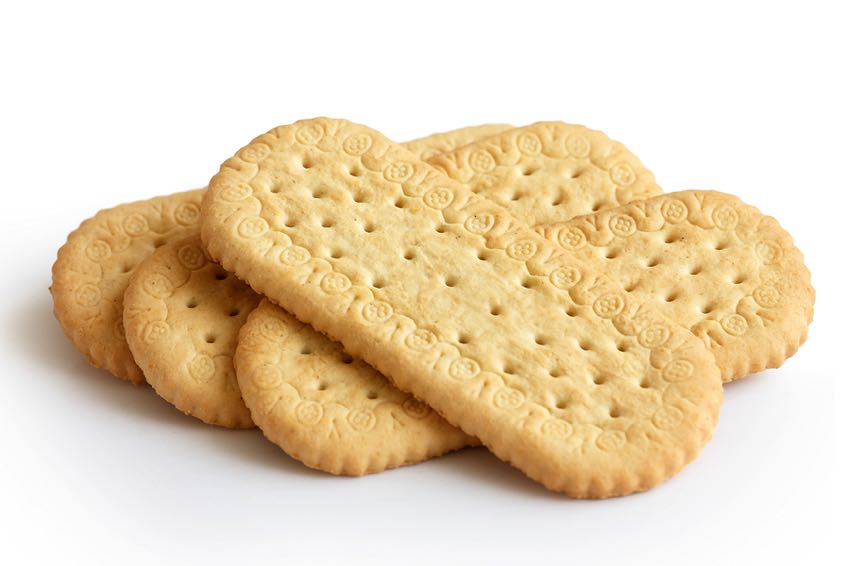 These are the biscuits that don't need to make a song and dance about how amazing they are; they don't need cream fillings or chocolate toppings or inventive shapes, or even (in some cases) particularly distinctive flavours. They just get on with doing what they need to do: and that's simply to be themselves… biscuits.
| Biscuit Name | Company/Brand | Notes |
| --- | --- | --- |
| Rich Tea | McVitie's, Tesco, Asda, Morrisons and others | Seen by many as drab and unimportant, there is something rather settling about the humble Rich Tea. Whether it brings back memories of the ones always left at the bottom of your Gran's biscuit tin, or they are just about all you can handle when on a particularly bad hangover, there is still a place for Rich Tea Biscuits in the 21st century. |
| Free From Stem Ginger Cookies | Tesco | Tesco have created loads more own-brand vegan-friendly products across the board in the last few years, and these stem ginger cookies are well worth checking out. |
| Stem Ginger Oat Biscuits | Nairn's | Indeed, fans of stem ginger biscuits should also get stuck into this widely available option from Nairn's. Also performs well in the dunking stakes. |
| Hobnobs | McVitie's | While the Choc Chip Hobnobs are top of the pops, the original variety has to make do with a place among the also-rans. Still there is no dispute about the quality and taste of these fine biscuits. |
| Digestive | Ms Molly's, Doves Farm | While the original McVitie's are not vegan (as they contain milk products), the versions from both Ms Molly's and Doves Farm are fine (and we bet your granny wouldn't notice the difference!). |
| Biscoff Biscuits | Lotus | This caramelised classic (from Belgian baker Lotus Biscuits) is popular on the continent, but also serves as a cost-effective biscuit tin filler. Available from most supermarkets these biscuits contain just a few ingredients and have had no artificial colours or flavouring added. There's plenty of sugar in there though! |
| Bakehouse Classics | Huntley & Palmers | This rather luxurious collection of biscuits comes in a vintage-style tin (based on a design from the 1850s) and contains a good mix, including their Caramel Crumble, Fruit Shortbread and Syrup Crunch biccies. This is definitely the option to go for if you're trying to impress the in-laws when they come round for tea. Available from GreenBay Supermarket. |
| Ginger Nut | McVitie's, Tesco, Asda, Morrisons and others | Details in Top 10 list. |
| Oaty Rounds | Tesco | Details in Top 10 list. |
What Is a Biscuit?
Biscuits can take many forms, such that the exact definition of what constitutes a biscuit is often hotly debated (as shown below!). But in essence, biscuits are usually sweet, flour-based food products that have been baked and which are generally hard(ish) and flat(ish).
Clearly things like the raw cookies mentioned above and some of the more bulky options do push the bounds of this already rather vague definition. But for the purposes of this article we are talking about the things that your average Joe or Jane would recognise as a biscuit, from the digestive to any old chocolate chip cookie.
Is a Jaffa Cake a Biscuit or a Cake?
Without wanting to appear facetious, the clue to this one is in the name Jaffa cake. Despite it being more or less the size and shape of a good number of common biscuits, the fact that Jaffa Cakes are actually cakes was confirmed at a UK VAT tribunal in 1991!
At the tribunal, at which Jaffa Cake makers McVitie's argued against the assertion that Jaffa Cakes were biscuits, various factors were taken into account. These included the texture of Jaffa Cakes, the fact they go stale in the manner of a cake and their ingredients, and the conclusion was reached that Jaffa Cakes are indeed cakes. Sadly for vegans, though, they are not vegan friendly due to them containing eggs and milk!
What Stops Biscuits Being Vegan?
As suggested by Jaffa Cakes, two of the main offending items that stop biscuits being vegan are milk and eggs, and the various proteins and other products that can be derived from them. This can be particularly true of biscuits that are covered with or which contain chocolate (though some chocolate biscuits are vegan, as detailed above).
On the plus side, because both milk and eggs are required to be written in bold type on lists of ingredients in the UK (as they are allergens to some), they are at least easy enough to spot. There are plenty of other animal-derived ingredients which can sneak into biscuits that can require a little more attention being paid.
Milk & Derivatives
Milk, milk protein, whey from milk and various other milk-derived ingredients are common in biscuits, especially those that are covered in chocolate or which have cream-like fillings. These are also in bold type on UK products as milk is an allergen.
Eggs
Eggs and egg-derived products are also common, but like milk, eggs will be written in bold type, making them easy to spot.
Lecithin
This common food additive is used as an emulsifier in many biscuits, and it can be made from either plant or animal sources. If this pops up on the list of ingredients and it doesn't specifically state if it from soy or another plant, you might be best to assume it has been made from animal sources and avoid it.
Lanolin
Produced from the wool of sheep, this can be used to make vitamin D3 which is found in some biscuits.
Butter
Butter or buttermilk is used in various types of biscuits, such as shortbread. A good number of manufacturers have opted for cheaper plant-based fats in recent times, but unfortunately, the go-to option is usually palm oil.
Cross-Contamination Versus Cross-Contact
Cross-contamination and cross-contact refer to the chances of a particular product being exposed to a certain (in this case, non-vegan) ingredient during the production process. While they are very similar, there is a distinct difference between the terms.
Cross-Contamination
While often used interchangeably with cross-contact, technically cross-contamination refers more accurately to pathogens (such as bacteria or viruses) rather than allergens or other foodstuffs.
Cross-Contact
This occurs when the equipment, utensils or surfaces used to produce a particular food product have been (or might have been) exposed to something that should not be in that food product and the proteins of the non-vegan product (or allergen) mixes with those of the food being produced.
In the case of vegan food products, that could be contact with essentially anything that has derived from animals. In the case of biscuits it might be that the vegan-friendly biscuit mix is exposed to milk protein, for instance, that has been left in a machine that has not been sufficiently cleaned.
Food manufactures and various websites may refer to the possibility of cross-contamination or cross-contact in relation to products that would otherwise be vegan (as they contain no non-vegan ingredients). In most cases, the chances are relatively slim, but those with severe allergies to the ingredients mentioned should always edge towards caution and avoid such products. Contact the relevant manufacturers for more specific information about the production processes used.
Conclusions: Best Vegan Biscuits
As with vegan sweets, and indeed many vegan-friendly products, there are basically two types of vegan biscuits: firstly there are those such as Oreos that are basically accidentally vegan; and secondly there are those such as the very tasty Kookie Cat salted caramel almond cookies, that were designed to be vegan.
For most vegans it doesn't really matter whether a given product was created specifically for vegans or not, as long as it doesn't include any ingredients that came from animals. Others though might prefer to take the ethical stance to purchase goods only from brands that produce exclusively vegan products. Clearly the decision about where you sit is up to you (and might well be influenced by how much you like certain types of biscuits!).
Sadly, there is no place in a vegan diet for Custard Creams, Garibaldis or most of the various chocolate-covered biscuit bars like Clubs or Penguins from McVitie's or the Rocky bars from Fox's. But there are still more than enough vegan-friendly biscuits to get your teeth into, and there are more being developed all the time. If you want a chocolate hit there are plenty of vegan biscuits that can deliver the goods, whilst much vegan chocolate is also really good.
Of course, there will be plenty of vegan-friendly biscuits we haven't included here, and certainly people will have very different ideas about which should have made it into the Top 10. But we hope this article at least gives you plenty of biscuit for thought and also that it quashes the notion that there are no nice vegan biscuits around. As we have shown, there are loads of them! The only danger is that there are perhaps too many, and those people who have turned to veganism for health reasons might find this lot just a little too tempting!