Nothing is more frustrating for chocolate-loving vegans than being faced with a supermarket full of Easter eggs and the prospect of having to check 100 labels to seek out the one or two that might be vegan friendly. Well, fear not, because here we will give you the lowdown on the best vegan Easter eggs available.
Whether you are seeking just a standard product, you want to stock up on vegan mini eggs or you desire a luxury vegan Easter egg, we can help you out. We've also added some other vegan Easter treat options too, in case you're not a fan of chocolate eggs (in which case, what's wrong with you?!).
Vegan Easter Egg Categories
We'll go through the best Easter egg options for vegans in the various categories detailed below, then we'll run through the main reasons most Easter eggs are not vegan friendly. Essentially, these reasons are the same as those that stop most chocolate being vegan, as we explain in detail in our aptly named Vegan Chocolate article. Simply click the link to jump forward in the article.
Note that the products in this article we identify as vegan do not contain any animal-derived ingredients based on the best information at the time of writing. Some, however, may have been manufactured in factories that handle milk or other animal products and thus there might be a risk of cross-contamination. Always double check labels in case ingredients or production methods have changed.
Standard Vegan Easter Eggs
To an excited child, there is no such thing as a "standard" Easter egg. If it's chocolate and egg-shaped, it's likely to get the thumbs up. We don't want to denigrate these widely available options because many of them are very tasty and exceptionally good value (compared to the luxury options at least, if not compared to the equivalent amount of chocolate in bar form). So, without further ado, let's get stuck into the best standard vegan Easter egg options.
| Egg Name | Stockists | Notes |
| --- | --- | --- |
| Moo Free Easter Eggs | Most supermarkets & health food shops | This ethically minded, family-owned UK chocolate maker have some very tasty, great value (around the £3.50 to £4 range for 120g eggs) vegan Easter egg options aside from their standard and dark chocolate options, including: Organic Sea Salt & Caramel Easter Egg, Easter Bunnycomb Egg, and Organic Cheeky Orange Easter Egg. |
| NOMO Easter Eggs | Tesco, Holland & Barrett, Waitrose, Asda, Amazon | An offshoot of Kinnerton Confectionery, NOMO (which stands for "No Missing Out") offer some enticing vegan Easter egg options, including: Caramel & Sea Salt, Fruit & Crunch, and their standard Free From Creamy Chocolate Egg. These are little pricier than the Moo Free options (at around £6 for eggs of 148g to 207g) but they are also slightly larger. |
| Buttermilk Free from Easter Eggs | Sainsbury's, Amazon | This artisan confectionery business started life in a shop in Padstow, Cornwall back in 1964, and though their name suggests a rather non-vegan theme, they have produced some "Free From" Easter eggs that vegans will love, particularly their Free From Honeycomb Easter Egg and their Free From Chocolate Orange Easter Egg. These are also priced at around the £6 mark for 185g eggs. |
| Sainsbury's Deliciously Free from Chocolate Eggs | Sainsbury's | Sainsbury's own-brand free from Easter eggs are good enough value (at £3.50 each for 100g eggs), but they are not the largest treats around and some we class as mini eggs aren't much smaller! They are available in three flavours (at the time of writing): Choc Egg, White Chocolate Egg, and Strawberry & White Chocolate Egg. These are not going to win our prize as the tastiest vegan Easter egg against such stiff competition, but they are nice enough. |
| Tesco Free from Chocolate Caramel Egg | Tesco | This cheap-as-chips (£2.50 for a 155g egg) option is surprisingly satisfying in terms of the flavour, and Tesco even throws in some chocolate buttons as a little extra. |
| Green & Black's Easter Eggs (Dark Collection) | Most supermarkets & health food shops | Note that Green & Black's Dark Collection Easter eggs do not contain any milk products but they are made in factories that do handle milk. If that is not a concern to you, then you are in for a treat as G&B certainly know how to make delicious chocolate. At around £6 for 165g of chocolate or £10.99 for a sizeable 345g of chocolate, it's also fair value too. |
| Cocoa Libre Easter Eggs | TheVeganKind Supermarket, Holland & Barrett | This Somerset-based company produce various dairy, gluten, wheat and nut-free vegan chocolate products, including vegan Easter eggs that use rice milk instead of milk from cows. |
| Holland & Barrett Milk Chocolate Style Egg with Bunny Bar | Holland & Barrett | Holland & Barrett's own-brand offering is a good value (£2.99 for 110g of chocolate) organic vegan option that compares well to most in the category in terms of taste. |
| So Free White Chocolate Alternative Egg | Holland & Barrett | Produced in Kent using 100% renewable energy, So Free have achieved something that is rarely possible: vegan-friendly white chocolate that is smooth and luscious rather than grainy and tasteless. |
Best Standard Vegan Easter Egg
The Verdict: NOMO Caramel & Sea Salt Egg – There's certainly no missing out with this fantastically flavoursome offering from NOMO, and at a price point that isn't going to break the bank.
Luxury Vegan Easter Eggs
Everyone likes a little bit of luxury from time to time, and when it comes to Easter eggs, chocolatiers are happy to indulge the most decadent of desires. There are numerous options out there from artisan chocolatiers, but we've focussed on the options that are available in most areas of the UK. Prepare to come face-to-face with temptation.
Egg Name
Stockists
Notes
Booja Booja Large Chocolate Truffles Filled Easter Egg
TheVeganKind Supermarket, Waitrose and various higher end supermarkets and health food shops
In terms of value for money, this is not the best option of all the Easter eggs we've featured in this article. A rather hefty price tag of £25.99 for a 138g of chocolate is sure to put off most egg hunters, especially as the egg itself isn't actually edible – it's just the casing for the 12 truly luxurious truffles encased within.

But on the other hand, these eggs are hand-painted in Kashmir, India, in a scheme that provides employment for otherwise underemployed artisans. And, there are no qualms from us in terms of the sensuous texture and sumptuous flavours of the truffles, so if money is no object, get stuck in.

Divine Dark Egg with Pink Himalayan Salt
Ocado, Waitrose, TheVeganKind Supermarket, Holland & Barrett
This Fairtrade chocolatier produces very nice chocolate and most of their dark chocolate products are vegan-friendly (for vegans who are happy to accept the small risk of cross-contamination with milk products during its production).

We particularly like their Dark Egg with Pink Himalayan Salt. At £6, it might have qualified for the "standard" Easter egg category, but that's for a rather small 90g egg, so the cost to weight ratio isn't great, but the taste certainly is! Note their £10 Luxury Dark Egg is slightly better value for 260g of chocolate.

Hotel Chocolat Splat Easter Egg – Dark Chocolate
Hotel Chocolat
When it comes to luxury chocolate products, you can never go far wrong with Hotel Chocolat, and for Easter they been rather innovative and even a bit playful. With the appearance of an egg yolk having been splatted on the side of the main chocolate egg, it certainly looks kind of kooky.

Rest assured that it doesn't contain any real eggs (or any other animal products) and at £10 for 150g of dark chocolate goodness, it's not a bad option at all.

Hotel Chocolat 100% Cacao Dark Egg
Hotel Chocolat
We couldn't resist sampling a second vegan Easter egg option from Hotel Chocolat, and we're glad we did. The slightly bitter (in a good way) taste of this imaginatively designed egg came as something of a relief after the rather saccharine sweetness of some of the Easter eggs we'd sampled.

Studded with sultanas and almonds, this egg looks like a work of art with flavours to match. At £15 for 220g of chocolate, it's not astronomical.

Hotel Chocolat Extra-Thick Easter Egg – Rare & Vintage
Hotel Chocolat
We also couldn't resist adding this unbelievably decadent egg that is made from half Columbian and half Honduran chocolate, is stupendously thick compared to most Easter eggs and is packed full of chocolate-coated nuts and raisins and a couple of sumptuous macadamia praline and hazelnut and cherry bûches, this is an Easter egg for serious chocolate lovers only.

Of course, such luxury doesn't come cheap and this has an eye-watering price tag of £31, but they at least throw in 390g of chocolate for that. Don't eat it all at once!

Moo Free Premium Organic Vegan Easter Egg – Sea Salt & Caramel
TheVeganKind Supermarket & others
Dropping right down to the bottom end of the luxury category in terms of price, we have a "premium" offering from Moo Free, and though it's just £5.99 for 160g of chocolate, the Sea Salt & Caramel flavour egg deserves its place in the luxury category because it punches way above its price bracket.
Cocoa Loco Giant Bakewell Easter Egg
TheVeganKind Supermarket and various health/ethical food shops and Cocoa Loco website
At a whopping 1.25kg, this gigantic cherry and almond dark chocolate egg is certainly one to share! With organic Fairtrade cherries and almonds from Uzbekistan, this palm oil-free dark choc offering ticks the ethical boxes, as well as the vegan friendly ones. Oh, it tastes flippin' good too… just really don't attempt to eat it all in one sitting!
Best Luxury Vegan Easter Egg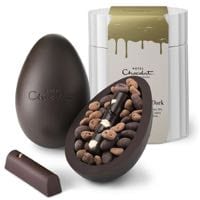 The Verdict: Hotel Chocolat Extra-Thick Easter Egg – Rare & Vintage – How could we not? A simply astounding study in decadence when it comes to Easter eggs, it is not going to appeal to everyone on the basis of the price tag. But for true chocolate lovers out there (and for people who really, really want to impress someone), this option from Hotel Chocolat is hard to beat.
Vegan Mini Eggs
While the ever-popular Mini Eggs from Cadbury contain milk and milk-derived ingredients, there are a good number of vegan-friendly mini egg alternatives available. We've also included any eggs that are smaller than conventional Easter eggs, which might be filled with chocolate, truffles or something else delicious! There's even a fantastic vegan alternative to Cadbury Creme Eggs (which are not vegan!). Here are the best options in the vegan mini eggs category:
| Egg Name | Stockists | Notes |
| --- | --- | --- |
| Rhythm 108 Swiss Chocolate Truffle Eggs | Sainsbury's, Planet Organic & others | A pack of six chocolate truffle eggs that are vegan friendly, smooth and a good option for Easter egg hunts. Not possessing the wow factor of some of the others in the category, but certainly decent enough. |
| Sainsbury's Free from Vegan White Chocolate Humpty Dumpties | Sainsbury's | At £3 for a pack of six, this Humpty Dumpty product is not bad value, but they are not particularly nice in terms of their flavour or texture, so opting for one of the other options could be wise. |
| Divine Dark Chocolate Flight of Flavours Easter Eggs | TheVeganKind Supermarket, Ocado & others | This vegan-friendly selection of five 20g dark chocolate eggs is a real winner for those seeking a bit of variety. The flavours are: Raspberry, Ginger & Orange, Pink Himalayan Salt, Smooth Hazelnut, and 70% Cocoa. Perfect for chocolate lovers who like to ration their eggs rather than scoff them in one sitting (so not us, basically!) |
| Mummy Meagz Vegan Chuckie Egg | Holland & Barrett | Wow! A real life vegan alternative to Cadbury Creme Eggs! While the Cadbury version contains both milk and egg products, this Mummy Meagz version is completely vegan, it even has a minimum of 55% cocoa solids, and they are delicious too. |
| Montezuma's Peanut Butter Mini Eggs | Holland & Barret, TheVeganKind Supermarket & others | Peanut butter fans will certainly enjoy these mini eggs from this West Sussex-based ethical chocolate maker. Flavoursome and satisfying, these are one of our favourite mini egg options on the market. |
| Doisy & Dam Good Eggs | Holland & Barrett, Boots, Amazon, Sainsbury's, Whole Foods | Another chocolate maker with ethics at their heart, these are the mini eggs that best resemble the Cadbury Mini Eggs as they have a similar crunchy coating and solid chocolate middle. For those who miss the Cadbury version, these are the ones to opt for. |
Best Vegan Mini Eggs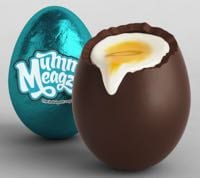 The Verdict: Mummy Meagz Vegan Chuckie Egg – It is common for ex-omnivores to occasionally miss food for which there is no vegan alternative, so when we discovered this brilliant vegan alternative to Cadbury Creme Eggs, we had to make it our number one in the smaller eggs category. Be careful though, as they are rather addictive!
Alternative Vegan Easter Chocolate Treats
For those who simply don't like the look of eggs, here are a load of alternative options for chocolate lovers, from bunnies to hens…
| Treat | Stockists | Notes |
| --- | --- | --- |
| Moo Free Mikey Scrummy Caramel Bunny | Most supermarkets & health food shops | A fun-looking bunny-shaped dairy, gluten and soya free chocolate caramel tree that comes from one of the more ethical chocolate companies around. What's not to like? |
| Montezuma's Harriet Hen | TheVeganKind Supermarket | Another quirky character-based confection for vegans who like that kind of thing (and why the hell wouldn't you?!). Nice (rather than mind-blowing) chocolate in terms of taste and texture, if eggs aren't your thing, how about a hen? Who cares what came first, just tuck in! |
| Cocoa Libre Orange Milk & Dark Chocolate Rabbit Slab | Holland & Barrett, TheVeganKind Supermarket and others | Fear not, no bunnies were harmed in the production of this chocolate! This vegan-friendly slab has a welcome zesty flavour that helps it stand out from some of the other more standard offerings. |
| Cocoa Loco Dark Chocolate Rabbit/Hen | TheVeganKind Supermarket and various health/ethical food shops and Cocoa Loco website | Organic, Fairtrade and free from palm oils, these £9.99 (200g) vegan-friendly dark chocolate animals are well designed and extremely palatable. Choose from the hen or the rabbit. |
Best Alternative Vegan Easter Treat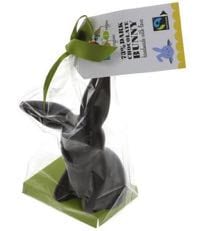 The Verdict: Cocoa Loco Dark Chocolate Rabbit – Well made, well designed and with a great, smooth texture, these satisfying Cocoa Loco bunnies are the top alternative to egg-shaped options in our view.
What Stops Easter Eggs Being Vegan?
As we detail in our Is Chocolate Vegan? article, there are a number of common animal-derived ingredients that can render chocolate non-vegan. The most obvious of these is milk (which is clearly included in many products described as milk chocolate). But ingredients derived from milk (such as proteins from whey, milk-derived lactose and casein) and those from eggs also make regular appearances.
In general, when it comes to chocolate it's often a case of the fewer ingredients the better, with some of the nicest we've tried being little more than cacao solids and sugar. Easter eggs that list numerous emulsifiers (which can be plant-based but are sometimes derived from animals), preservatives, artificial flavourings and other additives or ingredients that are not immediately identifiable as something you might like to eat are probably best avoided, both in terms of the likelihood of them being vegan and because they are unlikely to taste as nice.
You'll Just Have to Eggsplore the Options for Yourself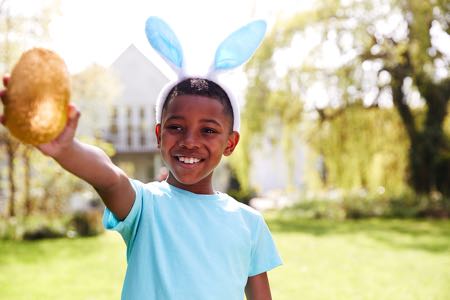 In our research to discover the best vegan Easter eggs out there in the UK, we have been heartened not only by the number of high quality vegan options on offer nowadays, but also by the fact that many of the vegan-friendly chocolatiers are also doing their bit from ethical and environmental perspectives.
Whether it's using renewable energy to power their production, ensuring the cocoa farmers and collectives are paid fairly and work in safe conditions, or by providing employment for those who might otherwise struggle to find meaningful work, many of the best vegan chocolate makers are delivering great products in an ethical way.
The variety and quality of vegan Easter eggs available at every price point means that vegans have no reason not to indulge their love of chocolate over Easter. The question is, which egg(s) will you choose?