Fish and chips is as British as queuing in the drizzle for a red double decker bus. Sadly, whilst seagans and pescetarians eat fish, vegans do not, so for a long time this evocative, romanticised and downright delicious dish was damnably doomed as far as vegans were concerned. Fish, we would have thought self-evidently, are animals, and so vegans prefer to see them swimming in the sea or a river than deep fried in batter.
Chips are, like their slim line cousins crisps, often vegan. However, some golden, fried potatoes from traditional fish and chip shops, especially in some parts of the country, are often cooked in beef dripping, essentially beef fat. If they aren't, there is every chance they may be fried in the same oil used to cook fish, battered sausages or other meaty no-nos.
That said, chips are not really the main problem here. Potatoes, be they from a fish and chip shop, a restaurant, a café, a takeaway or prepared at home, can very easily be fried in any one of the many vegan cooking oils. But fish? Fish are fish, and fish are animals… so, fish is a problem. This is not, thankfully, an insurmountable problem, however. And, in fact, when it comes to vegan fish – vish – if you prefer (we're undecided!), there are a number of different options.
The Vegan "Seafood" Industry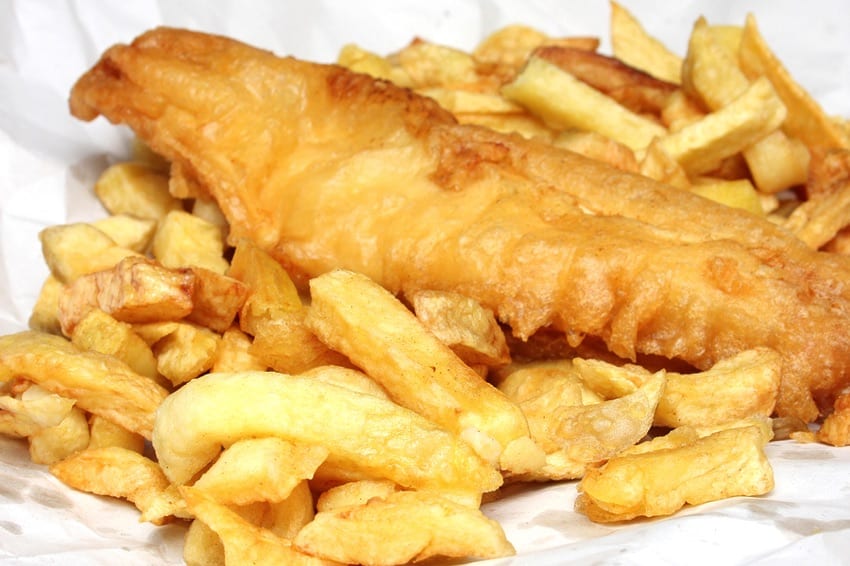 Vegan "seafood", what some people have called "veefood", has lagged behind in the vegan market – probably because finding a substitute for fish is not so straightforward. Much of the focus in the vegan market has tended to be on imitation beef and chicken-style products, which makes sense as cows are the most environmentally problematic farmed animal. Moreover, in countries where veganism is most popular, such as the UK and the US, far more beef and chicken is consumed than seafood.
The BBC reported on the growing interest in vegan seafood but also quoted stats showing just how small the market is. They explained that:
In the US, the country with the most vegan seafood start-ups, plant-based seafood made up only 1% ($9.5m) of the dollar amount of all retail sales of plant-based meat in 2019. (And plant-based meat, in turn, made up 1% of total meat sales.)
But, as said, the times are changing and thankfully for fans of one of the UK's favourite meals, vegans who once loved 'real' fish and chips now have more great options than ever to tuck into vegan-friendly fish and chips instead.
Plant-Based Fish Substitutes
Plant-based fish substitutes have been around for a long time but it is only relatively recently that the big food companies have invested time, money and effort into this area.
Your favourite vegan uncle may have served a piece of jackfruit with a shot of saltwater and claimed it was vegan fish once upon a time, but things have come a long way since then. Here are our favourite types of plant-based fish, in order of brilliance, some of which work perfectly as vegan fish and chips, others which are more multi-purpose.
Vegan Fish & Chip Shop 'Fish'
Many "normal" and mainstream fish and chips shops now sell vegan fish but there are even dedicated and entirely vegan outlets. There's even a "vish and chips" shop in Yorkshire which, let's face it, is hardly known for its liberal, modern and dare we say it, woke, ways. Sorry, Yorkies.
These work really well because making a crispy, crunchy vegan batter is easy enough and it is this, and the accompanying hit of salt and vinegar that gives the finished item most of its flavour and "fish-and-chip-shop-ness". The batter can be just a mix of vegan beer and flour, or you can sub in one or more of the following: sparkling water, self-raising flour, baking powder, vinegar.
Most fish and chips shops that serve a vegan fish use banana blossom, which is, as you might expect, the blossom from a banana tree! This is usually from Asia, typically Thailand or Malaysia, and is sold in some Asian supermarkets, as well as online at vegan specialists, such as the TheVeganKind Supermarket.
It does a superb job of replicating the texture and flakiness of white fish, such as cod or haddock. It doesn't have the same taste but, on the plus side, you don't need to kill fish and nor do you need to damage the environment by farming them. Most shops add various ingredients to enhance the flavour and try to replicate the traditional taste, with soy sauce, seaweed, garlic and spices among the items most commonly employed for this purpose.
Deep fried to perfection in hot vegetable oil and served with plenty of chips and a hearty slug of vinegar (or lemon if you're feeling Mediterranean!), getting vegan fish and chips from a proper chippy, or even a specialist vegan chippy, really is one of the best vegan treats around in our opinion! For maximum nostalgi,a eat outside in the drizzle whilst trying to fight off a seagull intent on removing your eyes, or at the very least your vish!
Quorn Fishless Fillets
We take a much closer look at Quorn's vegan credentials elsewhere on the site, and, in short, a lot of their range is vegetarian not vegan but more and more products are going entirely plant based. Whilst a lot of Quorn's more long-standing products contain some egg derivatives as a binder, they do have lots of fully vegan products too. The number of fully vegan Quorn options is growing and one of the newer ones is a great choice for vegan fish and chips at home.
Early in 2019, Quorn launched their range of fishless fillets and they have proved very popular with vegans and those trying to reduce the amount of meat (including fish) they consume. Within the range there are a number of options and at the time of writing these include:
Quorn's "Fish" Options
Quorn Battered Fishless Fillets
Quorn Breaded Fishless Fillets
Quorn Vegan Fishless Fingers
The fishless fingers are great in a sandwich but our preference is for the battered fillets, which come in a salt and vinegar batter. Some people seem to find them a bit synthetic but we suspect that is a psychological reaction from someone who knows that they are undeniably a quite heavily processed food.
We think they're great: nice crunchy batter with good seasoning and a texture that really is very similar when compared like-for-like with a non-vegan frozen option you cook at home. It perhaps isn't as firm and meaty as buying an animal product from the fish and chip shop – a little more like a fishcake – but still pretty good.
If you don't like vinegar you may not be keen on the flavour, though it remains relatively subtle. If that's the case, give the breaded ones a whirl (they are flavoured with lemon and pepper) but we don't think they pack the same punchy crunch.
If you think you don't normally like the texture of Quorn (we do, but we know some don't), then you should still give these fish substitutes a try. The key ingredient in many Quorn items is mycoprotein and in, for example, their vegan fillets, this constitutes 88% of the fillet. When people think of Quorn, it is probably this texture and flavour they are thinking of.
Ingredients in Quorn's Battered Fishless Fillets
However, as you can see in the ingredient list below, when it comes to the Battered Fishless Fillets, they only use 10%, with much of the body and protein of the "fish" coming from rice and wheat.
Rice Flake (Rice, Emulsifier: Sodium Alginate)
Wheat Flour (Wheat Flour, Calcium Carbonate, Iron, Niacin, Thiamine)
Water
Mycoprotein (10%)
Vegetable Oils (Sunflower, Rapeseed)
Natural Flavouring
Rice Flour and Maize Flour
Wheat Starch
Malt Vinegar Powder (0.7%) (Barley)
Thickener: Methyl Cellulose
Wheat Dextrose
Sea Salt (0.28%)
Salt
Citric Acid
Sugar
Yeast Extract
Garlic Powder
Onion Powder
Black Pepper
Quorn are not the only company to make this style of vegan fish and if you don't take to their offering, the Fish-Style Fillets from Fry's are a decent alternative. The ingredients are similar, with vegetable protein from soya replacing the mycoprotein. As far as we're concerned, the texture is a little less convincing, but why not try for yourself?
Beyond Impossible?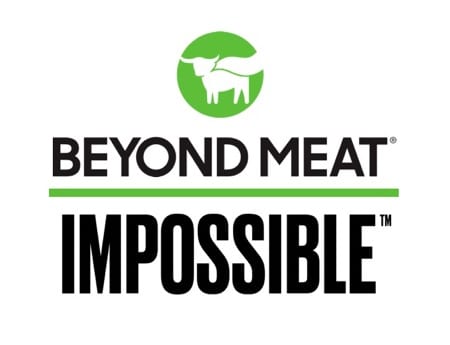 When it comes to meat substitutes, two of the biggest players in the industry, who produce, in our opinion, some really exceptional, tasty products, are Beyond Meat and Impossible Foods. Both have been around for around a decade now but it took them a while to get a product they thought was good enough to bring to market. Both are based in California and initially focussed on creating a vegan alternative to that American staple – the beef burger.
Since then, they have expanded their ranges but both failed to focus on fishless fake fish. Which is understandable, for the reasons we mentioned earlier in this piece; but now at least one of those companies is strongly rumoured to be developing such a product.
At the end of 2019, SeafoodSource discussed such a proposition with Impossible, who said
We do not have additional news to announce on the production of plant-based fish at this time, but it is absolutely the mission of Impossible Foods to make all meat, fish, and dairy products that consumers love directly from plants as soon as possible.
The NY Times looked at this issue and quoted Beyond Meat founder and CEO, Ethan Brown, as saying that they understood "the urgency of addressing the sustainability of our oceans" but that for the time being their focus would remain on meat. He explained that, "Beyond Meat continues to focus its innovation on three core platforms — beef, poultry and pork. You can't serve too many masters."
We're sure that as the market for fish alternatives grows Beyond Meat will reassess that. We're equally sure that as and when they – and probably before them, Impossible – launch a vegan "fish", it will be worth the wait. Based on the tasty and hugely impressive (in terms of emulating the taste, texture, aroma and cooking experience of a traditional beef burger) Impossible and Beyond burgers, we expect great things and this could really move vegan fish forward.
On the down side, given both of these companies are based on the west coast of America and are largely US-facing, it seems unlikely that a vegan fish and chip shop product will be high on their agenda. We'll have to wait and see!
Tofu-Based Fish
We said that we were listing our favourite vegan fish substitutes in order and so it may seem a little strange that we are putting tofu behind a currently non-existent product. Sadly, that is because we just aren't a fan of this!
There are many recipes for this style of vegan chip-shop fish, sometimes called "tofish", and we know lots of people who enjoy it. Essentially, you are taking a block of tofu and getting it as firm as possible before wrapping it in seaweed, covering it in batter and frying it. There are different flavourings used for the tofu itself and for the batter but the main issue for us is that no matter what tofu you use and whatever you do to it, a piece of tofu is still a piece of tofu.
Cauldron do an excellent extra firm tofu that is available in health food shops and some big supermarkets, as well as vegan specialists, such as TheVeganKind Supermarket. This, or similar tofu, is a good starting point and using a tofu press (or just weighting it on kitchen roll) will make it firmer still. But even the firmest tofu comes nowhere near the required texture and, especially for those who are not fans of this soya-based food, this will be a problem.
Recreating the flavour of fish is something that all of the substitutes we have looked at struggle with. A piece of nori may offer something of the taste of the sea but it won't be fooling anyone who has ever tasted the real thing. For those who ate fish with the skin on in a former non-vegan life, it does create a similar aesthetic though.
Returning to the flavour, many recipes for this style of vegan fish seek to try and inject umami into the picture. This strikes us as a little strange given traditional fish and chip shop fish, usually cod or haddock, is not particularly umami. We have seen recipes include garlic powder, onion powder, soy sauce, miso, veg stock, lemon juice, Marmite and even curry powder!
The obvious advantage over this type of vegan fish substitute is that you are in total control. As said, we are yet to try one that has really hit the spot but if you are a creative cook, and especially if you like tofu, this may be a good option. You will know exactly what is going into your vish, can easily avoid artificial ingredients and can tweak the flavours and batter to suit your personal taste.
Vegan Fish Substitutes Conclusion
If you are a vegan who used to love fish, or a non-vegan wanting to move to a more sustainable and less damaging vegan fish substitute, there are many options when it comes to plant-based fish. Aside from the sort of fish you might get in a chippy, there are lots of vegan "tunas" and other fish substitutes too.
In terms of vegan fish and chips, we are excited about what Impossible Foods might come up with. In addition, there are numerous other companies working on vegan fish and seafood right now. That includes some that is not plant-based but is cell-based and grown in labs.
We have little doubt that in the years to come we will see some incredible vegan options when it comes to fish and other seafood. Right now though, in our opinion, the best alternatives use banana blossom and the most authentic versions of these come from fish and chip shops who get the batter just right – something that is difficult to replicate in supermarket-bought products. If you live in a large city, you may have a vegan-specialist fish and chip shop option but many "normal" chippies now also offer "vish and chips". If yours doesn't, why not ask them to consider giving it a trial?