Vegans love to party as much as anyone else but vegan party food has traditionally been something of an afterthought. As the meat-eating guests tucked into creative crayfish canapes and inventive meat-heavy buffet dishes, the vegans were left to munch on the leftover salad garnish or hunt for abandoned olives and peanuts.
Another crime against veganism was that vegan dishes were not always easily identifiable and at catered events underpaid and overworked waiting staff were unable to differentiate their hummus from their halloumi so the poor hungry vegan had to make do with celery sticks, quietly resigning themselves to a raging hangover the next day.
Vegan Party Food Is Getting Better
Fortunately, things are now improving as hosts realise the importance of catering for their vegan guests, and, in fact, vegan nibbles are often the first to get gobbled as the carnivores are keen to try something new, so it pays not to hang around too long before hitting the buffet table at any event!
Whether you are a vegan with something to celebrate or a non-vegan party host looking for ideas and inspiration to wow your vegan guests, this article will make your party planning a breeze. You should also check out our articles on Vegan Christmas Dinner and Vegan Barbecues if you have a particular event or theme in mind.
For a more general gathering, a good starting point would be to take a look at our Best Vegan Snacks recipes, as many of these quick and easy snacks are great for any occasion.
Unless you are planning an entirely vegan party menu, it is essential that you clearly label the vegan foods on your table and ensure that anyone serving food to your guests knows which dishes are suitable for vegans. Unfortunately, some people don't quite understand the difference between veganism and vegetarianism and may have still failed to grasp that cheese and pineapple chunks on sticks are not a vegan delicacy (although if that was your first thought for feeding anyone at your party, hiring professional caterers is probably a sensible idea!)
Unless you are going to set up a carnivore exclusion zone around the vegan delights on your buffet table, it is definitely worth over-catering for your vegan guests. Once the meat eaters realise how tasty vegan party food is, it will be difficult to stop them piling their plates high!
Vegan Party Food the Easy Way
Party planning can be a stressful business, which is why the rich and famous shell out millions to pay someone else to do it for them and you're unlikely to see Elton John worrying about which brand of vegan sausage roll he should be serving to his guests. Sadly, most of us do not have the luxury of a professional party planner on speed dial but that does not mean your party cannot be a success. With a little research and forward planning, you too can party like an ageing pop star.
If you are pushing the boat out, an Internet search for vegan caterers should bring up a list of professionals available in your local area and, unlike the bad old days, all competent bakers should be able to produce a cake that does not contain any animal products and will still taste delicious.
If you are trying to keep costs down and plan on catering the party yourself that does not mean you will need to spend the weeks before the party slaving away in your kitchen,. There is a fantastic range of ready-made vegan party foods available at most supermarkets, so sit back and relax with a vegan beer and let someone else do the hard work for you.
Our advice would be to combine a selection of pre-prepared party foods with a selection of simple vegan dishes of your own. If you are looking for inspiration then the Recipes section of our website will help. When it comes to drinks, both alcoholic and otherwise, you can also now find a great selection of vegan tipples available in your local off licence or supermarket. Check out our articles on vegan wine, vegan cider and spirits if you are unsure where to start or what to be looking out for on the labels.
Best Vegan Supermarkets
Supermarkets have finally realised that the demand for vegan products is growing and that they are missing a trick if they do not develop their own-brand product ranges to meet this demand.
Most supermarkets will also sell other vegan brands – a couple of our favourites include Beyond Meat and some of the vegan range products from Quorn and Linda McCartney. And, don't forget that you can pick up additional vegan items from the deli counter and salad bar too.
Many of the more specialist vegan-friendly supermarkets have selected a wide variety of products from some of the best vegan food producers around. Our top recommended supermarkets for vegans are:
The Vegan Kind Supermarket – This 100% vegan-friendly supermarket is a godsend for busy vegans who want to order some of those harder-to-come-by vegan foods and ingredients.
GreenBay Supermarket – Another wholly vegan supermarket, GreenBay sell a wide range of carefully selected vegan foods and other household products.
Planet Organic – Not exclusively vegan, but Planet Organic has a wide range of vegan foods available and they put an emphasis on quality.
Ocado – A high quality online supermarket, Ocado has a massive range of vegan foods, including Waitrose own-brand products (see below).
Vegan Party Food at Your Local Supermarket
The information below contains examples of some of the own-brand vegan party foods currently available from the biggest supermarket brands in the UK. These ranges are constantly evolving, so you are bound to find something to satisfy even the pickiest party guest.
Please Note: Prices, availability and products are subject to change. Products and ingredients can change over time, so it is always advisable to check the packaging and ingredient list carefully to ensure the product you are purchasing is vegan, even if it is something you are familiar with and have purchased before.
Waitrose
Waitrose sells a great selection of vegan party food that is clearly marked and easily identifiable. Their website has the most user-friendly vegan section of all of the supermarkets researched for this article and they also offer "Ready to Serve" where you can pre-order your party platters and collect them at a later date in store. The prices for this service are comparable to the M&S "Food to Order" range (see below).
Waitrose vegan cocktail sausages 306g £2.99
Waitrose vegan Lincolnshire rolls 160g £2.75
Waitrose vegan creamy onion and chive rolls 160g £2.75
Waitrose vegan tandoori kofta kebabs 280g £2.99
Waitrose vegan Spanish-style swirls 300g £2.99
Waitrose vegan Italian style swirls 300g £2.99
Waitrose sweet potato and sweet potato samosa 50p each
Tesco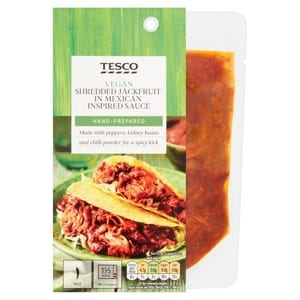 Tesco's good value own-brand vegetarian range contains a number of clearly labelled tasty vegan party foods, including their Wicked Kitchen collection. They also stock interesting items from a number of different producers, including Vivera's vegan shwarma kebab (£2.99 for 175g) and this is a good place to find items from Quorn's vegan range on offer.
Tesco 12 vegan sweet potato falafel 264g £1.75
Tesco jackfruit in tex-mex sauce 150g £2.00
Tesco vegan vegetable samosas 216g £1.00
Tesco vegan vegetable spring rolls 216g £1.00
Tesco Wicked Kitchen all the rage vegan rolls 120g £2.00
Tesco Wicked Kitchen curried cauli pasty 150g £1.60
Asda
Although Asda does not currently have their own vegan range, they do sell a great variety of vegan party food products. They have their own-brand frozen vegetarian range and products suitable for vegans within this range are clearly marked as vegan on the front of the packaging.
Asda Vegetarian (vegan) 12 sweet potato falafels £1.50
Asda Vegetarian (vegan) 16 vegetable fingers £1.75
Asda Vegetarian (vegan) Spanish inspired croquettes 240g £1.75
Asda Vegetarian (vegan) meat-free chicken nuggets 320g £1.50
Asda Flatbread Vegan Veggie Feast 229g £2.50
Asda Vegetarian (vegan) roasted veg and houmous pizza 375g £1.50
Co-op
The Co-op has made an ongoing commitment to developing their vegan product selection. They launched a BBQ Jackfruit range in early 2019 and were one of the first retailers to pioneer clear wine labelling on their own brand products. They even have a vegan blog on their website. Please note that Co-op stores vary greatly in size, so it is always worth contacting your local branch in advance before making a special trip.
Co-op BBQ jackfruit with wedges and slaw 350g £2.60
Co-op BBQ pulled jackfruit 270g £2.50
Co-op jam or custard donuts 5 for 75p (A cult vegan classic! These tasty sweet treats were named as the best 'Accidentally Vegan'* product at the 2018 Vegan Food UK Awards)
*'Accidentally Vegan', for the uninitiated, means products not specifically designed as vegan but where all of the ingredients are vegan friendly but cannot be labelled vegan due to allergy concerns
Iceland
If you haven't checked out Iceland's fantastic own brand vegan range yet, you are in for a treat! All clearly labelled, it includes the eye-catchingly named No Bull burgers (Two burgers for £2), and No Moo chocolate puddings (Two for £2), as well as a whole range of party foods that any prospective vegan host should keep a stash of in their freezers.
Iceland No Porkies vegan chorizo slices 200g £2.50
Iceland No Chick vegan strips 320g £3.50
Iceland No Cheese vegan Mediterranean garden pizza 382g £2.00
Iceland No Duck vegan spring rolls 200g £2.00
Iceland No Lamb vegan koftas. 5 mint kofta skewers £2.00
Marks & Spencer
In late 2018, M&S launched its Plant Kitchen range – a collection of over 60 meals, snacks and ingredients that are all plant based and vegan friendly. This range includes 'dirty vegan' classics, such as cashew mac and dirty fries, as well as a range of party offerings available in M&S stores with a food hall.
Very conveniently M&S also offer a "Food to Order" service where with a few days' notice they can rustle up a selection of tasty vegan platters that you can then collect from them in store (and pass off as your own work if you want!).
M&S Plant Kitchen vegan cauliflower popcorn 225g £3.00
M&S Plant Kitchen vegan potato salad 250g £1.50
M&S Plant Kitchen vegan dirty fries 400g £3.00
M&S Food to Order vegan sandwich and wrap platter 20 pieces £15.00 (ready to collect in three days)
M&S Food to Order Plant Kitchen sweet potato falafels with cashew nut and cannellini dip 16 pieces £6.00 (ready to collect in five days)
M&S Food to Order vegan orzo pasta and roasted tomato salad (serves six to eight) £8.00 (ready to collect in five days)
M&S Food to Order vegan mini dessert pots six pieces £7.00 (ready to collect in four days)
Morrisons
Morrisons launched its V Taste vegan range in late 2018 with a focus on vegan-friendly ready meals but it also carries a range of vegan-friendly party foods that would be enough to fill the buffet table of even the most discerning host.
Morrisons vegan doughballs 150g £2.00
Morrisons vegan no moo-zarella sticks 160g £2.50
Morrisons vegan red velvet cupcakes 2 pack £2.00
Morrisons vegan chocolate cupcakes 2 pack £2.00
Morrisons vegan Margherita pizza 340 g £2.50
Sainsbury's
According to Sainsbury's own research, 25% of Brits will be vegan or vegetarian by 2025. It's hardly surprising then that Sainsbury's stock an impressive array of vegan-friendly products from a range of suppliers, including their own-brand range (and Sainsbury's also get top marks for the most inventive product names!).
Sainsbury's Love Your Veg! Green Supreme Shroomdog Sausages 500g £3.50
Sainsbury's Love Your Veg! Shroomballs 270g £2.50
Sainsbury's Katsu Vegbabs 264g £2.50
Sainsbury's Love Your Veg! Vegan roast butternut and charred broccoli pizza 192g £3.50
Last Minute Vegan Party Food?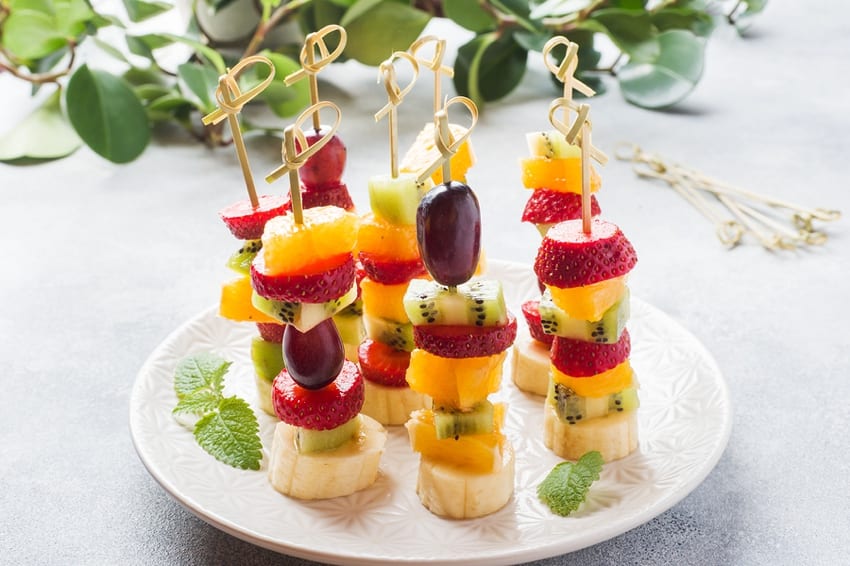 If you have just discovered you have vegan party guests coming to your soirée this evening and you are reading this article in a last minute panic, there is still time to rustle something up. Clearly anything fruit or veg-based will fit the bill, whether tomatoes with fresh basil, olive oil and a sprinkle of sea salt, or a few slices of melon or even pineapple cubes on sticks! Vegan-friendly crisps or popcorn and nuts will also fill a space on the table.
It is also worth highlighting the fact that all UK supermarkets sell products that are vegan but that they are not always labelled as such. This is because manufacturers are not legally allowed to if there has been any chance of contact with allergens and non-vegan products. Therefore you may already have vegan-friendly products in your fridge and freezer and it is just a case of checking the ingredients. Our quick reference section Is It Vegan? can help you with that and might just get you out of a last-minute vegan party pickle!