The sandwich may just about be the best invention ever. Well, that may be pushing it a touch, but when it comes to the best foods in the world, we reckon the sandwich is right up there.
Whether you are rustling up a quick snack, having lunch, making something to eat on the go or even having a sandwich as part of a larger evening meal or a hearty pub lunch, the humble, trusted formula of bread and a filling is a true winner. But what are the best vegan sandwiches going? How do you make a vegan sanger and what are the best vegan sandwich fillings known to humankind?
How to Make a Vegan Sandwich
Before we look at the best vegan sandwich fillings, let's make sure you don't fall at the first hurdle. A sandwich can be generally viewed as consisting of three parts: the bread, the filling and a sauce or spread that adds flavour and moisture.
Bread
Many breads are vegan friendly but some are not and you can easily find out why in our Is Bread Vegan? article. Picking a vegan bread is a very basic step but one that can be overlooked if you are too focused on your filling and/or you weren't even aware that some bread isn't vegan.
In short, there are a number of things that could render bread non-vegan, with butter, eggs or egg derivatives, milk or milk-based products, and honey among the chief offenders. If the bread you are using doesn't state clearly that it is suitable for vegans then we recommend you check out our bread feature so you know exactly what to look out for.
Spreads
As for spreads and sauces that are used on sandwiches, many of the most traditional ones are not vegan. Butter is the obvious one to avoid but also note that some margarine is vegan but some isn't. Mayonnaise is another very common condiment that vegans should avoid, although these days there are some excellent vegan mayos available.
Once again, we have a dedicated article that covers vegan condiments and will help you choose which is the perfect addition to your vegan sandwich of choice. Perhaps more crucially, it makes it very clear which to avoid and what ingredients you should be aware of on labels.
Best Vegan Sandwich Fillings
Now the basics are covered, let's look at some cracking vegan sandwiches that are sure to put a smile on your face and a feeling of satisfaction in your belly. These are all delicious and the majority are also very easy to make, as well as tending to be highly nutritious and healthy.
Hummus & Roast Veg
Hummus is an absolute vegan staple and, indeed, pretty much a staple for many non-vegans too nowadays. But, is hummus vegan? Well, if made to our incredibly simple recipe it most certainly is. Most shop-bought hummus is also vegan, but not all; you also can't be certain that hummus in a pre-made sandwich is vegan.
Make it yourself though and this delicious chickpea and tahini spread is 100% vegan and highly nutritious, packing in loads of fibre, being a complete vegan protein and also offering lots of micronutrients on top. Add some roast vegetables and you really do have an absolutely delightful vegan sandwich filling. Peppers, onions and aubergine are our favourites but courgettes, mushrooms, carrots and loads of other veg also work extremely well.
Quorn Chicken Fillets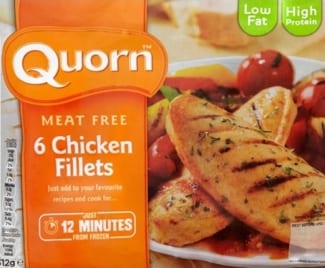 Quorn has developed some tasty and convenient vegan products and their vegan fillets are perfect for this tasty sandwich that you can easily pass off to meat-eaters as chicken, if that's what floats your boat.
Vegan Quorn Tikka & Cucumber
Tandoori or tikka spice mix is widely available and, whilst a traditional marinade would use yoghurt, there are vegan alternatives. You can either use a non-dairy vegan yoghurt or, our preference, mix the spices with a little lemon juice and tomato puree to form a paste.
You can marinade the fillets if you choose but they taste great with the mix simply spread on before cooking. Grill under a high heat to get some charring and then slice into thin strips. Cucumber completes this tasty vegan treat, with a vegan mayo, butter substitute or sweet chilli sauce all great options if you fancy any of them.
Moroccan Quorn with Hummus
Many of the vegan sandwich fillings in this feature can be mixed and matched and tweaked and adjusted to create any number of options and this one combines elements of the first two. As an alternative to the Indian spicing above for Quorn fillets, instead, use a mix of your favourite North African spices. Once again, you can buy pre-mixed Moroccan style spices, or simply use Harissa but we like a blend of cumin and coriander seed, garlic, lemon zest and a little cinnamon.
Make the Quorn in the same way described above and then simply add it to a hummus sandwich for a really delicious, high protein lunch. Of course, for added nutrients and to make your sandwich even more filling, you can leave those deliciously soft and sweet roasted veg on there too if you want!
Pulled Jackfruit Melt in BBQ Sauce
Pulled jackfruit is a vegan barbeque classic and its texture makes it a winner in this sandwich if you're a vegan who (whisper it…) misses meat. Mix the cooked jackfruit with your favourite vegan BBQ sauce, slop a very generous dollop onto your bread and then top with a vegan cheese substitute. Sheese, available from TheVeganKind Supermarket is one option that works well.
A quick blast under the grill (Sheese melts nicely due to the coconut oil they use) and you're almost done. All you need now is a crunchy vegan slaw to top it off and away you go. This is another one that might well fool an unsuspecting meat aficionado (especially if they've had a drink or two!).
"Fish" Fingers
Sandwiches can be light and refreshing, as well as hearty and they can also be incredibly sophisticated or very simple. This one falls into the latter category and, as a "butty" rather than sandwich, it is really comforting, like a big hug on a rainy Sunday afternoon.
Most major supermarkets, as well as vegan specialists, now sell "No Fish Fingers", "Fishless Fingers" or "Vish Fingers" and they can be made in a range of ways. Quorn have a product, whilst some are made of tofu or even banana blossom. Most are very good, packing a decent texture on the inside and the same crunch you're used to, plus a reasonable flavour. We love ours with some vegan tartare sauce. Or why not add a bit of shredded seaweed for that extra flavour of the sea and a welcome boost in your iodine intake?
Salad Sandwich
If the sandwich is a humble dish then the salad sandwich is the humblest of them all on paper (to use the lexicon of Premier League football…and Love Island!). However, it doesn't have to be that way and a well-made salad sandwich can be a genuine delight. The secret, much the same as with making a salad, is getting a good combination of flavours and textures and also using the best ingredients you can find and afford.
The ripest, sweetest tomatoes make a great sandwich almost by themselves but add a little rocket, basil and a light balsamic dressing (making sure your balsamic vinegar is vegan) and you really take it to a whole new level. Herbs are great in sandwiches and they are packed with healthy phytochemicals (which are antioxidants) and these same molecules give them their rich flavours.
Another favourite of ours that is also nice and simple is beetroot and cucumber. Crisp and refreshing, if the beets are cooked just right, the resistance and bite they offer is almost reminiscent of meat (a little like a cauliflower "steak"). This tastes lovely with a really hearty crack of black pepper.
Last of all, and a little bit of a go-to option for us when there's not much else left in the house, is the "whatever you've got salad sandwich". Subtle flavour and texture combos are all well and good but more or less any range of salad ingredients housed between two slices of decent bread with a bit of salt and pepper tastes fresh and delicious to us!
Sausage Sandwich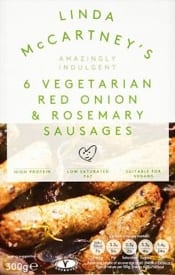 From one end of the spectrum to the other, the vegan sausage sandwich is great when you have a hangover (anyone for vegan Champagne?). You can grill, fry or oven cook your preferred vegan sausage of choice and simply have it between bread with ketchup, vegan margarine or whatever your favourite vegan condiment happens to be.
However, vegan sausages tend to be drier than their meat counterparts (mainly down to a big dose of unhealthy saturated fat in the meat versions) and so we like to add a little moisture to ours, especially if we might have had a glass of wine too many the night before.
Sweat off an onion for 15 minutes until it's nice and soft, add some very finely sliced mushrooms and cook for another five minutes. Add your preferred condiment straight to the pan and cook on high for another minute or so, adding a splash of water if needed. Dollop your mix on top of the sausages and you have at least one of your five a day, a nice salt hit for the hangover and a darn tasty vegan sanger!
Mexican Avocado
Of course we had to feature an avocado option on here and this spicy, zingy Mexican cracker is sure to wake up the taste buds after even the biggest of nights. Just take a perfectly ripe avocado and roughly break it up in a bowl. We like a nice mix of the odd smooth bit with lots of chunks of varying sizes.
Add half a teaspoon of dried chipotle flakes, a handful of coriander, the juice of a lime and plenty of salt and pepper. Construct your sandwich with the avocado on the bread (sourdough works best… well, this is an avocado recipe) before topping with some thinly sliced red onion, spring onion and, if you like it hot, a few slices of fresh red chilli.
Cauliflower Steak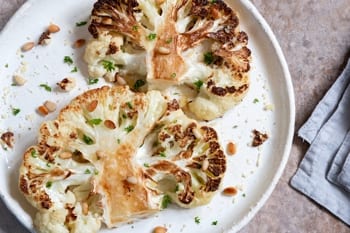 The cauliflower "thing" has long since passed but we don't eat food because it's cool or hip or "hot right now" – we eat it because we like it. A cauliflower sandwich is arguably the sort of thing that gives vegans a bad rep but if the haters were to actually try it, we're sure they'd be back for seconds.
Your options for flavouring the cauliflower are more or less limitless and we've done cauli steaks with a vaguely Indian angle, South East Asian flavourings, as well as Italian and Texas BBQ style. However, at the time of writing, it's cold and wet and we feel like we'd rather like a taste of the Spanish sunshine.
First of all, take a nice central slice of the cauliflower about 3cm thick. Rub it with a little oil and then roast in the oven for about 15 minutes until it's cooked but not too soft. Whilst that's cooking, fry some diced red onion, red pepper and garlic until soft. Shortly before the steak is ready, add a teaspoon of sweet, smoky paprika and a dash of red wine vinegar.
Remove from the heat and stir through a handful of flat leaf parsley. Use the pepper and onion mixture to top the steak inside your sandwich. Note for a larger meal, you can serve this with a potato dish and some veg whilst olives are another edition to the mix if desired.
Falafel & Roast Tomatoes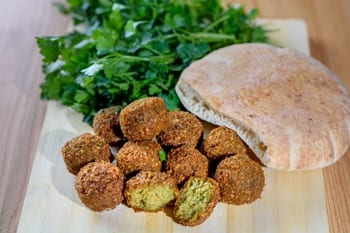 When made well, falafels are packed with flavour and combine a delicious external crunch with a lovely soft centre. Whether you pre-buy yours, make them entirely from scratch or make them from a shop-bought mix, they are great in a sandwich. A pita would be the traditional bread to use but they are awesome in a baguette, or indeed within whatever bread takes your fancy.
We pimp our vegan falafel sandwich filling by topping it with a smoky and rich roast tomato mix. Just coat a handful (you can do them in a larger batch to save oven energy) of cherry tomatoes with oil, smoky paprika, a pinch of chilli and a little fresh garlic and roast for 15 minutes at around 170°C. Pile this into your pita or other vegan sandwich bread along with some rocket and dive straight in.