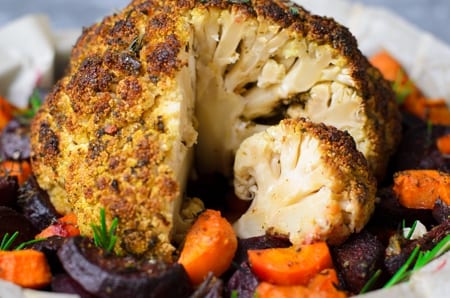 Sunday roast, Sunday lunch or Sunday dinner (call it what you will), this ubiquitous English Sunday meal originated as a post-church tradition centuries ago and is enjoyed weekly by friends and families aplenty. Typically the Sunday roast dinner would include some kind of roast meat, like beef, lamb, pork or chicken, with a range of vegetables and other accompaniments. But – with a little tweaking – vegan can easily enjoy a Sunday roast as well as any omnivore.
Here we will give you all the information you need to make a vegan-friendly Sunday lunch that will be lapped up by vegans and non-vegans alike. We will go into a bit more detail about how to replace the various elements of the archetypal Sunday dinner further down, but first we will give a snapshot of some of the best vegan-friendly options available.
Note that many elements of your average vegan Sunday lunch will be applicable when planning a vegan Christmas dinner, although that will often require more in the way of vegan show-stopper recipes.
Best Vegan Roast Dinner Alternatives
Traditional Sunday Lunch Food Items
Vegan Alternatives
Roast Beef
There are numerous tasty vegan alternatives for roast beef that range from products that aim to imitate, to things that are really nothing like beef at all.

Examples include: Nut Roast, Roasted Cauliflower, Celeriac Steaks, Soya/Seitan/Tempeh Steaks, Vegan Burgers, Vegan Sausages, Stuffed Butternut Squash (or other veg)

Roast Chicken
Essentially anything you might use as an alternative for beef will work as a replacement for any roast meat, but there are also some specific chicken/turkey alternatives from a range of plant-based food producers, although check the label as some, e.g. the Quorn Roast, contains milk and eggs.
Pies, Puddings & Tarts
Vegan Shepherd's Pie, Meat-Free Pies, Vegan Wellington; Linda McCartney Pies, Vegan Tarts
Gravy
Vegan Instant Gravy, Vegan Stock; Make your own vegan gravy
Stuffing
There's no reason stuffing has to be non-vegan and many of the best stuffing recipes are already plant-based, which makes this part fairly straightforward.

You can either make your own vegan-friendly stuffing, or buy stuffing mix or readymade stuffing that is marked as suitable for vegans – there's it quite a lot around these days.

Yorkshire Pudding
No need for eggs and milk – you can make your own using one of the many great vegan milk alternatives instead of the dairy variety and aquafaba (or chickpea water!) in place of the eggs.
Condiments
Most mustards are already vegan friendly, and though horse radish sauce often contain eggs, there are vegan varieties available. There is also egg-free mayonnaise and many other sauces and condiments are fine for vegans (always check the label for confirmation).

Of course, as always, you could just make your own vegan-friendly version of any of your favourite condiments.

Roast Potatoes
As long as you cook the potatoes in oil that derives from plants as opposed to animals, you're good to go. Take your pick of olive oil, sunflower oil, rapeseed oil or even coconut oil – experiment and find out which gives you the crunch and flavour you desire.
Other Vegetables
No alternatives required!
Vegan Sunday Lunch Alternatives for Meat
There are an increasing number of vegan-friendly meat alternatives available in UK supermarkets and from specialist plant-based food companies. This can come in handy whether you're planning a roast dinner, a vegan-friendly barbecue, making a curry or anything else.
We're focussing here on the readymade products that we've sampled and that tantalise the taste buds sufficiently for us to recommend them for your next vegan roast dinner.
Vegan Roast Beef Substitutes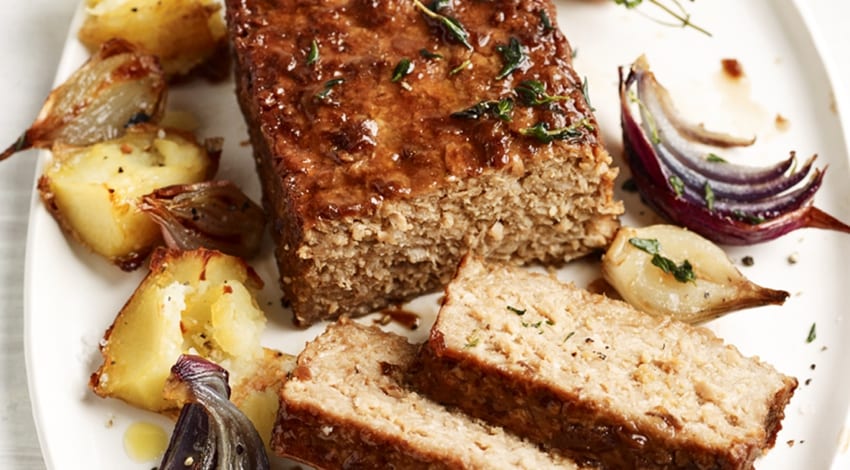 Roast beef is perhaps the most traditional of the meats chosen for Sunday dinners in the UK. But more and more people are waking up to the environmental impact of beef farming (not to mention the ethical concerns in relation to the cows themselves!), so there is a growing market for alternatives to beef in general.
One popular option for vegans is just to tuck into a couple of your favourite vegan-friendly burgers – many of which are becoming almost indistinguishable from the meat versions they seek to replace. There are also plenty of very good vegan sausages that can fill the gap left by the absence of roast beef.
If you want something resembling the real thing, there are a growing number of passable vegan steak substitutes, while the vegan default of nut roast – whether pre-made or one you make yourself – ticks a lot of boxes. Here are some of our favourite beef alternatives for a Sunday roast.
| Name | Brand | Where to Buy | Info |
| --- | --- | --- | --- |
| Cheatin' Beef Style Roast | Vbites | TheVeganKind Supermarket | This seitan (wheat gluten)-based is a fine beef alternative from plant-based food pioneer VBites. |
| Nut Roast | Clive's | Planet Organic | "Free from" food specialist Clive's have developed an appetising nut roast that saves you having to make your own. |
| Vegetarian Beef Roast with Red Wine & Shallot Glaze | Linda McCartney | Ocado | The rather grand-sounding roast beef replacement from Linda McCartney certainly ticks the convenience box, and it tastes pretty good too. |
| Plant Based Sliced Steak | Harmless Foods | GreenBay Supermarket | This vegan-friendly soya-based steak alternative is one of the better ones out there if you are seeking something resembling the real thing. Also it has decent protein and fibre stats. |
| Vegetarian ¼lb Burgers | Linda McCartney | Most Supermarkets | Still one of the best vegan-friendly burgers around, these tasty, nutritious soya-based burgers are great value. |
| Vegan Mediterranean Sausages | Cauldron | Ocado | Containing red pepper, yellow pepper, courgette and haricot beans, these flavoursome sausage-substitutes add a little variety to your Sunday lunch. |
Plant-Based Chicken/Turkey Alternatives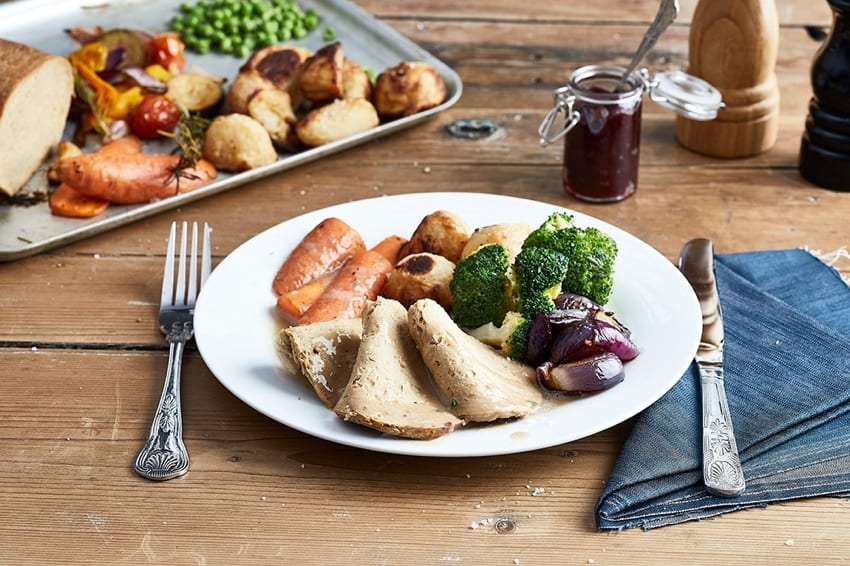 Food manufacturers have been less successful, in our view, when it comes to recreating the taste and texture of chicken or turkey with their vegan-friendly alternatives. Some people choose to use their favourite vegan chicken-style pieces to create some kind of casserole or coq au vin, while others just accept that it's really quite hard to imitate chicken and turkey and just pick an alternative that tastes nice in its own right. Here are some of the better options.
| Name | Brand | Where to Buy | Info |
| --- | --- | --- | --- |
| Funky Chyck'n Seitan | Love Seitan | TheVeganKind Supermarket | Made from wheat gluten (so not for those following GF diets!), this low-fat, high-protein seitan log can be used as a substitute for roast bird, especially if cooking for quite a few people as the logs weight a hefty 1kg. |
| Roast with Herb Gravy | Tofurky | Ocado | This attractive chicken-esque roast from Tofurky comes pre-stuffed with wild rice stuffing. Not to everyone's taste, but many people love it. |
| Cheatin' Turkey Style Roast | VBites | TheVeganKind Supermarket | Billed as a meat-free turkey-style roast, this is akin to the old school Bernard Matthews turkey rolls that were popular in the 1980s (without the need to kill any turkeys!). If you once liked those, you'll probably love this. |
| Vegan Pieces | Quorn | Most supermarkets | One of the oldest and still one of the best versions of chicken-style pieces, the Quorn Vegan Pieces are great in casseroles as they soak up flavours really well. (Be sure to check the label as Quorn also make non-vegan pieces.) |
Vegan-Friendly Pies, Puddings & Tarts
As you will see in our Is Pastry Vegan? article, you can make most types of pastry using only vegan-friendly ingredients. Also many brands of ready-made pastry is vegan friendly, so if you don't have the time or inclination to make your own, it's very little hassle to buy it pre-rolled.
Once you've made or purchased the vegan pastry, it's just a matter of deciding what filling you want for your pie or tart. The options are endless, so it's all a matter of trying out your own combinations or following your favourite vegan recipes. Of course, if time is short and you just fancy buying something you can shove in the oven, there are loads of fantastic options available too. Here are some of our favourites:
| Name | Brand | Where to Buy | Info |
| --- | --- | --- | --- |
| Kevin Pie | Pieminister | Ocado | Strange name, yes, but the Kevin Pie is a vegan treat containing mushrooms, tomatoes, red onion and even a splash of red wine. |
| Aloo Gobi Pie | Clive's | TheVeganKind Supermarket | Perfect if you fancy a little spice with your Sunday lunch, this cauliflower & veg pie is infused with ginger and a range of Indian spices. |
| Lentil & Kale Ragout with Cranberry Tart | Clive's | Ocado | Good old Clive also has a nice range of vegan tarts, including this tasty offering that is well worth checking out. |
| Vegetarian Country Pies | Linda McCartney | Most Supermarkets | A fine, satisfying pie that is moist enough to ooze gravy when you cut into it without it going too soggy. |
Vegan-Friendly Gravy
Our Vegan Christmas Dinner article contains a recipe for a very tasty vegan gravy recipe, but if you want something a little more instant, here are some of the best options available to you:
| Name | Brand | Where to Buy | Info |
| --- | --- | --- | --- |
| Real Veg Stock | 9 Meals From Annarchy | Planet Organic | One of the best veg stocks on the market from a company who grows their own organic veg & squishes them into their jars of stock. |
| Instant Gravy | Marigold | Ocado | One of the best of the instant vegan-friendly gravies we've sampled is this one from Marigold – at least as good as any non-vegan instant gravy out there. |
Vegan-Friendly Yorkshire Puddings
For many, especially those from the North, a Sunday lunch isn't complete without Yorkshire puddings. It's not all that complicated to just make your own vegan Yorkshires, using soya milk and vegetable oil, along with self-raising flour, a little baking powder and some warm water and/or aquafaba.
This is one product that food manufacturers are yet to really embrace, with even the dairy-free versions of Yorkshire puddings generally containing eggs. It therefore pays to just make them yourself, though there is one option that can assist, albeit being just a mix rather than pre-made Yorkshires.
| Name | Brand | Where to Buy | Info |
| --- | --- | --- | --- |
| Yorkshire Pudding Mix | Isabel's | Ocado | The half-way house option is to buy vegan-friendly Yorkshire pudding mix and add soya milk & egg substitute. Isabel's mix works brilliantly to produce crispy puds with good rise. |
Vegan-Friendly Stuffing
The good thing about stuffing is that there is really no need for it to contain meat at all and it's really not a difficult thing to make with any number of your favourite flavours and ingredients.
Many of the best stuffing mix that is available to buy is already fine for vegans, such as the classic Paxo that you can find in your local high street supermarket. Always check the label to be sure of course, but here are some that are definitely vegan friendly that you might like to sample.
| Name | Brand | Where to Buy | Info |
| --- | --- | --- | --- |
| Cranberry, Orange & Roast Chestnut Stuffing Mix | Shropshire Spice Co | TheVeganKind Supermarket | The Shropshire Spice Co have a range of great-tasting vegan stuffing mixes, of which this is our favourite. |
| Sage & Onion Stuffing Mix | Paxo | Most Supermarkets | For value and nostalgia, it's hard to beat this staple from Paxo. Not the tastiest on the market, but it certainly evokes memories of childhood Sunday dinners. |
Vegan Roast Potatoes
If you are going to the trouble of making a roast dinner, you should certainly be able to find the few minutes required to make your own roast spuds. Whether you use sunflower oil, olive oil or even coconut oil, your vegan-friendly roasties can be gloriously tasty.
Vegan Sunday Roast: Almost Hassle-Free
As we have shown, there is no reason why a vegan-friendly Sunday roast cannot be tasty, satisfying and (almost) hassle-free. Whether you are inclined to buy pre-made products in place of the tradition meat centrepieces, or you would rather make your own from scratch, there are so many versatile and healthy options out there that will excite your taste buds and those of your guests.