There are numerous vegans out there with a sweet tooth, and more still who like the occasional sweet snack from time to time. But for those following a plant-based diet, trying to find vegan-friendly sweets can be something of a hassle to say the least. So, to minimise the time you spend checking labels in the confectionary aisle of your local supermarket, here we present to you some of the best, tastiest vegan sweets around in the UK.
To cut to the chase, we'll first run through our top 10 picks for the best vegan sweets, and then we'll expand the info we give about our top picks and mention a few other sweets that just missed the cut (but which might still appeal to many vegans). Finally, we'll go into a little detail about what stops most sweets being suitable for vegans.
Note that for this article we are focussing on sweets in the traditional sense, that is those that come in packets, such as Starburst or Skittles (both of which have longer articles elsewhere on the site considering their vegan – or otherwise – credentials), or those you might have ordered a quarter of in your local newsagent, back in the day (assuming you're old enough!). We haven't included bars of chocolate or boxes of chocolates, so chocoholics should head to our vegan chocolate page for more info about that).
So, without further ado, let's run through our top 10 vegan-friendly sweets (we might have already given a couple away!).
Buy Vegan Sweets Online
TheVeganKind are one of our favourite vegan friendly supermarkets and they have a great sweets section that covers both traditional favourites as well as specialist vegan treats that you can't find in normal shops.
Top 10 Vegan Sweets
1. Jelly Tots
Made by Rowntree's (one of the greatest sweet companies in history, now owned by Nestlé) Jelly Tots have been around since 1965 and have been gobbled down by kids on long car journeys ever since. They contain only vegan-friendly ingredients, but note that they are made in factories that also handle gelatine, so some vegans might choose to avoid them on that basis.
2. Candy Kittens
These gourmet-style, Haribo-esque sweets from Candy Kittens come in a range of flavours, such as Peach Fizz, Sour Watermelon and Eton Mess, and all are vegan friendly and gluten free, as well as being darn tasty! They also use natural flavourings and real fruit juice, so perhaps aren't quite as unhealthy as some other options.
3. Starburst
Once known as Opal Fruits, these 'made to make your mouth water' chewy sweets do not contain any animal products, at least as sold in the UK. They do contain palm fat (aka palm oil) though, which could be a problem for some vegans.
4. Sherbet Dip Dab
An old school classic from sweet maker Barratt, which was founded way in 1848 in now-hipster Shoreditch, the Dip Dab was launched in 1940 and this bag of sherbet with a sugary lolly combo has been popular with many generations since. Relaunched in 2015, there is now also a sour version (which is also vegan friendly).
5. Skittles
Despite being far from good for you and full of calories and colours, Skittles don't contain any ingredients derived from animals, and so they are okay for vegans to consume. Like some others on the list, they contain palm oil, which poses an ethical question for many.
6. Fox's Glacier Mints
A favourite of grandparents in the 1980s, Glacier Mints were first produced by Leicester-based Fox's in 1918. The company has changed hands a number of times in the last few decades, and is now owned by Valeo Foods under the Big Bear Confectionery banner. The mints themselves, though, have changed little over the years, and are fine for vegans to eat.
7. Love Hearts
Sometimes you just have to say it with… sweets. And Love Hearts are perfect for giving sweethearts romantic messages (assuming your idea of romance is "Hot lips" or "Email me") with a sugar hit to boot.
Launched in 1954 by Swizzles, you can even order personalised Love Hearts to mark a wedding or other special occasion, or just for the hell of it if you are that way inclined. More to the point, these are perfectly vegan friendly. And, for further information about which other Swizzels' sweets are vegan, check out our in depth article here!
8. Refreshers Chew Bar
Another solid entry from the very decent range of vegan sweets from Swizzels, Refreshers were launched in 1955 and soon gained popularity for their zesty flavour.
9. Flying Saucers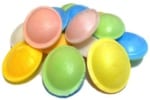 Another favourite that first materialised in the 1950s, Flying Saucers are essentially sherbet encased in rice paper, making them vegan friendly… if not particularly good for you.
10. Kuhbonbon Vegan Caramels
A slightly different option here from German confectioner bran Kuhbonbon (owned by Savitor GmbH), these tasty vegan-friendly caramel sweets are available at various outlets in the UK, including GreenBay Supermarket, and they are well worth tracking down if caramels are your thing.
Other Vegan Sweets
While the sweets we listed above are the ones that made our personal top 10, there are plenty of others options out there, as detailed right here:
Sweet
Company/Brand
Notes
Marshmallows
Freedom Confectionery
Available in various flavours, including vanilla and strawberry, they use seaweed-derived carrageenan instead of gelatine (that is usually used in marshmallows)… and to great effect!
SoftMints
Trebor
With few ingredients (and none that are derived from animals), SoftMints are one of the best minty options for vegans.
Tangy Worms
Jealous Sweets
One of a range of vegan-friendly sweets produced by Jealous Sweets, these are a great vegan substitute for Haribo Sours and similar others. No worms were harmed.
Lemon Sherbets
Asda / Sainsbury's
Asda and Sainsbury's have both produced vegan-friendly own-brand versions of the sweetshop favourite, lemon sherbets.
Rhubarb & Custard
Sainsbury's / Tesco
Sainsbury's, along with Tesco, have a vegan-friendly version of another classic: Rhubarb and Custards.
Liquorice
Henry Goode's
Available in classic or strawberry flavours, Henry Goode's Soft Eating Liquorice sweets are widely available, and widely appreciated by vegans (and others) who prefer their liquorice kick to come without the inclusion of gelatine.
Jelly Beans
Tesco
Tesco's own-brand jelly beans are fine for vegans to consume, unlike the popular Jelly Belly (which include insect-derived shellac and/or beeswax as glazing agents).
Cola Bottles
Free From Fellows
One of the many fine sweet offerings from Free From Fellows, these Cola Bottles (like all their sweets) are free from sugar, gelatine and gluten and are fine for vegans.

Using sugar alcohol maltitol instead of sugar (as it has up to 90% of the sweetness but just over half the calories), these are possibly healthier than standard jelly sweets… though don't eat too many as they could have a laxative effect!

Sour Rainbow Strips/Spaghetti
Haribo
Just when you thought Haribo were going to disappear when everyone turns vegan, they finally pull a vegan-friendly sweet out of the bag. The ingredients of their Sour Rainbow Strips and Sour Rainbow Spaghetti might read like a chemistry experiment (with the likes of Tricalcium Citrate, Sodium Hydrogen and Copper Complexes of Chlorophyllins featuring), but at least there are not any animal-derived nasties, so vegans can tuck in without guilt.
Parma Violets
Swizzels
It's back to Swizzels for another classic from yesteryear: Parma Violets.
Rainbow Drops
Swizzels
Swizzels are on a roll here… and it begs the question, did they have an undercover vegan working for them in the old days who secretly ensured all the formulations didn't contain any animal products? (We hope so!)
What Stops Sweets Being Vegan?
As with any foodstuff that includes a number of different and sometimes complex ingredients, there are a massive number of animal-derived constituents that could find their way into the final product.
Here we go through some of the main things to look out for in the ingredients of any sweets not listed above. Note that animal products are often listed using their scientific name or as an E number. Check out our Vegan E Numbers article for more information about what to look out for in that regard.
Gelatine – One of the most common animal-derived ingredients that is found in a wide variety of sweets (from jelly sweets to boiled ones and plenty more besides), gelatine is made from animals' collagen, often from hoofs of cows or pigs. It's is also known as E441.
Shellac – Also known as E904, shellac (which is also used in various cosmetics and as a wood finish) is used to coat various hard, shiny sweets.
Milk – Milk, including the various proteins derived from it, is added to various sweets, most notably caramels and those containing chocolate. Milk or milk-derived ingredients have to be written in bold in the ingredients on products sold in the UK, which at least makes them easy to spot.
Honey – Used as a natural flavouring or sweetener in some sweets, honey is not vegan due to the exploitation of bees.
Animal-Derived Flavouring – Other animal-derived flavourings could be added to sweets, often written as their E number or scientific name (for example, E640, or glycine, which is often derived from gelatine).
Cochineal – Included as a colouring in various sweets, cochineal might be classified as a 'natural colouring' but it comes from crushed insects, which might put off non-vegans as well as those following a plant-based diet. It is also known as carmine, carmine lake, natural red or E120.
Beeswax – As with honey, beeswax is not vegan because of the exploitation of bees required to obtain it. Like shellac, it is used as a glazing agent. It is also known as E901.
Conclusions: Best Vegan Sweets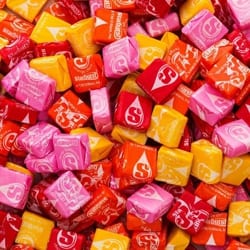 Essentially there are two kinds of vegan sweets: the ones that have been designed to be vegan friendly (such as Candy Kittens and those from Jealous Sweets), and the sweets that weren't designed to be vegan but which are accidentally so (such as Starburst, Skittles and many other longstanding favourites). The ones that were designed with vegans in mind usually make their vegan credentials very apparent through their packaging and advertising, while the others often require a little more investigation or knowledge (or a read of this page!).
Whether you stick to those that are specifically meant for those seeking to avoid animal products (which are often from companies that produce exclusively vegan products) is a matter of personal taste. It should go without saying that those who have chosen veganism for health reasons might want to limit their intake of most of the abovementioned sweets. But for occasional sweet treats, there are a growing number of very good vegan-friendly options available that will allow you to get that sugary hit without harming any animals.