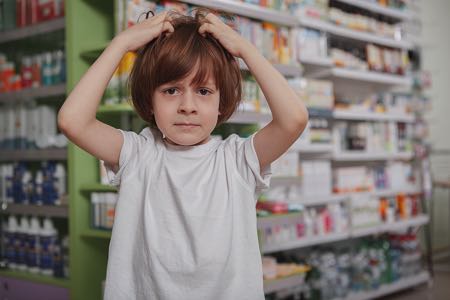 Vegans are a thoughtful bunch when it comes to animals… and in many cases that means all animals. From blue whales to molluscs and even minuscule insects, veganism is all about avoiding harm to animals of all shapes and sizes. So, what should a good vegan do if they (or, more likely, their kids) suffers an infestation of the dreaded head lice?
In this article, we'll explore the vegan ethics in relation to dealing with (aka killing) head lice and the removal of their eggs, known as nits. We'll examine whether there are vegan-friendly options to somehow remove head lice from someone's head without harming the insect (hint: there aren't!). We'll explain why – in our opinion – it is justifiable for vegans (however committed) to treat (which sadly does mean kill) head lice that are, after all, feeding on the blood from you or your child's scalp… self-defence, your honour? First, let us briefly explain what head lice are and why some vegans might believe it is wrong to harm them.
What Are Head Lice?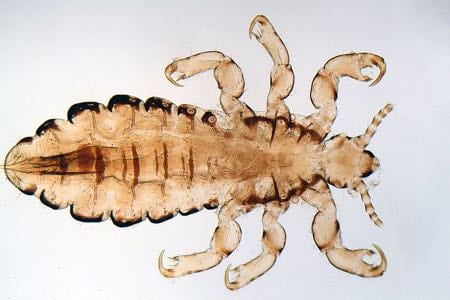 Whether or not you or your kids have had the misfortune to suffer from an infestation of head lice, you might be interested to know what they actually are. Well, the National Institute for Health and Care Excellence in the UK define head lice as: "Parasitic insects that infest the hairs of the human head and feed on blood from the scalp". Sounds good, hey?
The Latin name for the head louse, Pediculus humanus capitis, sounds more like a spell from Harry Potter than a blood-sucking critter. But, alas, once they've set up home in your hair you can't just wave a magic wand and make these parasites vanish… but more of that later. Head lice are insects of the phylum Arthropoda and the kingdom Animalia: i.e. they are animals. Sadly, there is no denying that these lice are animals and therefore there is no vegan get-out on that basis.
With a ready supply of food (that will be your blood!), the head louse lives for approximately 30 days from when the egg (nit) hatches to when the adult insect eventually dies. They reproduce sexually through copulation between male and female lice in mating attachments that can apparently go on for more than an hour, according to research on the behaviour of lice. They lay something in the region of four or five eggs per day and once hatched (usually after seven or eight days) they can become sexually active within 10 hours.
Unlike fleas which can leap great distances or mosquitos that can easily fly from victim to victim, head lice only move from one host to another when they are in close proximity, such as when children's heads are touching. This does at least make them rather easier to contain than some other animals that are typically perceived as pests.
How Do Head Lice Feed?
If you are of a squeamish disposition, you might want to skip this section. Just like David and his buddies from The Lost Boys, Count Orlok from Nosferatu and good old Count Dracula himself, head lice have an unquenchable thirst… for blood!
The lice are equipped with the ability to bite into the skin on your scalp. They inject their saliva – which contains anticoagulant properties to prevent the blood clotting – and suck blood to their heart's content. If undisturbed they can feast for a good while and will excrete digested blood as they feed.
Why Vegans Should Treat Head Lice
As we argue in our articles on vaccines and medicines and, to a lesser extent, vegan pest control, there are certainly some circumstances in which it is perfectly fine to very slightly compromise your vegan ideals. This essentially comes down to what it means to be a vegan in the first place and whether the "rules" are completely set in stone or whether there is some wriggle room. Thankfully, when it comes to the definition of veganism that is most widely accepted, as formulated by the Vegan Society, there is something of a get-out clause included to cover – we firmly believe – things like head lice. The definition states:
Veganism is a philosophy and way of living which seeks to exclude—as far as is possible and practicable—all forms of exploitation of, and cruelty to, animals for food, clothing or any other purpose; and by extension, promotes the development and use of animal-free alternatives for the benefit of animals, humans and the environment. In dietary terms, it denotes the practice of dispensing with all products derived wholly or partly from animals.
The key phrase here is "as far as is possible and practicable". So, while it might be possible to allow head lice to have free reign of your scalp, it's not really practicable for most people. Aside from the irritation the person with lice feels, there is also the chance head lice can introduce potentially dangerous diseases to their host (as outlined in a paper by the University of Florida).
The Greater Good Argument
There is another reason head lice should be treated that goes beyond the irritation and potential disease for the person carrying the bugs. As with the very strong argument for vegans (and non-vegans) to receive vaccinations against certain diseases (including COVID-19), it is clear that treating head lice and eradicating them from your/your child's head will mean that they will not be passed on to anyone else.
Given that they can spread through school or nursery settings with consummate ease, sending a child to such a setting in the knowledge they have head lice is highly likely to cause many more people to get them too. Even if you did not want to kill the head lice for strict vegan reasons, that logic would be counterproductive in such a circumstance. This is because the vast majority of parents would treat the head lice in their kids' hair, and hence many more lice would be exterminated as a result than would have been if you had treated them in the first place.
As such, treating your head lice and those of your family could save hundreds or thousands of as-yet-unborn head lice from being poisoned or starved to death. The ethics of veganism can be long debated, but it stands to reason that even if your goal is to minimise the pain and suffering of head lice, breaking the chain of transmission by treating your infestation is very likely to be more compassionate than letting them set up camp on your scalp and then launch infection raids from there to the heads of potentially many others… the vast majority of whom will have no qualms about obliterating the lice.
The Self Defence Argument
Would a vegan refrain from fighting off a shark that attacked them when they were out surfing? If trekking in Alaska, would a vegan facing a bear attack simply lie down and take it? Or is it, sometimes, okay to fight back? If your life or wellbeing is under severe threat by an animal, most vegans would argue that your safety outweighs that of an animal or at the very least carries equal merit. There could be some who disagree, of course, but one wonders what they would actually do in real life if a tiger shark was taking lumps out of their leg… God forbid that scenario ever occurs.
So, in the same way it does with blood-sucking mosquitoes (an insect that is even more likely than head lice to be a vector for some very nasty diseases in many areas of the world), we would argue that the "when practicable" section of the definition of veganism very much comes into play with head lice. As Rambo (not typically held up as a vegan role model to be fair) once stated in his no-nonsense, logical manner, "They drew first blood, not me".
What's the Least Bad Way to Treat Head Lice for a Vegan?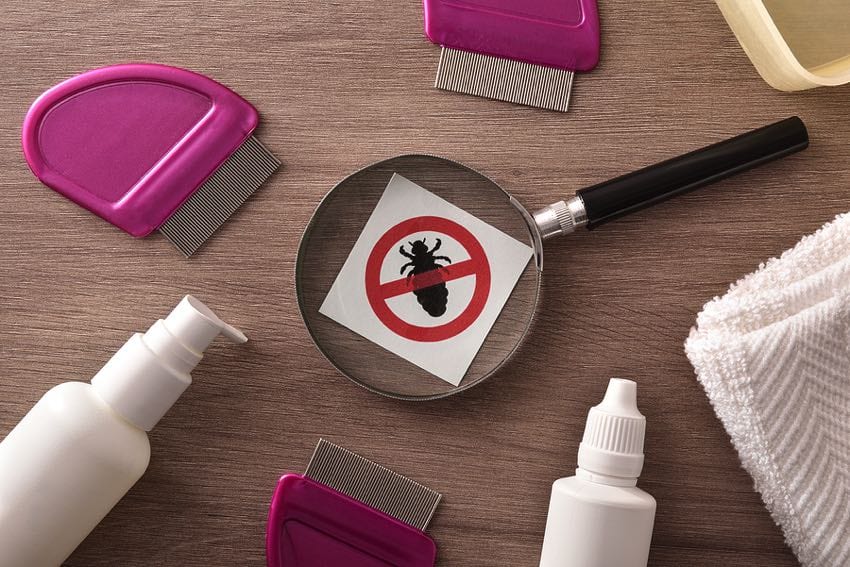 If you happen to live alone and you don't have kids but you somehow manage to get infected with head lice, there is one option that might cause the least harm to the insects themselves: shave your head. The thing is, however careful you are, the act of shaving your head is likely to kill or injure plenty of the lice, and even if they survive that, given they feed off the blood in your scalp, you would essentially be condemning them to starve to death.
We are not familiar with hopes and desires of the Pediculidae family of sucking lice, but one might reasonably assume that the short, sharp shock of some potent chemicals and the swift death that would bring might well be preferable to a long, drawn-out episode of starving to death. But, really, who's to know? Either way though, the result would be the same.
Essentially, once you have resolved yourself to the decision that the head lice have to go, you might want to consider which option is going to be the "least non-vegan". Okay, technically, strictly speaking, you will be killing insects, which are animals, and hence some people would interpret any treatment of head lice as non-vegan. But if you are past that point, there are other things to consider.
First of all you must think about the various lotions, potions and head lice shampoos that are available. Many of these will have been tested on animals (and not just insects!) and hence would be an issue for vegans who only want to buy cruelty-free products (despite the irony… poor lice!). Some of the chemicals contained within some of the specialist head lice-killing products are also potentially damaging to the environment, either in how they are made or where they'll end up when you flush them down your plughole.
As such, the least bad option is simply to attempt to remove the lice and their eggs by thoroughly combing the infested hair with a special fine-toothed comb. This should be done with wet and recently conditioned hair and every part of the hair – from root to tip – should be combed. This will remove a good amount of the eggs and lice themselves and may also render those that do evade the comb unable to lay more eggs.
The problem with this approach, of course, is that you might well miss a few eggs that will then hatch and the cycle starts again. And, what would you do with any live insects you managed to comb out? The vegan ideal would be to release them into the wild but the chances are this would be condemning them to starvation anyway.
Cruelty Free Head Lice Shampoo
As George Orwell wrote in Animal Farm, "All animals are equal, but some animals are more equal than others". And, so it seems to be the case with so-called cruelty-free shampoo that is designed to eradicate (yep, kill) head lice. So, how can that be classed as cruelty-free, you might ask? Well, it is more to do with the fluffy non-insect animals like rabbits and dogs that might have been used by producers of other products as guinea pigs (and perhaps, literally so, as guinea pigs might well have been tested upon too in some cases!).
When a shampoo is marked as cruelty-free it means it hasn't been tested on animals in general, but if that is the case it will not technically have been tested on head lice and hence its efficacy could not realistically be verified. While it is possible that vegan-friendly shampoos that are marketed as treatments for head lice might well do the job, if they are marked as cruelty-free, one would assume they have not been officially tested to make sure they do indeed eradicate lice infections. Or, alternatively, that we are very much back to the notion of some animals being more equal than others.
Having said that, it is certainly worth trying such options, which usually include various natural ingredients, such as tea tree oil, eucalyptus, birch oil, rosemary, lavender oil and chamomile. These are much less potent than the various chemical formulas that are available. The natural options are likely to be better for the environment and for people who don't want to wash their hair in chemicals, such as piperonyl butoxide, permethrin and petroleum distillate, which have varying levels of toxicity and can cause some side effects, including skin irritation and even burning.
Head Lice Conclusions
Head lice can be a real annoyance. They reproduce relatively quickly, can cause irritation and potentially infection or disease and, let's be clear about this, they suck your blood! Some vegans would suggest that because head lice are animals they should not knowingly be harmed. We would suggest this is very much the level five vegan approach and not, in reality, one many vegans would be happy to follow.
As we argue above, the definition of veganism allows for circumstances when it is not "practicable" to avoid such harm. And, in the case of blood-sucking head lice, we think it is certainly not practicable to let them remain in situ on your scalp or that of your children, especially if they go to nursery or school.
Vegans seeking the least bad option can either painstakingly comb out all the lice and eggs using a special comb or opt for natural anti-lice shampoos that have not been tested on animals. In truth, though, both will have the same result, at least as far as the lice are concerned, to a greater or lesser extent, as the more potent chemical shampoo treatments.