Vaccines are essential weapons of medicine to promote and maintain public health and they have been pivotal in the prevention, and in some cases near-eradication, of some very nasty diseases.
There is no doubt that the world is a better place for humans without smallpox, the global eradication of which was officially confirmed by the World Health Organisation on the 8th May, 1980.
Global Eradication of Diseases
There are also diseases that are either eliminated or almost eliminated in many regions of the world (such as rubella and measles) or for which global eradiation is underway (polio). As such, there is little doubt that public investment in vaccines is both sensible and necessary. But given that some vaccines contain ingredients derived from animals, does this mean vegans should refrain from taking them? In a word: NO.
As we will explain in more detail in this article, when sections of the population choose not to have their children vaccinated they are, in our opinion, being misguided, and really ought to consider their actions with care. The rise of anti-vaccine movements that, as we shall show, are based on spurious pseudo-science and myths, have led to outbreaks of measles in the richest country on the planet after vaccination rates fell from 91.4% to 76.5% between 2004-05 and 2017-18.
Irresponsible "Anti-Vaxxers"
It is highly irresponsible for a parent to deny their children the vaccines that have been proven to prevent diseases that would certainly cause them to suffer. Not to mention increasing the likelihood that other children who have not yet been vaccinated will contract such diseases.
While many of these "anti-vaxxers" base their decisions on conspiracy theories or discredited research, there have also been reports over the years of vegans refusing to be vaccinated or have their children take these potentially life-saving injections.
Should Vegans Refuse Vaccines?
Let us be clear: Vegans should NOT stop their children getting vaccinated, in our view. Indeed, they shouldn't refuse any other medication or treatments that are recommended by medical professionals even if they have been tested on animals or contain animal products or those derived from animals. We go into more detail about specifics in our vegan medicines article.
Clearly, for many, this seems like a position that contradicts the very ethos of a vegan lifestyle. But, there is little point having an ethical stance based on minimising the suffering of animals whose implications promote the suffering of humans. Not allowing your child to have a vaccine that has a small amount of milk-derived lactose might keep the vegan credentials intact, but if your child then goes on to contract measles, which then spreads to other children who have not yet been vaccinated and an outbreak occurs during which many children become very ill… clearly, that would not be a trade-off most right-minded people would think is justifiable.
The decision to be a vegan and the effort to maintain a vegan lifestyle can be significant. But however committed to veganism a person is, there comes a point when hard choices have to be made. The generally accepted definition of veganism states that veganism is:
A philosophy and way of living which seeks to exclude—as far as is possible and practicable—all forms of exploitation of, and cruelty to, animals for food, clothing or any other purpose; and by extension, promotes the development and use of animal-free alternatives for the benefit of humans, animals and the environment. In dietary terms it denotes the practice of dispensing with all products derived wholly or partly from animals.
The key words here in terms of decisions relating to vaccinations are, "as far as is possible and practicable". However strongly a philosophy is held, it is rarely worth getting seriously ill (or dying) for. As such, vegans should consider vaccinations – and medications in general – that contain animal products as falling under the umbrella of items which are not practicable to avoid.
Moreover, it is worth noting that the definition above includes the following sentence: "In dietary terms it denotes the practice of dispensing with all products derived wholly or partly from animals". Vaccinations, medicine and other products essential to life are clearly being separated from the diet, as using these is not, realistically, a lifestyle choice.
Irrespective of whether animal products are contained within a given medication, it has almost certainly been tested on animals at some point during its development, but what's a vegan to do? The consequences of avoiding all vaccines and medications could be dire for the vegan in question (and their children); also, as veganism grows in popularity, the implications of all vegans refusing to get their children vaccinated could be catastrophic on a global level.
What Are Vaccines?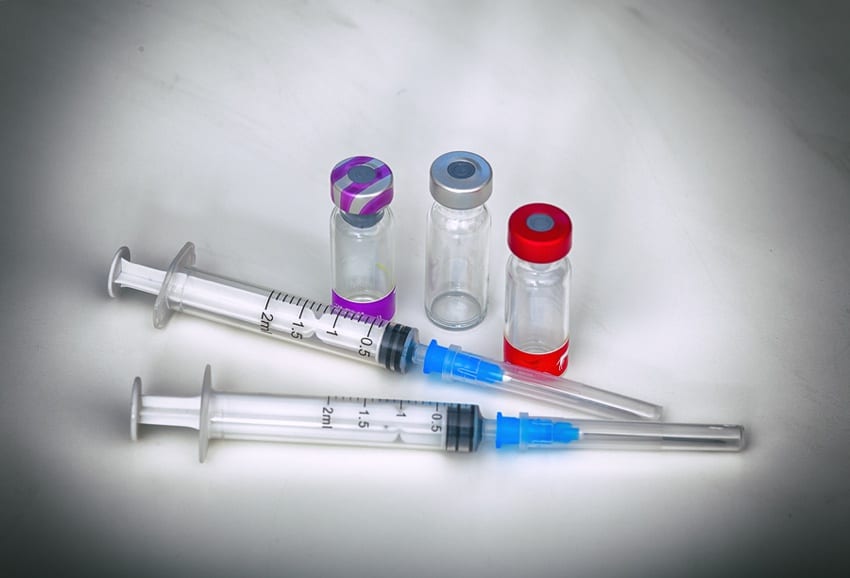 Let us take a step back and explain the basics of what vaccines are and how they work. According to the World Health Organisation, "A vaccine is a biological preparation that improves immunity to a particular disease".
Generally, this "biological preparation" contains an agent or active ingredient that is created from a weakened or dead form of a given microbe or its toxins or proteins. This is introduced into the body – usually orally, through a nasal spray or intravenously – and it stimulates the immune system to not only destroy the foreign agent, but also to remember it and destroy any such microorganisms in the future.
What Stops Vaccines Being Vegan?
Health professionals and the medical sector are very open about what goes into vaccines, and medicines in general. The general public is able to look up exactly what's in any medication in the UK on the electronic Medicines Compendium (eMC) database. You can search for medicines (by brand or scientific name) or by active ingredient.
The only problem is that there are many ingredients that will be unfamiliar to many and it can take some time trying to assess whether or not it has been derived from animal products. It would be handy if there was a "vegan-friendly medicines" search on the site, but at the time of writing, this does not exist. Hopefully, as veganism continues its rise to world domination (!) this is a feature that will be added. There are various types of ingredients and processes utilised in the production of vaccines that might have made use of animal products.
Ingredients & Processes in the Production of Vaccines
| | |
| --- | --- |
| Active Ingredients | These are the bits of the vaccine made from the antigens (bacteria or viruses) that trigger the immune system to create antibodies. Neither viruses nor bacteria are classified as animals, so there is no issue here for vegans. |
| Added Ingredients | These are extra ingredients added to vaccines to help its effectiveness, or to act as preservatives or stabilisers. Some of these (such as gelatine or egg protein) are derived from animals and so technically make the vaccines which contain them non-vegan. |
| Products Used in Vaccine Manufacture | These can include antibiotics used to stop bacteria contaminating the vaccine. Egg proteins, on which viruses can be grown, are used in the production of some vaccines, which make them technically non-vegan. Yeast is also utilised in the production of some vaccines, but yeast is vegan, so that's fine. |
| Human Products Used to Grow Active Ingredients | Active ingredients for some vaccines are grown in labs using cultures containing human or animal cells. |
As you will see from the table below, some vaccines routinely given in the UK contain animal products including those derived from eggs, milk, pigs and even human blood! You can find out more information about the ingredients in vaccines from Oxford University's Vaccine Knowledge Project.
Non-Vegan Ingredients in Vaccines
| Ingredient | What is it? | Used in… |
| --- | --- | --- |
| Squalene Oil | An oil that occurs naturally in humans, plants and animals, for a particular flu vaccine the oil is obtained from purified fish oil | MF59 flu vaccine |
| Gelatine | Derived from the collagen from pigs and is used as a stabiliser for some vaccines | MMR vaccine; children's nasal flu vaccines; shingles vaccine |
| Human Serum Albumin | A protein obtained from (donated) human blood that is used as a stabiliser in some vaccines | Chickenpox vaccine |
| Lactose | Derived from milk whey, this sugar acts as a stabiliser in some vaccines | Various |
| Egg Protein | Flu virus can be grown on egg protein | Children's nasal flu vaccine; yellow fever vaccine |
| Animal Cell Strains | Cultures containing cells from animals that may include chick embryos, kidney cells from African green monkeys, various cells from cows or other animals | MMR vaccine; 4-in-1 pre-school booster vaccine; teenage booster vaccine; Rotavirus vaccine |
| Human Cell Strains | Cultures containing human cells are used to grow active ingredients for a number of vaccines | MMR vaccine; shingles vaccine; chickenpox vaccine |
Why Do We Need Vaccines?
We need vaccines to prevent us from getting certain diseases. The first "vaccines" humans get actually come in the form of antibodies passed from their mothers through the placenta. This is known as "passive immunity" and protects babies against a number of diseases including measles, mumps and rubella. This passive immunity generally only last for a few weeks or months, however, hence the need to vaccinate babies while they are still very young (much to their consternation!).
Herd Immunity
While the vaccine stops a single person contracting a given disease, a programme that vaccinates all (or nearly all) of a population results in the number of cases of that disease decreasing. Not only does this stop those who have received the vaccine getting the disease, it also creates what is known as "herd immunity", which means that it is much less likely for non-vaccinated individuals to contract a disease because they are now much less likely to come into contact with the pathogens.
The greater the proportion of a given population is vaccinated, the more likely it is that a disease can be eradicated. This has happened in the case of smallpox, since when the vaccination programme for the disease has been halted. The more infectious a disease, the greater the proportion of the population needs to be vaccinated in order to prevent outbreaks. For example, at least 90% of children need to be vaccinated against measles to stop the disease spreading because it is so easily passed from one individual to another.
Main Vaccines Given in the UK
Here we'll run through the main pre-school vaccines given to pre-school children in the UK.
| Vaccine | What It Does |
| --- | --- |
| 6-in-1 vaccine | Protects against six illnesses (hence the name): whooping cough, tetanus, diphtheria, polio, Hib (Haemophilus influenzae type b) and hepatitis B; it is administered to babies at 8 weeks, 12 weeks and 16 weeks of age. |
| Pneumococcal or pneumo jab (PCV) | Protects against pneumococcal infection, which can lead to pneumonia and bacterial meningitis; administered to babies at 8 weeks, 16 weeks and one year of age. |
| Rotavirus vaccine | Protects against rotavirus, which causes diarrhoea and sickness in children; administered to babies at 8 and 12 weeks of age. |
| Men B vaccine | Protects against meningitis (caused by meningococcal type B bacteria); administered to babies at 8 weeks, 16 weeks and one year of age. |
| Hib/Men C vaccine | Protects against Haemophilus influenzae type b (Hib) and meningitis (caused by meningococcal group C bacteria); administered to babies at one year of age. |
| MMR vaccine | Protects against measles, mumps and rubella; administered to children at four months, one year and three years of age. |
| Children's flu vaccine | Protects against the latest strains of flu; administered to children annually between the ages of two and nine years. |
| 4-in-1 pre-school booster | Protects against diphtheria, tetanus, whooping cough and polio; administered to children at four months and three years of age. |
Other Vaccines
There are a number of other vaccines given to children later, including the HPV vaccines (for girls only to protect against cervical cancer), the 3-in-1 teenage booster and the MenACWY vaccine to protect against meningitis, which is given at 14 years of age and to new university students.
There are also some optional vaccinations that can be recommended to "at-risk" groups. These include: the Chickenpox vaccination that is given to siblings of children with suppressed immune systems; the BCG (tuberculosis) vaccination; Hepatitis B vaccination.
Are There Any Vegan Alternatives to Vaccines?
Medical science has been developed over the centuries to provide medicines and treatments that have been proven to actually work. This proof comes in the form of extensive, well-run scientific studies that have assessed the efficacy of all vaccines that are currently given to children in the UK.
This is not true of so-called alternative medicines, such as homeopathy. Despite the claims of many homeopathic practitioners, the House of Commons Science and Technology Committee reported in 2010 that homeopathic remedies perform no better than placebos. As such, while we wouldn't presume to suggest that homeopathy definitely doesn't work, there is no evidence to suggest it does and it certainly shouldn't be used as an alternative to vaccines to prevent diseases.
Are Vegan Vaccines Being Developed?
There have been calls from various vegan organisations for the UK government to promote more vegan-friendly medicines in the NHS. While this is unlikely to gain too much traction in the immediate future, there is no doubt that as more people turn to vegan lifestyles, pharmaceutical companies will become more willing to opt for plant-based products over animal-derived options where possible. In the meantime, be sure you and your children are protected by being up-to-date with your vaccines.
Are Covid-19 Vaccines Vegan?
Note: There are many sources of Coronavirus (COVID-19) help and information out there but be sure to double-check any claims or assertions with trusted sources such as the NHS or the World Health Organisation.
Based on all the arguments given above, that revolve around the "as far as is possible and practicable" section of the definition of veganism, we think the Covid-19 vaccines ARE vegan. This is despite them having been tested on animals. And all Covid-19 vaccines will have been tested on animals at some point during their development, almost always before they are tested on human volunteers. This includes the Pfizer and BioNTech Covid-19 vaccine that was the first to give real hope to the world. As well as the Moderna vaccine and indeed the Oxford Covid-19 Vaccine, which uses chimpanzee adenoviral vectors
There will no doubt be some vegans who will not be at all comfortable with receiving a vaccine that has been tested on animals. But this vaccine could save your life, or indeed the life of a loved one or a complete stranger. If people who are recommended to take the vaccine choose not to, the chances of the world getting on top of the Covid-19 virus will diminish… and more people will die.
In an ideal world, animals would not be tested on at all. And there is certainly a good deal of evidence that suggests testing medicines or vaccines meant for humans on animals is not very effective (to say the least). But the world is far from ideal at the moment. And given the possible and practicable section of the definition allows for scenarios such as this, we think it is not a contradiction for vegans to receive the Covid-19 vaccine, or indeed any other that is likely to stop them (or others) getting seriously ill or possibly even facing death.