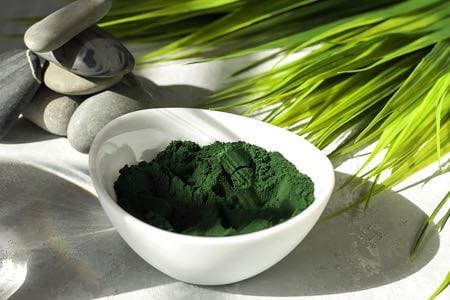 If you think of algae you might well picture a thick soup of green gunk overtaking an under-maintained garden pond. But in the world of health foods and supplements, algae – and spirulina in particular – is seen as something of a wonder food. It is debatable whether algae protein powder is used as a supplement to assist muscle growth and repair or whether it is seen by most fans (and vegans in particular) as an all-round health supplement. Indeed, many people choose to consume spirulina in capsule or tablet form rather than powder, for the micronutrients, rather than the macro (protein).
As we explain in our article about spirulina, there are numerous potentially beneficial nutrients within this blue-green algae (technically, it is a cyanobacteria). Also, though completely vegan friendly, algae are not actually plants (though they do rely on photosynthesis). We won't go into the details here though, but suffice to say, no animals are used, harmed or killed to make spirulina or other pure algae protein products and powders.
Benefits of Algae Protein Powder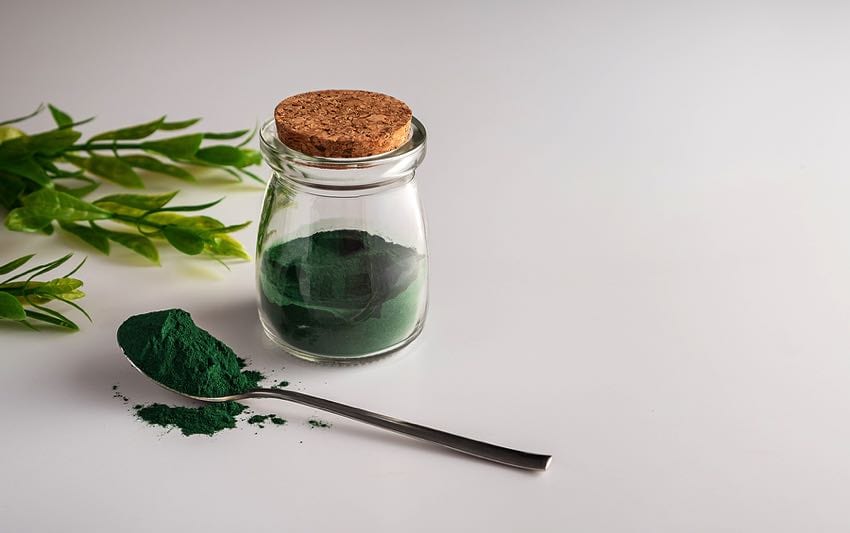 When focussing on spirulina, which is by far the most common algae protein powder available, the nutritional benefits are plentiful.
Protein
As well as being high in protein, it contains around 60g of protein per 100g with minimal processing (basically just being dried), which makes it the best of the surprisingly large number of high protein vegan foods out there. Within this protein is included all essential amino acids, with at least 3g per 100g of each of the three branched-chain amino acids (BCAAs) that are linked to muscular growth and tissue repair.
Vitamins & Minerals
Looking beyond the protein content, and spirulina contains very good quantities of thiamine (vitamin B1), riboflavin (vitamin B2) and iron, with significant amounts of niacin (vitamin B3), manganese and magnesium, with some vitamin E and vitamin K thrown in for good measure. There is various research that points towards the anti-inflammatory effects of spirulina due to the antioxidants it contains. There are suggestions that it could also reduce cholesterol, though more research is needed to confirm this.
Environmentally Sustainable
One of the biggest benefits of algae, however, does not relate to the individual consuming it, but more to the whole world. It is incredibly environmentally sustainable and they can be cultivated cheaply in "raceway ponds" containing mineral-rich water with very little in the way of other inputs
As they are autotrophic, they essentially make their own food, so coupled with the energy they take from the sun through photosynthesis, it is possible to produce spirulina with hardly any environmental impact. This will depend on the method of drying (as some producers use hot air while others use a freeze-drying method or even sunlight), but spirulina is certainly more environmentally sustainable than the main plant-based protein powders, and much better than anything like whey that has come from dairy (and hence has relied on cows and the environmental impact dairy farming has).
Drawbacks of Algae Protein Powder
There have been some safety concerns raised about spirulina based on products that have been contaminated with toxins called microcystins, which could cause various symptoms, including gastrointestinal problems and even liver damage (if consumed over a long period). There are also concerns that algae in general can contain high quantities of heavy metals that could be problematic if consumed. But this tends to refer to algae grown in non-controlled environments from what we can ascertain.
Protein Content Is Lower
From a protein perspective, the main drawback for those seeking the maximum dose of protein is that spirulina falls a little behind the likes of pea protein isolate and soy protein isolate in terms of protein content. But, as said, algae protein tends to contain a greater quantity of other potentially beneficial nutrients.
Distinctive Taste
Another possible drawback of spirulina and other algae protein powders is that they have a more distinctive taste than some other options (such as fava bean protein). Depending on how you are planning to use the powder, this might not be a big issue for you. For instance, if you are going to add some to a cauliflower and chickpea curry, the flavour of the algae is not going to be noticeable. If, however, you are going to mix it with one of the more subtle-flavoured vegan milk alternatives, it could be less than appetising to some people.
Costly
The other major issue with such products is that they are very expensive relative to the many other vegan protein powders. If you are looking to take spirulina purely for its protein content in order to add muscle mass, it will prove rather costly. As said though, spirulina and similar powders are typically consumed in smaller quantities, more for their micronutrients than as an aid to athletic recovery and performance.
As with all the vegan protein powders available, though, there are pros and cons that should be weighed up when selecting the product that is right for you and your specific requirements.
Algae Protein Powder Nutritional Values
As mentioned, spirulina is the most common algae protein you are likely to encounter, so we've taken the nutritional data from a popular brand to give you a snapshot of what it contains. We've given a (non-vegan) whey protein powder as a comparison. Note that we haven't delved too deeply into the vitamins and minerals contained within the two products, but check above for some of those contained within spirulina in general.
Algae Protein Powder Nutritional Data
| Typical Values | Naturya Organic Spirulina Powder (per 100g) | Naturya Organic Spirulina Powder (per 10g serving) |
| --- | --- | --- |
| Energy | 1462kJ / 345kcal | 146kJ / 35kcal |
| Fat | 0.9g | 0.1g |
| Saturates | 0.4g | – |
| Carbohydrate | 15g | 1.5g |
| Sugars | 0.5g | 0.1g |
| Fibre | 3.5g | 0.4g |
| Protein | 67g | 6.7g |
| Salt | 1.2g | 0.1g |
Whey Protein Isolate Nutritional Data
| Typical Values | Impact Whey Protein Powder (per 100g) | Impact Protein Powder (per 25g serving) |
| --- | --- | --- |
| Energy | 1740kJ / 412kcal | 435kJ / 103kcal |
| Fat | 7.5g | 1.9g |
| Saturates | 5.0g | 1.3g |
| Carbohydrate | 4.0g | 1.0g |
| Sugars | 4.0g | 1.0g |
| Fibre | – | – |
| Protein | 82g | 21g |
| Salt | 0.5g | 0.13g |
Algae Protein Powder v Whey Protein Powder
As you can see above, spirulina contains significantly less protein per 100g of powder than whey protein powder (and indeed various other plant protein isolates). It contains much less fat (and saturated fat) than whey, more fibre and more carbohydrates, but they are mainly non-sugar carbs and have a low glycaemic index.
Selecting the Best Algae Protein Powder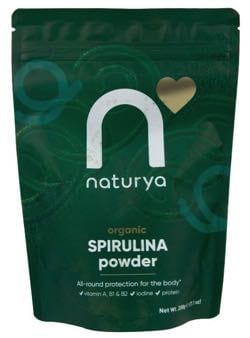 In common with other vegan protein powders, assessing the quality of a product you are not familiar with comes down to trust, to a large extent; the trust of the brand/producer and trust of the food standards and regulatory framework under which the protein powder has been produced and sold.
Opting for products that are produced by companies that are willing to share information with consumers is always a good idea. As such, companies who have good customer relations and a team of people who are there to answer your questions, are more likely – in our experience – to produce high-quality products.
For instance, you might want assurances that the various nutrients within spirulina haven't been destroyed during a less-than-subtle drying process. Most algae protein producers worth their salt would be happy to share information about their drying methods with you. If not, you might question what they have to hide.
What Is Algae Protein Powder?
Algae protein powder is generally just dried algae and 90% of the time that will be spirulina. Spirulina is blue-green algae (cyanobacteria) of the kingdom Protista (so algae are not plants, animals or fungus).
How Is Algae Protein Powder Made?
Though algae grow naturally, the algae cultivated to produce protein powder, tablets and capsules is done so in controlled, nutrient-rich open water channels known as raceway ponds that look a bit like a maze or a racetrack (hence the name). The process does not tend to require any additional inputs other than various nutrients (which include things like baking soda and sea salt).
Once the algae have multiplied sufficiently they are removed from the ponds and dried. The methods used to dry the algae can affect the retention of various nutrients, with the freeze-drying method usually preferable to the use of hot air or sunlight. Once dried, it is ground into a powder.
Very few algae protein powder products include additional ingredients, with 100% organic spirulina being the sole ingredient on most products. Interestingly, this is even though the cultivation of algae requires no organic inputs (unlike, for instance, many plant crops which might require fertilisation). But the organic tag generally points to the fact that only natural minerals were used in the cultivation process (for example sea salt), rather than synthetic chemicals.
Algae Protein Powder Conclusions
It is fair to say that if you are simply seeking the protein powder with the highest quantity of protein, algae protein is unlikely to be your best bet. The isolates of pea protein, fava bean protein and soy protein contain upwards of 80g of protein per 100g of powder, whereas spirulina (the most common algae protein powder) is likely to be closer to 65g. What's more, spirulina is generally far more expensive than such products.
However, rather like sunflower seed protein or hemp protein, spirulina appeals most to people who are looking for a protein powder that has a range of other potential health benefits. In truth it is probably best viewed as a vegan supplement rather than a bona fide protein powder.