You might have first heard of fava beans – also known as faba beans or broad beans – from the film Silence of the Lambs… they are clearly Dr Hannibal Lecter's culinary accompaniment of choice to a decidedly un-vegan dish. But here we're focussing on more wholesome uses for this humble bean, namely as a protein source. Specifically, we are looking at fava bean protein powder: what it is, how it's made, its benefits and drawbacks, and how it compares to other plant based protein powders and non-vegan options too.
Note that some brands label their products as fava bean protein, others as faba bean protein. For consistency, we'll use fava bean in this article (unless mentioning a specific product that is labelled otherwise).
Benefits of Fava Bean Protein Powder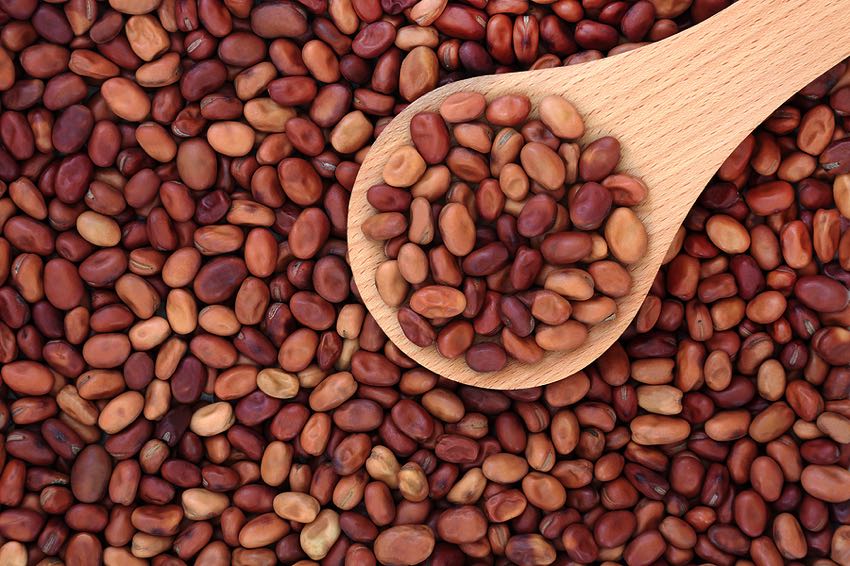 For many people reading this, given that we're a vegan-focussed site, the key benefit of fava bean protein is that it is 100% vegan. No animals are harmed, killed or exploited in the production of fava bean protein powder. This is true of all vegan protein powder options, of course. So, what makes fava bean protein stand out as an attractive option to people seeking an extra protein boost?
Vitamins & Minerals
As with other protein powder made from plants, one of the key benefits of fava bean protein (certainly over animal-derived protein) is that it contains a range of vitamins and minerals that have potential health benefits to people who consume them.
Many of these are micronutrients that are not always readiuly available in a vegan diet. Fava beans include a range of B vitamins, zinc, magnesium, iron, phosphorous, copper and manganese. The last two of those minerals are particularly useful to maintain healthy bones.
Taste
Compared to rice or soy, and certainly whey, many people find the subtle, mildly earthy flavour of fava bean protein to work well with both savoury and sweet options, so whether you want to put it in a fruit smoothie or add some protein to a nice veg soup (it is generally heat-stable), it should be no problem on the flavour front.
Protein Content
The protein content of fava bean powder tends to be comparable to the highest pea protein or whey protein isolate products. This is partly because fava beans react well to processes of acid extraction/isoelectric precipitation that result in high concentrations of protein in the end products.
Amino Acids
It has one of the strongest amino acid profiles of all plant-based protein powders, including significant amounts of the three branched-chain amino acids, isoleucine, leucine, and valine. Those looking to add serious muscle mass, such as vegan bodybuilders, will be especially interested in the BCAAs.
Mouthfeel & Miscibility
Fava bean protein powder mixes well with a range of fluids, from water to plant-based milks without the need for extensive blending or shaking. It is less grainy in the mouth than some options (notably some rice protein products).
Possible Drawbacks of Fava Bean Protein Powder
One of the primary drawbacks of fava bean protein is that it is not as widely available as the likes of pea protein or rice protein. It is quite often found as part of plant blend protein powder products, as it works well as a complementary protein to other plant proteins.
Like pea protein, compared to animal-derived protein powder, fava bean protein is a little low on methionine, an amino acid that can help the development of new blood vessels. This is not a major issue for those on a balanced diet though as it can be easily obtained from high protein vegan foods, such as Brazil nuts and sesame seeds. Alternatively, mixing fava bean protein with rice protein (which contains more methionine than whey) can alleviate this potential downside.
Fava Bean Protein Powder Nutritional Values
Here we compared the nutritional data from one of the most popular fava (they call it faba) bean proteins on the market with a popular whey protein powder.
Fava Bean Protein Powder Nutritional Data
| Typical Values | Pulsin Faba Bean Protein (per 100g) | Pulsin Faba Bean Protein (per 10g serving) |
| --- | --- | --- |
| Energy | 1755kJ / 419kcal | 176kJ / 42kcal |
| Fat | 5.9g | 0.6g |
| Saturates | 1.6g | 0.2g |
| Carbohydrate | 2.0g | 0.2g |
| Sugars | – | – |
| Fibre | 3.0g | 0.3g |
| Protein | 88g | 8.8g |
| Salt | 2.0g | 0.2g |
Whey Protein Isolate Nutritional Data
| Typical Values | Impact Whey Protein Powder (per 100g) | Impact Protein Powder (per 25g serving) |
| --- | --- | --- |
| Energy | 1740kJ / 412kcal | 435kJ / 103kcal |
| Fat | 7.5g | 1.9g |
| Saturates | 5.0g | 1.3g |
| Carbohydrate | 4.0g | 1.0g |
| Sugars | 4.0g | 1.0g |
| Fibre | – | – |
| Protein | 82g | 21g |
| Salt | 0.5g | 0.13g |
Fava bean protein tends to be lower in fat than whey, and significantly lower in saturated fat. There is not as much fibre in fava bean protein products as there tends to be in things like hemp protein, but there is still more than is found in whey. One minor issue for someone wanting a lot of protein is the salt content. At 2g per 100g (and therefore 88g of protein), the salt content of some fava bean protein powders is much higher than is ideal.
On the plus side though, one of the key positives when comparing fava and whey is that the former compares very well in terms of the overall protein content. In terms of the branched-chain amino acids (BCAAs), fava bean protein often contains more valine than whey and isn't too far behind when it comes to leucine and isoleucine. See below for a comparison between example products.
Fava Bean Protein v Whey Protein
| Branched-Chain Amino Acid (per 100g) | Fava Bean (88% total protein) | Whey (80% total protein) |
| --- | --- | --- |
| Isoleucine | 3.9g | 4.5g |
| Leucine | 7.1g | 9.0g |
| Valine | 4.3g | 4.2g |
How to Select the Best Fava Bean Protein Powder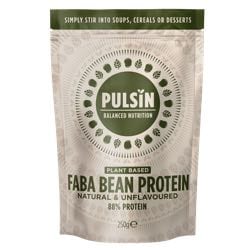 When deciding which fava bean protein powder to opt for, ensure you check both the ingredients and the nutritional data. It is usually the case, in our view, that the fewer ingredients there are, the better and healthier a product tends to be. When it comes to fava bean protein, because the natural taste is rather subtle, there is no real need to choose powders with strong flavourings added as it will mix well, flavour-wise, with sweet or savoury options. That said, for those who want to mix with water, or just want a particular flavour, most fava bean powders do also come in a range of flavours.
Another key factor that most people are concerned with, often as the number one criteria, when choosing a protein powder, is the overall protein content. Many fava bean protein powder products are isolates (see below for what that means) and have upwards of 80g of protein per 100g. But some might be concentrates (again, see below) and would therefore have a significantly lower quantity of protein in all likelihood (though more fibre and other nutrients). If protein content is your primary concern, clearly opting for a fava bean isolate would be preferable and these are among the highest protein options around, vegan or otherwise.
Finally, it pays to choose a powder that is produced by a company who believes in excellence, who isn't going to cut corners and who is likely to offer good customer support in case you need to contact them for any reasons. We only feature such companies on this site, so you can rest assured that any protein products we mention here will tick the right boxes in terms of reputation and quality.
What Is Fava Bean Protein Powder?
Fava beans are the seeds of the fruits from the Vicia faba plant. Similar to peas, they come in pods, with each pod usually containing between three and eight seeds (beans). You might well see fava – or broad – beans at your local supermarket, often bagged up in the frozen food section.
On the other hand, recently they have started appearing more in dried form, often flavoured, as protein-rich snacks that are often healthier options to crisps or biscuits.
How Is Fava Bean Protein Powder Made?
Like with pea protein, fava beans can be turned into protein powder using various methods. Unlike hemp protein, which is often essentially dried and ground hemp seeds, fava beans must undergo more in the way of processing to get rid of some of the undesired carbohydrates and most of the fibre and sugar contained within them. The type and degree of processing involved will depend on whether the end product is going to be an isolate or a concentrate.
Fava Bean Protein: Isolates vs Concentrates
The difference between fava bean protein isolates and concentrates relates to the specific processes used to enhance the protein content (or, more accurately, remove the non-protein substances from the beans). For isolates, a wet fractionation process is used that incorporates acid extraction and/or isoelectric precipitation. For concentrates, a dry fractionation process is used that relies on a process of air classification that separates and removes particles of carbohydrates and fibre to increase the proportional amount of protein contained in the end product.
Isolates, for fava bean protein and other protein powders, have higher quantities of protein than concentrates. On the flip side, the processes used require more energy, water and chemicals so they are less environmentally friendly (in general). That said, both options are significantly better for the environment than protein made from cow's milk (such as whey).
Some people prefer the high-protein isolates, while others are happy to accept a reduced (but still high) level of protein for the better environmental side of things and also the added benefits of greater quantities of fibre and/or other nutrients. It is possible that levels of vitamins and minerals can be reduced during the processing required to produce isolates. Also, concentrates tend to have higher protein solubility and hence can be easier to digest.
Fava Bean Protein Conclusions
Fava bean protein powder is very similar to pea protein powder in many ways; as well as a high quantity of protein (especially for the isolate products), fava bean protein contains several vitamins and minerals that are not present in animal-derived protein products. Also like pea protein, fava bean has a very good profile of amino acids (save for methionine), including the three BCAAs.
Fava bean powder has a subtle flavour and tends to mix well with vegan-friendly milk, water or in savoury dishes like soups or bakes. Obviously, it contains no dairy products, nuts or soy, so this is another option that works very well for people with allergies to any/all of those.