Sunflower seeds have long been touted as beneficial to health as they contain significant quantities of a wide range of vitamins and minerals. But how does sunflower protein powder stack up against other plant-based protein powder products?
Sunflower seed protein powder is not as popular as other vegan protein powders, such as pea or even hemp powder, and it represents just a fraction of the market share compared to non-vegan whey powder. As such, we won't go into as much detail here as we have with some of the other vegan-friendly protein powder options. But there are good reasons why those seeking a protein boost with added health benefits could find sunflower protein an excellent choice.
We'll touch on those benefits shortly and we'll explain what sunflower protein powder is (though the name really gives that away!) and even how you can make your own.
Sunflower Protein Powder: Benefits & Drawbacks
As well as a good dose of protein (sunflower seeds are at least 20% protein even before they have been processed), there are some other great nutritional benefits to be found in these seeds. They are very high in fibre and contain significant quantities of various B vitamins (particularly B1, B6 and B7, also known as biotin), and vitamin E. Add to that the healthy quantities of manganese, magnesium and phosphorous and even some good amounts of iron and zinc, and many people will be attracted to sunflower-based protein.
Not as Protein Heavy
Unlike some of the other plant based protein powder choices, sunflower protein rarely comes as an isolate, i.e. a powder that has undergone extra processing to maximise the protein content. As such, most sunflower protein powder you will encounter will contain somewhere in the region of 45-50g of protein per 100g of powder.
This is still a significant amount, but for those people who want to maximise their protein intake but are unconcerned about the potential health benefits of sunflower protein, this probably isn't the right product.
Neutral Flavour
Aside from the potential health benefits of the fine nutritional profile sunflower-based protein possesses, another plus is that sunflower protein both mixes well and has a fairly neutral flavour compared to some other powders.
As such, sunflower protein can be added to just about anything without distorting the flavour too much: shakes, vegan breakfast cereals, savoury dishes or even to add a dose of protein to your homemade vegan ice cream or plant-based yoghurt.
Sunflower Seed Protein Powder Nutritional Values
Here we examine the basic nutrional data from a popular sunflower seed protein powder and one of the top whey protein powder products on the market.
Sunflower Protein Powder Nutritional Data
| Typical Values | Clearspring Organic Raw 100% Sunflower Seed Protein Powder (per 100g) | Clearspring Organic Raw 100% Sunflower Seed Protein Powder (per 20g serving) |
| --- | --- | --- |
| Energy | 1363kJ / 326kcal | 273kJ / 65kcal |
| Fat | 7.2g | 1.4g |
| Saturates | 0.4g | 0.1g |
| Carbohydrate | 4.1g | 0.8g |
| Sugars | 3.0g | 0.6g |
| Fibre | 23g | 4.6g |
| Protein | 49g | 10g |
| Salt | – | – |
Whey Protein Isolate Nutritional Data
| Typical Values | Impact Whey Protein Powder (per 100g) | Impact Protein Powder (per 25g serving) |
| --- | --- | --- |
| Energy | 1740kJ / 412kcal | 435kJ / 103kcal |
| Fat | 7.5g | 1.9g |
| Saturates | 5.0g | 1.3g |
| Carbohydrate | 4.0g | 1.0g |
| Sugars | 4.0g | 1.0g |
| Fibre | – | – |
| Protein | 82g | 21g |
| Salt | 0.5g | 0.13g |
Sunflower Protein Powder v Whey Protein Powder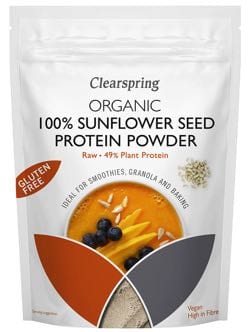 As you can see from the nutritional data above, the most obvious distinction between whey and sunflower protein powders is that whey will almost always contain a lot more protein. Far less positively though, whey also contains more than 10 times the amount of saturated fat (based on these example products).
The 23g of fibre per 100g of the sunflower protein powder will come as a real boost to anyone who feels they are not getting enough fibre in their diet (and a lot of people don't… it is recommended adults consume at least 30g of fibre a day). Sunflower seeds have been shown to help reduce cholesterol, which is another potential benefit when compared to whey and other animal-derived protein powders.
Best Sunflower Protein Powder: Things to Consider
Most sunflower protein powder products are made from 100% sunflower seeds. Given that the seeds do not possess a particularly strong or off-putting flavour, there would be no real benefit of adding flavourings (in our opinion). We would generally recommend opting for 100% sunflower seed-based powder rather than products that have many other ingredients (unless perhaps fortified with some plant-based vitamin D or similar, though this is not common).
As there is little actual difference between the sunflower protein powders, we would recommend spending some time looking around for special offers to get the best possible value. We would always recommend purchasing from trusted sources rather than retailers or producers you have never heard of, mainly to ensure your goods are delivered in a timely fashion and are as described and adhere to all the usual nutritional and safety standards.
What Is Sunflower Seed Protein Powder?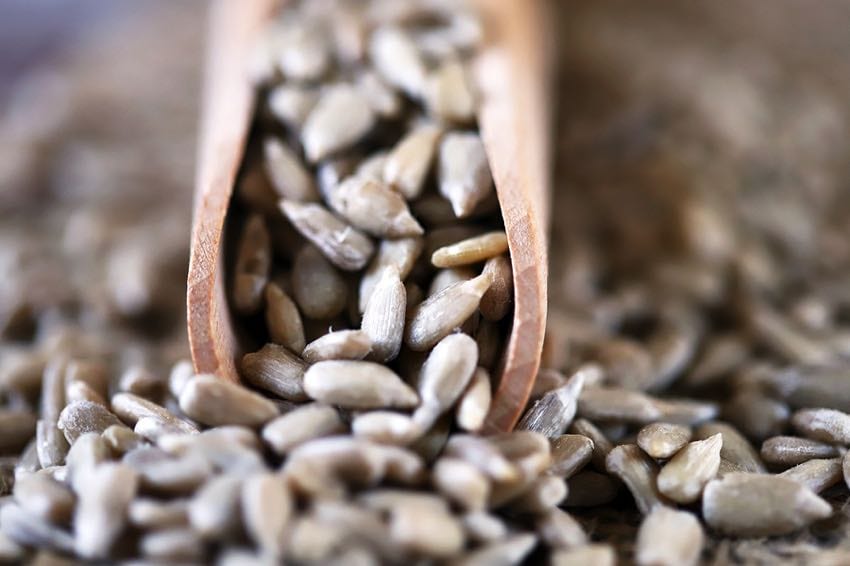 Sunflower protein powder is made from the seeds of the common sunflower (Helianthus annuus). The seeds are highly nutritious and can be eaten as they are or used to produce a versatile vegan-friendly cooking oil. The seeds – or, more accurately, the kernels – need to be dehulled before consumption and, on a commercial level, this is done mechanically.
How Is Sunflower Protein Powder Made?
Sunflower protein is made by pressing out the oil (to be sold separately) from the dehulled seeds then drying and grinding the remaining "cake". Given that the seeds are made up of more than 50% fat, the removal of most of the fat and then the dehydration process results in a high-protein powder without the need for anything more in the way of processing.
Make Your Own Sunflower Protein Powder
If you are not concerned about knowing the exact protein stats (or indeed those of the other nutritional data), you might consider making your own sunflower protein powder. This would be of particular interest if you grow your own sunflowers that produce edible seeds.
If you have a reasonable number of flowers it is possible to produce both sunflower oil and sunflower protein, but if that is your plan it might be worth investing in a manual oil press to ensure you squeeze enough oil out of the seeds to make it worthwhile. If so, it's just a matter of pressing the seeds, using the oil for cooking and then drying (in an oven on a low heat) and grinding what's left.
Alternatively, you could simply grind up a load of dehulled sunflower seeds, though this would be the same as eating the seeds as they come. It would be easier to mix a powder in shakes, but from a nutritional perspective, there would be no additional benefit or increase in protein content (unless you were able to effectively dry the powder which would reduce some of the water and fat content, but the gains would be marginal, especially as you would likely mix it with plant-based milk anyway).
Sunflower Protein Powder Conclusions
If your primary concern when purchasing protein powder is to attain the maximum amount of protein per 100g, then sunflower protein powder is probably not the option for you. If that is the case, you can get much higher quantities of protein from pea protein isolates, for instance.
But if you are seeking a high-fibre option that also offers the potential to reduce cholesterol and provide a range of vitamins and minerals, sunflower protein could certainly be worth trying. It can be mixed with other plant-based protein powders to boost the mineral or fibre content, or simply added to various savoury dishes, desserts or shakes as part of a well-balanced vegan diet.