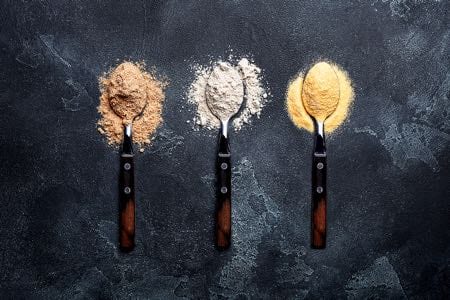 When a product is labelled as a vegan protein blend powder, also known as plant blend protein or similar, it means that it contains plant-based protein powder from more than one base source. Various combinations are particularly popular (for reasons we will discuss later) and there are many perceived and real benefits to choosing a blend over a single-source plant protein powder.
In this article, we'll explain a little more about what vegan protein blend powders are and we will go through the most common combinations and what benefits they might bring to those who consume them.
Best Vegan Protein Blend (December, 2023)
MyProtein: Vegan Protein Blend
Energy: 110kcal
Protein: 21g
Carbs: 3.3g
Fat: 0.8g
Clocking in at 21g of protein per serving, this blend from MyProtein is made up of pea protein isolate and fava bean protein isolate.
There are 10 flavour options which range from the standard Chocolate or Strawberry through to the slightly head scratching Tumeric Latte. Also available unflavoured.
What Is Vegan Protein Blend Powder?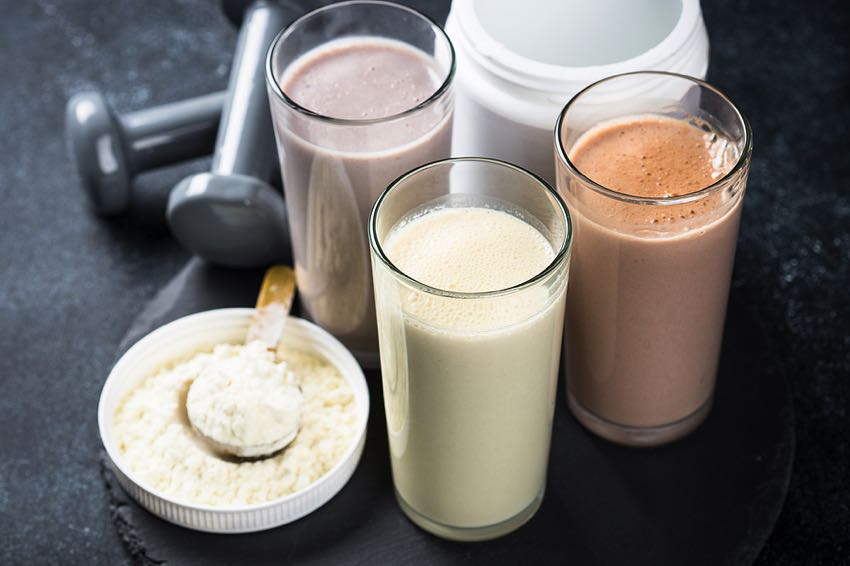 The term vegan protein blend powder – also known as plant blends or similar – refers to a vegan-friendly protein powder that contains significant quantities of more than one protein source.
Usually, this is just a matter of combining some mix of single source protein powders (for instance, rice protein and pea protein), along with any other ingredients the producer sees fit, such as flavourings, thickeners or sweeteners.
Can I Make My Own Vegan Protein Blend?
Yes, if you fancy making your own blend of your two favourite vegan protein powder products, it is simply a case of mixing them together in appropriate proportions. For instance, if mixing fava bean protein powder with rice protein powder, first look at the recommended serving size of each.
If the serving size of fava bean protein is 30g and the serving size of rice protein is 20g, simply combine 15g of fava bean protein with 10g of rice protein, add it to your preferred liquid, give it a shake and there you have it: your own vegan blend protein shake.
Of course, you do not need to combine the powders in these proportions and depending on why you are mixing them, of which more shortly, you may choose to add more of one than the serving sizes would suggest.
Examples of Common Vegan Protein Blend Combinations
There are many combinations of plant protein blends on the market in the UK and beyond, and of course, you can create your own combination of your favourites if you feel the urge. Here are some of the more common combos you are likely to happen across online and in health food shops, along with their potential benefits.
Pea Protein & Rice Protein
Example: Funktional Foods Protein Blend Vanilla (£24.99/kg)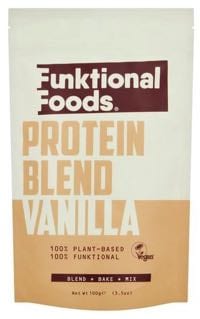 There is a very important benefit of combining pea protein with rice protein, and it relates to the amino acid profile of each. Without wanting to don a lab coat and goggles, pea protein is fairly low in methionine, whereas rice protein is high in that particular amino acid (higher than whey, in fact).
Also, while rice lags behind some of the other protein powders in terms of lysine content, pea protein is one of the better options for that amino acid. In short, their amino acid profiles complement one another very well and produce what would generally be considered to be a complete protein.
Another benefit of some powders that combine pea and rice protein is that when rice is the sole protein source in a powder, it can sometimes be less palatable and mixes less well than some other options. In many cases, mixing it will pea protein can negate that to an extent (though many people find rice protein perfectly acceptable on its own).
The combination of rice and pea protein is the most popular of the vegan plant protein blends, but similar benefits can be found when rice is combined with fava bean protein (which has a similar nutritional profile to pea protein).
Pea Protein & Fava Bean Protein
Example: MyProtein Vegan Protein Blend (£23.99/kg)
The benefits of mixing pea protein with fava bean powder seem less obvious than those gleaned from mixing pea protein with rice protein. This is partly because protein made from peas has a very similar amino acid profile to that made from fava beans. They both have significant amounts of the three branched-chain amino acids (the BCAAs isoleucine, leucine and valine) while having low levels of methionine.
The main point is that they have different amounts of various vitamins and minerals, including B vitamins, zinc, magnesium, iron, phosphorous, copper and manganese. As such, each can bolster the other a little when they are combined. Fava beans could also add additional health benefits according to various research studies, though more investigation is needed to categorically confirm many of the suggestions made.
More Than Two Plant Proteins
Examples: The Protein Works Vegan Protein (£27.99/kg); Vivo Life Ritual Plant Based Protein (£26.24/900g)
There are several plant protein blend powders on the market that don't just stop at combining two protein sources, but they throw in some extras for good measure. For example, the aptly titled Vegan Protein powder from the Protein Works contains five plant proteins: soy protein isolate, pea protein isolate, hemp protein, sunflower protein, brown rice protein.
Another example is the Ritual Plant Based Protein made by Vivo Life. This product combines pea protein, hemp protein and quinoa protein to bestow a wide-ranging protein that includes a fantastic array of other nutrients too.
These look really good on the surface, but remember that the various nutrients contained in each of the protein sources will be proportionally reduced when combined as less of that particular ingredient will be added compared to a single-source protein powder, or indeed one that contains just two protein sources.
So, for instance, if you are attracted to hemp protein powder because it contains omega-3 and omega-6 fatty acids, that's fine. But note that the quantity of these fatty acids contained in a powder in which hemp is just one of five protein sources will be much lower than in pure hemp protein powder.
Protein Blend Powder Vs Single Source Protein Powder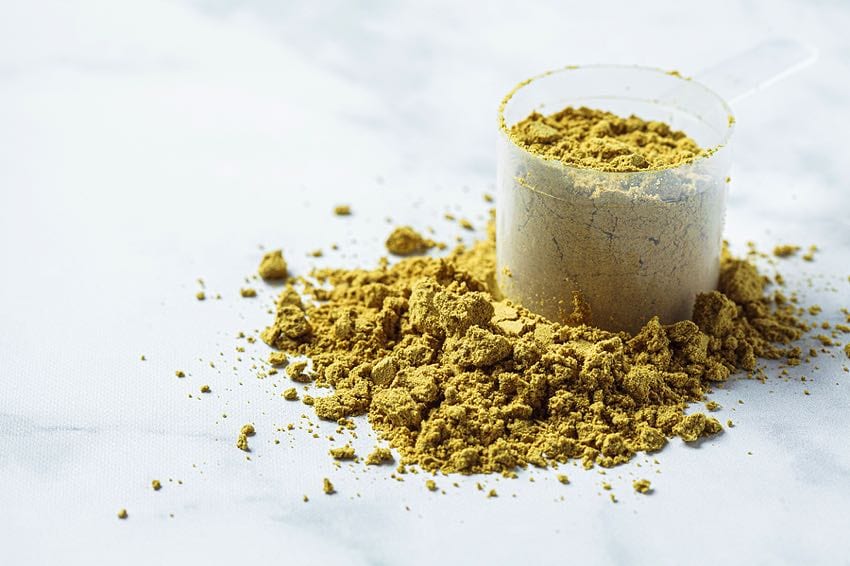 There are pros and cons to both single source and plant blend protein powder products. Here we run through the main factors to consider and whether it is beneficial to choose a blend or a single source in each case.
Protein Content
There is no obvious benefit to either single source or plant blend protein when it comes to the overall protein content. Both can be as high as (non-vegan) whey protein, and, for instance, a blend of five different plant proteins at the Protein Works packs in a hefty 83.5g of protein per 100g of powder.
On the other hand, if the protein powder contains concentrates rather than isolates, the protein content will tend to be lower, but this will be the case whether it is made from a blend of plant proteins or from a single source.
Amino Acids
Plant blends give the chance to patch up any amino acid shortfalls (for example, when pea protein's methionine is boosted by the addition of rice protein). In general, plant blends offer a better chance to attain what would be considered to be a complete protein.
That said, some single source plant protein powders are either complete proteins (depending on the precise definition used for this malleable term), such as soy, or not far off complete, such as rice or hemp. But even those that some people class as complete proteins usually lack one or more of the essential amino acids (in sufficient quantities) that can be boosted by blending it with at least one other plant-based protein powder.
Micronutrients
One of the big benefits of choosing a plant blend powder over a single source is that there is likely to be a wider range of potentially beneficial nutrients, including vitamins and minerals. For instance, adding hemp protein to a blend will increase the amount of omega-3 and omega-6 fatty acids. While adding sunflower seed protein would increase various vitamins, especially vitamin E.
Of course, on the flip side, the amount of these additional nutrients will be reduced compared to a single source protein. For instance, a blend with 30% hemp protein would only contain 30% of the fatty acid content that would be present in 100% hemp protein (assuming the other ingredients in the blend do not contain any).
Flavour
This can go either way and very much comes down to personal preference. Some people who really don't like the taste of rice protein but want the benefits it can bestow might opt for a pea and rice blend which tends to offer a more subtle flavour. Of course, both blends and single source protein powders can have additional flavours added that will often negate this issue.
Mouthfeel & Miscibility
Some protein powders mix better with certain fluids than others. So, for instance, mixing rice protein powder with pea or fava bean protein tends to make it less clumpy and easier to mix with vegan milk alternatives, water, or anything else (though this can vary from product to product).
Vegan Protein Blend Powder Nutritional Values
Let's take a brief look at the nutritional data from a couple of popular plant protein blends to give you a general idea of what they contain. For comparison, we'll also show the nutritional information for a popular non-vegan whey protein powder.
Pea & Fava Bean Vegan Protein Blend Powder Nutritional Data
| Typical Values | MyProtein Vegan Protein Blend – Strawberry (per 100g) | MyProtein Vegan Protein Blend – Strawberry (per 30g serving) |
| --- | --- | --- |
| Energy | 1532kJ / 366kcal | 459kJ / 110kcal |
| Fat | 1.8g | 0.6g |
| Saturates | 0.1g | – |
| Carbohydrate | 14g | 4.1g |
| Sugars | 0.3g | 0.1g |
| Fibre | 1.5g | 0.5g |
| Protein | 73g | 22g |
| Salt | 0.67g | 0.2g |
Pea & Rice Vegan Protein Blend Powder Nutritional Data
| Typical Values | Funktional Foods Protein Blend – Vanilla (per 100g) | Funktional Foods Protein Blend – Vanilla (per 20g serving) |
| --- | --- | --- |
| Energy | 1520kJ / 360kcal | 304kJ / 72kcal |
| Fat | 4.1g | 0.8g |
| Saturates | 0.6g | 0.1g |
| Carbohydrate | 23g | 4.6g |
| Sugars | 9.1g | 1.8g |
| Fibre | 4.9g | 1.0g |
| Protein | 59g | 12g |
| Salt | 1.7g | 0.34g |
Whey Protein Isolate Nutritional Data
| Typical Values | Impact Whey Protein Powder (per 100g) | Impact Protein Powder (per 25g serving) |
| --- | --- | --- |
| Energy | 1740kJ / 412kcal | 435kJ / 103kcal |
| Fat | 7.5g | 1.9g |
| Saturates | 5.0g | 1.3g |
| Carbohydrate | 4.0g | 1.0g |
| Sugars | 4.0g | 1.0g |
| Fibre | – | – |
| Protein | 82g | 21g |
| Salt | 0.5g | 0.13g |
As with other vegan protein powder, plant blend protein contains significantly more fibre than whey protein. That said, many blends on the market – such as the Funktional Foods option mentioned – include a bit more sugar than we are keen on. But in their defence, a lot of that comes from the inclusion of date powder (it also includes artificial sweeteners though).
The protein content of plant blend powders can vary significantly, as is the case with single source plant protein powder. This is mainly based on whether the protein(s) in question are concentrates or isolates. This refers to the way it has been processed, with the isolates producing a higher concentration of protein but relying on a greater degree of processing (that uses more energy and water and hence tends to be less environmentally friendly).
Vegan Protein Blend Powder Conclusions
For vegans or indeed anyone with dairy allergies or who just wants to avoid animal products, there are loads of protein powder options. One of the potential drawbacks of most single source plant proteins, however, is that they tend to fall short on at least one of the essential amino acids and or the amount of BCAAs. Opting for a vegan protein blend largely eradicates this issue and, as we've seen, it can also ensure that many other potentially beneficial nutrients are included too.
The only downside of vegan protein blends is that they could dilute the effects of certain nutrients found in each of the individual protein sources as there will be proportionally less of each vitamin, mineral or fatty acid if the plant protein that contains them only makes up a certain percentage of the overall protein powder. But the greater breadth of amino acids and nutrients in general found in vegan protein blends mean they are a big hit with many people seeking an extra protein boost with additional potential health benefits.