Many meat-eaters argue that a vegan diet must lack some essential nutrients, or at the very least that someone eating solely plant-based foods cannot possibly be as fit, strong or healthy as an omnivore. Of course, this is nonsense. And in a great many ways vegans are actually healthier than non-vegans.
In fact, a large number of the world's top athletes have, in recent years, adopted a vegan diet. Here we take a look at the seven biggest vegan sports stars to firmly put to bed the notion that a vegan diet is incompatible with optimum health and fitness. With so many great vegan protein sources, there are even some world class vegan bodybuilders. Not eating animal products really isn't a barrier to being an elite sportsperson, as these 7 greats illustrate perfectly.
Serena Williams – Tennis
Serena Williams is quite probably the greatest tennis player to have ever lived and certainly in the top two or three women ever. The American is still going strong in her late 30s and, at the time of writing, has won a whopping 72 WTA titles, including 23 Grand Slams. She held the world number one spot for a record-equalling 186 consecutive weeks and has won more Open Era Grand Slam titles than any other player, only trailing Margaret Court by one in the all-time list.
Williams is also probably the most powerful woman tennis player to have ever reached the top level. Anyone who questions whether a vegan diet can create explosive power should probably try and face one of Serena's serves at more than 200km/h, or approach the net to one of her booming forehands. She overpowers her opponents and whilst she was clearly dealt a great hand in terms of her genetics, her sheer physicality and dominating style makes a mockery of the idea that athletes need to eat meat.
Williams has been vegan (followed a vegan diet) since around 2011 or 2012, with almost half her Grand Slam victories coming after this. She first adopted a vegan diet after her sister Venus did, following medical advice in response to her diagnosis with Sjögren's syndrome. Venus credits the switch to a plant-based diet (in fact Venus eats a largely raw vegan diet) with changing her life in a very positive way. We could well include Venus on this list given she continues to be ranked inside the world's top 40 as her fifth decade approaches!
Lewis Hamilton – F1
Lewis Hamilton has, as of the start of the 2019 F1 season, won five world championships, putting him among the greats of his sport. Only Michael Schumacher (seven) has won more Drivers' Championships, with Hamilton, vegan Hamilton that is, ahead of the likes of Alain Prost, Nelson Piquet, Ayrton Senna and Jackie Stewart. Hamilton has more pole positions than any other driver; his 83 poles (prior to the start of the 2019 F1 season) puts him well clear of Schumacher on 68 and he looks set to improve his stats with at least two more years at the top of his sport likely.
Hamilton told the BBC he was vegan in 2017. He stated that having watched a documentary about the meat industry, "The cruelty is horrible and I don't necessarily want to support that and I want to live a healthier life." He also said the environment was a factor in his switch to veganism and that, "Every person I have met who has gone vegan says it is the best decision they have ever made."
Formula 1 isn't an obviously physical sport but in fact the strains on the drivers are huge and they need to be exceptionally fit. The speed of the cars means drivers can be subject to "anything up to a sustained 3.5 g of cornering force" according to the official F1 website. The F1 driver fitness page also claims that "drivers can sweat off anything up to 3kg of their body weight during the course of a race." Whilst focusing on cardio, drivers also do strength training and due to the "unusual loadings experienced by neck and chest muscles mean … these are the most heavily targeted areas".
Lewis Hamilton is something of Marmite figure but there is no doubting his brilliance as a driver. To achieve what has in the sport, despite not having the typical wealthy background of many F1 drivers, is testament to his ability, determination and mental strength. The fact that he won the 2017 and 2018 world championships as a vegan is equally testament to the fact that being vegan and being a world class sports star and athlete are far from mutually exclusive.
Carl Lewis – Track & Field
Carl Lewis, as with Serena and Hamilton, has worthy claims to being his sport's GOAT. Lewis won 20 World and Olympic medals with 17 of those being gold. That those medals were spread across four events shows what a sensational all-round athlete Lewis was. In 1984, at his home Olympics in Los Angeles, he emulated the legendary Jesse Owens by landing gold in the 100m, 200m, 4 x 100m and long jump, ensuring his place in the annuls of athletics at the age of just 22!
In fairness, Lewis achieved his greatest feat before he became a vegan, whilst his two golds at Seoul four years later were also achieved before he saw the green light of veganism. Lewis switched to a vegan lifestyle in 1990 as he approached the latter stages of his career. The man himself is adamant that it was the vegan diet that enabled him to achieve such huge success at the 1991 World Championships and the following year's Barcelona Olympics.
Following his switch the man from Birmingham, Alabama, won a further five Olympic and World crowns. He said of his 1991 victory in the 100m, where he set a world record, "The best race of my life … The best technique, the fastest. And I did it at thirty." Not bad for a vegan, eh?
Colin Kaepernick – American Football
Colin Kaepernick is known for a lot of things and being a vegan is one. You might have heard about him due to his political activism or perhaps the hugely successful Nike advert that followed his brave stance in "taking a knee" during the US national anthem. However, first and foremost, Colin Kaepernick is an athlete, a top notch NFL player. His career has been hugely damaged due to his principles in standing up for fellow black Americans but we certainly shouldn't forget what a talented American footballer he was and still is.
Kaepernick was a second round draft pick for the San Francisco 49ers in 2011 and played as quarterback for the west coast franchise until 2016. He led his team to the playoffs in 2012 and 2013 and who knows what he might have gone on to achieve had he not decided to put principles before his career.
The quarterback went vegan in 2015, citing ethical and health reasons for his decision. How his career plays out from here remains to be seen but if you want an ethical, vegan, sporting role model, Kaepernick surely takes some beating.
Neil Robertson – Snooker
Neil Robertson is the only player in the history of his sport to score 100 centuries in a single season. Only five players have made more maximum breaks than the Australian and the former world number one won the World Championship in 2010. He was the first non-British player to win the sport's Triple Crown and after some issues away from the table (he was addicted to playing video games) he could well be set to get back to the very top of the game.
Ranked inside the world's top 10 at the time of writing, the 37 year old turned to a vegan diet in 2014. In January 2019, he tweeted: "Anyone can be successful with what ever (sic) diet they choose there is enough evidence to support that. But one is certainly better for the planet and other species we live with. Messi, Aguero, Djokovic, Lewis Hamilton and Serena Williams are all vegan, btw. That's not a bad equation". We're not 100% convinced of the vegan credentials of some of the names on his list but we agree 100% with the sentiment.
Veganism is in many ways an evolving idea and for newcomers it is often a journey rather than a simple binary choice. We give Robertson credit for being aware of this and back at the start of his journey he said, "I am on a plant-based diet. I am not going to say I am vegan because, obviously, my snooker shoes are made out of leather. That is something I will possibly address in time…"
Jason Gillespie – Cricketer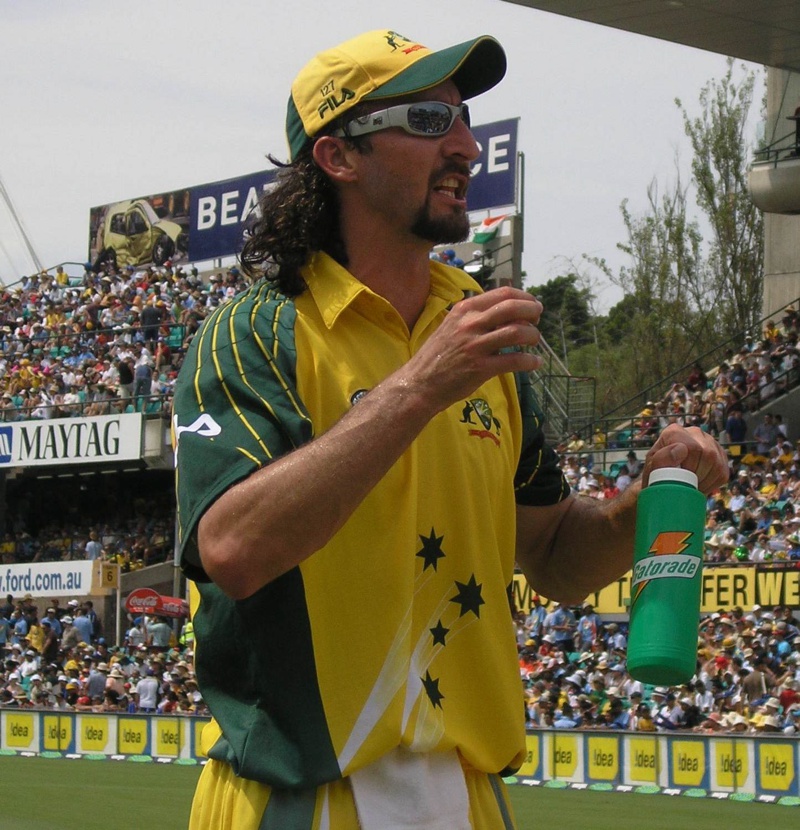 Jason Gillespie is a little bit of a curveball for our list of great vegan sports stars but he makes the cut for several reasons. First of all, his exploits on the cricket pitch are actually pretty impressive; it's just that when you play in a team with Shane Warne and Glen McGrath, it is quite hard to stand out as a bowler!
Even so, "Dizzy" played more than 70 Tests for Australia, capturing 259 wickets. That puts him eighth on an all-time list of Australian wicket takers and that's not bad considering the likes of Warne, McGrath, Dennis Lillee and Mitchel Johnson. Not renowned as a batsman, he averaged a respectable 18.73 and holds the world record for highest Test score by a night-watchman with a hard to believe 201 not out!
He also makes our list for his achievements as a coach after his playing days were over. Gillespie took over as coach at Yorkshire in 2011 and the county were promoted in his first season in charge. They finished runners-up in the First Division the following year before claiming only their second title since 1968. They won again in 2015 and were runners-up in 2016 and much of this was achieved despite the prolonged absences of a number of England stars whom the Australian had helped develop.
The third and perhaps most important reason we've included the fast bowler is that he is a committed vegan. As we explain lower down, the emphasis in this article is largely on how a vegan diet is in no way an impediment to sporting greatness. However, the fact that Gillespie was both hugely successful and also a fervent vegan, allows us to overlook the fact that he might not have been the most athletically gifted cricketer around.
Whilst at Yorkshire he said, "Yes, they are a sponsor but it doesn't mean I agree with what they do. It's out of my control, just like the fact that cricket balls are made of leather." He was being openly critical of his club's major sponsor, Wensleydale Creamery. He also said, "Hopefully one day the dairy industry can be shut down". In addition, he has advocated the creation of a vegan cricket ball and also buys many of his clothes from charity shops. All in all, he is one of the good guys and a great cricketer too.
Rob Bigwood – Arm Wrestler
HEY @THIEVESco! pic.twitter.com/FZsZUAeOg8

— Rob Bigwood (@rbigwood) 23 February 2014

If we allowed Gillespie onto our list despite him not ticking all the boxes needed to show vegans can be supremely fit, our final pick makes the list very much because of that fact. Rob Bigwood might not be a global superstar and perhaps isn't a true sports star at all. However, as his website attests, "Rob Bigwood is a vegan, animal rights activist (and) professional arm wrestler".
Like Aussie pace bowler Dizzy, Bigwood is a fully paid up member of the vegan world, committed to the diet, lifestyle and philosophy of veganism. He's also a pretty damn good person to point to when meat-loving friends say that vegans can't be strong, that vegans can't get enough protein, or that vegans can't get enough, well, of anything.
He's competed against the best of the best all over the world and his career highlight was winning the 2006 World Championship (left-handed, Super Heavyweight division, if you are interested!). With 40 State Championships in the US also to his name, he is a seriously strong, powerful guy. Big by name, big, strong and vegan by nature.
Disclaimer 1
Please note that this list is accurate to the best of our knowledge at the time of writing. Obviously it is possible that some of the people on this list have, or will in the future, change their diet. If you think there is someone on this list who is no longer following a vegan diet, please get in touch.
Disclaimer 2
In addition, note that not all of the people featured on our list are necessarily vegan in all senses of the word. They have reported that they follow a vegan diet but for some, this is a decision based on health and fitness and/or the environment, not the ethics of consuming animals or using animal products. So, whilst they follow a plant-based diet, by many definitions of veganism, some of our top sports stars are not fully vegan.
However, our primary aim in this article is to illustrate that great health and fitness can be achieved without eating meat, dairy or other animal products. As such, the motivation for these athletes' diets and whether or not they use animal products in other areas of their lives is less relevant.