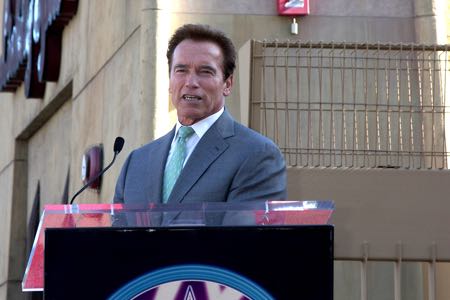 Arnold Schwarzenegger has had quite a life and, at the time of writing, the 73 year old is still going strong. He's been a professional bodybuilder, a successful businessman, a frontline politician, and a Hollywood icon.
Starring in such iconic films as The Terminator series and Predator (not to mention Kindergarten Cop and Twins!), he is one of the most recognisable faces on the planet. But let's cut straight to the important bit, is Arnold Schwarzenegger Vegan?
A "Mainly Plant-Based" Diet
People who are not familiar with plant-based protein might scoff at such a suggestion. Surely someone as bulky as Arnie couldn't possibly be a weedy vegan?! Well, it's true to say that during his professional bodybuilding days, Schwarzenegger consumed plenty of meat, eggs and dairy. But in recent years he has transformed his eating regimen and has moved towards a "mainly plant-based" diet.
Though, by his own admission, he is "not 100% vegan", he has stated that he has significantly reduced his meat and dairy intake. Based on the information we've encountered, he's not really close to being vegan, but even so, he's at least moved towards the more plant-based end of the spectrum.
Schwarzenegger was interviewed in 2019 for the Men's Health YouTube channel about his gym and what's in his fridge (see the YouTube clip below). When asked what his diet looks like, Arnie replied:
As you can see, I am health conscious. I was not always health conscious… and now I eat more oat meals and greens and vegetables, and healthy foods… stay away more from the meats, and more from animal products, animal proteins because there was this misconception that it's the only way you get big and strong. So now I've backed off that and I feel much better for being more on greens.
But, His Favourite Thing to Cook Is Steak…
Okay, that's hardly conclusive but it does hint he's turned his back on animal products completely – certainly there are lots of vegan bodybuilders who have done that. Later in the interview, though, Arnie says his favourite thing to cook is steak. This is despite saying he stays away from meat for health reasons.
He also puts eggs (complete with shells!) in his protein shakes. He does say that he "hates" cow's milk and he drinks almond milk instead, which he suggests is "much better".
Arnold Schwarzenegger Is Not Vegan… But…
Based on the 2019 interview featured above, it is fairly straightforward to conclude that Schwarzenegger is not one of the growing number of vegan celebrities. It is fair to say, however, that he has cut down significantly on meat and animal products. At least compared to his days as a professional bodybuilder when he admits to have been eating a lot of meat and 10 or 15 eggs a day. He has also become something of an advocate for plant-based diets and has even featured in one of the most popular vegan documentaries to have been made in recent years.
Along with Lewis Hamilton, Novak Djokovic and Jackie Chan, Schwarzenegger was one of the executive producers of The Game Changers documentary. The film looks at the myth that protein from meat is better for athletes and people wanting to build strength and muscle. In the film, Schwarzenegger talks about how the link between meat and "real men" is just marketing and he says, "that's not based on reality". He says that after changing his diet his cholesterol went down to the lowest level it had been in his whole life.
In putting his name to The Game Changers, an unashamedly vegan film, Arnie has certainly put some of his considerable weight behind the vegan cause. That has got to be a good thing from a vegan perspective, hasn't it?
Does Following a "Mainly Plant-Based Diet" Really Help Animals?
Well, clearly, if someone reduces their consumption of meat and other animal products, it will have a positive effect on animals. If demand for animal products drops, fewer of them will be bred, held captive and killed to fulfil the demand. That's just basic economics. So, on the face of it, yes, of course being "almost vegan" is going to help animals a lot more than someone who eats meat and dairy products every day.
It is also likely to have a proportionately positive effect on the environment too. One of the first things people who are aiming for a mainly plant-based diet tend to give up is red meat. Given the massive carbon footprint of red meat, and beef in particular, the more people who eschew beef, the better for the environment.
2014 University of Oxford Study
A 2014 study by University of Oxford scientists looked at how diets affected greenhouse gas (GHG) emissions. They found that diets that included the consumption of more than 100g per day of meat resulted in significantly more carbon dioxide equivalent emissions per day than both vegetarian and fish-eating diets and, of course, vegan diets. Here is the data (taken from Table 3 of the study we referenced):
Men (observed values)
Women (observed values)
N
Mean dietary GHG emissions (kgCO2e)
N
Mean dietary GHG emissions (kgCO2e)
All meat-eaters
6380
5.93
22759
5.71
High meat-eaters (≥ 100 g/day)
2310
7.26
5976
7.17
Medium meat-eaters (50–99 g/day)
2654
5.66
9317
5.62
Low meat-eaters (< 50 g/day)
1866
4.67
7466
4.67
Fish-eaters
1448
3.94
6675
3.9
Vegetarians
3641
3.85
12110
3.8
Vegans
747
2.94
1294
2.87
SD, Standard deviation; CIs, Confidence intervals; N, Number of Participants; kgCO2e, kilograms of carbon dioxide equivalents. Data taken from above-referenced University of Oxford study.
It stands to reason that the more people choosing to reduce their consumption of meat, fish, eggs and dairy products, the better for the environment and hence animals in a more general sense. And, of course, it is far better for the animals that would otherwise be farmed.
Plus, there are plenty of documented health reasons to go vegan, some of which are backed up in the 2019 research article published by University of Oxford and University of Minnesota scientists. This lays the results out in a very handy (and quite pretty) series of graphics (including this one) that compare various foods.
Do Celebrity "Almost Vegans" Do More Harm Than Good?
There is an argument put forward by some that celebs who stop short of going fully vegan while singing the praises of plant-based diets might be adding legitimacy to the meat and dairy industries. But in the eyes of the majority of people in the world, these are seen as legitimate industries. Someone might cut back considerably on meat consumption but continue to eat meat occasionally. Their shift towards eating a mainly plant-based diet is going to do more harm than good to the meat industry and more good than harm to animals. And, if that someone happens to be as famous as Arnie, it could do a lot of good for veganism simply by raising awareness and banishing some of the many vegan myths that still abound in this day and age.
Of course, if the whole world went vegan it might be a different kettle of fish (or tin of beans, if you prefer). In that scenario, in which the prevailing views of the world's population had shifted significantly, any non-vegans would be castigated for propping up an unethical and inhumane industry. But we're not in that situation (yet!), so perhaps "almost vegans" and those who have cut their meat intake even by a relatively small degree should be welcomed into the vegan fold rather than shunned?
There are a lot of people who have come to veganism for ethical reasons who can come across as being quite offended by vegetarians, let alone those who have simply reduced their overall meat consumption. Some people apparently think it is not an acceptable stance and that if someone is not fully vegan, they are as bad as the biggest meat consumers out there.
Every Little Counts
In our opinion, this sort of approach is nonsense and is actually quite unhelpful. Everything is relative in relation to diets. For someone who once ate 100g or more of meat a day to cut down to an average of just 20g of meat a day is a big deal. Equally, for someone who formerly ate meat every day to have a couple of meat-free days is also a big step, both psychologically for them and in terms of the positive impact it will have.
On most measures, it may even be a more significant change than a vegetarian becoming a vegan. People ultimately have to make their own food choices for their own reasons. Of course, education about the environmental, health and ethical reasons to go vegan should be highlighted. But trying to browbeat someone into changing their habits is likely to do more harm than good. And, if someone attempted to browbeat Arnold Schwarzenegger into becoming a fully-fledged vegan… well, good luck to them!
Arnie's Platform
Given that people listen to what Arnie says, he has the chance to help educate millions of people in relation to plant-based diets. He did this to an extent in The Game Changers documentary. The same goes for other famous not-quite-vegans, such as David Attenborough.
His platform allows him to change the hearts and minds of some people in a way a Peta YouTube clip, or a picket of McDonald's never would. So, even if a famous person is not a fully paid up vegan, they can still make a positive contribution towards the vegan cause. This could be by highlighting issues relating to the environment benefits of a reduction in meat consumption, or by focussing on the health benefits of a plant-based diet.
Arnold Schwarzenegger Films That Are Actually Quite Good
Now that we've tackled Schwarzenegger's dietary choices, let's turn to his films. There are some actors who have strong associations with veganism, such as Leonardo DiCaprio and Joaquin Phoenix, who can really act. Arnie isn't quite in that category.
He was never likely to win any Best Actor Oscars, but his ability to hold an audience's attention meant that he has shown undoubted star quality over the years. He has put in a few very good (well quite good) acting performances over the years. Here are the best of them (in our subjective view):
Terminator 2
This is arguably Schwarzenegger's best acting performance and certainly the best film in which he's featured. Okay, he plays a cyborg that isn't renowned for its subtle nuances, but Schwarzenegger manages to bring a fine mix of brutality and humour to the role. Dare we say it, he even makes you care for his character.
Conan the Barbarian
The film that really allowed Arnie to burst into the world's consciousness. It's far-fetched and violent, and Schwarzenegger's acting prowess certainly plays second fiddle to his physical presence and strong early-Arnie Austrian accent, but it's not a terrible film by any means. Indeed, for fans of fantasy and sword fights, it's not bad at all.
Predator
This sci-fi-action-horror film is set in a jungle in Central America and is a surprisingly compelling watch. Vietnam vet and all-round tough Guy "Dutch" (played by Schwarzenegger) leads a rescue mission in the jungle.
Things get complicated though when a creature that sees body heat starts tracking and killing members of Dutch's team. Much gore and violence ensues. It's safe to say the creature isn't vegan! But has it met its match in Schwarzenegger's character? Well, you can guess the answer.
Total Recall
Based on a Philip K. Dick short story, Total Recall had one of the biggest film budgets ever when it was released in 1990. It paid off though, both financially and in terms of the entertainment value.
Schwarzenegger's performance is convincing and the plot keeps viewers guessing. In short, this was a far better film than the 2012 remake and still holds up well today.
Commando
Fans of mindless shoot 'em up action films with corny one-liners and death-defying scenes of machine gun mayhem will love Commando. Film lovers seeking a subtle performance and deep characterisation should look elsewhere.
The Terminator
Arnie's acting performance in this iconic movie was robotic, but that's exactly what the role needed. His bad-ass cyborg is menacing and brutal and the film enabled Schwarzenegger to really hit the Hollywood big time. Well, he wasn't lying when he said, "I'll be back."
Notable Mentions
Twins, Red Sonja, Raw Deal and, of course, Kindergarten Cop all get notable mentions too, whilst there are many other films the Austrian-American icon has starred in that will have their fans … somewhere.
Arnold Schwarzenegger & Veganism: Conclusion
Arnold Schwarzenegger has had a busy life so far. Whilst is pretty clear he is not 100% vegan, he has made a positive contribution to animals through his role in The Game Changers and the various interviews and speeches in which he's encouraged people to cut down their meat intake.
While it would be great from a vegan perspective if he were to lead by example, he has opened doors for people to do their own research. As such, we think he has almost certainly contributed towards many people deciding to go fully vegan, though we don't have any concrete figures on that of course.
All in all, in our view it makes sense for vegans to accept any positive contributions that appear from celebrities or people in the public eye. It shouldn't matter too much if the person singing the praises of a plant-based diet isn't following their own advice to the letter. In short, everyone has to make their own choices and they should be encouraged and educated.
If someone wants to have a steak once a month, it's not ideal. But if they used to have one every single day, that is a massive leap in the right direction. So, let us celebrate any moves towards veganism, even if it doesn't mean someone chooses a 100% plant-based life straight away.