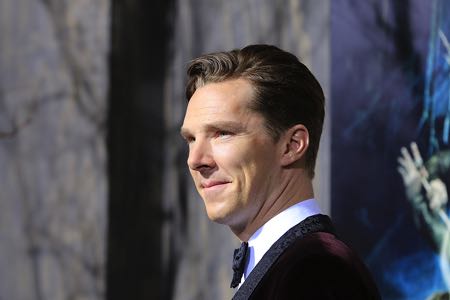 Benedict Timothy Carlton Cumberbatch was born in 1976 and has had a long and varied career already that has incorporated starring roles in major film, television and theatre productions. For many, he really broke into the public consciousness when playing Sherlock Holmes in the Sherlock series produced by the BBC.
Since then – alongside various high-profile theatre roles – he has featured in such blockbuster films as The Hobbit and as Doctor Strange in various Avengers-related movies. He has also performed in several critically acclaimed films including Tinker Tailor Soldier Spy, The Imitation Game and the recent hit The Power of the Dog.
Cumberbatch Follows a Vegan Diet
We'll delve into Cumberbatch's best acting performances later in the article, but for now we'll focus on the main question addressed in all our articles in the vegan celebs section: is he vegan? Well, yes he is and we can hear it from the horse's mouth (so to speak):
Cumberbatch was interviewed when promoting the Marvel extravaganza Avengers: Infinity War and was asked if he had to "eat anything gross to stay in shape for the movie like drinking egg whites" (which we would find pretty gross… and so did Benedict). He responded that he "eats a plant-based diet" and that he would say he's vegan but that not everything he wears is.
But in the eyes of many people, even with the occasional donning of a suit made of wool, the actor would just about fit into the vegan category. Of course, there will be plenty of others who would argue that if you are vegan you should get rid of all your non-vegan clothes, but those who come to veganism for environmental reasons might suggest it is better to continue to use such clothes until they wear out. That's a whole different debate though, let's get back to Bene.
How Has Benedict Cumberbatch Helped the Vegan Cause?
Some other vegan movie stars are particularly vocal when it comes to the benefits of veganism or the promotion of animal rights, with Joaquin Phoenix, in particular, taking every opportunity he can to publicise his beliefs. Meanwhile Leonardo DiCaprio has put his money where his mouth is and has served as executive producer on the influential vegan film Cowspiracy, as well as various other films relating to the environment.
So, how does Cumberbatch fair when it comes to activism? Well, it's perhaps fair to say he doesn't nail his colours to the vegan mast (or fly the vegan flag) as overtly as some other vegan celebrities out there. But he has got involved in various charities and has supported a number of causes with which many vegans might well identify.
Is Benedict Cumberbatch Royalty?
This isn't related to veganism but it is an interesting aside all the same. Benedict Cumberbatch is actually related to royalty. The 15th century King of England, Richard III, no less. He is reportedly a distant relation (third cousin, 16 times removed) of the last English monarch to die on the battlefield and even read a poem at his reburial at Leicester Cathedral in 2015. He even portrayed his distant ancestor in a BBC Shakespeare series.
Cumberbatch has various other (albeit rather less) notable ancestors, including a submarine officer in both world wars (his grandfather), British diplomats and also a slave owner based in the Caribbean (perhaps something that informed his stunning performance as a slave owner in the superb Steve McQueen film, 12 Years a Slave).
Benedict Cumberbatch Best Film & TV Performances
As mentioned, Cumberbatch has appeared in many plays over the years and has been very well received by audiences and critics alike. His best role on the stage arguably came when he starred in Danny Boyle's production of Frankenstein, for which he picked up a Laurence Olivier Award. Below, though, we'll focus on his best performances (in our view) in films and TV shows.
Sherlock Holmes in Sherlock
The role that propelled Cumberbatch to stardom, his portrayal of Sherlock Holmes in this brilliant BBC adaption (that ran over 13 episodes in total) was measured, mysterious and endearing. Created by Mark Gatiss and Steven Moffat, the show was stylistically daring and the dialogue was exceptional. But it was the acting skills on show that really drew in the audience.
As well as the consistently solid performances from Cumberbatch, Martin Freeman (as the long-suffering Dr Watson) and – in particular – Andrew Scott (as the devilish Moriarty) created on-screen tension and plenty of compelling moments. Cumberbatch was given the space to flex his acting muscles and he took the opportunity to showcase his talents to the world.
Alan Turing in The Imitation Game
Exhibiting a subtle realism and a sensitivity to his performance, Cumberbatch's portrayal of mathematical genius Alan Turing was rightly lauded. The film tells the story of Turing's attempts to crack the codes of the Enigma machine at Bletchley Park during the Second World War. But it also touches on Turing's homosexuality, his conviction for gross indecency and the subsequent chemical castration he underwent, though this is more of an epilogue.
Directed by Norwegian filmmaker, Morten Tyldum, and also featuring Keira Knightley and Mark Strong, the film became the top-grossing independent release of that year (2014) and picked up a string of awards and nominations, including an Academy Award nomination in the Best Actor category for Cumberbatch, something that (at the time of writing) he has achieved on two occasions in his career (see The Power of the Dog below).
Dr Stephen Strange in the Avengers films
In the behemoth that is the Marvel Cinematic Universe, Cumberbatch plays Doctor Stephen Strange in what has been his most commercially successful role to date (if not perhaps his most artistically accomplished). We won't go into the details of the astral plane, Mirror Dimension, the Cloak of Levitation and other aspects of Dr Strange's Mystic Arts, but – on the off chance you haven't encountered the character in any of the Marvel films, in summary, he's a neurosurgeon with special powers that he uses to help protect the world against the evil Thanos.
Since initially starring as Dr Strange in the imaginatively named 2016 movie Dr Strange, Cumberbatch has reprised the character in five further Marvel movies, most recently the zany-sounding Dr Strange in the Multiverse of Madness. Given that – spoiler alert! – Dr Strange has already been killed (or "Blipped") and returned to life/existence, in theory the character could go on for as long as Disney (or Cumberbatch) likes. At present it looks as though Dr Strange is likely to be around for a while yet.
Smaug in The Hobbit
Cumberbatch provided the voice for the dragon Smaug in Peter Jackson's blockbusting trilogy of films based on the JRR Tolkien classic, The Hobbit. Although hardly one of the actor's most challenging roles (he didn't have to bother with costume or makeup!), the role earned him a highly prestigious nomination in the Choice Animated Movie: Voice category of the Teen Choice Award in 2014 (alas, he was beaten to the honour by Idina Menzel who played Elsa in Frozen, and there is no shame whatsoever in that!).
Suffice to say, the films did pretty darn well at the box office and it sounds like the actor had lots of fun during his portrayal of the beast, taking to all fours as he delivered many of the lines and inspiring the digital designers to alter the dragon's appearance after being impressed by Cumberbatch's dragon-esque movements.
Peter Guillam in Tinker Tailor Soldier Spy
A rather more subtle performance came in the languid but captivating Cold War spy film, Tinker Tailor Soldier Spy. Directed by Swedish filmmaker Tomas Alfredson, the film was based on John le Carré's 1974 novel and retains many of the elements of the book, namely the lack of sensationalism involved in the art of spycraft and the intricate interplay between the characters. Cumberbatch was one of several exceptional actors to feature in the film including Gary Oldman (as the main protagonist George Smiley), Colin Firth, John Hurt, Tom Hardy, Toby Jones, Kathy Burke and Mark Strong.
With that array of top talent, it was no surprise that the film received plenty of critical acclaim, winning the BAFTA for Best British Film and picking up three Oscar nominations. Playing Smiley's right-hand man, Peter Guillam, there was a fair chance Cumberbatch's performance could have been lost in the shadows of any one of the many better-known actors who featured, but he held his own well and picked up a nomination for the Best Supporting Actor category of the British Independent Film Awards (an award for which Tom Hardy was also nominated but which was won by Michael Smiley for his role in Kill List).
Stephen Hawking in Hawking
Although Eddie Redmayne won the Best Actor Oscar when he portrayed cosmologist and theoretical physicist Stephen Hawking in the 2014 film The Theory of Everything, Cumberbatch actually played the scientist a decade earlier for the 2004 BBC film entitled simply Hawking.
We couldn't say for certain, but it seems very likely Redmayne took at least some tips from Cumberbatch's exceptional performance of Hawking's battle against the debilitating motor neuron disease that so affected his life (but which never diminished his great mind). Cumberbatch was nominated for a Best Actor BAFTA for his portrayal of Hawking and won the Golden Nymph at the Monte-Carlo Television Awards.
Dominic Cummings in Brexit: The Uncivil War
Another portrayal with a biographical element came in 2019, but this time it was of someone who far fewer people would describe as a genius: Dominic Cummings. In this TV film that got under the skin of the Vote Leave campaign in the run-up to the 2016 referendum on leaving/staying in the EU, Cumberbatch played the "mastermind" behind the vacuous three-word slogan "take back control" that appeared to strike a chord with so many. The performance was witty and rather satirical and kept viewers and critics entertained.
Phil Burbank in The Power of the Dog
Finally we have to give a mention to one of Cumberbatch's more recent films and his superb portrayal of Phil Burbank in Jane Campion's revisionist Western The Power of the Dog. The film picked up numerous awards and nominations but despite getting 12 Oscar nominations, it only actually won one: the Best Director gong for Campion. Cumberbatch himself was nominated for the Best Actor Oscar but he was beaten to the accolade by Will Smith… who some argue shouldn't even have been in the building at that point after he slapped Oscars presenter Chris Rock.
The film was released primarily on Netflix so it is hard to assess its commercial success (which is usually measured by box office takings at cinemas) but it was a huge critical success and Cumberbatch's performance was praised. The complexity of the character – sometimes gruff and acerbic, sometimes almost tender, especially in the various interactions with Peter Gordon (fantastically played by Kodi Smit-McPhee) – allowed Cumberbatch to once again prove his acting abilities.
Benedict Cumberbatch & Veganism: Conclusion
As we have seen, when it comes to actors, Benedict Cumberbatch has shown he has vast talent and range. He is seemingly as effective when playing superheroes in blockbusters like the Avenger movies as he is portraying troubled or physically challenged characters such as Alan Turing or Stephen Hawking. His many appearances on the stage indicate he hasn't forgotten his acting roots and the fact that he often switches from the stage to TV to film indicates he's not one to rest on his laurels either.
When it comes to his veganism, Cumberbatch is perhaps not as vocal as some vegan actors out there, but then there's no rule to suggest that you have to shout about your beliefs. He certainly doesn't shy away from them when asked in interviews and the fact that he has talked about being a vegan on such massive platforms has no doubt aided the vegan cause and that of the animals and the wider environment.