American actor, Paul Rudd, is best known for his starring role as Ant-Man in the eponymous film and sequels. He has also appeared as the same shrinking/growing superhero in other Marvel Universe films, Captain America: Civil War and Avengers: Endgame (which is one of the highest-grossing films of all time). In his long career, he's appeared in more than 60 films, 40 or so TV shows and had a few stints on Broadway. But putting his stardom aside for the moment, we're focused on the simple question: Is Paul Rudd vegan?
Unlike another – perhaps slightly more illustrious – actor, Joaquin Phoenix (who rightly wears his veganism like a badge of honour), Paul Rudd is not vegan. Like many so-called vegan celebs, a lot of the claims that Rudd is vegan are based on very poor evidence. In fact, the claims are based on evidence that is frankly not even circumstantial. After all, if someone wears a feather boa, it doesn't make them a peacock (Note: feather boas are NOT vegan!).
Why Do People Think Paul Rudd Is Vegan?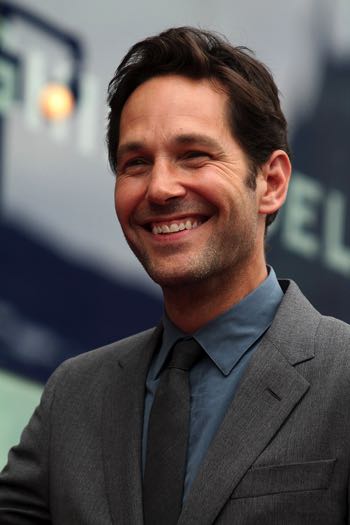 So, why does anyone even think Paul Rudd is vegan in the first place? Well, it appears to come down to a dietary choice he made when appearing on the YouTube series, Hot Ones, which is quite an amusing watch if you like seeing people reacting in funny ways when they consume very spicy food and, let's face it, who doesn't? Strangely, the choices made on this show seem to carry great weight in the world of "are they/aren't they vegan", with Ricky Gervais among a number of stars to have had their menus scrutinised by vegans.
In general, during the show, a celebrity is interviewed by the host, Sean Evans, whilst tucking into chicken wings that increase in spiciness as the show goes on. But when Rudd appeared on the show that was broadcast on YouTube on 17th October 2019 (see below), he opted for vegan-friendly cauliflower "wings" instead of the standard chicken wings. This inevitably got vegan chins wagging and many were quick to rejoice that the Ant-Man star was turning his back on the world of meat consumption… at least, until about 20 minutes into the vid when he blasts that idea from the water in no uncertain terms.
In the show he says, "I'm actually not a vegetarian but I am trying to become better" as he talks about his favourite sandwich from Joe's Kansas City Bar-B-Que that includes brisket beef and provolone cheese. He says the sandwich, which is about as un-vegan as you can get, is "incredible" and "the perfect meal". This is not the sentiment one might expect from anyone who is even veganish, let alone fully vegan. He also talks about his love of Kansas barbecues in general and there was no suggestion his standard menu includes aby of our favourite vegan barbecue staples.
Do Vegan or Vegetarian Curious Celebs Help or Hinder the Vegan Cause?
There are plenty of celebrities who could be described as almost vegan (such as Lewis Hamilton) and those who are just occasionally vegan or vegan-curious (such as pop superstar, Beyoncé). But do these part-time vegans simply validate the meat industry or could they open the eyes of the staunch omnivores amongst their millions of fans and followers to the health and environmental benefits of veganism?
Obviously, from the point of view of protecting the lives of animals and indeed saving our planet from environmental catastrophe, the more people who embrace vegan lifestyles, the better. But, equally obviously, of those people who are not able or willing to go full vegan, the more people who reduce their consumption of meat and other animal products the better too.
A massive Paul Rudd fan who watched the show in which he opted for cauliflower wings instead of chicken wings might just think – consciously or subconsciously – "Hey man, maybe that crappy vegan food ain't so crappy after all," and they might even try it… and they might even LOVE it. While they might not convert them to lunches of mungo overnight, it might have at least opened their minds to the possibility that vegan food can be tasty as well as healthy. Or in the case of cauliflower wings, healthier at least than chicken wings.
As such, we think more good than harm is done to the vegan cause by celebs who are least make a token effort to show in public that they are, in Rudd's words, "trying to be better" when it comes to reducing their meat consumption. Just the assertion that less meat is "better" will strike a chord with some people and it might be the nudge they need to reduce the amount of meat or dairy they consume or even try out a fully vegan diet.
Paul Rudd's Top Five Films
Rudd's film career is not quite in the same league as almost-vegan Leonardo DiCaprio or the aforementioned Joaquin Phoenix, both of whom have won Oscars. But, despite some particularly forgettable films and a penchant for sub-par goofy rom-coms, Rudd has appeared in quite a few very good, and often very funny movies. Here are five of his best.
Ant-Man – In one of his biggest roles, Rudd plays the eponymous Marvel hero who makes use of shrinking technology that has been developed by SHIELD scientist Hank Pym (played by Michael Douglas). With a screenplay written by Edgar Wright and Joe Cornish, the film is a lot funnier than many others in the Marvel Universe with some great one-liners for Rudd. Obviously, there's plenty of action and unbelievable stunts as well and it holds together very well.
Clueless – His first movie, Rudd plays the unlikely love interest of self-obsessed Cher Horowitz (played by Alicia Silverstone) in this slightly dated but still amusing teen comedy.
I Love You, Man – Rudd plays a man with no friends on a quest to find the best man for his upcoming wedding. It might not sound like a particularly amusing concept, but Rudd's understated performance alongside the OTT Jason Segel makes this buddy movie an easy watch.
Ant-Man and the Wasp – Reprising his Ant-Man superhero role in the sequel that he co-wrote, Rudd shows his star quality opposite Evangeline Lilly's Hope/Wasp. Even more action and ludicrous stunts than the first film, it's a thoroughly entertaining watch.
The Fundamentals of Caring – Unlike many of his movies, The Fundamentals of Caring allows Rudd to show a more serious side to his acting (though it still retains plenty of comedic moments). Rudd plays Ben, an unemployed writer who becomes a registered caregiver and is employed to care for Trevor, an 18 year old with Duchenne Muscular Dystrophy, a life-changing experience for both parties.
Paul Rudd Is Not a Vegan: Conclusion
In conclusion, based on the evidence of Rudd explaining how his favourite sandwich and "perfect meal" contains both meat and cheese, we are confident in saying he is not vegan. Yes, he did once choose to have cauliflower wings instead of chicken wings and he said he was trying to get better when it came to vegetarianism. But there is no concrete suggestion that his process of getting better has meant he has become vegan, or even vegetarian.
Of course, each person – celebrity or otherwise – has to make their own choices about what they eat. And, though it would be nice if more celebs went fully vegan, even those who dabble in the green waters of the plant-based world can have positive consequences for the movement as a whole.
At least that's what we think, even though there will be others who suggest half-hearted veganism or vegetarianism is worse than none at all. So, perhaps Rudd will continue along the spectrum towards veganism, perhaps not. But if he's encouraged a few more people to choose cauliflower wings over chicken wings along the way, we applaud him and are sure the chickens would too if they could!