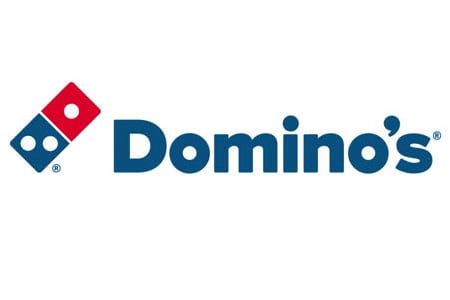 Domino's pizzas are often something that new vegans (or those with long, fond memories) miss, assuming they are piled high with dairy cheese. But, fear not! Even those who have turned their backs on the consumption of animal products can enjoy pizzas from this global chain that began life in 1960 in Michigan.
As we outlined in our article looking at vegan food at Pizza Hut, there are loads more options for vegan-friendly pizzas these days than there used to be and Domino's have expanded their vegan collection in recent times. Vegan cheese had a shocking reputation for a long time but over the past few years it has really improved, certainly when it comes to applications such as pizza. So, let's take a look at what Domino's has to offer its customers who follow a plant-based diet.
Vegan Food Options at Domino's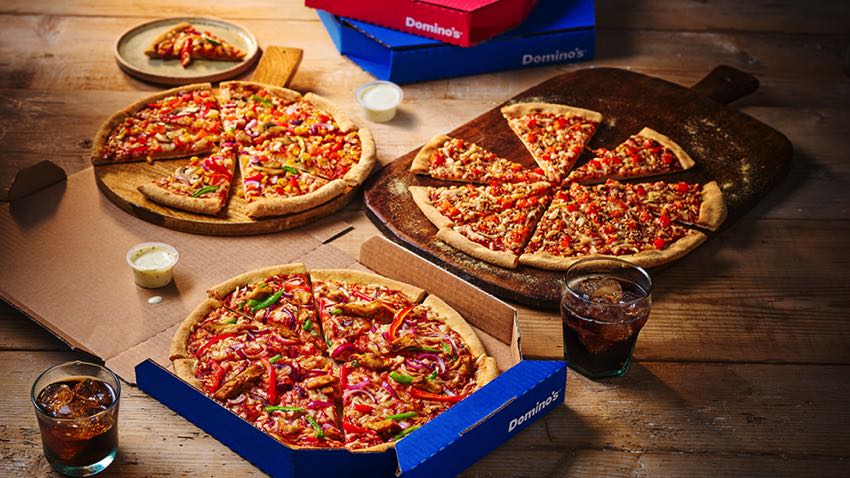 Unlike Pizza Hut, which uses vegan cheese made by Violife, Domino's do not have (or at least do not declare) a specific tie-in with a company for their vegan cheese. Instead, they use their own in-house vegan cheese on their pizzas. But it is very similar in taste and texture to Violife (and has the same primary ingredients of coconut oil and modified starch).
Note that as Domino's staff prepare vegan and non-vegan food in the same place, there is always a possibility of cross-contamination. For most vegans – or those who love pizzas – this is a risk worth taking. But if you have any severe food allergies, this is something to consider carefully.
Which Pizzas Are Vegan at Domino's?
At the time of writing, there are three pizzas at Domino's that are specifically identified as vegan. Note that each pizza is available with either the classic crust or the Italian style crust and you can choose whether you have tomato sauce or BBQ sauce on the base (both of which are vegan friendly).
Vegan Margherita
A tasty Margherita with additional tomatoes and a sprinkling of "Domino's Herbs" (a blend of dried garlic, black pepper, dried red pepper, dried onion, dried tomato, sea salt, oregano, marjoram and basil), we think this is a more satisfying option than the vegan Margherita found at Pizza Hut.
The Chick-Ain't
Like the Margherita but without the extra tomatoes and with the addition of onions, red and green peppers and – the bit that's a bit like chicken – vegan soya strips. We like to spice it up a little with jalapenos.
Vegan Vegi Supreme
A vegan version of the standard (non-vegan) Vegi Supreme, this contains sweetcorn, mushroom, green and red peppers, onions and tomatoes.
Which Pizza Toppings Are Vegan at Domino's?
As well as the above-mentioned pizzas, it is also possible to create your own vegan pizza. You will probably need to speak to staff to ensure you get a vegan-friendly base, however, as by default the bases in the create your own section on the website are only vegetarian. Most of the standard bases contain some derivative of milk, while the gluten-free base contains egg white, making things tricky for gluten-free vegans.
Alternatively, you can customise any of the above vegan-friendly pizzas by changing two toppings for free or by adding additional toppings. Here are the toppings that are listed as vegan friendly on the Domino's site:
BBQ Sauce
Domino's Own Tomato Sauce
Pineapple
Jalapeno Peppers
Mushrooms
Sweetcorn
Onions
Green and Red Peppers
Tomatoes
Sliced Gherkins
Olives
Other Vegan Food at Domino's
Not that you necessarily need any ice cream after a massive pizza, but given that Domino's sell Ben & Jerry's, they could easily add some vegan ice cream to their menu given that Ben & Jerry's have several vegan options. For the time being, however, this is not something they offer, so maybe add some of the below as a side or an extra so you're just too full for dessert anyway!
Vegan Nuggets – Made predominantly from wheat and soya protein, these are reasonable vegan nuggets but no better than any you might find in your local supermarket.
Potato Wedges – Spiced up with cumin, paprika, turmeric and cayenne pepper, these are decent enough wedges if you fancy a carb-tastic side dish to go along with your carb-tastic pizza.
Vega Dips – Whether you want a dip for your crust or your wedges, the following are vegan friendly: Vegan Garlic & Herb Dip, BBQ Big Dip, Frank's RedHot Big Dip, Sweet Chili Dip, Tangy Salsa Dip.
Domino's Vegan Food – Nutritional Values
Here we'll compare the main nutritional stats for the three vegan pizzas at Domino's with the non-vegan Americano pizza all based on 100g of the Medium Classic Crust option.
| Typical Values (Per 100g) | Vegan Margherita | Vegan Vegi Supreme | The Chick-Ain't | American (Non Vegan) |
| --- | --- | --- | --- | --- |
| Energy kJ | 1193 | 1004 | 943 | 1374 |
| Energy kcal | 283 | 238 | 224 | 327 |
| Fat g | 8.8 | 7.1 | 7.3 | 12.2 |
| Saturates g | 6.0 | 4.6 | 4.5 | 6.0 |
| Carbohydrate g | 42.5 | 36.1 | 30.2 | 37.1 |
| Sugars g | 5.1 | 5.8 | 4.2 | 11.4 |
| Fibre g | 2.9 | 2.5 | 4.2 | 2.1 |
| Protein g | 8.5 | 7.5 | 9.4 | 16.3 |
| Salt g | 1.1 | 0.9 | 1.1 | 1.7 |
As is often the case, the vegan options tend to be a little lower in fat and saturated fat and calories, though the non-vegan options vary quite a lot depending on the toppings. For those looking for good vegan protein sources these pizzas are not great (compared to the non-vegan option) but they are lower in salt in general. Clearly, even the vegan pizzas at Domino's are not likely to the best option in the word for those motivated by the health reasons to go vegan.
A Brief History of Domino's
As mentioned, Domino's was created in 1960 in Michigan and, as seems to be the way with restaurant chains that make it big (see McDonald's and Pizza Hut), it was a pair of brothers who started the ball rolling: Tom and James Monaghan. They bought an existing pizza restaurant chain but James traded his half of the business for a VW Beetle as he wanted to keep his job as a postman… big mistake, James!
Tom grew the business, renamed it Domino's in 1965 (at the suggestion of an employee) and by 1978, they had grown to have 200 pizza outlets. When Tom retired in 1998 he sold the majority of his stake in the company for around $1 billion. Oh, well, James, we're sure you enjoyed your time as a postie!
Given that Domino's didn't expand out of the United States until 1983 (when they branched out to Canada) they made swift progress around the globe and they had 6,000 outlets outside of the US by 2014 and by 2016 they had an incredible 1,000 in India alone.
Conclusions: Vegan Food at Domino's
Overall, we are not overly enamoured by the choice of vegan food available at Domino's. Certainly, it trails a little way behind Pizza Hut when it comes to the range of pizzas that are vegan friendly and there is scope to expand the number of options, if the will is there. They may be testing the market with their recent launch of the other vegan pizzas. We do like that you can exchange the toppings and add others though, so there is plenty of scope to create your own slightly more imaginative vegan pizza at Domino's.
As for the non-pizza vegan options, again there is room for improvement. But then few people are going to go to Domino's for anything other than pizza so hopefully most vegans will find something they can get on with here.