Given that KFC – aka Kentucky Fried Chicken – has built its long and successful business on the backs (or more accurately breasts, wings and legs) of chickens, there will be a good number of vegans who would never consider giving them any of their hard-earned cash. But even at this bastion of bird flesh, times might be starting to change… albeit rather slowly.
In this article, we'll take a look at what is available at KFC for those following a plant-based diet. We'll tell you now… there's not a lot! But on the off chance that vegans find themselves particularly hungry and without any other options, or with non-vegan friends adamant the Colonel is the man to dine with, at least there is something they can eat at KFC.
Vegan Food Option at KFC
Most food chains, from Domino's to Papa John's to McDonald's have vegan options, plural. KFC, in contrast, have put all their eggs in one basket, for want of a better phrase, when it comes to veganism and – at the time of writing – offer just one, solitary, lonely vegan option when it comes to their main meals. And, even that is only available in certain restaurants (750 at the last count).
They do offer a number of vegan-friendly side dishes, which we'll detail below, but their main offering is their KFC Original Recipe Vegan Burger (not the catchiest name in the world!). Alas, at the time of writing, vegans won't be able to enjoy said burger with KFC fries. As they explain on the vegan FAQ page on their site:
Our fries are cooked in the same oil as our Popcorn Chicken. We know this is disappointing, but both beans and corn are vegan-friendly and can be added to your Vegan Burger and Drink for just 50p.
Oh, that's okay then. Fussy old us! Who needs fries when you can pay more and have… beans and corn?!
Is the Original Recipe Vegan Burger at KFC 100% Vegan?
The burger itself is made by Quorn, who are regularly adding to their extensive range of vegan products. The specific chicken-like fillet is not available to buy in the supermarkets, however, as it is made especially for KFC and is coated in "the Colonel's iconic blend of 11 herbs and spices". It comes with a generous dollop of vegan mayonnaise, and some lettuce, in a "soft-glazed" bun.
There is nothing amongst the ingredients that would indicate the product is not vegan. But in the KFC Nutrition and Allergens guidance, it does say the Vegan Burger "May Also Contain Allergens" and lists milk and egg among those. This is really just to cover themselves in case anyone who has the burger has severe allergies to either of those (or indeed barley, soya, celery or sulphur, that are also listed). In reality, the chances of your vegan burger being contaminated with animal products is fairly slim. And – unless you have allergic reactions – you probably wouldn't know anyway.
Of course, even the possibility of cross-contamination with animal products is enough to put off many vegans. In which case, choosing a restaurant that serves only vegan food is probably the best bet. If you are happy to accept the small chance of cross-contamination (which essentially means there is a chance almost microscopic levels of non-vegan matter may be present) then this item is indeed 100% vegan friendly.
KFC Original Recipe Vegan Burger Nutritional Values
As you can see from the nutritional stats, the KFC Vegan Burger is not one for the health-conscious as it packs in almost 20g of fat and not far off 500 calories. On the flip side, it packs in a decent dose of vegan protein and is comparable on that front to many of the best vegan protein bars out there.
| Typical Values (Per Burger) | KFC Vegan Burger |
| --- | --- |
| Energy kJ | 1875 |
| Energy kcal | 450 |
| Fat g | 19.0 |
| Saturates g | 2.0 |
| Carbohydrate g | 52.9 |
| Sugars g | 5.9 |
| Protein g | 18.7 |
| Salt g | 2.9 |
What Other Vegan Food Is Available at KFC?
Aside from the aforementioned Vegan Burger, there are a number of other food products that are vegan friendly (subject to cross-contamination risks). As you can see though, in terms of a real meal, the other options are pretty limited to say the least.
BBQ Beans
Corn Cobette
Curry Sauce
Pineapple Sticks
Real Tomato Sauce
Kentucky Smoky BBQ Sauce
There is nothing here that offers an alternative to the Vegan Burger as anything resembling a meal, so really, vegans could be forgiven for heading elsewhere. Unless they really like beans, corn and lots of sauce, with some pineapple for dessert.
A Brief History of KFC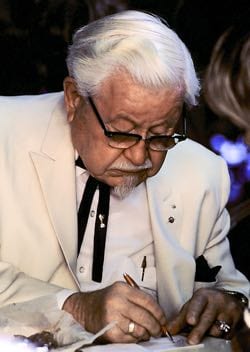 As the name suggests, KFC began life in Kentucky in the United States. It was founded by Colonel Harland Sanders during the Great Depression in 1930. The Colonel's famous (and secret) recipe that includes the famous 11 herbs and spices was developed by 1940 and he dubbed it his "Original Recipe". Combined with the swift method of pressure frying chicken, the food proved a real hit and by 1952 Sanders had started out on a franchise-driven expansion that would allow the company to balloon in size.
By the 1960s, Kentucky Fried Chicken had expanded beyond US shores and had opened stores in Canada, the United Kingdom and even Jamaica. It was also the first US food company to open outlets in China in the 1980s. It was bought by drinks giant PepsiCo and – along with Pizza Hut, Taco Bell and a few other food brands, it was brought under the Yum! umbrella that grew out of Pepsi's fast-food business.
These days, KFC is second only to McDonald's when it comes to the world's largest restaurant chains (based on their annual sales). With well over 20,000 outlets dotted around more than 150 countries and territories, it is safe to say that – love them or loathe them – KFC are going to be around for a long while yet.
Conclusions: Vegan Food at KFC Could Be Better
Although we didn't expect a great deal from KFC given they are built on selling chicken, we were still disappointed with a rather paltry vegan offering. The one product they do offer – their Original Recipe Vegan Burger – is made by Quorn and, as such, is hardly ground-breaking and certainly not worth making a special trip for.
The fact that their fries are cooked in the same oil as chicken – and are thus rendered unsuitable for vegans – is a massive negative in our eyes. Even McDonald's ensure their fries are okay for those on a plant-based diet! With just beans, corn on the cob, pineapple sticks and a few sauces that are vegan friendly, we have to say, KFC score very badly on the catering-for-vegans front. Unless you are particularly desperate to sample their glorified lump of Quorn, we'd certainly recommend looking elsewhere for your vegan fodder until KFC up their game significantly.