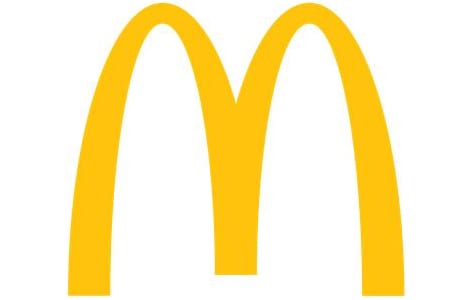 There are plenty of vegans out there who wouldn't dream of eating at McDonald's on principle given their whole business has largely been about meat. But maybe, just maybe, times are a' changing, even under the hallowed Golden Arches. And though they are famed for their hamburgers (made of beef – and people say vegans are weird!), the fast-food joint founded way back in 1940 has finally started to introduce some vegan options to their menu.
In this article, we'll run through the vegan-friendly food offered at McDonald's, and though it probably won't be most vegans' first port of call when their bellies rumble, sometimes the options are so limited that it's worth at least knowing what you'll find if you do venture into Maccy Ds.
Vegan Food Options at McDonald's
According to McDonald's own UK site, at the time of writing, they serve up six food items that are classified as vegan. They also list some drinks amongst their vegan offering, including water (cheers, guys), Coca-Cola and Fanta. But, here we'll focus on the food options.
Veggie Dippers
These were the first vegan meal option (i.e. an alternative to a burger) that McDonald's offered when they introduced them in January 2020 (we don't count a bag of apple or carrot as a meal option really, even if they are the healthiest thing in the restaurant).
Made predominantly with rice and split peas, with some red pepper and sundried tomato pesto thrown in (among other things like maize starch and xanthan gum), these breadcrumb-covered goujons are sold in twos or fours.
The Spicy Veggie One
The Spicy Veggie One is one of a number of McDonald's food offerings that simply use the abovementioned Veggie Dippers in one way or another. If you don't like the Veggie Dippers, your options become rather limited, therefore.
In the case of the Spicy Veggie One, said Dippers are wrapped in a toasted tortilla along with some relish, lettuce and tomato. The relish contains mustard, but that is usually vegan, as it is in this case.
Hash Brown
As we discuss in our aptly if unoriginally titled article, Are Hash Browns Vegan? they almost always are, as indeed they are in the case of those sold by McDonald's.
For a product of Maccys Ds they have relatively few ingredients too, with potatoes, vegetable oils, maize flour, salt, pepper, dextrose and stabiliser combining to form a decent enough snack product.
McDonald's Fries
The iconic McDonald's Fries are almost certainly accidentally vegan on the basis that frying them in vegetable fat is probably a bit cheaper than using animal fat. But, we'll take it. Made from potatoes, vegan vegetable oils (in this case sunflower and rapeseed) and dextrose, there's nothing to set vegan alarm bells ringing here.
They state on their website that they are "fried in 100% vegetable oil in fryers that are only used for potato and other vegetable based products", so that reassures us further.
Apple & Grape Fruit Bag
It's a bag. It has some cut up apple (75%) and some grapes (25%) in it. It's a bit lazy and the plastic is not great for the environment, but it is vegan at least.
Carrot Bag
Yes, you've guessed it, this is simply a plastic bag containing carrots. We suspect not many people would go into McDonald's specifically to buy this product, especially those who were drawn to veganism for environmental reasons. But, hey, it's an option.
Side Salad
If no condiment is added, the Side Salad is vegan-friendly as it is made up of lettuce, tomato and cucumber. Not the most imaginative salad, but at least no animals were killed to produce it.
Almost Vegan Items
While the above items are listed as vegan on the McDonald's website, the following items are almost vegan given that they don't contain any explicitly non-vegan ingredients. The reasons McDonald's don't state these items are vegan are mainly linked to cross-contamination and they don't want to cause the kind of fuss that surrounded Burger King's Plant-Based Burger (though that is absolutely non-vegan as it is cooked on the same grills as their animal-based burgers).
Some other products will require you to ask staff to refrain from adding something to the product (e.g. Sandwich Sauce). Whether you classify these items as vegan or not is up to you. But if you are the kind of vegan who will happily ignore the possible cross-contamination factor when it comes to Oreos or Bisto, then get stuck in!
Vegetable Deluxe
Similar to the Spicy Veggie One in that it uses Veggie Dippers, this product puts them in a Sesame Bun along with some lettuce and some Sandwich Sauce. The Sandwich Sauce is the problem for vegans here as it contains egg yolk. But if you ask them to prepare one without the sauce, it's basically vegan.
Apple Pie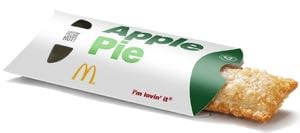 Strictly speaking, there are no non-vegan ingredients in the McDonald's Apple Pie (unless you classify palm oil as non-vegan). The reason they don't list it as a vegan product is that it "may contain traces of milk" and there is a very small chance the pies have been fried in oil that could have been used to fry chicken (which might be why they don't even list them under the vegetarian section of their site).
Frozen Strawberry Lemonade
Available in selected McDonald's restaurants only, this is basically crushed ice with citric acid-rich flavourings thrown in. There's nothing added that is obviously non-vegan and the fact that there is a warning suggesting it "may contain traces of milk" is the only reason we can see it hasn't been listed in the vegan section of the site.
Disclaimer About "Allergens"
It is worth noting at this point that the McDonald's site has a disclaimer about "allergens", but vegans could read that word as "animal products". They state:
We produce our food in kitchens where allergens are handled by our people, and where equipment and utensils are used for multiple menu items, including those containing allergens. Although your meal is prepared with care, we cannot guarantee it will be allergen free, even after ingredients have been removed on request.
It is left to your judgement whether you are bothered by the possibility of cross-contamination with the many animal-derived products in their kitchens. We, of course, would not want to cast any aspersions on the attention to detail of the team members there. But it is simply worth being aware that food prepared in a kitchen that also handles animal products runs at least a slight risk of coming into contact with either that food or hands or equipment that has come into contact with it.
McDonald's Vegan Food – Nutritional Values
Here are the nutritional values for three McDonald's food products they state are fine for vegans to consume. It's fair to say that those who went vegan for health reasons probably won't be visiting McDonald's too regularly, but in case you're interested, here's what the vegan options pack in from a nutritional point of view. We've also thrown a Big Mac in there for comparison – note that a Big Mac is NOT vegan!
| Typical Values (Per Portion) | Veggie Dippers 4pc | The Spicy Veggie One | McDonald's Fries (Medium) | Big Mac (Non Vegan) |
| --- | --- | --- | --- | --- |
| Energy kJ | 1339 | 1529 | 1410 | 2125 |
| Energy kcal | 321 | 363 | 337 | 508 |
| Fat g | 13 | 8.8 | 17 | 25 |
| Saturates g | 1.3 | 1.4 | 1.5 | 9.5 |
| Carbohydrate g | 41 | 59 | 42 | 43 |
| Sugars g | 2.3 | 9.2 | 0.6 | 9.0 |
| Fibre g | 6.0 | 6.4 | 3.6 | 3.6 |
| Protein g | 6.6 | 8.9 | 3.3 | 26 |
| Salt g | 1.1 | 1.2 | 0.62 | 2.3 |
As you can see, the vegan options beat a Big Mac hands down on the fat content and the Veggie Dippers and the Spicy One are significantly higher in fibre. Clearly the Big Mac packs a bigger protein punch, but there are plenty of great vegan protein sources to explore if that is a concern for you, not least vegan protein powders if you happen to be trying to bulk up or you are recovering from injury.
A Brief History of McDonald's
Contrary to popular belief, McDonald's was not started by Ronald McDonald (that child-scaring clown didn't appear until 1965, which given his slightly psychedelic nature kind of makes sense!). Neither was the company created by Old MacDonald who got bored of having a farm and decided to branch out into fast-food restaurants. In fact, the first McDonald's restaurant was opened in San Bernardino, California on the 15th of May, 1940 by brothers Richard and Maurice McDonald.
The so-called "Speedee Service System" they brought in in 1948 built on fast-food innovations developed by another burger joint called White Castle that actually started life decades earlier. But the McDonald's brothers perfected the system and once they started franchising their outlets, Ray Kroc got involved and bought the McDonald brothers' equity in 1961. From this point on, the company began to expand rapidly.
By the end of 2018, there were more than 37,000 McDonald's restaurant dotted around in excess of 120 countries and territories around the globe. Many people have plenty of criticism for the brand and their practices over the years (whether to do with workers' rights, treatment of animals or getting involved in various legal battles). But there is no denying that, from a purely business perspective, McDonald's has been ludicrously successful.
In addition, they have been surprisingly progressive on a number of issues including the use of ethically sourced coffee beans. They also get their fish from sustainable fisheries and only use free-range eggs. Whilst this hardly makes them vegan friendly it does mean they are less bad than some rivals in certain regards.
Conclusions: Vegan Food at McDonald's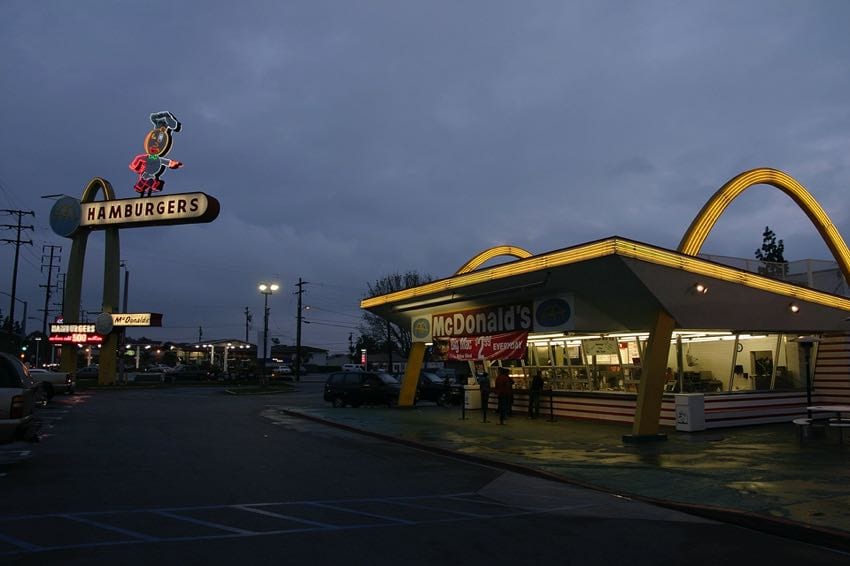 It's fair to say that for what essentially started out as a burger joint, McDonald's has taken at least some steps towards offering vegans a reasonable choice. Granted, most of their vegan options are really just one option: their Veggie Dippers. But these are fairly nutritious and could be a way of introducing vegan food to kids or even slightly reluctant adults, especially those who are looking to reduce the levels of fat in their diet.
Clearly, there is room for improvement and there are many vegans who wouldn't even set foot inside a McDonald's restaurant on ethical grounds given how many animals have died over the decades to produce their food. But for those vegans who do want to visit McDonald's, perhaps with family members or whatever, at least there are some vegan options from which to choose and you don't have to settle for a bag of carrots!