Papa John's might not be quite as familiar as other pizza specialists Pizza Hut or Domino's, at least to many UK residents. But, they provide a very good alternative to those two when it comes to plant-based food, including some excellent vegan pizzas.
In this article we'll run through all the vegan options at Papa John's to give you a quick overview of what you can expect if you are seeking a tasty vegan pizza.
As with other food outlets that serve non-vegan food as well as vegan-friendly options, there is always a chance of cross-contamination. Unless you have severe allergies to, for instance, milk, the risk is so small to be fairly irrelevant. But some people would prefer to avoid even that minor risk. In which case, opting for a fully vegan food company or buying your own vegan option from the supermarket may be preferable. Or, of course, making your own!
Vegan Food Options at Papa John's
Papa John's have managed to produce more vegan-friendly pizzas than either of their aforementioned rivals and the variety of toppings is sure to appeal to many a pizza-loving vegan. They've also added plenty of vegan sides too (Vegan Cheese and Marmite Scrolls, anyone?!) and, in case you have a voracious appetite, a few vegan desserts too.
Which Pizzas Are Vegan at Papa John's?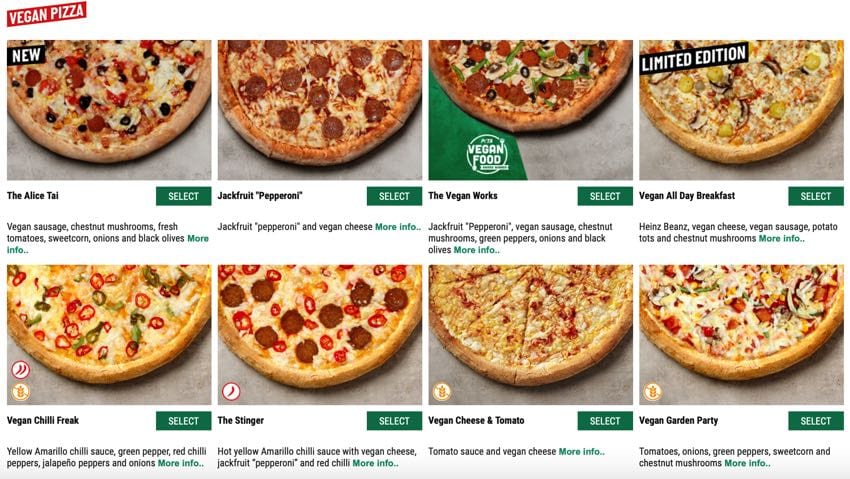 At the time of writing, there are seven distinct vegan-friendly pizzas at Papa John's, all available in various sizes with a choice of bases. Here are the details of the current crop of vegan pizzas.
| Vegan Pizza | Description |
| --- | --- |
| Vegan Cheese & Tomato | Though most Margherita-style pizzas are fairly basic, this one is particularly so. Containing vegan cheese and pizza sauce, we'd recommend upgrading to one of the other options. Unless you like things nice and simple, of course. |
| Vegan Garden Party | This is more like it! As above, but with added tomatoes, onions, green peppers, sweetcorn and chestnut mushrooms, this is a far more satisfying vegan feast of a pizza. |
| The Stinger | One for vegans who used to be partial to pepperoni in their non-vegan days, the Stinger has a good dose of Amarillo chilli sauce on the base, as well as vegan cheese, jackfruit "pepperoni" and red chilli peppers. Nice and spicy! |
| The Alice Tai | Another reasonably imaginative vegan pizza, this one contains pizza sauce, vegan cheese, vegan sausage, chestnut mushrooms, green peppers, onions and black olives. |
| Jackfruit "Pepperoni" | A fairly simple option with vegan cheese, pizza sauce and jackfruit "pepperoni", it could almost pass for a real pepperoni pizza (though with about half the fat content!). |
| The Vegan Works | This pizza is something of a feast and contains pizza sauce, vegan cheese, jackfruit "pepperoni", vegan sausage, chestnut mushrooms, green peppers, onions and black olives. Definitely one for those with a hearty appetite. |
| Vegan Chilli Freak | And, finally, one for the vegan spice lovers out there. Made with Amarillo chilli sauce as the base sauce, vegan cheese, green pepper, red chilli peppers, jalapeño peppers and onions, this one has a real kick to it! |
Which Pizza Toppings & Bases Are Vegan at Papa John's?
If you don't fancy any of the vegan pizzas mentioned above, you can create your own by combining one of the vegan-friendly bases with whichever vegan toppings take your fancy. Note that the pizza dough is vegan as standard at Papa John's, but you need to specify the vegan stuffed crust base if that is your preference. The flour they use for dusting is also vegan (indeed, most flour is vegan these days).
Vegan-Friendly Bases
Authentic Thin Crust Base
Original Base
Butternut Squash Base
Vegan Stuffed Crust Base
Vegan-Friendly Toppings & Sauces
Black olives
Chestnut mushrooms
Green peppers
Red chillies
Jackfruit "Pepperoni"
Jalapeños
Pineapple
Sweetcorn
Onions
Tomatoes
Vegan cheese
Vegan sausage
Amarillo chilli sauce
Pizza sauce
Other Vegan Food at Papa John's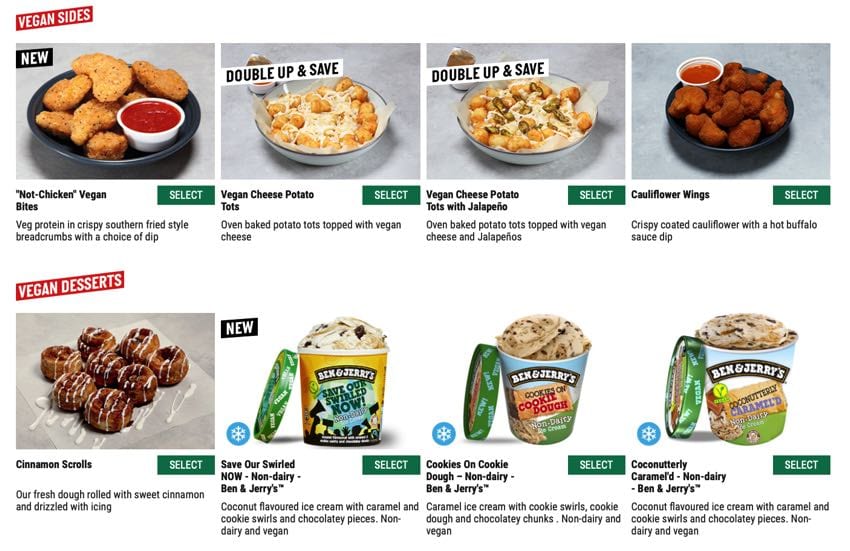 Aside from the pizzas mentioned above, Papa John's offer a fair range of vegan sides and desserts for anyone who really wants to get stuck in.
| Vegan Sides & Desserts | Description |
| --- | --- |
| "Not-Chicken" Vegan Bites | Southern fried vegan nuggets – nothing too spectacular in all honesty. We'd opt for one of the pizzas instead! |
| Vegan Cheese Potato Tots | Oven baked potato tots (mini roast potatoes) with a load of grated vegan cheese. What's not to love? |
| Vegan Philly Mushroom Papadias | A cross between a pizza and a sandwich, this Papadias option is a great alternative to either. Contains Philly mushrooms, onions, green peppers, vegan cheese and ranch sauce, this is a flavoursome addition to the menu. |
| Vegan Cheese Potato Tots with Jalapeño | As above but with jalapeños thrown on for an extra kick. |
| Cauliflower Wings | Who needs chicken wings when you've got cauliflower wings, right? They come with a spicy hot buffalo sauce dip and even non-vegan friends are big fans. |
| Vegan Cheese & Marmite Scrolls | Love it or hate it, Marmite is a vegan-friendly staple that pops up in all kinds of places, including at Papa John's in these dough scrolls. It is also an excellent vegan source of vitamin B12, which practically makes these little bad boys a health food (…not really)! |
| Cinnamon Scrolls | Sweet doughy swirls with a cinnamon flavour and icing drizzled on top… might be just what some people fancy after a pizza. |
| Vegan Ben & Jerry's Ice Cream | Papa John's offer some of the very tasty vegan ice cream flavours produced by Ben and Jerry's. Not particularly healthy, but very, very nice! |
Papa John's Vegan Food – Nutritional Values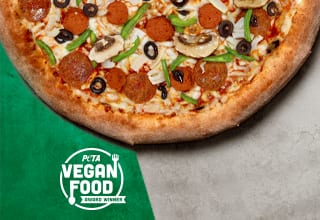 Although pizzas are not the greatest source of vegan protein out there, vegan cheese that is used on them tends to include a reasonable amount, whilst the flour in the base does too. Obviously, pizza bases are heavy on carbohydrates and calories as well and, depending on your chosen topping, you might find quite a high-fat content (though usually significantly lower than the non-vegan options).
Here we'll compare three of the vegan-friendly pizza options at Papa John's with one of the decidedly non-vegan choices (Sausage & Pepperoni). In each case, we'll base the nutritional data on pizzas with an original base of medium size.
| Typical Values (Per 100g) | Vegan Cheese & Tomato | Vegan Garden Party | The Vegan Works | Sausage & Pepperoni (Non Vegan) |
| --- | --- | --- | --- | --- |
| Energy kJ | 1111 | 851 | 1054 | 1237 |
| Energy kcal | 264 | 202 | 251 | 296 |
| Fat g | 8.8 | 5.7 | 8.4 | 14.1 |
| Saturates g | 4.6 | 2.5 | 3.3 | 5.6 |
| Carbohydrate g | 38.1 | 30.9 | 34.5 | 27 |
| Sugars g | 3.6 | 3.8 | 3.5 | 2.5 |
| Fibre g | 2.9 | 2.4 | 2.9 | 1.6 |
| Protein g | 6.7 | 5.7 | 8.2 | 14.3 |
| Salt g | 1.3 | 1 | 1.3 | 1.5 |
As is often the case with such comparisons, the non-vegan option is higher in fat and lower in fibre. People familiar with the many health reasons to go vegan will no doubt have seen this pattern in many different foods and their vegan alternatives. Diets that are higher in fat and lower in fibre tend to be less healthy in general and can contribute towards developing various health conditions such as cardiovascular disease or type 2 diabetes.
The non-vegan options are often a little higher in protein, but if that's your main concern there are loads of vegan-friendly protein sources out there to choose from. Overall, neither vegan nor non-vegan pizzas at Papa John's could be described as particularly healthy, but as an occasional treat, they are not too bad.
A Brief History of Papa John's
Unlike some other brands we've mentioned on this site, Papa John's is a relative newbie having started in 1984. One of the biggest pizza delivery chains in the US, they began life in Jeffersonville, Indiana when "Papa" John Schnatter made good use of a cupboard at the back of his dad's tavern. After converting the cupboard and investing in second-hand pizza-making equipment, Papa John sold enough pizzas to enable him to set up in his own premises after a year of starting up.
Expansion followed as new stores, both owned and franchised, helped the business grow until it had more than 1,500 pizza outlets by 1997 and more than 5,000 today. Since they first arrived in Britain in 1999 they have managed to carve out a name for themselves in an already busy marketplace and have opened hundreds of pizza shops within our shores.
Conclusions: Vegan Food at Papa John's
We have to say we are rather impressed with the number and variety of vegan offerings at Papa John's. While some of their rivals play it rather safe with their vegan options, PJ's provide a vegan menu that gives a good deal of choice to those following a plant-based diet. That is the case when it comes to their pizzas but also their sides and desserts, as well.
Of the pizza joints we've assessed so far, at the time of writing, Papa John's is edging ahead of the crowd. And, that's got to be good news for vegans as the other brands are sure to take note and up their game in the future.