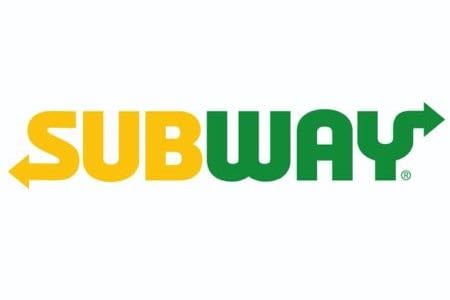 Commuters, city centre workers and people heading into towns for a spot of shopping will almost certainly have seen a Subway shop, if not gone in and ordered one of their famous subs (or sandwiches, if you prefer). Subway also have a growing presence in suburban towns and are a popular choice that is slightly healthier than many fast food rivals. But what options do Subway offer for those following a plant-based diet? In this article, we'll assess what vegan sandwiches they have available and we'll run through their other vegan food offerings too.
As with most fast food outlets, whether other sandwich-orientated food brands like Pret or more traditional fast food outlets, such as McDonald's, Subway warns about the possibility of cross-contamination with non-vegan products. This will be of concern to anyone with severe milk or egg allergies, but most vegans will be happy enough with any products that contain only plant-based ingredients (as most are with things, like Oreos, which also include some cross-contamination risk).
Vegan Food Offered at Subway
The main product available at Subway is their sandwiches – or subs, which stands for "submarine sandwich" due to the shape of the baguette-style rolls used. As such, we'll kick things off here with the vegan-friendly sandwiches that are listed on the Subway menu.
Note that these sandwiches are still constructed by the so-called Subway Sandwich Artist in the shop so you can tweak the ingredients as you see fit. But if you're in a hurry and you just want a sandwich that you know will be vegan, these are the options for you.
T.L.C. (Tastes. Like. Chicken)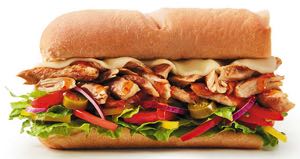 It's quite a claim that the plant-based filling in this sarnie "tastes like chicken", but – at least as far as memory serves – the claim is actually pretty valid. There's plenty of scope to pack this with your favourite salad items to add even more plant goodness.
Meatless Meatball Marinara
With around 23g of vegan protein in a 6" sub, the Meatless Meatball Marinara will both fill you up and give you a boost if you're seeking extra protein power. Crucially, it also tastes pretty nice too! It works very well with the vegan-friendly "cheese" slices and makes for a hearty lunch.
Plant Patty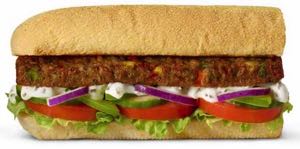 The vegan patties at Subway might not necessarily be to everyone's taste, it has to be said. They are a bit like what vegan burgers used to be like before the likes of Beyond Meat and Impossible Foods got involved to make vegan burgers that taste like meat burgers.
But if you are a fan of vegetables squashed together into the shape of a burger, then this could be appealing to you. It's the least enticing vegan sarnie option for us though, truth be told.
Veggie Delite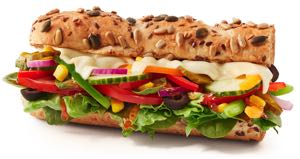 This is also available as one of the Kids' Pak options. This is the healthiest vegan sandwich option of those on the menu and it is very low in fat and lower in calories than the other vegan picks available. It's essentially a salad sandwich, so it is up to you whether you consider that to be a delight (or even a "Delite").
Other Vegan Food at Subway
Unlike some other food chains, there aren't too many other options in general at Subway, let alone vegan-specific offerings. Here are the other vegan-friendly products available at the time of writing.
Plant Patty Salad Box – Using the aforementioned vegan patties, but cut up and plonked in a rather uninspiring salad box, this is nothing to get too excited about in our eyes.
Vegan Double Choc Cookie – Those with a sweet tooth and especially fans of vegan biscuits will be more than satisfied with this very sweet, very chocolatey cookie.
Hash Browns – Fans of hash browns will find these to be perfectly adequate examples of the potato-based snack/side. There's not a whole lot else to say – they won't blow your mind, but they tick the right boxes.
Make Your Own Vegan Sandwich/Wrap/Salad at Subway
If you want to create your own vegan creation at Subway, it is pretty easy. You just need to select your preferred bread option from the vegan-friendly options mentioned below (or choose the salad option if you are seeking to reduce your carb intake). Then pick your vegan fillings and top with your favourite vegan-friendly condiments of choice from the aforementioned vegan-friendly lists below.
Vegan Friendly Breads
Italian (White) Bread
Tiger Bread
9-Grain Wheat Bread
9-Grain Multi-Seed Bread
Hearty Italian Bread
Gluten Free Bread
Ciabatta Toasted Bite
Plain Tortilla Wrap
Vegan-Friendly Fillings
Meatless Meatballs (in Marinara Sauce)
Roasted Soya Strips
Plant Patty
Mozzarella-Style Plant-based Slice
Jalapeños
Guacamole
Lettuce
Cucumber
Mixed Peppers
Tomato
Onion
Carrot
Spinach
Pickles
Vegan-Friendly Sauces/Extras
Sticky Sweet Chilli Sauce
Sweet Onion Sauce
Tomato Ketchup
Sriracha Sauce
Salsa
Marinara Sauce
Garlic Aioli
Crispy Onions
Chopped SunBlush Tomatoes
Sea Salt
Mixed Peppercorns
Chilli Flakes
Southwest Seasoning
Multi-Seed Mix
Subway Vegan Food – Nutritional Values
Here we give you the nutritional details for four of the best vegan-friendly options available at Subway.
| Typical Values (Per 6″ Sub) | T.L.C. (Tastes. Like. Chicken) | Meatless Meatball Marinara | Plant Patty | Veggie Delite |
| --- | --- | --- | --- | --- |
| Energy kJ | 1359 | 1672 | 1538 | 905 |
| Energy kcal | 325 | 400 | 368 | 216 |
| Fat g | 5 | 8.4 | 9.4 | 2.2 |
| Saturates g | 1.1 | 3.2 | 2.4 | 0.7 |
| Carbohydrate g | 45 | 55 | 46 | 39 |
| Sugars g | 6.5 | 12 | 8 | 5.7 |
| Fibre g | 9 | 12 | 8.6 | 4.7 |
| Protein g | 21 | 23 | 21 | 8.6 |
| Salt g | 1.8 | 2.1 | 1.5 | 0.6 |
The nutritional stats for the main vegan-friendly subs at Subway show that they are generally low in fat and very low in saturated fat, relatively high in fibre and – at least the first three mentioned – high in protein. Indeed, the first three mentioned above each pack in over 20g of vegan protein, which is akin to a serving of vegan protein powder in a protein shake. For those who are vegan for health reasons, perhaps to help reduce the risk of cardiovascular disease, the lower calorie, lower fat Veggie Delite option could be the one for you.
A Brief History of Subway
With revenues of upwards of $10 billion (in 2019), it is interesting to discover that Subway was founded by a 17 year old called Fred DeLuca back in 1965 in Bridgeport, Connecticut. Helped by finance provided by Peter Buck, the business started life as Pete's Super Submarines but changed its name to Subway within a couple of years. It began following the franchise business model in 1974, from when things really started to take off for the brand.
It expanded to the West Coast of the United States in 1978 and opened its first international store in 1984… in Bahrain. Didn't you know they love a sanger in Bahrain? It continued to expand and reached British shores in 1996 when it opened a branch in Brighton and, with the help of its outlets within Walmart stores, grew to become the largest fast food chain in the world by 2010 with almost 34,000 outlets worldwide. That was even more than McDonald's at the time.
Subway's expansion showed no signs of slowing and by 2020 they had increased to more than 40,000 outlets in 111 countries around the globe. This includes more than 24,000 in the United States, 2,200 in Brazil, 1,400 in Australia and 2,300 in the United Kingdom (figures are approximate). Not bad for a company that basically makes sandwiches for people.
Conclusions: Vegan Food at Subway
Subway doesn't quite have the range of vegan options available at Pret a Manger. Nor does it put quite as much imagination into the vegan-friendly sandwiches available. But, we are still reasonably impressed at what Subway has available for vegans, not least because most of their food is relatively healthy – assuming you don't ask them to refrain from adding the salad and go wild with the sauces instead!
We wouldn't really view Subway as somewhere vegans would seek out for anything other than a convenient bite when getting on a train or during a lunch break from work. Other food chains, such as Papa John's or Pret, offer more and better options for those on a plant-based diet, but Subway is still far better than the likes of Nando's or KFC in our book.