Manchester is famous for many things, from its historic links to the cotton industry to its highly successful football teams, and from Oasis and the Madchester music scene to several key scientific breakthroughs (the atom was first split there, even if some contest this!). In more modern times Manchester is described by many, especially those from Manchester(!), as being England's second city. Brummies would no doubt disagree, whilst the good people of Leeds may also have something to say about that. What is beyond doubt though is that this is a thriving city with a lot going on.
It is diverse, fast-growing (it was recently purported to have more cranes active in construction than anywhere outside Dubai) and has much to offer. Nightlife is a huge part of Manchester's appeal, with almost countless superb pubs, bars and restaurants, as well as a bustling LGBTQI+ scene. Those with an interest in what a tyre company have to say about fine dining will know that for many decades Manchester was a Michelin-star-free zone but that is not to say there is any shortage of excellent eating options.
Of course, our focus in this vegan guide to Manchester is on the many plant-based eating options that have sprung up in the land of Coronation Street over the past few years, as well as the green eateries that have been representing the vegan cause for much longer. As well as restaurants, cafes and other establishments that serve entirely vegan food, we also run the rule over places where a vegan can certainly get a good meal, even if they also cater to vegetarians and omnivores.
Please note this information is correct at the time of publishing. Listings and information will be updated periodically but we recommend you check with the restaurant or café directly to obtain the most up to date menus, opening hours and prices.
V-Rev Vegan Diner
Located between the N.O.M.A. district and the ever-trendy Northern Quarter, V-Rev has proved a big hit with Mancunian vegans and those who love junk food but do not wish to junk the planet. They have very much gone down the well-worn path of vegan junk, so this is not the ideal place for clean-eating vegans looking for minimal processing. However, if you want tasty diner favourites that, thanks to being made with seitan, pea protein, soy protein or some combination of them, are high in protein as well as flavour, this might just be your new favourite restaurant.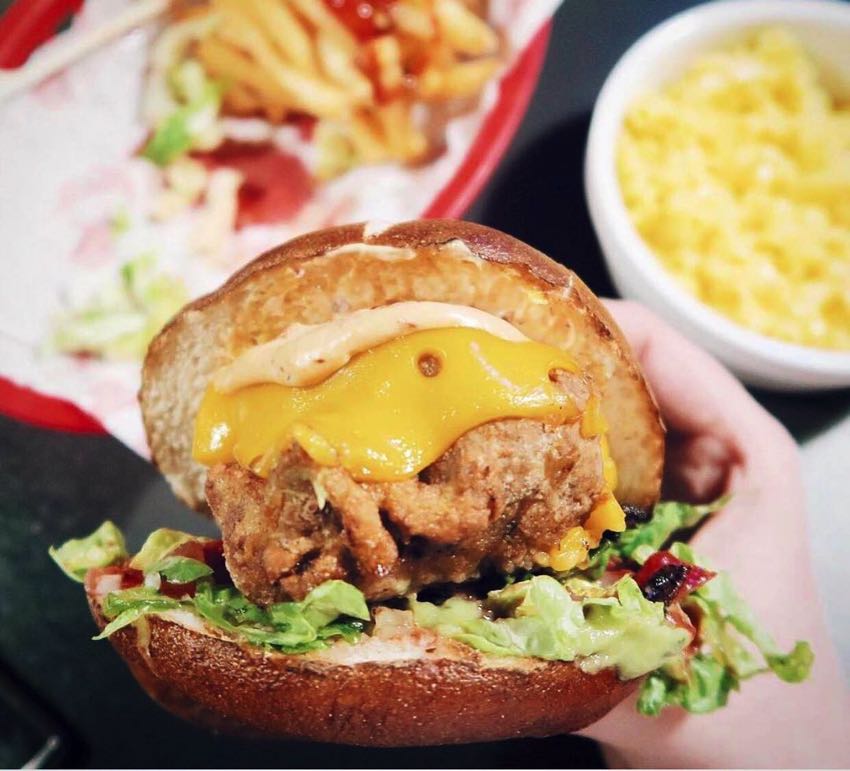 The menu is, as is often the case with this type of restaurant, relatively limited. Starters include options such as loaded nachos, mac and cheese, wings and a range of loaded fries. All of these are priced at around the £5 to £6 mark but are hearty and set the tone well for what is to come. That being, chiefly, burgers. The menu is pun-packed and musically themed, so you might opt for the Whopper Way To Make A Living (essentially a cheeseburger but very tasty!), or perhaps the Doner You (Forget About Me) (a grilled tortilla packed with doner meat and fries).
The décor and vibe are cleaner and leaner than the food and the staff are really helpful. They wear their vegan credentials proudly and as well as the food being 100% vegan, they also avoid wool, silk, leather and other non-vegan items in the restaurant. That ethos stretches to their cleaning products and toiletries too, so they are a great option for those who are ethically committed vegans.
The Allotment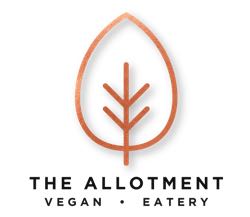 Matthew Nutter opened the Allotment in Stockport, an unlikely centre of excellent food that boasts the highly acclaimed (but sadly non-vegan) Where The Light Gets In, approaching 10 years ago now. After winning a number of awards, Nutter decided the time was right to reach a wider audience and moved the hugely popular vegan restaurant to central Manchester. It has gone from strength to strength since then, offering largely healthy, often Asian-inspired food to hungry diners who want vegan food that isn't simply a fake burger.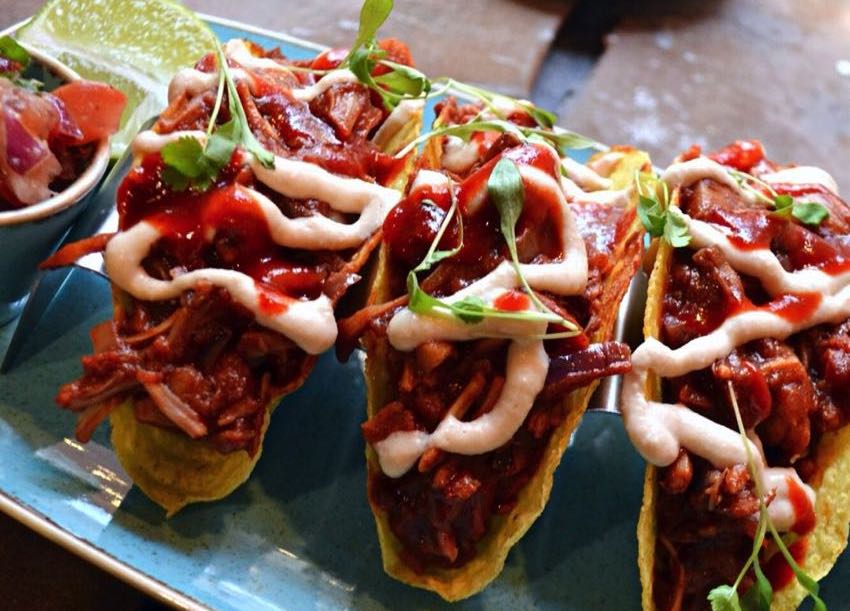 The move to Manchester was achieved with the help of entrepreneur, Anthony Sheridan, a man who owns several bars, hotels and restaurants in the area. Both he and Nutter are evangelic about the health benefits of a vegan diet and so it is no surprise that the menu features really nutritious dishes that are both delicious and 100% vegan.
Dishes are highly 'grammable but that isn't what the Allotment is about, even in its plush new location. It is about offering people first-rate, vegan food that is healthy and that's why their dishes (such as their Asian salad, packed with edamame beans, seeds, herbs and spices) have proved so popular. Nutter is showing that eating out can be a treat and a delight but without having to feel bloated and guilty afterwards.
The mushroom ramen main is another Asian-inspired dish that is hearty, healthy and super-tasty, whilst the roasted veg salad, whilst hardly the most inventive dish out there for vegans, ticks all the same boxes. Nutter has worked in several highly regarded restaurants that specialised in more classical European food, so you also get hints of this with sides like panzanella and polenta fries.
There is a dedicated Sunday dinner menu too which is available by the course or as a three for £25 deal – which is great value in our eyes. That typically offers some of the dishes from the normal menu plus the star of the show, the Sunday "roast" featuring an aubergine steak that Nutter claims is tastier than any beef. There is sometimes a vegan pie or potato cake as a secondary option, whilst extremely tasty desserts, such as sticky toffee or a hazelnut slice round things off perfectly.
Purezza
Pizza is certainly a food that many new vegans miss and whilst there are lots of vegan pizzas out there that do a decent job, there are few that can really please non-vegans. Vegan cheese is getting better and better though and Purezza actually sell their vegan mozzarella at TheVeganKind, our favourite vegan supermarket. Of course, not all pizzas need cheese but it is certainly an element that many fans of the Italian delight enjoy a great deal and when it's not right it brings the whole pizza down.
Thankfully, Purezza's own cheese is top notch (available to buy in "Smoky" and "Melty" options) and helps make their pizzas first class. They started out in Brighton in 2015 and at the time of writing have restaurants there, as well as in nearby Hove, Bristol, Camden and, of course, Manchester. Since those early beginnings, they have really honed their craft, winning various awards, including one at the coveted World Pizza Championships (who needs the Olympics?), and, crucially, managing to create a 100% plant-based mozzarella-style cheese that works perfectly on pizza.
They are an inclusive company, with much of their menu perfect for gluten-free vegans (they also have a special hemp pizza base packed with hemp protein and they are also a good fit with ecologically concerned vegans. Oh, and they are also dog friendly for anyone with a rescue pet or companion animal, and they even have a special menu for canines!
In terms of the food, it is of course a pizza-heavy menu, though there is a fine vegan lasagna and a Pure Bowl packed with nutritious goodies for those trying to be virtuous. A small but excellent pick of desserts rounds things off whilst before all that you have a good pick of starters. These include classics like meatballs, dough balls and cheesy garlic bread, as well as more unusual options like courgette spaghetti. The restaurant is 100% vegan, so all the drinks are, well, 100% vegan, with a good selection of cocktails, decent and well-priced wine and even their own IPA and lager.
Purezza is though, inevitably, about the pizzas and you will usually have around 10 or 11 to choose from. Most of the pizza ingredients are organic and the standard base is a wholemeal sourdough for an extra kick of nutritional goodness. Hemp and gluten free are available and fans of white-based pizzas (a white, cheese sauce, instead of the usual tomato) are very well served, with the One That's Telling Porkies (mushrooms, cheese, pulled BBQ "porketta", sun-dried tomatoes and balsamic) a real delight. If you love pizza, whether you are vegan or omnivore, Purezza is well worth a visit!
Herbivorous
Herbivorous is in some respects a strange name for a vegan restaurant of this nature, where many of the dishes seek to mimic those that would ordinarily contain meat. Nonetheless, we like the name and most importantly of all, this is a 100% vegan restaurant. It might be something of a push to call it a restaurant as it is actually one of a number of vendors within Hatch, an award-winning indie hub in the heart of Manchester that hosts several street food vendors, as well as events and shops. That said, there is food, drink and seats, so it ticks all of the key restaurant boxes in our eyes.
Call it what you will, the duo behind Herbivorous, Robyn and Damian, have taken inspiration from a US road trip for their menu and it shows. As with many similar enterprises, they began on the festival scene, serving happy punters tasty vegan food from an old horsebox. They boast that they "make everything from scratch and work with local independent suppliers" and there is no doubt that their vegan takes on dishes like wings and fries are a cut above your standard vegan versions.
There is quite a lot of seitan on the menu, making this a great option for vegans concerned about their protein intake and some of the dishes are perhaps more innovative than we are generally giving them credit for. Certainly the Thai Basil Beef (made with seitan) and BBQ Burnt Ends are not something you see regularly and both are delicious.
There are various sides, such as bacon mac and cheese, a range of fries (though many mains include them) and they also offer a small selection of desserts. With breakfast on offer too, albeit limited in range, Herbivorous are covering several bases and doing so very well. As a vegan option in Hatch they perfect, whilst anyone in central Manchester wanting a quick, tasty, affordable treat should also check them out.
Other Vegan Food Options in Manchester
There are a decent number of 100% vegan restaurants in Manchester, at least compared to many other towns and cities outside London. Whilst we would love to see a wider range of styles of food, there is no question that a vegan can get a decent meal in what many people regard as the capital of the North.
That said, if the requirement is somewhere plant-based eaters can be well-fed, then we need not restrict ourselves only to restaurants that are entirely vegan. Whilst many vegans would prefer to do that, be it for ethical reasons or because of the environmental positives associated with veganism some people are less bothered. What's more, if you are eating with non-vegan friends then you might not always be able to pick and choose.
There are many other alternatives in Manchester, including of course a number of chain restaurants that offer vegan dishes. The following are a small selection of the more independent options that, whilst not 100% vegan, cater well to those wanting a plant-based meal.
Bundobust
This superb vegetarian outlet began in nearby Leeds and also has a restaurant/bar in Liverpool. They specialise in super-tasty vegetarian street food, much of which is vegan, but they are also beer experts too. In Manchester, they have a venue at Piccadilly and also the Bundobust Brewery (on Oxford Street), which also does food.
Sangam
If you love Indian food but want a glitzier experience and a proper restaurant, rather than more of a bar, Sangam could be the place to be. With locations in Didsbury and Bowdon don't be surprised to see footballers visiting, whilst the restaurant in the city centre is also hugely popular.
The large menu spans all of India and is very clear about what is vegan or vegetarian, and also with regards to allergens and intolerances. There is no vegan menu but, for example, there are eight vegan options listed under Vegetable Dishes, as well as further vegan dishes listed under Street Food and Starters.
Amma's Canteen
Vegans in Manchester are not just restricted to junk and comfort food or Indian cuisine but certainly both of these areas are very well represented. Amma's Canteen in trendy Chorlton is a great pick if you don't want to go into the city centre.
Being out of town the prices are keen and there is a wide range of vegan dishes on the mainly south Indian menu. How about sambar vadai, lentil doughnuts in a spiced broth, or cauliflower Bezule from Mangalore? There is a really wide choice for vegans, including some cracking desserts.
The Pasta Factory
If you want Italian food that is vegan, and not pizza, the Pasta Factory may be just what you are looking for. Vegan options are clearly marked on the menu (by clearly, we mean they say "Vegan" – no deciphering between V, VE, VG, VF or anything else!) and are far more exciting than your usual vegan fayre. The whole menu is small but perfectly formed, so vegans might want to double-check in advance they like what they see.
That said, what's not to like about a vegan cheese starter, mushroom and truffle pachcheri (large tubes of pasta), ravioli al pomodoro con crema di aglio nero (ravioli filled with tomato with a black garlic and almond sauce) and, for dessert, a chocolate and nut "salame"?!
Things to Do in Manchester
As we have already noted, Manchester is a diverse, vibrant city that seems to be expanding at a rate of knots. It really does have something for everyone, from history to culture, food to drink (not a huge leap) and from science to sport and it is the latter where we will start.
Two Premier League Football Clubs
The tremendous success of Manchester's two massive Premier League football clubs means that it is arguably the football capital of the country. In the 21st century, United and City have shared 13 Premier League titles, eight going to the red half of Manchester (even if it is technically in the City of Salford!) and five to the blue. Throw in numerous cups as well and it is hard to argue that Manchester is not the premier football city in the UK. As well as watching a game or soaking up the match-day atmosphere in a fan-packed pub, Manchester also boasts the National Football Museum, a treasure-packed must for any fans of the Beautiful Game.
Cricket & Cycling
It isn't just football that the city offers on the sporting front either, with Lancashire Cricket Club one of the country's most successful. Their home ground, Old Trafford, also hosts England games and is well known for the lively atmosphere, if not great vegan food options! Cycling also has something of a home in Manchester thanks to the National Cycling Centre, whilst rugby league fans are spoilt for choice with many fine teams playing within the surrounding conurbation.
Museums & Galleries
For a more classic and sedate form of culture, Manchester has a fine selection of museums and galleries too. The Science and Industry Museum is a fantastic nod to Manchester's role in both of these areas, whilst the Manchester Art Gallery, Whitworth and the Lowry are great for those who prefer fine art, the latter housing the world's largest collection of the eponymous painter's works. There is also the Manchester Museum for natural history buffs, the Pankhurst Centre for those interested in the Suffragettes and no end of stunning architecture dotted around the city, with the neo-Gothic town hall a particular highlight.
Impressive Libraries
Library and book fans will also find they are spoilt for choice in Manchester. Chetham's is said to be the English-speaking world's oldest public library and is sure to evoke Harry Potter vibes. The same can be said of the hugely impressive John Rylands Library, its Victorian Gothic stone corridors again making one think of Hogwarts. The Central Library is also worth a visit and following a £50m renovation the stunning building is looking better than ever, whilst there are a host of treasures inside. Throw in the Portico, finished in 1806 when European colonialism was at its peak, and home to over 25,000 books, and Manchester may just be the best library city in the country!
Nightlife
All that reading is sure to make you hungry and thirsty. We have already seen that Manchester has a very decent selection of vegan restaurants and eating options but it also boasts almost endless bars and clubs. And the good news is that most spirits and an increasing number of modern beers and wines are vegan so you can really go for it (though, of course, please drink responsibly!). The city has a huge LGBTQI+ scene, centred around Canal Street, but in terms of nightlife, there is definitely something for everyone, albeit generally with a dressier, more glamorous edge than you might find in other places. That said, with a musical history including bands such as the Smiths, Oasis and the Stone Roses, plus the legendary Hacienda nightclub, it certainly isn't all about the glitz.
Chinatown
Manchester has many faces and one of them is Chinese, with the city boasting a Chinatown that many claim is Europe's largest. True or not, the stunning pagoda that marks your entrance into this part of the city sets the tone for a fine collection of Chinese restaurants (not all of which cater especially well to vegans in truth, though some do), as well as various shops, bakeries and more.
Vegan Restaurants in Manchester: Conclusions
As we have noted in some of our other vegan city guides, the simple fact of the matter is that unless you live in London, vegan options are generally not all that great. Or, more accurately, you will not have a huge choice of 100% vegan restaurants and many of those that do exist will be focused on "junk" food, such as burgers, kebabs and pizzas.
Even so, there is no doubt that any vegan Mancunians, plant-based eaters visiting the city, or simply anyone who finds themselves in Manchester and wants to eat vegan, even if only for the night, can easily find an excellent meal. In fact, with a 100% vegan pizzeria, the more exciting offering of the Allotment, a good selection of restaurants serving superb, vegan Indian dishes and a better than average selection of the ubiquitous "junk" options, one might well say Manchester punches above its weight in terms of vegan restaurants.
Even so, there is no doubt room for improvement. We expect that to come, and with the number of vegans growing, plus popular cooking and baking TV shows frequently highlighting vegan dishes, it will hopefully come soon.