The lip balm – sometimes called lip salve – industry was worth almost £60 million in the United Kingdom in 2020. That's a lot of tubs and sticks of this lip-saving salve. With people turning to lip balm to prevent or relieve chapped or dry lips and some other lip-related ailments, vegans will no doubt want to know which brands contain no animal ingredients. Most vegans will also only purchase products they know are cruelty free too (i.e. that haven't been tested on animals).
Here we will feature the best vegan and cruelty-free lip balm products available in the UK. We will go on to explain the best places to buy vegan lip balm and also what makes some (arguably most) lip balms non-vegan.
Top Vegan Lip Balms in the UK
To start things off, let's run through some of the top vegan lip balms around. These products are relatively widely available and we've not included some of the more niche brands that haven't yet become so easy to get hold of, but local artisan vegan lip balm options could well exist near you.
Note that some lip balm products might be labelled as vegan but might not necessarily be cruelty free. Similarly, it is possible that some cruelty-free lip balm might not have been tested on animals, but it might contain animal products (e.g. beeswax) and hence is not vegan. The products below are both vegan and cruelty free.
Crazy Rumours
Price – Approximately £4 for 4ml stick
Where to Buy – Amazon
Best For – People seeking colourful vegan lip balms with wacky flavours

Started in 2003, this vegan lip balm specialist company offer fun-flavoured products that include 100% natural ingredients (none of which derive from animals or have been tested on animals). Certified as cruelty free and vegan, their bright, enticing design and flavours have proved a big hit in their home country of the United States and indeed in the UK and beyond.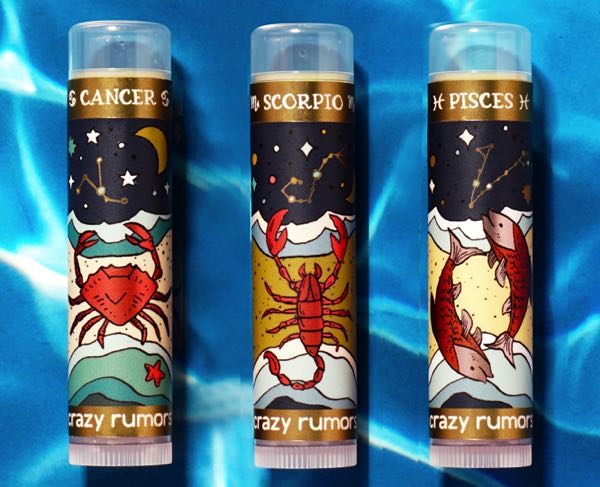 Many of their natural ingredients are also organic and examples include organic carnauba wax, organic extra virgin olive oil, organic jojoba seed oil, organic shea butter, gluten free vitamin E (extracted from sunflowers), and non-GMO soy wax (which is often utilised in vegan-friendly candles, incidentally).
Moving on to the flavours, and this is where Crazy Rumours really stands out. They've got so many flavours, in fact, that they've had to split them into categories including Zodiac Balms, Seasonal Balms, and Tinted Balms. Some of the flavours are more traditional than others (we're thinking their Black Cherry fits into that category). But some are just a little out there, such as these: French Toast; Candy Corn; Amaretto; and even Pina Colada. Boozy!
Dr PAWPAW Lip Balms
Price – Approximately £7 for 25ml
Where to Buy – Amazon
Best For – Those seeking high-quality, well-made lip balm in larger-than average tubes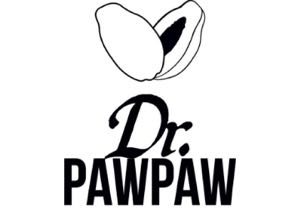 One of the most widely available vegan lip balm products is made by Dr PAWPAW, a Kent-based ethical beauty company that has been around since 2013. Rather than sticks or tubs, these award-winning, vegan-friendly and cruelty-free lip balms come in tubes (a bit like toothpaste!), and – as the brand name suggests – they contain pawpaw fruit (aka papaya). Other ingredients are also (almost completely – 97% to be exact) natural and include things like sunflower oil, olive oil, rosemary leaf extract and aloe leaf extract.

As well as being ethical with the ingredients of the product and ensuring the packaging is recyclable, the company also gives a proportion of their profit from some products to charity. At the time of writing, 15p from the sale of each shimmer balm is donated to the Teenage Cancer Trust.
White Rabbit Skin Care Lip Balm
Price – Approximately £7 for 15ml
Where to Buy – Amazon
Best For – Ethically minded consumers who want to avoid chemical ingredients

White Rabbit Skin Care was started in Kilmarnock in 2014 by a woman called Melanie who wanted to create skincare products that weren't packed full of potentially dangerous chemicals. The company clearly take their ethics seriously and state they "never include animal-derived ingredients (such as beeswax), Parabens, SLS, Silicones, mineral oils or derivatives of petrochemicals, artificial fragrances, artificial colours, or anything else confusing and synthetic".
As well as the lip balm, which is really just a side product for this expanding brand, they produce cleansers, toners, moisturisers and gift sets, and different products cater for different skin types. At the time of writing, they just have one lip balm product, their Conditioning Chocolate Orange Lip Balm, which comes in an aluminium tub and includes various natural ingredients including shea butter, cocoa butter, sweet almond oil, and sweet orange essential oil.
Fruu Lip Balm
Price – Approximately £3 for 4.5g
Where to Buy – Amazon
Best For – Those seeking a very good value and sustainable vegan lip balm
Made in small batches in their UK workshop, Fruu's lip balms are vegan friendly, cruelty free and sustainable. Many of their natural ingredients are obtained as by-products of fruit processing and would potentially otherwise go to waste. Not only that, the company will provide their products at cost price to any charities selling them to raise cash, which is a nice touch.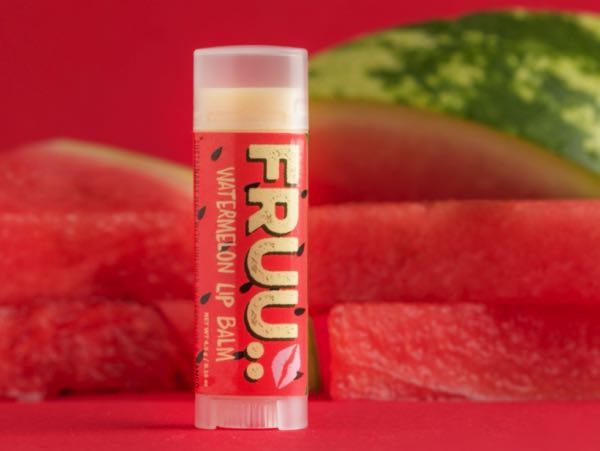 Though perhaps not quite as imaginative as the likes of Crazy Rumours when it comes to flavours, Fruu still has some very nice smelling options. These include Watermelon, Coconut, Organic Strawberry, Pineapple, and Pomegranate. They also have a range of Colour Balm sticks that attempt to bridge the gap between lipsticks and lip balms.
With many natural ingredients, such as fruit extracts, jojoba oil, coconut oil and aloe vera, Fruu's lip balms are sure to appeal to those who don't like seeing lots of strange chemicals amongst the ingredients list of their products.
Bettyhula Lip Balm
Price – Approximately £7.50 for 15ml
Where to Buy – TheVeganKind Supermarket
Best For – Those seeking stylish, well-made and imaginatively flavoured vegan lip balm
Making all their lip balms by hand in Yorkshire, Bettyhula has a strong belief in using natural, vegan-friendly and cruelty-free ingredients to produce sumptuous and appealing products. With their retro styling and scents inspired by Hawaii (which is apparently popular in Yorkshire!), there are some very nice flavours on offer here. Examples include Rum & Blackcurrant, Champagne & Spice, and Lime & Mango. Examples of ingredients used include apricot kernel oil, cocoa butter, avocado oil and even the rather extravagant frankincense!
These lip balms also represent good value for money when compared to similarly high-quality options. And they are often included in gift sets with other products offered by the company including body moisturiser and dusting powder.
Other Vegan Lip Balm Brands
There are loads of other good vegan lip balms out there and new ones are appearing regularly too, often with strong ethical stances. In all honesty, there isn't all that much to choose between the brands we've mentioned above and it could just be a case of trying a few and picking the one or two that most appeal to you. Here are a few other brands that produce vegan-friendly lip balm that might also be worth checking out if the above don't appeal for whatever reason:
Barry M – British cruelty-free cosmetics brand that has been going since the 1980s with various lip balm options
Beauty Kitchen – 100% natural products including their popular Fragrance Free Wonder Balm
Fairypants – A fun and ethically sound cosmetics brand with some enticing lip balm options including Peach Bellini and Mojito
P'URE Papayacare – Another papaya-based, vegan-friendly cosmetics brand, P'URE have a couple of very nice hydrating lip balm options
Where to Buy Vegan Lip Balm
Of course, in this day and age it's fairly easy to get just about anything online, and if that's what you want to do there are a few options for vegan lip balm. We're also big fans of shopping in local independent shops too, when that is an option. When it comes to lip balm (and many other products that might fall under the vegan cosmetics banner) here are some of the options for you:
TheVeganKind Supermarket

Our favourite vegan retailer, TheVeganKind Supermarket offers a fantastic range of vegan-friendly food as well as all kinds of other items (including lip balm!). They often have special offers available, especially to new customers, and the fact that they only sell vegan-friendly products means that you don't have to check every label with a magnifying glass to make sure there are no rogue animal-derived ingredients.
Holland & Barrett
Holland and Barrett is reasonably good for vegan products, but the major drawback is that it is not always apparent from the labelling which are vegan, which are cruelty-free and which are neither. If you have time to check labels thoroughly or you are popping in for a specific product that you know is vegan, H&B can be very useful though.
Boots
Boots sells all kinds of products and, though some are vegan and cruelty free, a lot of them are not. Some vegans would therefore not feel comfortable buying from a shop that sells products that have been tested on animals.
Of course, plenty of vegans do shop at Boots on the basis that greater sales of vegan-friendly products might help push them further down that route. Whatever your stance, always check the labels carefully when shopping in Boots for lip balm as quite a lot contain beeswax or lanolin (see next section for details of these and other non-vegan ingredients).
Local Independent Shops
Many of the lip balms featured here are available from a wide range of local independent shops especially those focussing on ethical products. This is especially the case if the local shop in question sells only vegan products as it's always good to support retailers who are attempting to make a positive difference to the world.
What Stops Lip Balm Being Vegan?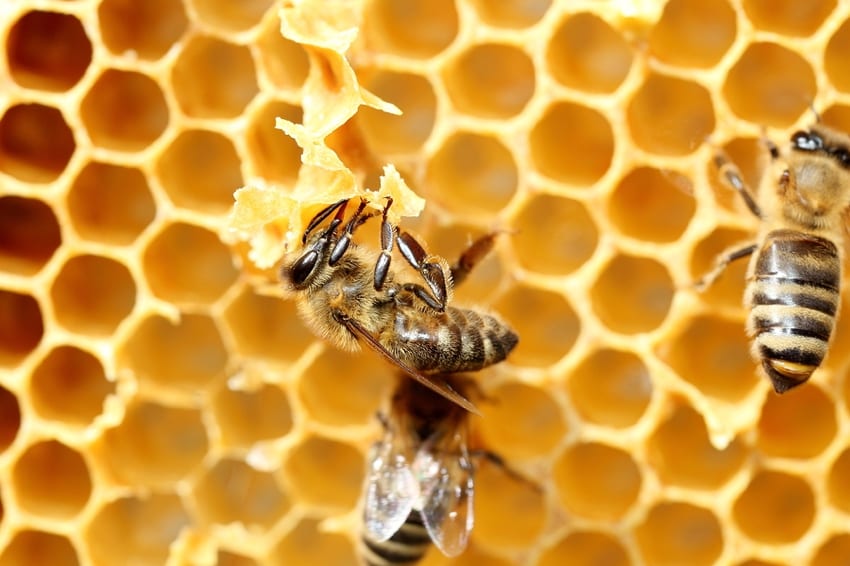 As we've discussed on this site many times, vegan products and cruelty free products are not necessarily the same thing. For most vegans, if a product (or ingredients within a product) has been tested on animals, the product can't be viewed as being vegan. Other people, and indeed some retailers and producers, contend that if a product doesn't contain any animal-derived ingredients, it's fine to label it as being vegan.
That is why it's useful to look out for the Leaping Bunny standard on products to show they have not been tested on animals and do not contain ingredients that have been tested on animals. Here we go into just a little more detail about the three main reasons lip balm could be viewed as non-vegan.
Animal-Derived Ingredients
If you are unsure about whether a particular lip balm is vegan, here are some of the most common non-vegan (or potentially non-vegan) ingredients that are likely to pop up:
Beeswax (Exploitation of bees)
Lanolin (From sheep's wool)
Paraffin (From petrochemicals, hence seen by some as non-vegan on environmental grounds)
Palm Oil (Also on environmental grounds)
Carmine (Colouring made from crushed beetles, also called natural red, E120 and other things)
This is just a snapshot of some of the possible offenders but generally if a lip balm or product is not specifically marked as vegan, it is almost certainly not. This is because retailers and producers realise being vegan is a selling point now and they would have no reason not to take advantage of it if they could.
Animal Testing
Sometimes it can be difficult to ascertain whether a particular product has been tested on animals. As with products that aren't marked as vegan, if you find any lip balm that isn't specifically marked as cruelty free (ideally with the Leaping Bunny logo), we would have serious reservations about it.
There are so many good quality lip balms (some of which are noted above) that are definitely vegan and cruelty free that those who want to shop ethically really don't need to take any chances with products about which there is any doubt.
Environmental Issues
As with other consumer products, such as shampoo or cosmetics, some lip balm products contain various chemicals that have the potential to do harm to the environment. This could be direct harm, such as in the chemical surfactant sodium lauryl sulfate (SLS) which has been linked with harm to aquatic animals when it is washed down the plughole.
Another potential environmental issue comes from paraffin or soft paraffin (petroleum jelly) that is sometimes included in lip balm products. The problem here is that paraffin is produced from oil, a fossil fuel that has done and continues to do untold harm to the environment. Choosing products that contain a plant-based alternative (for example carnauba wax) rather than a petrochemical is going to be far better for the environment.
A contentious ingredient that finds its way into innumerable household and food products is palm oil. Many people consider it not to be vegan at all, despite it coming from a plant, on the basis that it can cause many environmental issues, including rainforest destruction, and this even goes for so-called "sustainable" palm oil.
Finally, there is the issue of plastic packaging with lip balm as many products come in plastic tubes or tubs. The most ethically minded companies will minimise the amount of plastic they use in their packaging or even eradicate it completely. For instance, White Rabbit Skin Care state they are 94% plastic-free and working hard to remove the final 6%.
What Is the Difference Between Lip Balm & Lipstick?
Although there are some overlaps between lip balm and lipstick, in general terms, the former is to protect the lips while the latter is to make them look good. Although lipstick is essentially for cosmetic value, it can still protect the lips in a similar way that lip balm does, though that is not its primary purpose.
Likewise, some lip balms that come in stick form could sometimes be described as lipsticks and might also add some colour and/or texture; but again, it tends to be the primary purpose that defines what it is (so, in the case of lip balm, the primary purpose is protecting lips and sealing in moisture).