Located a couple of minutes' walk from the main station in Cambridge, the location of Stem & Glory is hard to beat for those coming into the city on business or pleasure. The first impression upon entering the restaurant was of lightness and clean lines, albeit with the feel they have at least one eye on expanding from their current two branches into a saleable chain.
The Area & the Ambience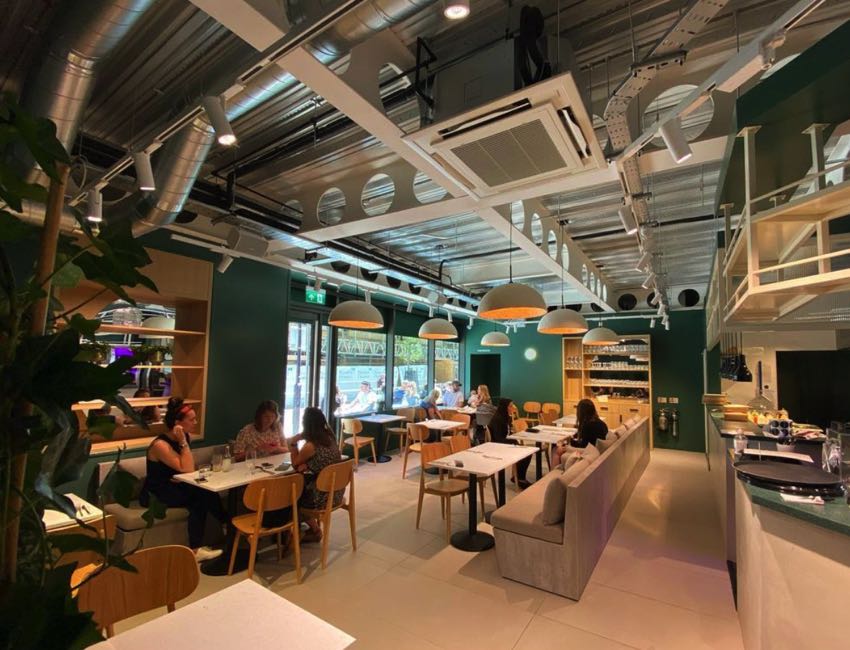 The décor is light and bright with white tables and chairs, grey, cushioned benches and half-sphere light shades that look like they've been constructed from the shells of dinosaurs (they haven't… that wouldn't be vegan!). The open kitchen also gives diners a view of what is going on back of house and the chefs looked calm and well in control of things.
The staff at the restaurant were friendly and knowledgeable and were able to make good food and drink recommendations, though at one point our waiter suggested that most customers found one particular dish "unbearably hot" (more of which later), which piqued our interest. We're always up for a challenge!
Imaginative & Welcoming Vegan Resturant in Cambridge
Some of the (admittedly relatively few) 100% vegan restaurants in Cambridge have chosen to focus on vegan burgers, but Stem & Glory has a more imaginative approach and has created a fine range of dishes that fit into one (or more) of the following:
Lunch
Served from 11.30 to 17.00, this combines some of the dishes present on the dinner menu, including the same "small plates", but with more "bowls" in place of some of the mains (for example, the Kimchi Tortilla Bowl, containing black rice, edamame, cucumber ribbons, avocado and kimchi tortilla slices with a Jang mayo dressing).
Fast Lunch
Also served from 11.30 to 17.00, the fast lunch menu (as the name suggests) is aimed at those in a hurry and comprises wraps, sandwiches, lunch bowls, juices and smoothies (such as the Cacao Nut smoothies that contain banana, almonds, cacao and coconut milk).
Dinner
Served from 17.00, the dinner menu has the same half dozen small plates as the main lunch menu, including a Trio of Dips, Black Rice and Lentil Bon Bons, Kimchi Pancakes and an Asian Watermelon Salad. There is a good selection of mains (or "large plates") with dishes including Baked Tofu Yakitori, Swede Gnocchi (also available as a starter), Katsu Curry, and a Dirty Burger. There is a selection of sides (pickles, salad, crackers) and desserts (Sticky Toffee Pussing, Fudge Brownie Sundae, and others).
Pizza
Served from 11.30, there are various pizzas available from BBQ Pineapple (featuring smoked celeriac ham) to Spicy Kimchi or even Italian Sausage, with tempeh sausage.
Drinks
There is also a large, if not overly extensive, drinks menu that includes various craft vegan beers, such as the very palatable Dripping Pitch West Coast IPA from Norfolk brewery, Duration (all of whose beers are vegan friendly). At 6.7% our second pint of that may not have been the wisest move but certainly got the conversation flowing.
There is also a non (or low) alcohol option from the dedicated no/low alcohol Nirvana Brewery. Obviously, they only serve vegan wines at the restaurant too and the Promesa Rioja slipped down nicely.
Stem & Glory: Dishes We Sampled
Our party of four ordered a variety of starters and mains including the Cauliflower Buffalo Wings, Swede Gnocchi, Asian Watermelon Salad and the Katsu Curry. The presentation of the food was inviting and the range of textures and colours on the plates were pleasing to the eye. The sauces and garnishes were well drizzled or placed, though we thought some of the portion sizes were perhaps a little too large.
Far be it from us to be displeased with good-sized plates of food but by the time we'd polished off the starters and mains, we were too full for desserts (which was a shame because there were some very tempting options that don't often appear on vegan-friendly menus!). Of course, we could have just stopped eating, but the good news is that we really didn't want to because the dishes were pretty darn nice, on the whole.
Cauliflower Wings, Gnocchi & Yogi Bowl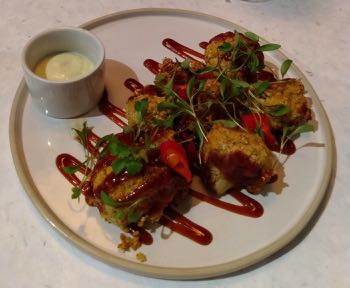 The cauliflower wings and the swede gnocchi were particularly flavoursome, while the Yogi Bowl offered a good range of healthy ingredients, many of which, such as the edamame bean and tofu, were great sources of vegan protein.
The Dirty Burger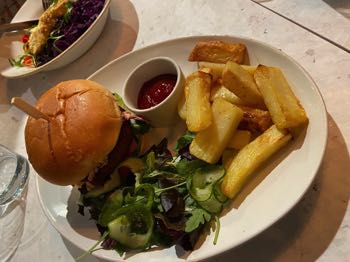 The Dirty Burger was satisfying enough, though there was a slight impression that the sweet potato fries could have done with a little more cooking to crisp them up.
Asian Watermelon Salad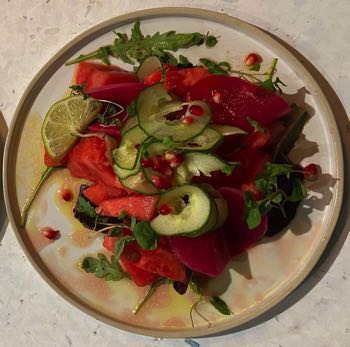 The Asian Watermelon Salad, meanwhile, was a little lacking in the spiciness and punch that is often associated with Asian salads and could have benefitted from more of a kick as the flavours were a little too subtle to give a real contrast with the freshness of the watermelon.
The Katsu Curry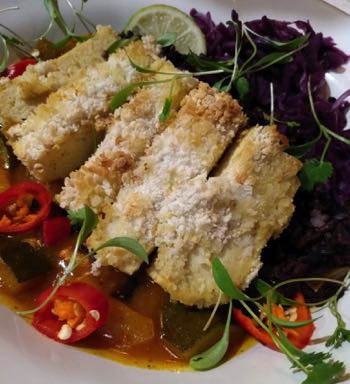 The dish we were warned might be too hot for most people – was pleasantly spicy rather than ludicrously hot (though the fresh chillies used to garnish certainly did pack a punch. And a kick as well.). The panko breadcrumb-encrusted tofu soaked up the Japanese curry flavours very well too to create an excellent vegan alternative to a Japanese classic that usually uses pork or chicken.
The Fettuccine Capesante Di Funghi
The Fettuccine Capesante Di Funghi, meanwhile, was also well received. It contained "fresh activated charcoal fettuccine", with cherry tomatoes, capers, smoked aubergine, orange zest and micro basil, with king oyster mushroom scallops. The "scallops" were particularly nice and served as excellent vegan alternatives to the seafood versions. We would suggest there was perhaps a little too much pasta in the dish, as it was very filling, but there's no doubt that overall it hit the spot.
Verdict: Flavoursome & Satisfying
For just over £150 (including service) for a meal for four that included starters, mains and drinks, we felt it was decent value for the standard of food we were given. We found the food itself eminently tasty and the flavour combinations worked very well for the most part (see the note about the watermelon salad above).
Our mild criticism about the portions being on the large side would no doubt be seen as a benefit by many a hungry vegan (and it was more the disappointment that we were too full to tuck into the Sticky Toffee Pudding as much as anything!). But overall, we found our visit to Stem & Glory in Cambridge to be a wholly satisfying experience and we expect them to do very well with locals and visitors to the city in the months and years to come.