Beer. Homer (J. Simpson, not the author of the Iliad) said, "Ah, good ol' trustworthy beer. My love for you will never die", whilst also noting that alcohol was "the cause of, and solution to, all of life's problems". Here at VeganFriendly, we're not sure we would go quite that far but there is no denying it, we're rather partial to a drop, or even 568.3 millilitre-sized drops, of beer.
Beer comes in many, many different guises, from the weakest, blandest, palest mass-produced lagers right up to imperial stouts, viscous, packed with flavours of chocolate, coffee, milk and more, and sometimes boasting an ABV of 14% – or more. The key question about these joyous elixirs for every vegan though is simple: Is Beer Vegan?
How Is Beer Made?
Traditionally, beer consists of just four ingredients and, on the face of it, all four are vegan friendly.
| Ingredient | Purpose | Notes |
| --- | --- | --- |
| Water | Dilutes product and facilitates production | Water is usually around 95% of the finished product and is 100% vegan! |
| Yeast | Needed for fermentation | Various strains are used depending on style, with some beers using only wild yeast in the atmosphere. |
| Hops | Adds flavour and aroma and acts as preservative | There are almost 100 different hop varieties used in commercial beers. |
| Grain | Adds colour and flavour, also provides the head and creamy mouthfeel but is most crucial in providing sugars needed for fermentation | Malted barley is most commonly used but other grains can also be used. There are various different malts used and these can also be roasted to add even more colour. |
As you can see, all four of beer's key ingredients are 100% vegan, with no real grey areas. People sometimes wonder if yeast is vegan or not as it's a living organism, but it is classed as a fungus so is definitely vegan friendly.
Whilst it may seem that beer is vegan friendly based on these core ingredients, unfortunately, many beers are made with the help of fining agents and Isinglass, which we now discuss in more detail below.
Why Some Beers Are Not Vegan?
Whilst beer uses only plants (and water) as ingredients, as we discuss in our central is it vegan? article, a food, drink or product's vegan credentials do not rest on ingredients alone. If an item uses animal products in the manufacturing process, this renders it non-vegan and this is where many beers, not to mention ciders and also wines, fall down.
There are many weird and not so wonderful ways animal products creep into goods and, vegan or not, the more squeamish readers may find beer's non-vegan contaminant rather unsavoury. Those not adopting a plant-based diet may well be inadvertently featuring in their own personal I'm a Celebrity Bushtucker Trial, and compared to some animal-product usage, beer is quite tame.
Fining Agents
Tame, if you like your beer with a nice addition of fish innards that is. Many beers filter or refine the end product to create a clearer drink. This process is called fining and has traditionally been done with isinglass or sometimes gelatine.
Most vegans, indeed most people, will know that gelatine is derived from animals. It is usually made from pig or cow offcuts, such as skin, bones, tendons or cartilage. Gelatine is something that makes any number of otherwise plant-based foods non-vegan. But it is more commonly isinglass that is used as a fining agent in beer.
What Is Isinglass?
Isinglass sounds such a clear, clean word, a mixture of ice and glass that could be used to create beautiful sculptures, or perhaps the capital city of a Scandinavian country you've never heard of. It is, however, a type of collagen made from the dried swim bladder of a fish. For the etymologists out there, the name comes not from the clarity of glass or ice but from an obsolete Dutch word, huizenblaas that refers to the bladder of a particular species of sturgeon.
Word play aside, to get straight to the chase, your glorious beer has been made with the assistance of fish. It's safe to say the fish didn't willingly give up their swim bladders, otherwise known as a gas bladder, as they're rather useful in helping a fish to swim and control its buoyancy. Vegan they ain't!
Can Beer Be Made Without Finings?
Luckily for vegans who have had a hard day and are thirsting for the restorative powers of a nice cold beer, or simply those that don't like the sound of their favourite tipple coming into contact with the insides of a fish, there are lots of alternatives to isinglass and other animal-based finings.
Irish moss, also known as carrageen moss, can be used and this is, as the name suggests, a plant. This can be used to reduce the haze caused by proteins but is not efficient in removing yeast from beer, which is the primary purpose of isinglass.
Yeast will, however, naturally tend to settle to the bottom of most beers and, once there, it can be easily removed during the manufacturing process. This means fish can keep their swim bladders. But this does take a little longer and, therefore, costs a little more. Seaweed and some chemicals can be used to fine beer, whilst mechanical filtration is also increasingly a chosen option.
It was initially believed that this stripped the beer of flavour and aroma compounds but more and more brewers are now satisfied this has no negative impact on their beers. As such, Vegan Society CEO Jasmijn de Boo's contention that, "There's absolutely no need to use isinglass in beer production. It's an archaic, outdated practice that is being phased out of this industry…" seems more valid than ever.
Unfined Beer
Another reason why isinglass may soon be consigned to the brewing scrapheap is the growing popularity of unfined beers. Those of a certain age would balk at a cloudy pint, assuming the beer was no good and would lead to a nasty hangover at best and an upset stomach at worse. Their children and certainly anyone of a more hipster persuasion would simply recognise these as unfined, unfiltered beers.
More and more small breweries are producing "natural" or unfined beers, where the beer is served hazy. Whilst in the past, cloudy beer was probably from the bottom of the barrel and packed with yeast that had sunk there, as well as the isinglass itself, now, you are simply consuming natural beer with no isinglass. As such, any concerns about such beer potentially making a person unwell should be cast aside. Drink on – in moderation of course!
Which Beers Should You Avoid as a Vegan?
Essentially any beer might be non-vegan so it is always best to look for vegan certification, ask the brewery or whoever is serving the beer… or simply check out our handy guide below. That said, as a general rule, some forms of beer are more likely to use isinglass and other animal-based finings than others.
Unfortunately, for lovers of tradition and a nice pint of hand-pulled best bitter, or the like, it is British cask-conditioned beer that is most likely to have used animal nasties. Many keg and bottled (and canned) beers tend to use other methods of filtration. There are vegan cask beers available (see below) but lovers of a hand-pulled pint who want to avoid isinglass will certainly have less choice and will have to look a little bit harder for their tipple.
Non-Vegan Additions to Beer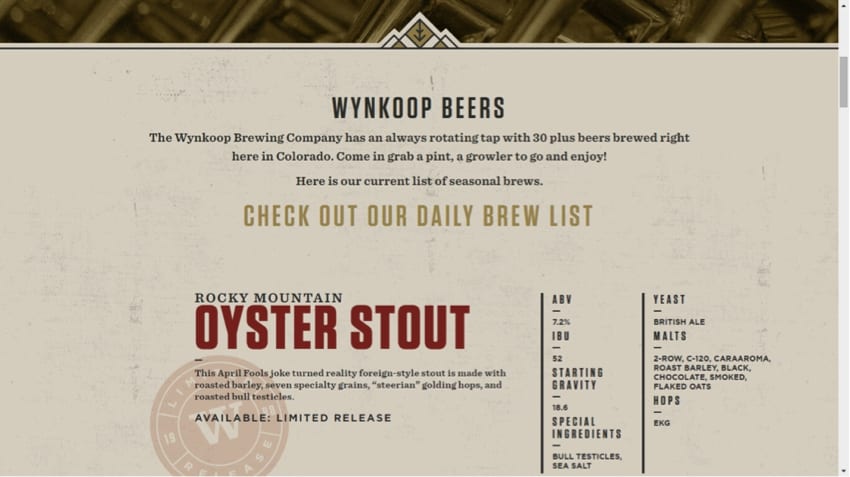 Earlier we stated that traditionally, beer consists of just four products. This tradition is actually a law in Germany and is known as Reinheitsgebot – literally meaning "purity order". The German Beer Purity Law, as it is known in English, dates back to 1516, although Munich adopted a similar regulation even earlier, in 1487.
Needless to say, modern bureaucracy means the current version of the law is less stringent but, in essence, a drink produced in Germany and marketed as beer can still only contain the four key ingredients: water, barley, hops and yeast. In actual fact, the original law didn't list yeast for the very good reason it hadn't been discovered at that time!
Much has changed since then and whilst some other countries (including the British Crown dependency the Isle of Man!) do have their own variation of this law, many more nations are far more liberal regarding what goes into their beer.
As ever, this creates yet more quandaries for vegans. Thankfully, whilst many beers may add wheat, fruit, sugar and other plant-based ingredients, relatively few beers add animal derivatives into their beer.
Even so, for strict vegans, the increasingly inventive world of modern beer can be a minefield, with ever stranger beers coming onto the market that contain animal flavourings. See the list below for just some of the crazy beers we've seen that a vegan would certainly want to avoid.
Obvious Non-Vegan Ingredients
Honey
Milk & Lactose (Milk Sugar)
Ham & Bacon
Offal
Jellyfish
Oysters, Mussels & Other Seafood
Eggs
Bull Testicles – Yes, seriously! See above image
You will usually get some sort of indication of their addition in the name or description of the beer but as ever, if in doubt, checking is always wise to avoid non-vegan beers. On the other hand, some beers which may sound like they would be unsuitable could still be vegan friendly if a synthetic non-animal flavouring is used instead of the "real deal".
Vegan-Friendly Beers
Refer to our full list of vegan-friendly beers for more detailed information, but just to give you an idea, here's a selection of some great vegan beers, ordered by style. We look at whether Guinness is vegan in more depth elsewhere, but in short, Guinness recently modified their production process to make the Black Stuff fully vegan, whether in bottles, cans or on draft, and to include Guinness Original, Guinness Extra Stout and Guinness Foreign Extra Stout.
The vegan wave is rising and we suspect many more beers will become vegan in the coming months and years. It would seem unlikely in the extreme that a beer would move from being vegan to non-vegan but anything is possible. As such, please note that the list below is subject to change and correct at the time of publication. If in doubt please check the packaging or ask the manufacturer to be 100% sure.
| Beer Style | Vegan Options |
| --- | --- |
| Lager | Heineken, Corona, Budweiser, Beck's, Brewdog Lost Lager, Stella Artois |
| Stouts & Porters | Guinness, Sam Smith's Taddy Porter, Imperial Porter and Extra Stout (all three Sam Smith's), Five Points Railway Porter |
| Pale Ales | Freedom Pale Ale, Brewdog Dead Pony Club, Sierra Nevada Pale Ale |
| IPAs | Brewdog Punk, Beavertown Gamma Ray, Lagunitas IPA |
| Wheat Beer | Erdinger, Hoegaarden |
| Fruit Beer | Lindemans Kriek (and Framboise and other flavours), Timmermans (all flavours) |
As a general rule of thumb, aside from lager, most of the drinks produced by the major multi-national breweries are not vegan friendly. In contrast, most beers from smaller companies, such as Sam Smith's, Brewdog, Beavertown and many of the great US, German and Belgian breweries, are vegan.
The major caveat to that tends to be milk porters and stouts, whilst some other specialist beers produced by these companies may also use animal products to add specific flavours.