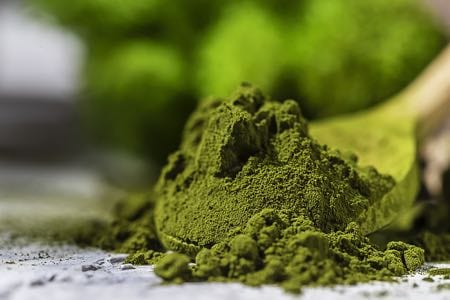 Anyone who has browsed a health-related website or magazine in recent years will no doubt have seen plenty of ads for all kinds of protein products, from powders and shakes to protein bars, capsules and even gels. In this article, we'll be focussing our attention specifically on protein powder and, in particular, vegan-friendly protein powder. We'll explain what protein powders are, how they work and what benefits they can bestow onto someone who consumes them.
There are many people – both vegan and non-vegan – who feel they need extra protein. For example, some people use protein powders or shakes as part of a weight loss or meal replacement diet in order to lose weight. On the other side of the coin, professional (or just very keen) sportspeople, those seeking to build muscle bulk or people recovering from musculoskeletal injuries might feel they require more protein than is easily obtainable through their diet – especially if their diet is plant based.
We should stress that there are lots of great vegan sources of protein and most vegans can get enough protein through their diet. None the less, whatever someone's motivation to try vegan protein powders, it certainly seems true that they can give significant benefits in certain circumstances. As we are a vegan information site, we will (of course!) be paying particular attention to vegan protein powder. We'll explain what makes many of the most popular protein powders non-vegan and we'll assess the difference between plant-based protein powders and those made from animal products.
Featured: MyVegan Sample Box
If you're not sure where to start, or just want to try a who bunch of different products and flavours, then we suggest taking a look at the sample box from MyProtein.
The box comes with a mix of protein powders and bars, plus a branded shaker. Actual contents may vary from box to box but will contain things like:
Vegan Protein Blends
Vegan Protein Bars & Cookies
Clear Vegan Protein Blends
Best Vegan Protein Powder (December, 2023)
MyProtein: Vegan Protein Blend
Energy: 110kcal
Protein: 21g
Carbs: 3.3g
Fat: 0.8g
This no-nonsense protein powder is a blend of pea and fava bean protein isolates and checks in at 21g of protein per serving.
Recently reformulated for an improved taste and texture, it comes in a wide range of flavours: Chocolate, Coffee & Walnut, Turmeric Latte, Strawberry, Banana, Carrot Cake, Cacao & Orange, Blueberry & Cinnamon and Chocolate Salted Caramel.
It's also available unflavoured.
MyProtein: Pea Protein Isolate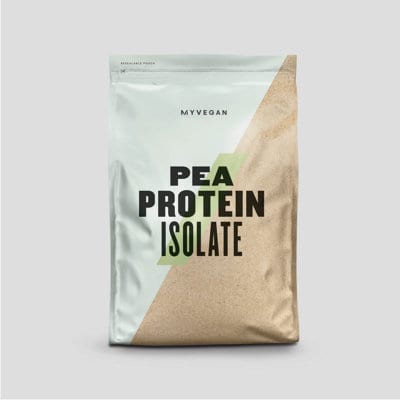 Energy: 116kcal
Protein: 24g
Carbs: 0.8g
Fat: 1.7g
Each service of this shake contains 24g of pea protein isolate per serving and is available in an unflavoured form for those if you who are looking for a way of boosting the protein content of your vegan friendly recipes.
As well as the unflavoured form it is also available as Chocolate, Strawberry and Chocolate & Walnut.
MyProtein: Clear Vegan Protein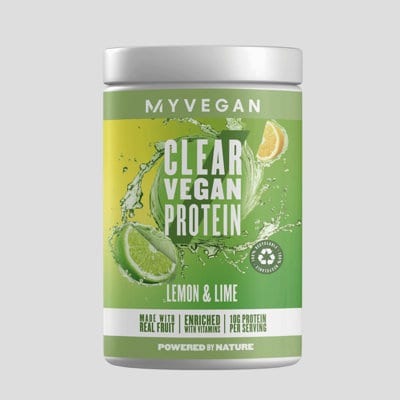 Energy: 54kcal
Protein: 10g
Carbs: 2.6g
Fat: 0.1g
If you're not a fan of the milkshake style protein shake, then MyProteins's Clear Vegan Protein drinks might appeal. Based on a pea protein isoate, these drinks come in a variety of flavours that are infused with real fruit and don't come with the milky taste that a lot of shakes have.
Flavours include Lemon and Lime, Pineapple and Grapefruit, Apple and Elderflower, Strawberry and Blackcurrant.
MyProtein: Brown Rice Protein
Energy: 127kcal
Protein: 23g
Carbs: 1.3g
Fat: 0.6g
Unsurprisingly, this brown rice protein from MyProtein is made from... well, brown rice. However as the only option is unflavoured it means that brow rice is literally the only ingredient.
Each scoop has 23g of protein and the fat and carb levels are kept nice and low.
MyProtein: Soy Protein Isolate
Energy: 108kcal
Protein: 27g
Carbs: 0.5g
Fat: 0.5g
Soy protein powder is one of the first that springs to mind for many Vegans. It's also one of the most cost effective, coming in at around 50p per serving (or less if you buy in bulk) and packs in a hefty 27g of protein.
This version from MyProtein comes in six fairly normal flavours with unflavoured as a seventh option.
MyProtein: Hemp Protein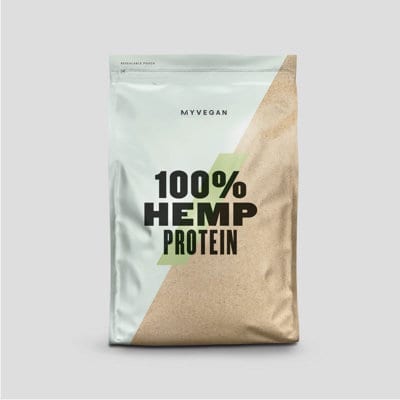 Energy: 122kcal
Protein: 14g
Carbs: 4.7g
Fat: 3.8g
This protein powder is derived from whole raw hemp seeds making it soy and gluten free.
Each serving clocks in at 15g of protein but it only comes in one flavour - no flavour.
Main Types of Vegan Protein Powder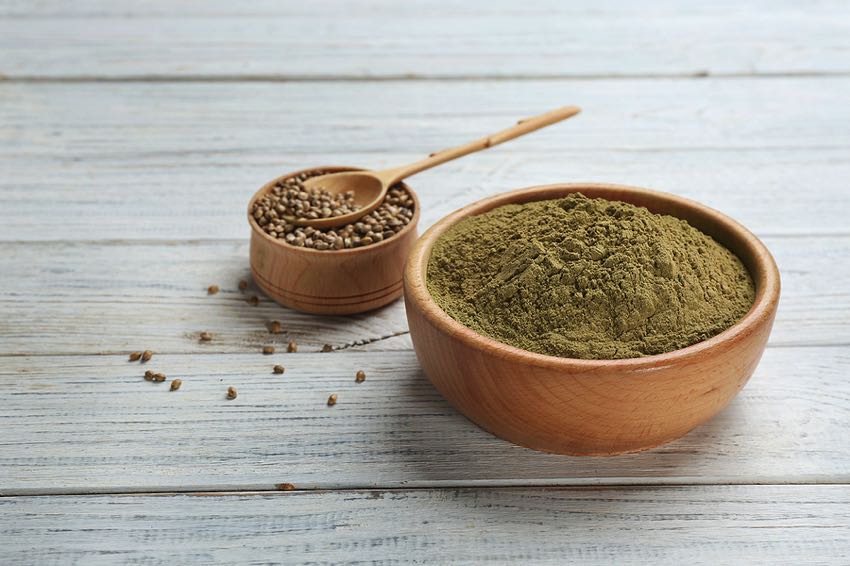 First of all, let's run through the various types of vegan-friendly protein powders on the market in the UK and outline the relative benefits of each. We will present more detailed information on each vegan-friendly protein powder in dedicated articles in which we'll also assess various brands and flavours. If you want to know more about protein powders in general terms, skip to the What Is Protein Powder? section of this article. If you would like more detailed information on how plant protein compares to animal protein, including details of the essential amino acids, check out our Plant Protein v Animal Protein article (though we will briefly touch upon this area towards the end of this article).
As mentioned, there are plenty of vegan-friendly protein powders available these days as manufacturers and retailers attempt to cash in on the ever-increasing vegan economy. Most online retailers who sell protein powders have options to allow you to browse only vegan products, which makes things nice and easy… or so it should.
But with so many different vegan protein powders out there, made from such diverse ingredients as brown rice, hemp, peas and fava beans, how do you know which is right for you? We'll run through a brief summary of the main types of vegan-friendly protein powders available right here. For more detail of each of the (plant-based) options check out our article on Plant Based Protein Powders.
Pea Protein Powder
Pea protein powder is extracted from dried split peas, often yellow peas are used and sometimes green from the species Pisum sativum. Low in fat, high in fibre and vitamins and minerals, peas are also more environmentally sustainable sources of protein than all animal sources and many other plant sources.
Pea protein is almost a complete protein; it contains all the essential amino acids, but not quite enough of one of them to be considered truly complete (though in truth there are no fixed rules on what is a "complete" protein anyway).
Fava Bean Protein Powder
Also known as faba beans or broad beans, fava bean protein shares many of the benefits of pea protein.
Hemp Protein Powder
Produced from the Cannabis sativa plant species, hemp protein offers a good source of amino acids but also omega-3 fatty acids and antioxidants as well. Hemp is another crop that has a low environmental footprint and it from this that CBD oil is produced.
Soy Protein Powder
Arguably the plant protein source with the most complete profile of amino acids, there are some concerns about the environmental impact of soy farming due to deforestation but ethical versions are available.
Rice Protein Powder
Usually made from brown rice, which offers around 20% more protein than white rice in general, rice protein powders have the carbs (or most of them) removed during processing to concentrate the protein.
Pumpkin Seed Protein Powder
Pumpkin seed protein powder is not as complete a protein as some other plant-based sources, what pumpkin seeds lack in amino acids, they make up for to some degree in minerals: they are a good source of magnesium, zinc and iron. If used alongside other protein sources (perhaps in the diet) they can certainly work well.
Peanut Protein Powder
Sometimes accused of being simply dehydrated peanut butter in fancier packaging, peanut protein powder nevertheless offers a big dose of natural protein.
Algae Protein Powder
Note that algae are not technically plants or animals (or fungi or bacteria either, come to that!). They are eukaryotic organisms called protists. Rest assured, though, they are vegan friendly. An example of an algae-based protein powder is spirulina, which has numerous nutritional benefits aside from the high protein content.
Best Vegan Protein Powder: What to Consider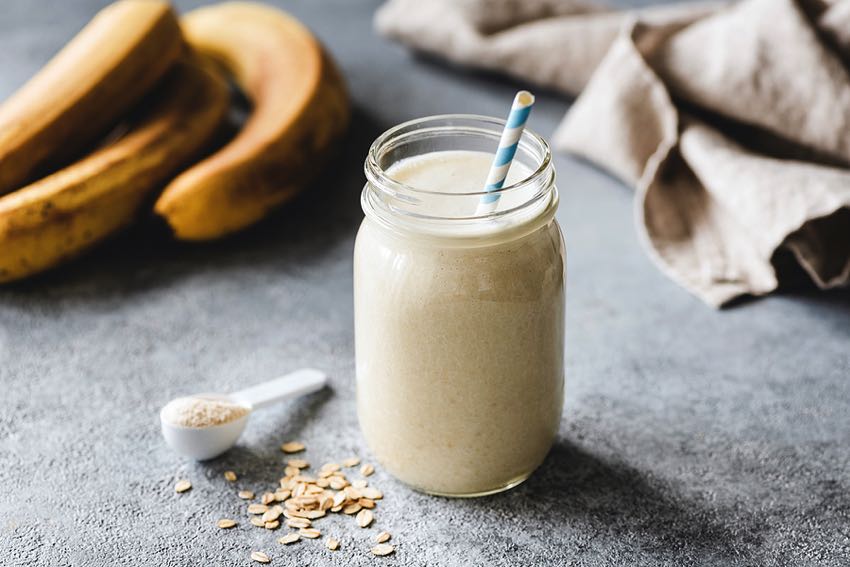 Given the massive array of vegan protein powders and shakes available to buy in the UK, it can sometimes be quite difficult to figure out which is the right product for you. Assuming you've already made the decision to opt for a vegan-friendly protein powder, here are some of the other factors you might consider when choosing which plant-based option is best for you.
Protein Content
Obviously protein content is what protein powders are all about. As well as checking out and comparing the amount of protein per 100g (generally speaking, the higher the better), you should also assess the amount of protein in each recommended serving.
If you are looking to build muscle then most experts suggest around 15g-35g per serving is best (there is debate on how much protein the body can use in one go and it also varies according to an individual's weight and body.)
Macronutrient Profile
Depending on your goals you may want a protein powder that is almost entirely protein, or one with carbs, fibre and fat as well. The make-up of the macros may well be key to deciding which vegan powder works best for you.
Calories
Related to the two points above, many will also be interested in the total calories per serving. If you are using a meal-replacement form of protein powder you will want a substantial number of calories. On the other side of the coin, a protein powder with the fewest calories possible (in proportion to the protein) will be the best choice for someone looking to add muscle and lose fat.
Sugar Content
Once again, related to the issues above, the sugar content is certainly something to check. By and large sugar delivers empty calories (though as a source of energy this may be useful in a pre-workout shake) and so generally a vegan protein powder with low sugar is best.
BCAAs & Amino Acid Profile
If muscle building is your aim, ensuring the powder contains enough of the branched-chain amino acids (BCAAs) is also important (these are leucine, isoleucine and valine). These are typically more difficult for vegans to obtain and so a protein powder that includes them is best.
In more general terms, some may want to choose a protein powder that offers all of the essential amino acids. Most vegans with a decent diet will not have to worry about this though. In addition, you can also add other ingredients to your shake to improve the amino acid profile if your powder is lacking.
Blend or Single Source
Many vegan protein powders that use just a single source of protein may lack some of the amino acids you want. Plant blend proteins can help enhance the amino acid profile of a protein powder. For instance, a mix of pea protein and brown rice protein can help to ensure all essential amino acids are covered sufficiently and so will be best if that is what you desire. Conversely, some people prefer single-source plant proteins either for their flavour, to avoid allergies, or because of their specific goals.
Other Nutrients
As well as the macros, micronutrients are also a factor in deciding which plant-based protein powder is best for you. Many vegan powders are fortified with nutrients that are less widespread in vegan diets, so powders can be a good way to ensure you are getting all the vitamins and minerals your body needs.
Cost
For most people cost is a huge factor in which powder is best for them. Protein powders vary greatly in price, but it's important to understand the value. One protein powder might be £15.00 per kilogram while another is £10.00 per kilogram. But if each serving of the latter requires 40g of powder and each serving of the former requires just 20g of powder, then the £15.00 option is better value.
How Well It Mixes
Getting a large, undissolved lump of protein powder in your mouth is not a pleasant experience. The best vegan protein powders blend and mix easily, even when using just cold water and a shaker.
Flavour
Some brands produce better flavours than others and have a wider range too. This will come down to personal choice and will probably depend on what you are planning to mix with your powder. See below for more info on flavours.
Additional Ingredients
Many people are keen to avoid too many artificial flavourings, colourings and sweeteners, preferring as "clean" a protein powder as possible. In general, the fewer ingredient contained in the powder, the better. We go into more detail about this later in the article.
Plant Protein Blends Versus Single Protein Sources: Which Is Better?
As well as the above-mentioned protein powders, which are described as "single protein sources", it is also possible to buy plant protein blends. These blends mix two or more plant proteins together, which could be either to affect the flavour or consistency of the end product or, more usually, to enhance its nutritional offering.
Given that the only single source plant that can give a complete protein is soy, there could be some benefit in opting for vegan-friendly protein blends if you prefer things like pea or rice protein. In this way, the product is able to incorporate a more diverse mix of the nine essential amino acids than most single source powders.
As such, protein blends might not necessarily contain a greater quantity of protein per serving (though sometimes they do), but they are likely to contain a greater diversity of essential amino acids than single source plant-based protein powders. That said, alongside a well-balanced vegan diet, the chances are that most vegans will be eating enough of the essential amino acids anyway. Of course, getting them through your blended protein powder as well will certainly not do any harm, especially for those whose diet is less nutritious than is ideal.
What Are the Essential Amino Acids?
Depending on the source to which you refer, there are either eight or nine essential amino acids, that is amino acids that cannot be created by the human body (from other amino acids and protein sources).
The British Nutrition Foundation, for instance, suggest there are just eight essential amino acids. Whereas others, including various nutritional journals and organisations such as the American Society for Nutrition, suggest there are nine essential amino acids. The extra amino acid, histidine, is often cited as essential for children and young adults to help growth, though is not generally considered essential for (healthy) adults.
Here is the list of essential amino acids, the first eight being those definitely considered essential:
Leucine
Isoleucine
Valine
Threonine
Methionine
Phenylalanine
Tryptophan
Lysine
Histidine – Considered essential for children/young adults and sometimes called conditionally essential
What Is Protein Powder?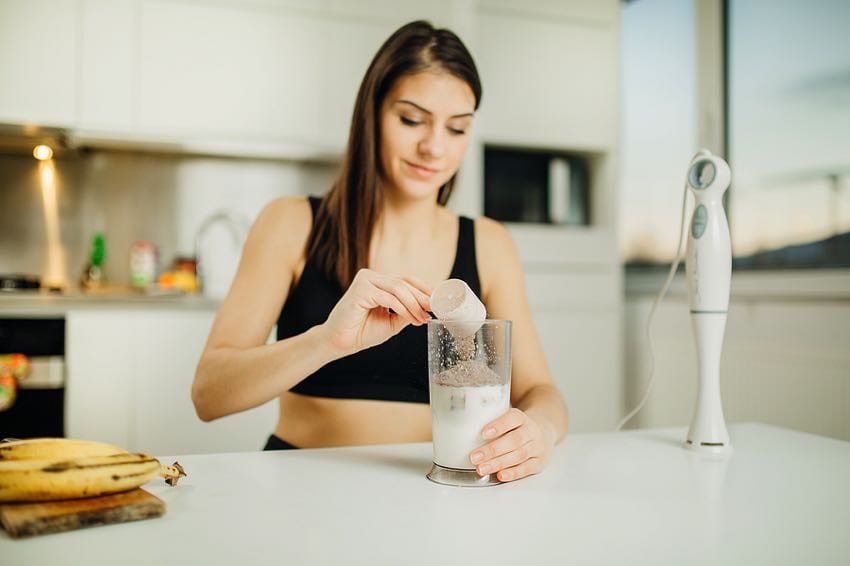 Simply put, protein powder is – as the name strongly suggest – a powder that is made from at least one protein-rich ingredient. They are usually designed to be consumed in the form of protein shakes after mixing a specific quantity of powder with a certain amount of water, milk (or plant-based alternative), or sometimes other liquids. For instance, some people add them to coffee or sports drinks, though some mix better than others.
That said, protein powder, which can come in a wide range of flavours, for example strawberry, chocolate or caramel, can also be used in other ways too. Some add it into baking recipes for cookies or cakes, whilst it can also be added to hot chocolate and other desserts to provide an extra dose of protein.
The amount of protein contained within protein powders can vary significantly from product to product and typically it ranges from 30g per 100g up to 90g per 100g of powder. The specific amounts of the essential amino acids will vary, as will the calories, sugar content and other nutrients contained. Most protein powders, be they plant based or not, tend to derive the majority of their calories from protein itself. The main exception to that is protein-based meal replacement powders, which may have a more balanced nutritional profile.
How Are Protein Powders Made?
Protein powders are basically dehydrated and ground up substances made from some primary protein source. This could be an animal-derived source such as whey, or a plant-based protein such as from split peas or brown rice. Whatever the protein source, the process is more or less similar in that the unwanted fat, carbs or other nutrients are removed, along with any excess water, in order to concentrate the protein content of the finished powder.
Various processes are used, such as "wet fractionation", to concentrate protein levels and to make the proteins more bio-accessible. Other ingredients, such as flavourings and sweeteners, are often added, as we discuss below.
Other Ingredients in Protein Powders
Aside from the main protein source(s) in powders, there are usually other ingredients added to alter the taste, texture, colour or miscibility (how well it mixes) of the powder. Some are perfectly fine from a health perspective, while others could ring alarms bells for some, especially those more towards the raw vegan end of the spectrum. Here are some of the more common ingredients found in vegan protein powders.
Sugar
Some protein powders do not taste great, truth be told, so producers often thrown in a spoonful of sugar to help the protein go down. Whether organic unrefined cane sugar or just plain old refined sugar, too much additional sugar in any protein powder is likely to be counterproductive to those who are seeking to use protein shakes to lose weight or build muscle. The lower the sugar content the better, from a health point of view too.
Artificial Sweeteners
There are many artificial sweeteners that appear amongst the ingredients of protein powders, often those that shout about the fact there is "no added sugar" in their product. The jury is out on some sweeteners, even those developed from plants, such as xylitol and stevia, though the latter is probably the least bad option (as long as it was not processed using loads of chemicals!).
Flavourings
Often on protein powder products (and indeed thousands of other products) you will find the rather vague word "flavourings" (or sometimes "natural flavourings") amongst the ingredients. Under the current legislation, there are certain categories of substances that alter the taste or aroma of products that do not need to be explicitly identified.
In order to be sure about what is being added here, the best thing to do is contact the manufacturer for information. These could include natural or artificial flavourings, or both.
Thickeners
Various thickeners are often added to protein powders, including things like guar gum and 100% xanthan gum. As we discuss in our Is Xanthan Gum Vegan? article, this substance can improve the mouthfeel of food products. It is almost always vegan friendly and in the case of protein powder it probably helps to make shakes smoother when the powder is mixed with your liquid of choice.
Vitamins & Minerals
Some protein powders are fortified with various vitamins and minerals, such as vitamin B12 or iron. Sometimes other potentially useful ingredients such as antioxidants or enzymes are added, the latter to help digestion of the proteins in the body.
Vegan Milk Powder
Just as dairy milk powder is sometimes added to non-vegan protein powder, vegan-friendly milk powder is sometimes added to vegan protein products. It helps to bulk out the product a little and could alter/enhance flavour (for instance if coconut milk powder is added).
Source of Fibre
If the protein source(s) used do not contain any/much fibre, occasionally produces will add some fibre.
Colours
Colours, either natural or artificial, are sometimes added, often when their absence could lead to a shake that is a particularly off-putting colour.
Less Is More
As with many products you are going to put in your body, with protein powders it tends to be the case of the fewer ingredients the better. Take these three vegan protein powders for instance:
Naturya Organic Hemp Protein Powder – Ingredients: 100% Organic Hemp Protein Powder
MaxiMuscle Plant Max Chocolate – Ingredients: Pea Protein Isolate (72.6%), Brown Rice Protein (13%), Reduced Fat Cocoa Powder (5.7%), Chicory Root Fibre, Coconut Milk Powder, Natural Flavourings, Sweetener (Sucralose), Iron, Vitamin B12.
USN Diet Fuel Vegan Meal Replacement Shake Strawberry – Ingredients: Vegan protein blend [Pea protein isolate, Soya protein isolate, Rice protein concentrate], Maltodextrin, Modified starch (Waxy maise), Thickeners (Polydextrose, Guar gum, Cellulose gum, Xantham gum), Crystalline fructose, Potassium citrate, Tricalcium phosphate, Conjugated linoleic acid (CLA), Flavouring, Fat reduced cocoa powder, Corn syrup, Modified starch, Sodium chloride, colour (beetroot red), Magnesium oxide, Sweetener (Sucralose), Antioxidant (Sodium ascorbate), Ascorbic acid, Anti-caking agent (Silicon dioxide), Ferrous fumarate, Menaquinone-7, Zinc citrate, Nicotinamide, D-alpha-tocopheryl acid succinate, bulking agent (Microcrystalline cellulose), Manganese bysglicinate, D-pantothenate, Calcium, Retinyl acetate, Copper bisglycinate, Cholecalciferol, Pyridoxine HCI, Riboflavin, Thiamine hydrochloride, Folic acid, Potassium iodide, Sodium selenate, D-biotin, Cyanocobalamin.
As you can see, the number (and indeed type), of ingredients differs drastically, and even though example number three is designed more as a diet replacement protein powder, there are still a lot of ingredients that many people might be slightly wary about consuming.
Those seeking as pure a plant protein powder as possible might opt for something like option one, though the second option contains mainly natural and healthy ingredients, so that wouldn't be a bad option for most people. What's more, some of the additions are there simply to fortify the product and help vegans obtain nutrients that can be harder for them to obtain. But, as said, ingredients differ significantly, so if this is something you care about, always check the label and ingredients before you buy any protein powder.
Popular Protein Powder Flavours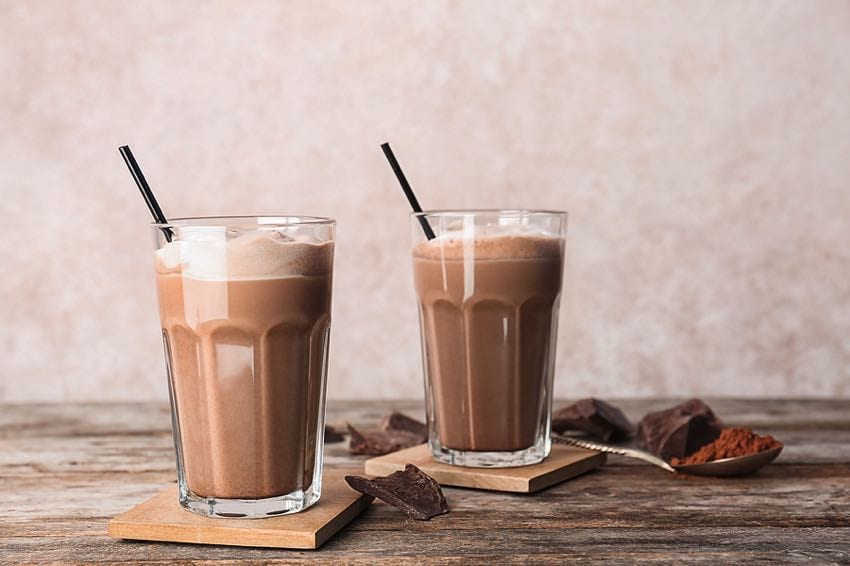 As with many health food products such as energy gels or isotonic drinks, protein powders come in all kinds of flavours. Some are designed to be mixed with your favourite vegan milk alternative, so your choice will affect the flavour to an extent.
You can also enhance or adjust flavours by adding other ingredients, especially if you are mixing it up in a blender or a shaker. We'll come onto that shortly, but first let's look at some of the most common flavours of vegan protein powders and shakes.
| Flavour | Notes |
| --- | --- |
| Vanilla | One of the most popular flavours, the better powders will use real vanilla pods or essence (though many will not state the precise nature of the flavourings used). |
| Chocolate | Usually cocoa powder is used to add the chocolate flavour, and often it has had its fat reduced. |
| Strawberry | Another popular flavour and though the nutritional benefits of strawberries won't really be apparent (as the quantities will be low and they will be dried anyway), a lot of people like the flavour. |
| Banana | Real dried bananas are generally used to flavour protein powders, though it is possible artificial flavourings could be used. |
| Salted Caramel | There are some salted caramel protein powder options out there for people with a sweet tooth who want a protein boost. |
| Natural/No Flavour Added | For those who don't particularly fancy a specific flavour or would rather add their own, many protein powder products come in "natural" or neutral flavours. Some people prefer the neutral option if they are adding fruit juice, berries, or coffee, for example. |
| Less Common Flavours | As with many other products, there are plenty of protein powders kicking about with slightly more imaginative (or wacky) flavours. These include such tempting options as "birthday cake" flavour, cookies and cream, banana fudge, Belgian chocolate (for when just plain chocolate isn't enough!), chocolate orange, white chocolate and raspberry, coffee and walnut, turmeric latte, and cherry Bakewell. |
Ingredients You Can Add to Your Protein Shake
Really this comes down to personal taste as much as anything and though almost all protein powders are fine as standalone products (when vegan milk or water is added), some people like to enhance their shakes with some of the following.
| Ingredients | Notes |
| --- | --- |
| Berries | Strawberries, blueberries, raspberries or blackberries can be good additions to a vegan-friendly protein shake/smoothie as they can add both natural sweetness and extra vitamins. They also help create a thicker, richer consistency. |
| Maple Syrup | Non-vegans might opt for honey, but vegans with a sweet tooth should opt for maple syrup (or agave nectar) if they want to add sweetness to their protein shake. |
| Fruit Juice | Fruit juice is another way to add sweetness, as well as vitamins to a shake, although of course it will also add sugar too. If consumed pre-workout the simple sugars may be desirable for a little energy boost. |
| Spices | Cinnamon, nutmeg, turmeric or other spices can add a nice twist to protein shakes and smoothies and some of them contain all kinds of healthy compounds that could have antioxidant or anti-inflammatory effects according to some research. |
| Seeds & Nuts | If using a blender that is able to reduce nuts and seeds to a course powder, this can be a good addition of minerals and fibre to your protein shake. A dollop of peanut or almond butter can be a good way to expand the amino acid profile of a shake made with a single source of protein (such as pea protein isolate). |
| Oats | Adding a few oats to your shake (or protein powder to your porridge) can enhance the amino acid profile significantly, especially with single source proteins like pea protein (which is a little low on methionine, which is contained within oats). It can also create a thicker consistency, whilst some believe a small dose of carbs is beneficial alongside the protein. |
| Coffee | Various studies have shown that caffeine can boost physical performance and possibly raise the metabolism and so those consuming shakes pre- or intra-workout may add a shot of coffee or some instant powder. Others might just like the taste! |
Protein Powder Versus Protein Shakes: What's the Difference?
Sometimes the terms "protein powders" and "protein shakes" are used interchangeably, but technically there is a distinction between the two. The simple difference between protein powder and protein shakes is the presentation: protein powders are dry, finely ground substances that are purchased in packets, tubs or jar-like vessels; shakes, on the other hand, are premixed and ready to drink. Typically they are sold in liquid form in bottles, cans or cartons.
Powders tend to be better value than premixed shakes, require less packaging (and hence are likely to have less of an impact on the environment) and often have longer shelf lives. On the flip side, some people find the convenience of premixed protein shakes a real benefit, especially if taking a bottle to the gym, instead of having to prepare their own protein drink using the powder.
It really comes down to personal choice but people who get into the habit of premixing their own shakes can certainly save a lot of money in the long term if they choose one of the better value powders or buy in bulk. It is of course possible to mix it up and use powders when at home and premixed shakes when out and about at work or at the gym.
Protein Bars, Capsules & Gels
As well as powders and shakes, protein supplements are available in other forms too, most commonly protein bars, protein capsules and protein-rich gels. We will go into lots of detail about Vegan Protein Bars elsewhere on the site, but these come in a wide variety of styles and flavours and vary in the amount of protein and other nutrients they contain.
Protein capsules and gels are viewed by some as being more convenient than powders that you have to mix yourself. They are also less bulky than premixed protein shakes, so they can be particularly handy when travelling or just to carry around in a small bag or even a pocket.
What Stops Protein Powder Being Vegan?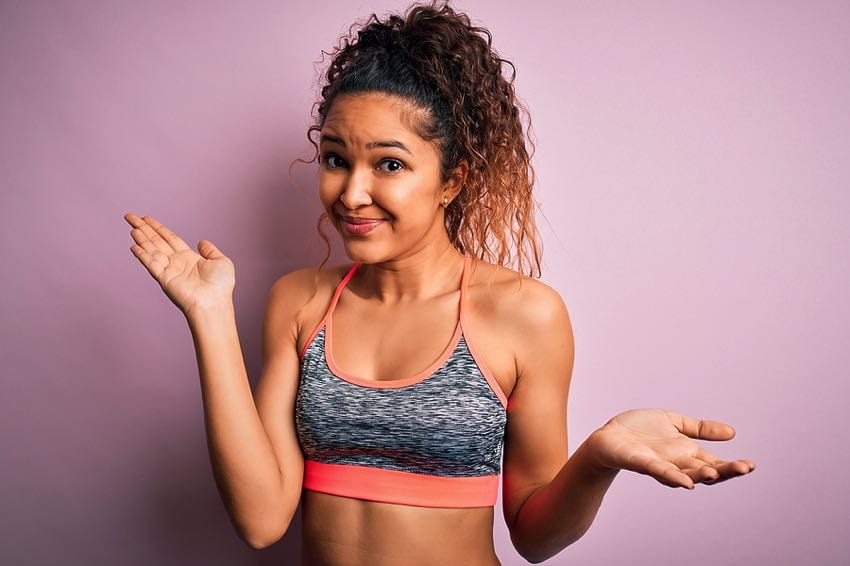 Protein powders are not suitable for vegans if they contain any ingredients that have been derived from animals. This includes any products or by-products from the dairy industry, which includes whey (that is often used to make protein powders). Protein powders could also be deemed non-vegan if they are tested on animals or if any of the ingredients have been manufactured using animal products (which could be the case with sugar, for instance).
Luckily for vegans, most companies who make and/or market protein products clearly mark their products when they are vegan friendly. If a protein product is not explicitly labelled as being vegan, it is usually better to play it safe and avoid it as it will almost certainly not be suitable for those on a plant-based diet. If there are no alternatives available, you can of course check the ingredients to ascertain whether there is indeed anything contained within the product that would render it unsuitable for vegans.
Non-Vegan Ingredients to Avoid in Protein Powders
There are plenty of ingredients to watch out for if you are vegan. These fall broadly into two categories: ingredients that are definitely not vegan and those that might not be vegan.
Ingredients That Are Definitely Not Vegan
Whey – The most common ingredient in non-vegan protein powders, whey is liquid that is left over when cheese or casein is produced from milk. Though some people argue that it should be vegan because it is only a by-product, this is not our stance. In the same way that leather is not vegan despite some seeing it as a by-product of the meat industry, whey is a commercially viable product in its own right and hence contributes to the harm and exploitation suffered by the animals (usually cows) in question.
Casein – Another product made from dairy milk, casein is never classified as vegan friendly.
Eggs – Eggs and any product or ingredient derived from eggs are not vegan.
Ingredients That Might Not Be Vegan
Sugar – As alluded to earlier, some sugar is not vegan (when it has been processed using bone char). This practice is less common than it used to be but even so, some commercially produced foods and goods still use sugar that has been purified in this way. If sugar is in your protein powder this is something to investigate unless it is marked as being vegan friendly.
Lecithin – Lecithin can be made from plant or animal sources but unless it specifically states it is plant based (e.g. it says soy lecithin or sunflower lecithin or similar) it might well have been made using animal products.
Additives – As we discuss in our E numbers article, there are some colourings, flavourings and other additives that are certainly not vegan friendly. These include colourings made from crushed beetles (E120) and an anti-caking agent made from crushed animal bones (E542).
Vegan Protein Powder v Animal Protein Powder
When it comes to assessing the relative merits of vegan protein powders and those made from whey or other animal sources there are many things to consider. Here we'll just give a brief summary of the key issues. Ultimately, of course, if you are a vegan such considerations are immaterial because it will be plant-based protein all the way anyway!
| Feature | Main Differences in Vegan Vs Animal Protein Powder |
| --- | --- |
| Animals | Clearly, one of the big advantages of vegan protein products is that no animals were killed, harmed or exploited to produce them. This is clearly going to be more important to vegans than non-vegans. |
| Environment | Because of the high environmental cost of dairy farming compared to arable farming, all plant-based protein sources are better for the environment than whey or other dairy protein sources. |
| Protein | The quantity of protein is comparable between vegan and non-vegan protein powders, though in order to get a good mix of all the essential amino acids, some may prefer to opt for plant protein blend. That said, as we explain in our feature on plant v animal protein, the plant/animal protein distinction is in many ways inaccurate. |
| Fat | Protein powders made from plants tend to be lower in fat than those made from or containing dairy products. |
| Fibre | Plant-based protein tends to be higher in fibre than whey and animal protein products. |
| Vitamins & Minerals | While all protein powders can be fortified, vegan protein powders tend to include more vitamins and mineral naturally. |
| Digestion | Aside from soy, most plant proteins are easily absorbed into the body and though whey (in particular) is very easily absorbed, most plant proteins are not far behind. |
| Muscle Gain | Research studies have suggested there is no significant difference between animal and plant protein powders when it comes to the promotion of muscle gain. Check out our vegan bodybuilders feature for proof of that! |
| Taste | Some of the earlier vegan protein powders that came to market got a bad press for having a chalky consistency and a bit of an aftertaste. But more recent products have been refined (sometimes with the help of a plant-based thickener) to improve the taste. |
| Cost | There tends to be little difference in cost between vegan and non-vegan protein powders, though we'll look at this in more detail in the individual articles on specific vegan protein powders. |
| How Well It Mixes | Though animal-derived protein powder, and whey in particular, are thought to mix better with milk or water, many vegan protein powders mix really well these days. Again, we'll address this issue in more detail in the individual articles on specific vegan protein powders. |
What Are the Potential Benefits of Protein Powders?
When it comes to assessing the potential benefits of protein powders it is essentially the same as assessing the benefits of getting enough protein. Many – in fact most – people are perfectly able to get enough protein from their diets, with just a little planning and forethought. Depending on your diet in the first place, an increase in protein consumption (whether through different dietary choices or by consuming protein powders) can have real benefits.
Potential Benefits of Protein Powders
Potential Benefit
Notes
Quicker Recovery from Injury
When the body is attempting to repair itself (for example, after a muscle tear or even just after a heavy workout), it requires more protein than it normally would.
Can Help Build & Maintain Muscle
The body requires a certain amount of protein to simply retain and maintain the muscle that it currently has. If someone wants to build greater muscle bulk, extra protein will be required as the "building blocks" for the new muscle tissue.
Potential to Help Lose Weight
As part of a well-planned, balanced diet, the use of protein powder or shakes can help people reduce their body weight. Essentially to lose weight, someone must burn off more calories than they consume. Protein contains approximately 400 calories per 100 grams, which is around the same as 100 grams of carbs.

The difference is, proteins tend to be digested a lot slower than carbs (especially compared to sugar-rich simple carbs), and protein-rich foods (including protein shakes) give a greater feel of satiety so people feel hungry less quickly. Fats, meanwhile, contain more than double the number of calories per 100 grams compared to protein.

Helps the Body Grow (i.e. For Children)
The body needs protein to build new tissue, and that includes organs, bones, teeth and hair as well as muscles.
Higher Metabolic Rate
A greater proportion of muscle tissue in the body tends to lead to a high metabolic rate, which in turn helps maintain a healthy weight and reduces the amount of body fat. This is linked to the benefit of weight loss but it is also important for people who simply want to maintain a healthy lifestyle in general.
Vegan Protein Powder Key Points
People seeking a vegan-friendly protein powder have many, many options these days. Here are some key points to note in summary:
Vegan protein powder can deliver as much protein as whey and other animal protein powders (as a quantity per 100g)
Some vegan protein powders do not include all the essential amino acids (or at least not all in sufficient quantities to be classified as offering a complete protein)
Plant protein blends (for example, pea protein mixed with brown rice protein) can offer complete proteins, though most vegans obtain a good mix in their diet anyway
Plant proteins have some potential benefits over animal-derived proteins (see above)
The consumption of sufficient protein has many health benefits (see above), whether that protein comes from food or protein powder
Vegan protein powders can help athletic performance and muscle gain just as well as non-vegan products