Protein is essential to a healthy diet and serves a variety of functions, chiefly helping to build, maintain and repair muscle. Although most people – including vegans – can get more than enough protein from a varied diet, some people feel they require an extra protein boost. If someone is training to build muscle bulk or strength, for instance, or perhaps if someone is recovering from muscular injury, supplementing the diet with extra protein could make sense. And, if that's the case, there are lots of choices. We are focussing here on protein bars and vegan protein bars in particular. But other options include plant based protein powders and shakes, protein pills or capsules.
In this article, we'll explain what protein bars are, what might make them non-vegan, and how they size up from a nutritional point of view. We'll also compare vegan-friendly protein bars with vegan protein powder in relation to the protein content and value for money. In case you feel the urge, we'll also explain how you might make your very own vegan protein bars, giving you absolute control over what goes into them and their nutritional make-up.
Featured: MyVegan Snack Box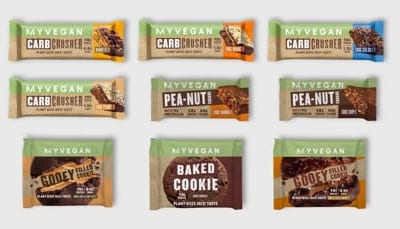 MyProtein have a great option if you can't decide which type of bar to get or which flavour to try. Their MyVegan Snack Box contains a mix of 10 different bars and cookies.
The exact contents may vary from box to box, but expect to find things like:
Protein Cookies & Gooey Filled Protein Cookies
Carb Crusher Protein Bars
Pea-Nut Squares
Best Vegan Protein Bars (July, 2022)
MyProtein: Vegan Baked Cookie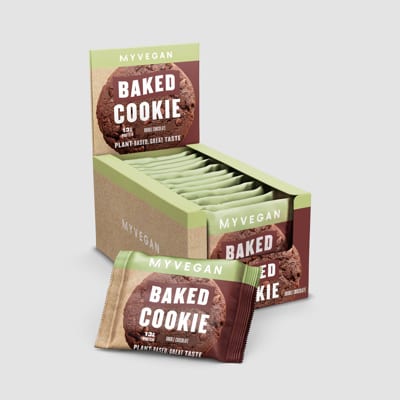 Energy: 289kcal
Protein: 13g
Carbs: 38g
Fat: 8.6g
This isn't a protein bar, it's a protein cookie! The cookie is available in four great flavours and comes packed with 13g of vegan protein.
Available in Chocolate, Double Chocolate, Chocolate Chip and Caramel. Nutritional info varies slightly by flavour.
MyProtein: Vegan Gooey Filled Cookie
Energy: 248kcal
Protein: 13g
Carbs: 37g
Fat: 8.1g
Taking protein cookies to the next level is the Vegan Gooey Filled Cookie which combines a rich dough with a soft centre.
There are currently two flavours to choose from - Chocolate & Peanut Butter and Chocolate & Caramel.
MyProtein: Vegan Carb Crusher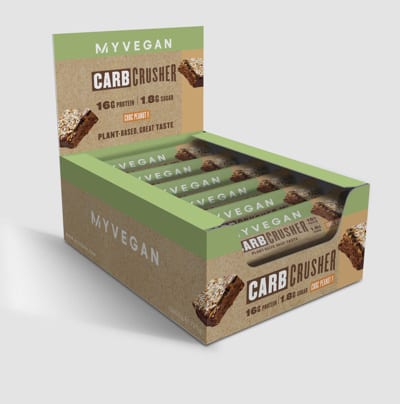 Energy: 237kcal
Protein: 16g
Carbs: 19g
Fat: 10g
Carb Crusher is a great option for people who want a protein bar with less carbs and a lot less sugar. The bar has 19g of carbs per serving, but less than 2g of sugar.
Flavour choices include Banoffee, Chocolate Orange, Chocolate Sea Salt and Peanut Butter.
MyProtein: Pea-Nut Square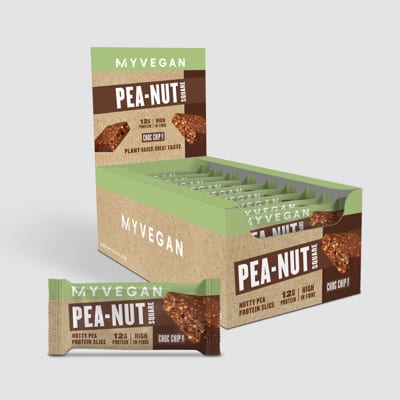 Energy: 233kcal
Protein: 12g
Carbs: 13g
Fat: 13g
The Pea-Nut Square contains a combination of Pea and Nut protein sources that come in at 12g. Throw in some cacao butter, chocolate chips (vegan, of course) and nuts and you have yourself a tasty little bar.
Flavours include the classic Chocolate Chip and Chocolate Orange as well as the slightly less common Berry flavour.
Vegan-Friendly Protein Bars: What Are They?
Put simply, vegan protein bars are snack bars, often made with some combination of oats, dried fruit and nuts and usually with additional protein-rich ingredients added. Clearly, vegan protein bars contain no ingredients that have derived from animals (such as milk, milk derivatives like whey or casein, anything egg-based, or honey) or indeed any ingredients that have been processed using animal products.
The thing that differentiates a protein bar from a standard snack bar is – as you might have guessed – the amount of protein it contains. Here we look at various vegan-friendly snack bars (the first four) and vegan-friendly protein bars (the second four) and compare their protein content.
| Name/Brand of Protein Bar | Protein content per 100g (g) | Protein content per bar (g) |
| --- | --- | --- |
| Doves Farm – Gluten-free Chocolate Chip Oat Flapjack (35g) | 6.6 | 2.3 |
| Blackfriars – Date & Walnut Flapjack (110g) | 6.2 | 6.82 |
| Moo Free – Grab & Go Bar – Orange & Caramel Crunch (35g) | 3 | 1.05 |
| Nakd – Raw Fruit & Nut Bars – Carrot Cake (35g) | 8 | 2.8 |
| Trek – Salted Caramel Protein Flapjack (50g) | 18.5 | 9.25 |
| Eat Natural Vegan Protein Bar – Maple Syrup, Pecans & Peanuts (45g) | 18.8 | 8.46 |
| Clif Builder's – Chocolate Peanut Butter 20g Protein Bar (68g) | 29.4 | 20 |
| Protein Pow – Cookie Dough Chocolate Chip – High Protein Bar (52g) | 23 | 11.96 |
As you can see, unsurprisingly, the protein content tends to be a lot higher in bars specifically marketed as protein bars. Most of the protein bars have in the region of 10g of protein per bar, with twice that being present in the Clif Builder's bar.
The snack bars, in contrast, almost all have less than 3g of protein per bar. The exception is the Blackfriars Flapjack (with almost 7g of protein) but at 110g that's almost more like a meal than a snack, and that includes almost 70g of carbs!
What Are Vegan Protein Bars Made From?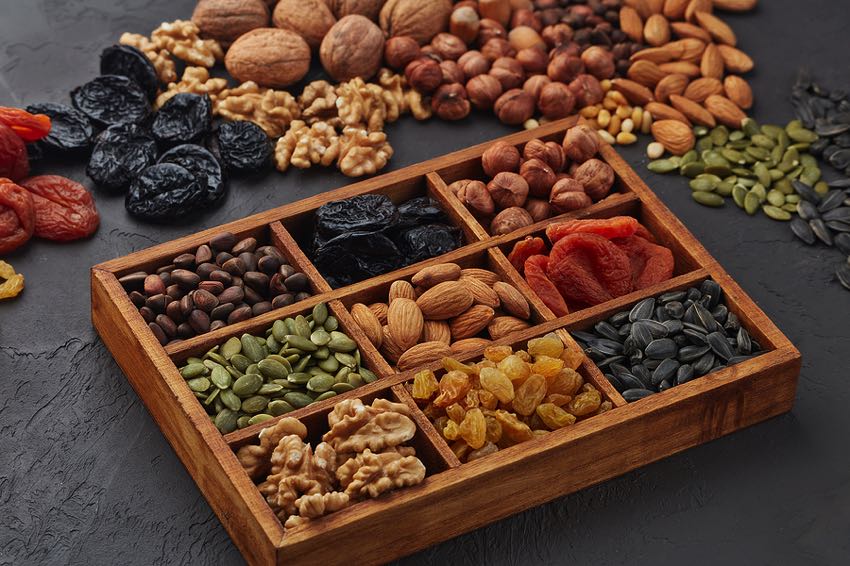 There is such a variety of ingredients that go into vegan-friendly protein bars that it is far easier to explain what they are not made from. That being said, any ingredients that have derived from animals (including things like gelatine, milk, whey, dairy butter, eggs and egg derivatives, and so on) or anything that has used animals or animal products during its processing (for instance, sugar that has used bone char during the refinement process).
Once all animal products have been eradicated as options, there are still plenty of high protein vegan foods that find their way into protein bars. And, many of these plant-based protein sources offer a good range of other nutritional benefits too. Here are some examples of some common ingredients in plant-based protein bars:
Protein Concentrate or Protein Isolate
Used to boost the overall protein content in the most efficient way possible, this could be any one of the common plant protein powders, such as soy protein isolate.
Nuts & Seeds
Peanuts, almonds, chia seeds and sunflower seeds (among other nuts and seeds) are commonly found in vegan protein bars. These add both protein and often a range of other nutrients, including vitamins and minerals (as outlined in our article on sunflower seed protein powder). They tend to be high in both fat and calories too though.
Oats
Used to bulk out the bar and add texture, but also because they contain roughly 17g of protein per 100g, along with a range of other useful nutrients.
Dried Fruit
To add a little sweetness to the bar, as well as a fruit flavour, and provide texture variety, things like dried cranberries, raisins and even freeze-dried raspberries can be found in protein bars.
Chocolate/Cocoa Powder
Chocolate chips, cocoa solids or cocoa powder are often found in the ingredients of vegan protein bars, often to add a chocolatey flavour but also because cocoa powder contains upwards of 20g of protein and around 30g of fibre per 100g.
Obviously, chocolate of any kind included in products labelled as vegan will not contain milk. There is loads of vegan chocolate available.
Vegetable Oil
Most protein bars contain at least one vegetable oil with sunflower, coconut and palm oil all commonly found.
Vitamins & Minerals
Some bars are fortified with added vitamins and minerals to make them more appealing to the health-conscious customers out there. This is especially the case for vegan products, which may add micronutrients that can be difficult for vegans to obtain, such as iron or zinc.
Humectant
Added to keep bars from drying out too much, a common vegan humectant that is found in protein bars is glycerol that is made from vegetables.
Emulsifier
Used to help combine and/or stabilise the various ingredients, one of the most common vegan emulsifiers found in protein bars is soy lecithin.
Flavourings, Colouring
Sometimes additional flavourings are added to protein bars. Often it will simply say "natural flavourings" without specifying exactly what they are, but rest assured that if they are in a bar marked as vegan, these will be plant based too.
Sugar, Natural or Artificial Sweeteners
Often protein bars add something to add a little sweetness. Ideally, this will be fruit as at least that also includes some worthwhile nutrients. Alternatively, it could simply be sugar or the producers could opt for a natural vegan-friendly sweetener such as maple syrup (note that honey is not vegan).
Alternatively, an artificial sweetener of some description may be used. These typically contain very few calories but some are linked with varying degrees of scientific backing to a range of health issues.
How to Pick the Best Protein Bars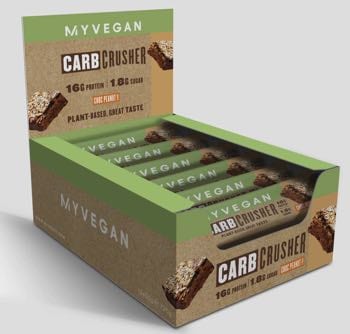 When attempting to pick the "best" of anything it is important to define your goals. As with protein powders, some people will simply be seeking the highest possible protein content per serving. Others will be seeking the bar that packs a decent amount of protein but that also tastes nice. Others still will be seeking bars that contain other nutrients (whether fibre or vitamins and minerals) or bars that contain the most protein and the fewest ingredients. Some people will want to avoid gluten or other allergens and some will be seeking bars with the fewest calories, least fat or smallest number of carbs.
In short, the way to find the best protein bar is to first figure out what you are actually looking for. Then it's fairly easy to compare the nutritional values of the various bars and then perhaps purchase a few that look as though they tick your boxes and try them out. Luckily, there is a wide variety of vegan-friendly protein bars available these days so, with a little effort, it should be relatively straightforward to find those that work for you. Then give them a try and stick with the tastiest and/or cheapest!
Protein Bars Versus Protein Powder
Here we'll take a look at some of the factors you might consider when trying to decide between protein powder and protein bars. To give a nutritional comparison, here's the data from a leading protein powder and a popular protein bar, both produced by the excellent Myvegan brand from Myprotein, one of the leading sports nutrition companies in Europe.
| Nutrients | Pea Protein Isolate Powder (per 30g serving) | Vegan Carb Crusher (per 60g bar) |
| --- | --- | --- |
| Energy | 453kJ / 107kcal | 883kJ / 212kcal |
| Fat | 1.5g | 8.4g |
| of which saturates | 0.6g | 2.4g |
| Carbohydrates | 0.9g | 17g |
| of which sugars | 0g | 1.8g |
| Fibre | 0g | 11g |
| Protein | 23g | 15g |
| Salt | 0.75g | 0.37g |
As you can see, there is quite a marked difference from a nutritional perspective. A protein isolate is essentially more or less pure protein. That means low calories, low fat, low carbs and high protein, but low/no fibre and micronutrients. In contrast, a bar provides a broader range of nutrients but typically less protein and more calories.
Protein Bars Are More Convenient Than Powders
The primary advantage of protein bars over powders is convenience. Unless you are making your own bars (see below), they will almost always come as individually wrapped bars that can be carried around in a gym bag, handbag or pocket with minimal fuss. When you want to get your protein boost from a bar, you just need to open it and get stuck in.
This contrasts markedly with protein powders which must usually be measured out and mixed with your chosen fluid, then often blended or vigorously shaken to ensure the protein shake is well mixed. Of course, you can buy premixed protein shakes, which can increase convenience. But a half-litre bottle is still significantly bulkier than a 60g bar. In addition, for those really serious about adding muscle mass, who want to keep their protein levels topped up regularly throughout the day, a bar is a really convenient and easy way to do this whilst out and about.
On the flip side, protein products are often taken before, after or even during exercise and some people prefer drinking to eating at those times. This will come down to personal preference, but if you tend to get very hungry after a workout at the gym, bars could certainly fill a hole while giving a nice protein boost at the same time.
Flavour – Personal Choice
Another thing that comes down to personal preference is the flavour of the various protein products. Many people are happy enough to mix something like pea protein isolate with their vegan milk alternative of choice and knock it back with no bother. Others prefer protein powders that are already flavoured, whether chocolate, vanilla or any number of other more out-there flavours. But there are plenty of protein-seekers who can't get on with the flavours on offer with the powders and instead much prefer the bars.
If you are partial to cereal or snack bars in general, most protein bars compare well to those in terms of flavour and consistency, some having a crunch to them but most being fairly moist and soft. As with any food products though, it is likely some will be more to your taste than others. In addition, if you are swapping your protein hit for a meal, clearly eating a protein bar is a more satisfying meal than simply drinking a protein shake.
Protein Content Often Higher in Powder
As said, it is often – though not always – the case that the protein content is higher in protein powder than it is in a protein bar, both in terms of the per 100g value and the per serving level. Some protein bars pack in around 20g of protein per bar, but most offer in the region of 10g to 15g per bar. Based on the comparison above, which is fairly typical, you can generally expect to get upwards of 20g of protein per serving of vegan protein powder, at least with the protein isolates. A less refined powder, such as hemp protein powder, is more likely to offer around 15g of protein per serving.
The per 100g differential is greater still, meaning powders give more bang for your buck. A vegan protein powder typically has between 60-80g of protein per 100g. A bar, on the other hand, will range from around 15-30g.
In terms of the type and quantity of amino acids contained within protein bars, this will depend on the protein sources added. For instance, the Myvegan Carb Crusher bar includes a blend of pea, brown rice and soy protein, so it has all the essential amino acids well covered, including the three branched-chain amino acids (BCAAs) that are most associated with building and repairing muscles. If just one main protein source is used in a bar, one or more of the amino acids may not be present in significant quantities.
Bars Higher in Fibre, Carbs & Fat
Given that protein powders and isolates, in particular, are generally refined to remove as much fibre, fat and carbs as possible, protein bars will tend to be significantly higher in these nutrients. This is because the nuts, seeds, oats and dried fruits contained within many bars contain these nutrients in varying quantities and the addition of vegetable oil and glycerol will bump up the fat content further.
Thus, the calorie content of bars tends to be quite a bit higher than powder. But, of course, if you are mixing your powder with vegan-friendly milk rather than water, this will bump up some of these nutrients too, though not by all that much in truth.
Cost – Convenience of Bars Comes at a Price
The cost of both protein powder and protein bars can vary greatly. Buying bars individually, for instance, can cost anything between around £1.00 and £3.00, with many pitching around the £2.49 price point. The unit cost can be reduced somewhat by buying bars in boxes of 12, 18, 24 or more, but they often still hover around the £2.00 per bar mark.
In contrast, buying protein powder generally offers much better value per serving. For instance, purchase a 1kg packet of Myvegan Vegan Protein Blend powder would usually cost around £24.00; that would include around 33 servings, making each protein-packed serving cost just 73p. This increases to just under £1.00 per serving if you opt for a 250g packet of protein powder in this example, but that is still way cheaper than any of the top quality protein bars.
Though that is just one example, it is indicative of the trade-off: bars are more convenient but you have to pay for that convenience and the difference is often substantial.
How Are Protein Bars Made?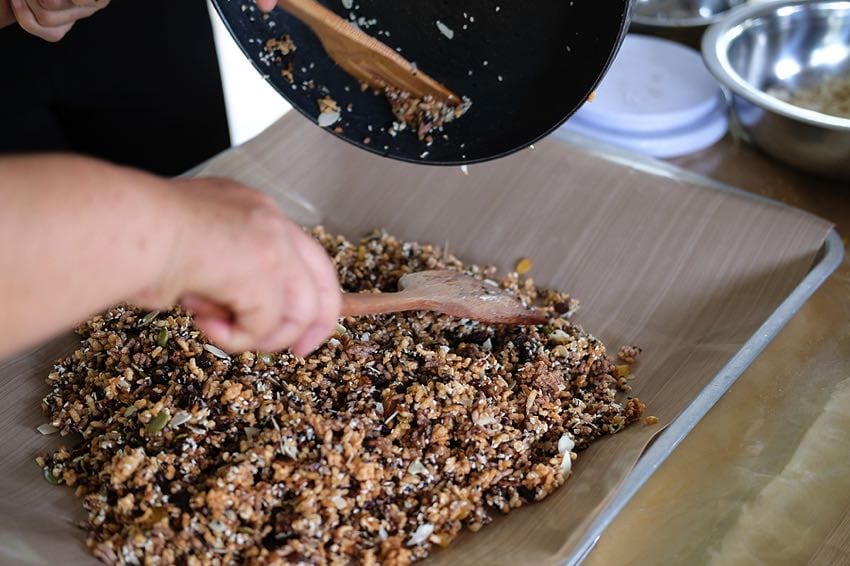 Protein bars that you will find in your local health food shop or on most websites will generally have been made in a factory of some sort. It is possible to get artisan, small-batch vegan protein bars but these are less widely available. Most will follow a largely automated production line, as outlined in this video, though the specific processes will differ from producer to producer.
Does Baking the Bars Destroy the Protein?
There is some debate about whether or not baking protein bars (and indeed other food products) destroys or denatures the protein within them. If that were the case, a product that is based around the premise of having a high protein content would be tarnished, to say the least. But what if protein being denatured by heat actually improves it when it comes to how well the human body can utilise it?
One of the reasons humans evolved to enjoyed cooked food over raw is that some of the nutrients contained in food become more accessible when cooked. As detailed by the European Food Information Council (EUFIC), heating protein-rich foods can indeed denature the proteins, but it doesn't tend to destroy the proteins completely (unless cooked at very high temperatures for a long time).
Delving a little deeper, the EUFIC suggests that most cooking of protein-rich food will tend to break the weak (mostly hydrogen) bonds that link amino acid strands within the protein together but, crucially, the strong peptide bonds that form the amino acid strands themselves tend to stay intact. So, freeing the amino acids from the hydrogen bonds can actually make them more accessible to our bodies.
Some people overestimate the consequences of (or simply misunderstand) how heat affects protein. For these people and advocates of a raw vegan diet, there are various raw vegan protein bars available to buy, or you can simply make your own. Whilst there is some debate on the issue, the broad consensus is that protein bars, heated/baked or otherwise, still provide a good protein boost.
Protein Bars Ingredients: Less Is More?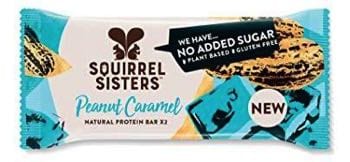 It is often the case with food products in general that the fewer ingredient they contain, the better. Whether we are talking about vegan ice cream, breakfast cereals or anything else that has had ingredients added, the healthier options tend to have the fewest ingredients. Here we present examples of three popular vegan protein bars to show how the quantity (and possibly quality) of ingredients can vary greatly.
Squirrel Sisters Peanut Caramel Natural Protein Bar 40g – Ingredients: Roasted peanuts (34%), chopped dates, sultanas, sunflower seeds, pumpkin seeds, vegetable glycerine.
Protein Pow – Cookie Dough Chocolate Chip – High Protein Bar (52g) – Ingredients: Almonds, Isomalto-oligosaccharide (source of glucose), Pea Protein, Chocolate Chips (8%) (Cocoa Mass, Xylitol, Cocoa Butter, Sunflower Lecithin), Vegetable Fibre (Chicory), Sunflower Lecithin, Vegetable Glycerine, Rice Flour, Erythritol, Chickpea Flour, Natural Flavour, Guar Gum, Maize Starch, Salt, Stevia Lea Extract.
MyProtein – MyVegan Carb Crusher – Chocolate Sea Salt Protein Bar (60g) – Ingredients: Protein Blend (31%)[Pea Protein, Brown Rice Protein, Soy Protein Nuggets (Isolated Soy Protein, Cocoa Powder, Tapioca Starch)], Corn Fibre, Humectant (Vegetable Glycerol), Caramel (10%)[Chicory Root Fibre, Humectant (Vegetable Glycerol), Palm Kernal, Water, Palm Oil, Emulsifiers [Mono- and diglycerides of fatty acids, Sorbitan Tri- Stearate, Rapeseed Lecithin)], Gelling Agent (Pectin), Salt, Cocoa Powder, Natural Flavouring)], Rapeseed Oil, Dark Chocolate Flavour Coating (7%)[Sweeteners (Isomalt, Sucralose), Palm Oil, Cocoa Powder, Emulsifiers (Soya Lecithin, Polyglycerol Polyricinoleate)], Cacao Nibs (3%), Cocoa Powder, Thickener (Acacia Gum), Natural Flavourings, Emulsifier (Sunflower Lecithin), Sea Salt, Antioxidant (Vitamin E)
As you can see, there is a big difference in the number of ingredients in the examples given. Having a greater number of ingredients is not necessarily a bad thing, especially as lots of the items mentioned will be included in very small quantities. Moreover, lots of them are 100% natural and, of course, all of them are safe and licensed to be used.
How to Make Your Own Protein Bars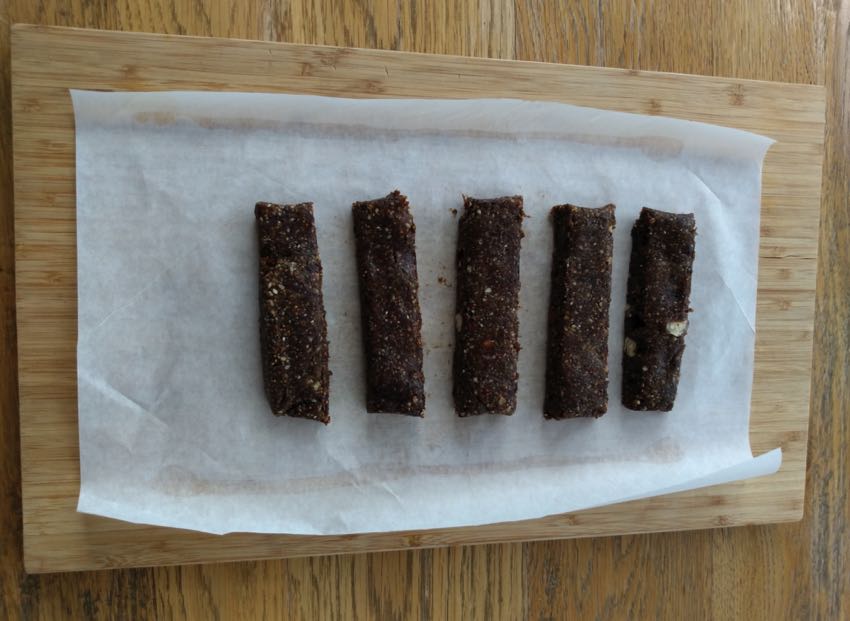 Making your own vegan protein bars is very simple if you have access to a food processer (a good handheld version should do fine if you don't have a counter-top option available) and a range of high protein vegan foods. This could include a combination of almost any nuts and seeds.
It can be a good idea to add a little protein powder (we have opted for hemp protein powder for its subtle earthy flavour) if you want to give the finished product an extra boost in terms of the overall protein content. Finally, adding some dried fruit of some sort works well to boost the fibre content, improve the flavour and to help bind the ingredients (prunes, date or figs work well). Adding a little maple syrup or agave nectar can also help with binding and to add a little moisture, while a bit of cocoa powder can give a nice hint of chocolate for those to whom such a thing appeals.
Vegan Protein Bar Ingredients
100-150g figs
50g almonds
50g hazelnuts
50g hemp protein powder
30g chia seeds
20g sesame seeds
20g cocoa powder
2-3tbsp lemon juice
1tbsp agave nectar
1tbsp cold pressed rapeseed oil
2tsp cinnamon
Vegan Protein Bar Method
Add the nuts and seeds to the food processor and blitz until relatively fine (but not quite powder)
Add the figs and oil and blitz to combine
Add the cocoa powder, hemp powder, cinnamon and agave nectar gradually, blending to ensure the mixture is well combined
Ensure the consistency is sticky and thick – if too thick, add another fig or some lemon juice
Spoon the mixture into a rectangular cake tin or rectangular baking tray, place a layer of baking paper over it and press the mixture down to a roughly consistent thickness of around 2cm
Put the mixture (still in the cake tin or similar) into the fridge for an hour or two
Remove from the fridge and cut into bars of your desired size and shape (ideally, around 50g)
It can be useful to wrap each one individually in baking paper and then foil or a reusable food wrap of some description
Naturally almost all of these ingredients can be tweaked and added to or substituted to play around with the overall taste, texture and nutrition. It's a simple and fun recipe to make with children too and whilst protein bars are not top of kids' favourite "bakes", adding a little more fruit and a little less protein will certainly keep them onside.
What Stops Protein Bars Being Vegan?
As alluded to above, there are plenty of ingredients that could render a protein bar non-vegan. The most common non-vegan ingredient tend to derive from dairy milk. These include things like milk powder, butter, whey and casein, whilst egg derivatives may also be used to either add protein or perform some other function.
However, other ingredients that come from animals might be used to flavour or sweeten (such as honey), alter the texture (such as gelatine) or change the colour (E120) of the protein bar in question.
Non-Vegan Ingredients to Avoid in Protein Bars
Here are some of the main ingredients to look out for which are either always non-vegan or which might be non-vegan.
Ingredients That Are Definitely Not Vegan
Whey – Whey is derived from dairy milk and is not vegan. It is a common constituent of non-vegan protein powder.
Casein – Another ingredient that renders products non-vegan, this also comes from milk and many protein powders are casein in nature.
Eggs – As we explain in our Are Eggs Vegan? article, eggs are not vegan. So, whether the ingredient say eggs, egg white, dried egg powder or anything from eggs, that would mean the bars in question would not be vegan friendly.
Ingredients That Might Not Be Vegan
If you are purchasing protein bars that are specifically marked and marketed as vegan friendly, you can safely assume that if any of the following are included they will have been derived from non-animal sources. If the product does not say it is vegan, however, it could be worth giving it the swerve if any of the following are amongst the ingredients.
Lecithin – Lecithin can derive from plant or animal sources (it was originally isolated from eggs but does not have to be made from them), so unless it says otherwise it could pay to assume it has come from animals. Often ingredients will say something like "lecithin (from soy)", which would be fine.
Palm Oil – While palm oil is technically vegan based on the fact it comes from a plant, there is an ongoing debate about whether vegans should consume it as it has been strongly linked with habitat destruction that has harmed various endangered species. It's up to you where you stand on the issue, ideally, after doing on some research on the subject.
Additives – Some food additives (such as E120, made from beetles) derive from animals. As above, if you see E numbers in a product that is marked as vegan, they will have been derived from non-animal products.
Vegan Protein Bars & Cross-Contamination
Some producers of vegan protein bars only make vegan products. Others, though, product vegan and non-vegan products, sometimes in the same factory or processing plant. If this is the case, there is a potential issue with cross-contamination. This occurs when trace quantities of ingredients that are not supposed to be in the product inadvertently get into it.
In reality, the likelihood of this occurring is very slim but if it is even a possibility, manufacturers will add a disclaimer to the package, usually when the items that might have contaminated the product are allergens of some kind, hence the common warnings "may contain nuts" or "made in an environment that handles milk".
If you happen to be someone who has a very severe allergy to any of the items mentioned in such warnings, it clearly makes sense to play it safe and pick another product. If you are a vegan who doesn't like the thought of your vegan protein bar containing traces of milk, we would suggest that the probability is so low as to be negligible. But if that's not good enough, there are always those bars made by companies that only make vegan products.
Potential Benefits of Protein Bars
When assessing the potential benefits of consuming protein bars, you should really ask yourself the following questions: 1. Am I getting enough protein from my diet? and, 2. If not, are protein bars the best option for me?
The answer to the first question is almost certainly "it depends". Most people in the UK can obtain more than enough protein from their diet – yes, even vegans! But some people may require more protein than the average person. For instance, people recovering from injury or those seeking to build muscle strength or bulk or undertaking a serious training regime.
This leads to the second question. And, the answer to this one is a matter of personal choice and circumstance. Protein bars are a convenient and often nutritious way to obtain a quick protein boost. Less hassle than a protein powder and shake, they are favoured my those who don't have the time or inclination to mix their own shakes or carry a bottle around with them, or who would rather drink water during/after a workout than a protein shake.
In terms of the benefits of protein itself, the body needs a certain amount to maintain the healthy functioning of the body in general. It is required for growth, tissue repair and a range of other essential functions. It also has the potential to help people lose weight as consuming high protein foods can increase the feeling of satiety and make snacking or overeating less likely.
Vegan Protein Bars: Conclusions
To summarise, vegan protein bars are widely available, come in a range of styles and flavours and offer a convenient alternative to protein powders and shakes. On the other side of the coin, they are not as good value as powders (when judged on a per-serving and per gram of protein basis) and they tend to contain slightly less in the way of protein per serving.
Protein bars are usually (though not always) higher in carbs and fat, so depending on your particular dietary needs, they could appeal or otherwise. The key is that there is such a choice of vegan-friendly protein-related products out there, that there is certain to be something that ticks all the right boxes, whatever your needs.