Renowned as a forward-thinking and progressive town that has eclectic nightlife and daring politics (it is the first area to elect an MP representing the Green Party), it should come as no surprise that Brighton has embraced the vegan revolution more than most places.
In this article, we'll run through some of the most popular vegan eateries in Brighton and neighbouring Hove. We'll give examples of some of the vegan dishes on offer and an indication of what they'll cost you.
Note that the information given is correct at the time of writing and menus and/or prices could change over time so always double-check with the establishment in question for the latest information.
Purezza
Pizza fans – whether vegan or not – will be more than satisfied with what's on offer at Purezza. Compared to large pizza chains, such as Domino's or Papa John's, their vegan pizzas are first class and Purezza's are all 100% vegan. What's more, they have even created their own vegan mozzarella in a food lab to ensure they replicate the melting qualities of dairy mozzarella (without the need to get any cows involved!).
The pizzas themselves have proven very popular with locals and visitors to Brighton and it is the perfect lunch spot or for those seeking a bit of (very tasty) fuel before a night out on the town. The mini-chain also has outlets in Bristol, Manchester and London (Camden), and as well as the Brighton branch, they also have one in Hove (86-87 Western Road, Hove BN3 1JB).
The Brighton outlet is very nicely located on St James's Street, just one street back from Marine Parade and the pier. The restaurant is not very big though, so bookings are limited to groups of six or fewer, though the Hove restaurant can accommodate larger groups.
Happy Maki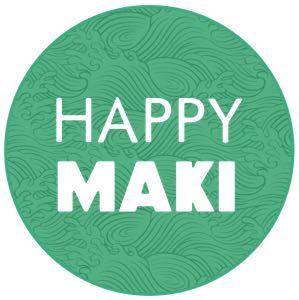 Happy Maki opened its doors in Brighton in January 2017 after, like many vegan food outlets, they tested their popularity on the festival scene. Their burrito-sized sushi rolls, in particular, have proved very popular with both vegans and non-vegans over the last few years.
The main restaurant on Sydney Street is open seven days a week from 12-8pm, and can seat around 60 people inside and another 25 or so outside. At the time of writing the takeaway (9 Pool Valley) is being refurbished but it should be open in January 2022.
The Roundhill Pub
Although virtually all pubs these days cater to vegans to some extent, most will opt for rather basic plant-based options. The 100% vegan Roundhill Pub, on the other hand, has clearly put a lot of thought and effort into producing a menu that is likely to appeal to vegans and non-vegans alike.
As well as the dishes mentioned above, they offer a Heritage Beetroots Salad and a Buddha Bowl, both of which are packed with flavour and nutrients. Burger options include a Classic (made with a Beyond Meat patty that is full of good quality vegan protein) or their Jerk Oyster Mushroom Burger, which comes with charred pineapple and jerk slaw, among other things.
Though located around 20 or 30 minutes back from the seafront (close to the London Road train station), the Roundhill has proved popular with locals and visitors to Brighton. This is especially the case on Sundays when their vegan roasts (including vegan-friendly Yorkshire puddings) go down very well, with their seitan lamb roast proving a particular hit. They also have a very fine vegan cocktail menu (that includes a Bloody Mary containing a vegan version of Worcestershire sauce!).
Erpingham House Brighton

This Brighton restaurant is one of three branches of Erpingham House. The first opened in Norwich in 2018 before it was joined in 2020 by the Brighton offering with a restaurant in Edinburgh following in 2021. Positioned on Duke Street in the bustling heart of Brighton, its concept of healthy and sustainable vegan food attracts fans from the town and further afield.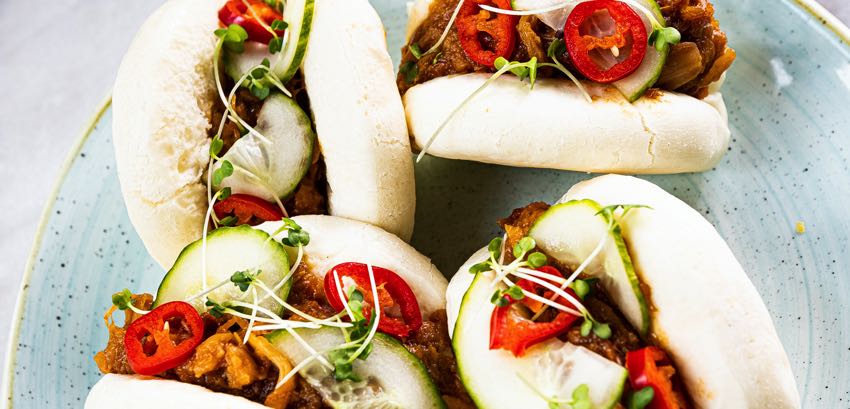 Not only is the menu well-crafted and varied, but the flavour combinations and the presentation of the food are also excellent, especially at the prices they charge. It is the kind of place that will appeal to those seeking something a little more refined than is on offer at the many vegan fast food joints and "dirty vegan" style restaurants that are popping up everywhere.
Dishes like their Harissa Roasted Squash (as mentioned above) and their Lamb and Feta (which features shredded mock lamb, garlic roasted baby potatoes, samphire, shaved fennel salad, mint sauce and a lemon and mustard dressing) are excellent value at £13 and £14 respectively. In addition, their impressive-looking Kale Caesar is an absolute bargain at £7.50.
Many people's favourite day to eat at Erpingham House is Sunday as their roasts are good enough to brighten anyone's mood (even after a big night out on the Saturday). At the time of writing, there is a choice of Stuffed Pumpkin, Seitan Wellington or Roasted Cauliflower, all of which are served with roasted smashed potatoes, maple-glazed chantenay carrots, braised red cabbage, roasted broccoli, crispy kale, pumpkin puree, a red wine and rosemary jus and vegan Yorkshire pudding (which is always a welcome addition!).
Green Kitchen
The Green Kitchen has been welcoming customers to their compact but well-run café since 2016. Their mix of simple but nourishing food, great service and strong vegan ethics have allowed them to build up a loyal customer base, despite them being located about 20 minutes on foot to the north of the seafront. It looks and feels like an old-fashioned greasy spoon, but you won't get that stench of frying bacon here – well, not bacon from pigs at least: they make their own plant-based rashers which they sell at their online store (10p from every packet sold goes towards to the the Retreat Animal Sanctuary in Kent).
Although the food on offer is not as refined as that found at somewhere like Erpingham House, that's not to say it's not tasty and it certainly offers great value for money. Being a café, breakfasts are their speciality, with options for relative light bites (for example, a tofu benedict muffin) to truly massive options (the Great, for example, featuring two rashers, two sausages, black pudding, scrambled tofu and loads more – all vegan, of course!).
The No Catch Co
There are loads of fish and chip shops in Brighton – as in most seaside towns in the UK. But The No Catch Co is a "tofish" and chip shop and it aims to show that fish need not die to give people a great seaside meal. A sister restaurant to London's Unity Diner, the No Catch Co was also partly founded (in 2018) by vegan activist and educator, Earthling Ed, and is doing its best to educate people about the many issues with fishing and the way fish and chips has always been done. But is it any good?
Well, we are pleased to say, yes, it is very good. From their signature vegan cod and chips to their tofish bites and their jumbo battered saveloy, the No Catch Co offers up an excellent range of plant-based alternatives to fish-based options that one would find in a standard chippy. For those with a sweet tooth, they even have a New York-style cheesecake and a chocolate caramel cake for dessert!
Other Vegan Food Options in Brighton
For a town of its size (with a population of just under 300,000 when including Hove), Brighton has a very good range and number of 100% vegan restaurants and cafes. It also has loads more vegan-friendly and vegetarian options that – while not 100% vegan – have plenty of good options for those on a plant-based diet. Here are some of the other options for vegans in Brighton.
Terre a Terre
Terre a Terre will need little introduction to foodies and is a Brighton institution. Whilst it is vegetarian, rather than vegan, there are plenty of menu options that are 100% plant-based and others that can be tweaked to be suitable for vegans. Consistently ranked one of the best places to eat in the country, this is plant-forward cooking at its very best and a must-visit, especially if you have vegetarians among your rank!
Loving Hut
Located in the North Laine area of Brighton near the university campus, this mainly vegan restaurant and coffee shop has a wide range of options from vegan burgers to vegan cupcakes. Service is swift and friendly and it is good value for money.
The Pipeline
A stone's throw from the beach, the Pipeline is essentially a music venue, featuring a wide range of live music (with an emphasis on punk and rock), that has a vegan kitchen. With a wide variety of vegan burgers, hot dogs, wraps and other "comfort food", those seeking a 100% vegan meal with their night out will certainly enjoy this place.
Halo Burger
Found within the Fountain Head Pub in the North Laine area of Brighton, Halo Burger – as you might expect – offers customers a range of vegan-friendly burgers and other vegan junk food at very reasonable prices. Spice fans could heat things up the Triple Flameburger with the Flame Fries – but have a pint of beer on hand to cool your burning mouth!
Kusaki
This Asian-inspired plant-based restaurant will appeal to those who like their vegan food to look good as well as taste good. Dishes like miso-glazed aubergine or oyster mushroom gyozas bring a taste of Asia, while their plant-based sushi is well worth checking out.
Beelzebab
Another vegan kitchen found within a pub (this time in the Hope and Ruin pub on Queens Road), Beelzebad offers very popular seitan doner kebabs as well as chicken-style wings, vegan hot dogs, loaded fries and various sides.
Things to Do in Brighton
Aside from sampling the many vegan restaurants and cafes Brighton has to offer, there are plenty of other reasons to visit this enticing seaside town. Not least to see the sea!
Seaside
It has long been the seaside getaway of choice for those dwelling within the smog and traffic of London and it attracts visitors from much further afield too. Its cosmopolitan and welcoming vibe is not only fully embracing the LGBT+ community, it is a haven for artists, musicians and performers from across the arts. Its liberal attitudes have been evident for many years: Brighton opened the first public naturist beach in the country way back in 1979.
Shopping
With a plethora of accommodation options – from plush boutique hotels to some hostels that have probably seen better days – there's something to suit every budget. Shoppers will find loads of interesting independent shops to check out, especially around the Lanes, selling just about everything you could imagine, and probably a fair bit you couldn't! There are also various galleries, cultural tours and walking tours that can help you get under the skin of the town.
Nightlife
When it comes to nightlife, you are very much spoiled for choice. Whether you fancy banging techno, burlesque, a sophisticated cocktail bar, a grimy old pub or even a bar that's designed to look like a prison, you'll find something to appeal in Brighton. Since Brighton Pride began way back in 1972, it has grown into one of the most vibrant LGBT+ Pride events anywhere and has attracted some great headline acts over the years including Pet Shop Boys, Britney Spears and Kylie Minogue. Mariah Carey was set to headline in 2020 before the global pandemic put paid to that!
Vegan Restaurants in Brighton: Conclusions
As you can see from the number and variety of vegan food establishments featured above, Brighton is well ahead of the curve when it comes to plant-based cuisine compared to most places. And there are loads more options for vegans and those seeking to avoid animal products, those detailed above are just some of the most popular and best established.
So, if you are planning a trip to Brighton anytime soon and you want vegan food, fear not, you have so many great restaurants, cafes and pubs available that your only challenge will be trying to narrow down the options and pick the one that appeals most.