There is likely to be some confusion from the very get-go when it comes to honeycomb, partly because the term refers to two very different things. One honeycomb is that made by bees, the hexagonal wax cells in which they store honey and pollen and indeed their larvae. The other honeycomb is a sponge-like, sugar-rich toffee that goes by various other names and doesn't actually contain any honey.
Given that you've found your way to this article and we have no way of knowing which honeycomb you are seeking to investigate, we'll kill two birds with one stone, so to speak – or should that be feed two birds with one scone (but is that even good for birds? Sheesh, the modern world is a minefield sometimes). Anyway, let's get to the point.
What Is Honeycomb & Is It Vegan?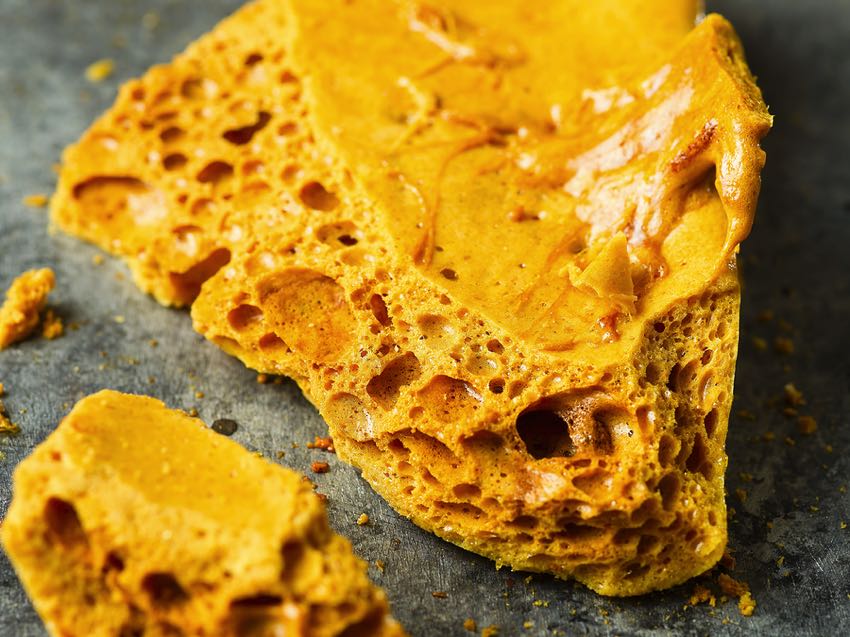 Here we briefly outline the two different types of honeycomb and explain why each is or isn't vegan.
Honeycomb Made By Bees
As mentioned, the first type of honeycomb is that which is made by bees and is found in their hives or nests. This hexagonal structure looks very nice and, given that it is often full of honey, probably tastes very nice too. But given that honey is not vegan, eating this kind of honeycomb (or doing anything else with it for that matter) would not be considered vegan.
This is because when the honeycomb is removed from the bees' home for beekeepers to harvest the honey, the bees might well experience harm. But even if they avoid harm, they certainly suffer some level of exploitation. And, technically, they've produced the honey and collected the pollen for themselves and their offspring, so taking that away from them is likely to be detrimental to their health, at the very least.
Honeycomb Made by Humans
Now we turn to honeycomb toffee, also known as cinder toffee or – in some places in the US – sponge candy. If you're not sure quite what we're talking about here, think of the substance found under the chocolate in (non-vegan) Cadbury Crunchie bars. It is often found in traditional sweet shops or on stalls at funfairs or village fetes, and its very sweet taste and crunchy texture is a big hit with people from around the globe.
Of course, those people who have arrived at veganism for health reasons might not be overly keen on honeycomb as it is essentially just sugar. But for people following a plant-based diet who have a sweet tooth and seek out the occasional sugar rush, the good news is that (most) honeycomb is fine for vegans to consume. This is because there are only three ingredients found in standard honeycomb recipes: sugar, golden syrup and bicarbonate of soda.
What Might Stop Man-Made Honeycomb from Being Vegan?
We say that "most" honeycomb is vegan friendly because we cannot be 100% sure that the sugar used to make it is definitely vegan. Although quite rare these days, some sugar is refined with the use of bone char which (as we discuss in our Is Sugar Vegan? article) is burnt animal bones. In reality, in the UK especially, most sugar is made without this rather gruesome mechanism of refinement.
We're also confident that the vast majority of golden syrup you will find on supermarket shelves is also vegan. Sometimes corn syrup is used instead of golden syrup, but – as the name suggests – this comes from a plant and is vegan friendly. Bicarbonate of soda is also vegan, which is made from the naturally occurring mineral nahcolite.
Added Honey
The only other thing that could make honeycomb non-vegan is if there are any animal-derived ingredients added to the honeycomb itself. Technically, for instance, some manufacturer or other might decide it's a good idea to add actual honey. But honey tends to be more expensive than either golden syrup or especially corn syrup, so it is unlikely to be present.
Milk Chocolate
If you find a honeycomb product that incorporates honeycomb but which encases it in something else (such as chocolate, especially milk chocolate as in the case of the Crunchie bar) then it is more likely there will be some animal-derived ingredients.
Taking a look at the ingredients of the Crunchie, for instance, you can see there are several items derived from milk, and given that milk is not vegan, this means that the standard Cadbury Crunchie is also out of bounds to those on a plant-based diet. Having said that, it's not that difficult to make your own vegan-friendly version of the Crunchie (see below for details).
Ingredients of Cadbury's Crunchie
Sugar, Glucose Syrup, Cocoa Butter, Cocoa Mass, Skimmed Milk Powder, Whey Permeate Powder (from Milk), Palm Oil, Milk Fat, Emulsifier (E442), Flavourings, Coconut Oil, Milk Chocolate: Milk Solids 14 % minimum, Contains Vegetable Fats in addition to Cocoa Butter
How to Make Vegan Honeycomb (Cinder Toffee)
It really is very easy to make honeycomb and it's just a matter of deciding how much you want to make and then ensuring you don't put too much bicarbonate of soda in (which could lead to a toffee flood, which might sound fun, but takes a lot of clearing up!). In other words, don't mix up your teaspoon with your tablespoon!
Vegan Honeycomb Recipe
As mentioned earlier, there are just three ingredients:
150g caster sugar
75g golden syrup
1 tsp bicarbonate of soda
Method for Making Vegan Honeycomb
Before you start heating anything, line a rectangular baking tin (or brownie tin or similar) with baking paper.
Add the sugar and golden syrup to a heavy-based saucepan and place over a medium heat.
Stir it gently as the sugar melts but then once that's happened, heat gently for a few more minutes without stirring until the bubbling mixture is golden and just beginning to darken.
Remove from the heat and immediately whisk through the bicarbonate of soda, which will make it bubble up even more.
Pour the bubbling mixture into the prepared tin and then leave to cool.
Once completely cooled, break up the honeycomb with a wooden spoon or similar.
Once made you can store this in an airtight container for around a week. It makes a great addition to vegan ice cream, allowing you to create a delicious vegan dessert in seconds.
How to Make Vegan-Friendly Crunchie Alternative
It could hardly be simpler to make your own vegan Crunchie alternative. Firstly, follow the instructions above to make your vegan honeycomb (or just buy some honeycomb that you know to be vegan). Then pick your favourite vegan chocolate – ideally one that is just chocolate without any nuts, etc. Then melt it down (in a bowl resting in hot water), and once it has melted, coat your honeycomb in the chocolate, let it set and there you have it!
Honeycomb'clusions: Just Make It Yourself!
Assuming you are talking about the honeycomb that is also known as cinder toffee (and not the honeycomb that comes straight from bee hives), generally you can be very confident that it will be vegan. You can be less confident when said honeycomb is coated in chocolate or something else, but given how easy it is to make you own vegan honeycomb, you're often as well just to do that and then you can make as much as you like.