Not so long ago the general perception was that vegan food meant variations of lentils, kale, turnips and tofu. Whilst there are plenty of delicious and nutritious meals you could knock up from that and a few other ingredients, things have come a long way in the last decade or two. Indeed, these days it is surprising if there is not a vegan substitute available for more or less any food.
Seitan has been around for a long time but with the advent of Quorn, potentially even lab-grown meat, and any number of other hi-tec vegan-friendly meat substitutes, there's no hassle organising a barbecue that contains vegan burgers, vegan sausages and even vegan steaks. And when even Vegan Cheese is getting rather palatable, you know that vegan food producers are on the right track with their vegan alternatives to foods that are usually made from animals or contain ingredients derived from them.
Quick Jump
In this article, we'll give you a brief overview of the many and varied vegan substitutes that exist in the UK for all manner of foods. To keep things simple, we'll split the alternatives into the following categories:
Vegan Meat Substitutes – This will be a general overview of vegan-friendly alternatives to meat. This will include everything from lab-grown or cultured meat, through plant-based meat-free alternatives that look and taste (quite) like real meat (such as burgers made from pea protein or soy protein), to simple vegan alternatives for meat (such as celeriac steaks in place of meat steaks).
Vegan Dairy Substitutes – There are so many dairy products out there… and thankfully, most of them have very good vegan substitutes. From plant-based milk (soy, almond, oat, coconut and others), to vegan-friendly ice cream, vegan cheese and plant-based yoghurts, we'll give you a snapshot of what's out there for those on a plant-based diet.
Vegan Fish Substitutes – Whether you are seeking vegan substitutes for fish and chips or even sushi, we can provide the information you need. We'll also give you a vegan-friendly substitute for Worcestershire Sauce (which normally contains anchovies).
Other Vegan Substitutes – This will cover some of the other products – food and otherwise – that aren't covered by the three categories above. This could include vegan substitutes for anything from eggs or honey to leather or wool.
Before we delve into all that, though, we ought to make clear exactly what we mean by the term "vegan". Note that we'll link through to more in-depth articles that give more information about specific vegan substitutes, including specific product information and even taste tests of vegan products.
Vegan Meat Substitutes
Vegan meat substitutes can come in various forms. The term could refer to products made from lab-grown meat, which is effectively real meat – but without the need to kill any animals. This is a form of "meat" that is in its infancy at the moment but was first approved for sale in 2020.
Alternatively, a meat substitute might be some form of plant-based product that is made to look like meat but which is actually made from pea protein or soy or seitan or similar vegan-friendly options. Finally, you could argue that more or less anything plant-based could be viewed as a substitute for meat, so something like mushrooms in a burger bun instead of a hamburger or a carrot instead of a hot dog… okay, maybe that's not such great an option. Here we briefly run through what's on offer for those seeking vegan meat substitutes in various categories.
Vegan Burgers
As we detail in our extensive Vegan Burgers article, there is so much more choice these days than there was just a few short years ago. Some vegans – and indeed non-vegans who have environmental or ethical concerns – will want something that very much resembles a burger made from beef but would prefer it to be made from pea protein (such as the Beyond Burger). Others will be seeking a vegan substitute for a chicken burger (for which we recommend the Linda McCartney Vegetarian Southern-Style Chicken Fillet Burgers).
There are also lots of plant-based burgers that are made from various vegetables, nuts and pulses that often hit the spot, partly because they are not attempting to directly impersonate meat, but rather they are offering a viable, tasty and nutritious alternative. An example would be the Biona Organic Black Bean Cashew Nut Burgers, but there are plenty even more imaginative concoctions besides.
Vegan Sausages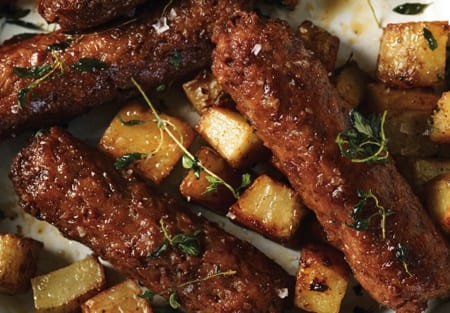 When it comes to the variety and quality of vegan sausages, it is up there with vegan burgers. Deciding on your favourite will come down to your personal taste, but we have picked our Top 10 Vegan Sausages and there are some mighty fine bangers on the list. From Linda McCartney's classic Vegetarian Sausages to the Beyond Sausage, LikeMeat's Smoked Sausages to Richmond's Meat-Free Sausages, there are various styles and flavours to sample… and no pigs (or other animals) have to die!
Vegan Chicken
Things are not quite as extensive when it comes to vegan chicken, at least beyond the vegan-friendly chicken-style burgers we feature in the vegan burgers article. There are some reasonable plant-based "chicken" escalope products to be found in the fresh section of most big supermarkets and there are some decent enough vegan-friendly chicken nuggets (that are tasty and have a similar consistency to nuggets made from meat).
When it comes to chicken for sandwiches, you can get the Quorn Vegan Chicken Free Slices, which are similar to the slices of reconstituted chicken you find in the chilled section of supermarkets. There is also a growing number of products that mimic roast chicken that can be used in sandwiches or salads. A good example would be Squeaky Bean Ready To Eat Chicken Style Pieces that has really nailed the texture of real roast chicken in our view.
There are various vegan products that aim to be used as substitutes for chicken in dishes like stir-fries or curries (such as the Linda McCartney Vegetarian Chicken Pieces). But these tend to lack the chicken-like texture and mouthfeel that the Squeaky Bean products possess. But they are fine if you aren't seeking something that is likely to fool anyone into thinking it really is chicken.
Vegan Steaks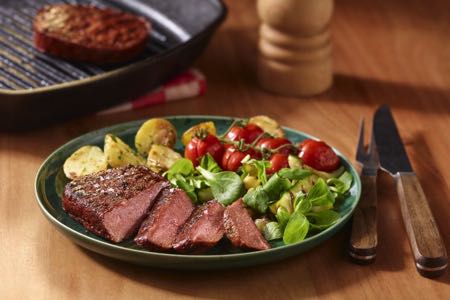 Steaks are one of the many things that many vegans miss from their days before they turned to plant-based living. But it is also, sadly, one of the foods for which vegan substitutes rarely hit the mark. There are some decent efforts that are available in supermarkets in the UK, such as the Vivera Veggie Steak and the Terra Vegane. But most vegan-friendly steaks that attempt to imitate beef steaks fall far short in terms of both flavour and – crucially – texture. But hope springs eternal…
And, Spanish company, Novameat, have created something that is as close to beef as any vegan steak (at least in appearance). What is more, they've used a 3D printer to make it! With many other companies seeking to rival Novameat, we fully expect high-quality vegan steak substitutes to start appearing in our supermarkets before long. It is likely to be a highly lucrative market for food companies and so once one cracks it we may well see a whole host of excellent options for steak fans.
Vegan Bacon
Just like steak, bacon can be another food for which vegans – especially new vegans – feel cravings. But, as we outline in our Vegan Bacon article, there are quite a few options that certainly taste very good, if not exactly like real bacon. The Vegan Cartel Vegan Bacon, and THIS – Isn't Bacon products particularly stand out for us, though there are more becoming available all the time.
Vegan Mince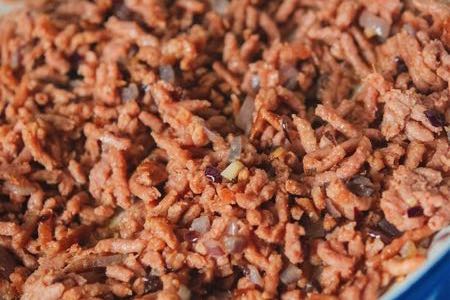 We're not talking about the mincemeat that goes in vegan mince pies. We, of course, talking about the kind of mince that can be used in all manner of dishes from spag bol to chilli, lasagne to cottage pie. And, like with most of the vegan meat substitutes mentioned here, there are loads of vegan mince options from which to choose.
We've always been rather fond of the Tesco own-brand Meat Free Vegetarian Mince, and Linda McCartney's Vegetarian Mince also hits the spot. Of course, some people are happy to replace meat mince with a load of lentils, which is a cheap, simple and perfectly vegan alternative. Check out more information in our Vegan Mince article.
Other Vegan Meat Substitutes
Essentially, if something can be made out of meat, there is almost certainly going to be a vegan-friendly alternative available. Aside from the products mentioned above, there are vegan substitutes for meatballs, pepperoni, doner kebabs and even Wiener Schnitzel.
With new plant-based products appearing all the time, the choice is getting better and better for vegans when it comes to meat substitutes. Whatever meat item you miss from your pre-vegan days, you shouldn't struggle to find a good alternative.
Lab-Grown Meat
Also known as cultured meat, lab-grown meat can be viewed as something of a contentious issue by some vegans. There are various companies around the world who are seeking to grow meat in labs in a cost-effective and environmentally sustainable fashion, with the aim of satisfying people's desire to eat animal flesh while not having to actually kill any animals.
The slight bone of contention with this method of producing meat among some vegans if that to gain the cells required to "grow" the meat, biopsies must be taken from living animals. There are also certain companies that kill some animals in order to obtain cells. Given that biopsies – and of course killing – will cause harm to animals, it would be hard to assert that lab-grown meat is fully vegan.
On the flip side, though, looking at meat production on a macro level, if lab-based meat were to take the place of conventional industrial farming methods, it saves potentially billions of animals from being bred merely to be slaughtered for food for humans. Overall, this is going to be an ethical conundrum with which vegans will have to wrestle. But then, on the other hand, there are so many plant-based meat substitutes that taste and look like real meat and which are a lot cheaper and usually healthier, that most vegans would no doubt give lab-grown meat the swerve.
Vegan Dairy Substitutes
While many vegetarians consume dairy products – that is, any product made from the milk of cows or any other animal – vegans do not. Apart from the potential cruelty caused to cows who are milked, the fact that their calves are taken away from them soon after being born and often slaughtered for veal (and indeed rennet for cheese production) means dairy products have a big negative impact on animals. They also have a large environmental footprint, one that is far larger than the plant-based alternatives that are available.
Vegan Milk Substitutes
One of the most widely available vegan substitutes, and one that has been around a long time, is that of plant-based milk. As well as those on a fully plant-based diet, it is also very good for people who have milk or dairy allergies. And given that most vegan milks are fortified with calcium and often vitamins D and/or B12, and are lower in saturated fat than most dairy milk, they can be very healthy options too.
They are also often reasonable sources of vegan protein and a great option for mixing with vegan protein powders too. Plant-based milk can be made from a wide range of different ingredients, with the most popular being as follows.
Soy Milk
Made from soy beans, commercially produced soy milk has been around since the 1930s. For a long time it was the only real plant-based alternative to dairy milk and it became popular in the 1960s with the hippy movement. Widely available, this good value and nutritious milk substitute is still the favourite of many vegans, despite there being many other options available.
Always check the label to ensure the soy has been grown sustainably as sometimes rainforests and other habitats have been cut down to make way for soy plantations. Though some use this as an argument against vegan soy-based products, it should be remembered that the majority of soy is used to produce animal feed rather than food for human consumption.
Almond Milk
Almond milk is a very healthy option as the nuts are naturally high in calcium and also vitamin E, though often the concentration of almonds in almond milk can be low which lessens these benefits. There is also some concern about the treatment of bees used to pollinate the large almond plantations in the USA and elsewhere, as we discuss in our article, Are Almonds Vegan?.
Coconut Milk
It is slightly higher in saturated fat than most plant-based milks, but the jury is out on whether the type of fat in coconuts is healthy or not (there are research studies that seemingly suggest it can be both!). This is a favourite of those who like the taste of coconuts as the milk usually holds at least a hint of coconut flavour.
There are some concerns that some countries use trained (and often abused) monkeys to harvest their coconuts (as we investigate in our article, Is Coconut Milk Vegan?), but most good producers will ensure they do not buy coconuts from farms that indulge in such practices.
Oat Milk
Often the go to plant milk for baristas seeking a vegan-friendly milk that froths well, oat milk has become more popular in recent years in part due to the success of Oatly. Oats require less water during cultivation than many of the other ingredients used for plant-based milks, making them a good choice from an environmental perspective. It also tends to have more dietary fibre than many plant milk products.
Cashew Milk
Cashew milk tends to be creamy and lends itself to use as a cooking ingredient as well as just to drink cold or in hot drinks.
Rice Milk
Very low in saturated fat, rice milk is popular with those seeking minimal amounts of fat in their diets. It is versatile and good value too.
Pea Milk
One of the best plant milk options in terms of environmental impact but also health, pea milk is nutritious and the fact it contains pea protein appeals to many.
Hemp Milk
Hemp is another environmentally sound crop as it requires less water and pesticides than many of the other main plant milk ingredients. It is perhaps not the best plant milk for use in hot drinks, but on cereals or in cooking it works really well and it also contains a reasonable amount of protein.
Vegan Cheese Substitutes
As we explain in great detail in our vegan cheese article, there are numerous options available these days. You can get vegan substitutes for all kinds of cheese, from vegan halloumi to vegan parmesan to vegan cream cheese, as well as more conventional cheddar-style blocks, slices and grated vegan cheese.
Vegan cheese tends to be made from coconut oil and some kind of starch, but it can also be made from oats or nuts, with many of the more artisan-style vegan cheeses being made from cashew nuts and cultures. Though vegan cheese has long had a bad reputation for not tasting like real cheese, in the last few years the products have improved no end and there are lots of very good options for those seeking non-dairy, vegan-friendly substitutes for dairy cheese.
Vegan Yoghurt Substitutes
As with vegan cheese, Vegan Yoghurts can be made from lots of different ingredients from soy to oats to cashew nuts to coconut milk. As with other plant-based alternatives to dairy products, there are a few recognisable brands – such as Alpro and Oatly – that appear in many supermarkets, but there are loads more in more specialist shops, such as TheVeganKind Supermarket. As with dairy yoghurts, vegan yoghurts come in all different flavours and styles, including luscious, super-thick Greek style.
Vegan Ice Cream Substitutes
When Ben & Jerry's began making vegan-friendly ice cream flavours it was obvious that there was a decent market for it. And, so it has proved. As we show in our Vegan Ice Cream article and indeed the Vegan Ice Cream Taste Tests we undertook, there are so many very good quality and highly flavoursome plant-based ice creams out there, it is a wonder anyone still chooses dairy! Better for the environment and generally healthier (though still not always exactly healthy!), vegan ice cream looks like a solid choice even before you factor in the ethical concerns about cows and their calves.
Vegan Butter/Margarine Substitutes
Whether you are seeking butter or margarine to spread on your toast or as an ingredient during cooking, the good news for those seeking to avoid dairy is that there are loads of options when it comes to vegan margarine and spreads and, albeit to a lesser extent, vegan butter.
Quite a lot of margarine is naturally plant-based anyway, with most made from sunflower oil, rapeseed oil or coconut oil or some combination of them. Note that quite a few plant-based spreads include palm oil among their ingredients, which can be something of a contentious issue because of the environmental destruction the farming of it can cause. As such, many vegans avoid palm oil altogether while others seek out products that use only palm oil that is certified as sustainable.
Vegan Cream Substitutes
Just as with most dairy products, there are lots of options when it comes to Vegan Cream substitutes. Whether you are seeking double cream, single cream, whipped cream or even crème fraîche, there are vegan options aplenty. It is also quite easy to make your own vegan-friendly cream, for instance by chilling a can of coconut milk and then whipping it up in a bowl.
As with other vegan substitutes for dairy products, vegan cream utilises various ingredients including vegetable oil, soy, oats or coconut products, along with emulsifiers, sugar or sweeteners and plant-based stabilisers, such as xanthan gum.
Vegan Protein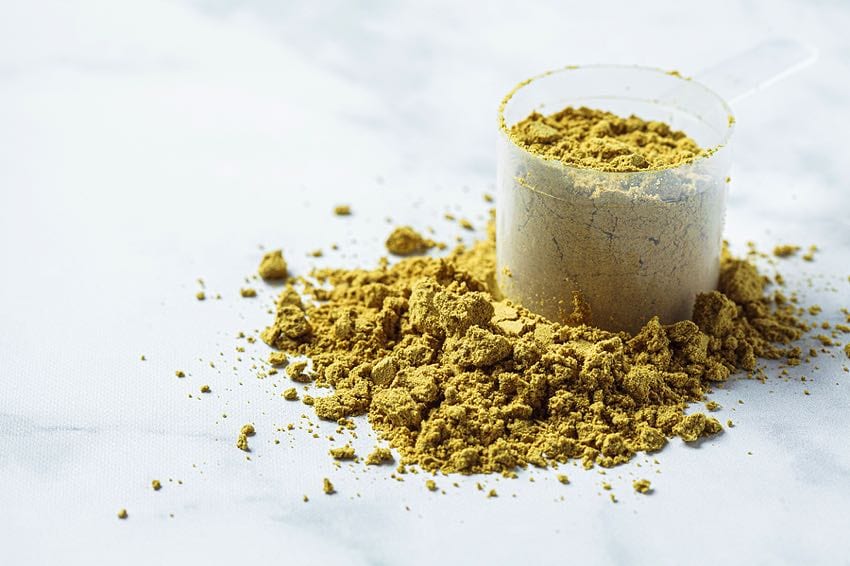 We've included vegan protein substitutes in this section because many protein products (such as protein powders) are made from processed whey, which is a by-product of milk production and is something vegans will not consume. But the good news for those seeking a plant-based protein hit is that there are loads of fantastic Vegan Protein Powders and Vegan Protein Bars available.
On top of that, there are quite a few vegan foods that are naturally high in protein in the first place, with nutritional yeast, Marmite, nuts, seeds, and pulses, such as lentils and soya beans, all offering good – and healthy – doses of this essential macronutrient.
Vegan Fish Substitutes
There are not as many good quality vegan fish substitutes as there are vegan meat substitutes, but that doesn't mean fish lovers (or former fish lovers) cannot find some satisfaction on a plant-based diet. It's worth noting, though, that the quality of vegan-friendly "fish" products is improving all the time and whilst some could be politely be described as being an acquired taste, others are really pretty darn good.
Vegan Fish & Chips
As we discuss in our Vegan Fish and Chips article, there is usually no problem from a vegan perspective when it comes to the chips (unless they happen to have been cooked in beef dripping or other animal fat). But clearly fish – whether cod, haddock, plaice or anything else – is not suitable for vegans, whatever fat it has been cooked in. The good news is there is a vegan substitute for chip-shop fish that works very well: banana blossom.
A lot of vegan "fish" and chip shops (often dubbed "vish" and chips) or indeed standard fish and chip shops that offer a vegan alternative choose battered banana blossom as their fish substitute. The texture of the flower that grows alongside bunches of bananas is rather flakey and fish-like. Some of the best banana blossom vish also includes strands of seaweed to give a slightly salty, seaside flavour, which works well.
Aside from banana blossom, there are plenty of vegan-friendly product that resemble battered fish (if not always tasting that much like it). Examples include Quorn Battered Fishless Fillets and VBites Making Waves Fish Style Steaks. At the time of writing, we're still waiting for the likes of Beyond Meat and Impossible Foods to produce vegan fish substitutes but we are hopeful they will get it done before too long and it is certainly rumoured to be in the pipeline.
Vegan Sushi
As we explain in our Vegan Sushi article, despite some people assuming that sushi must by definition contain fish, this is not the case. In fact, it is perfectly acceptable for all kinds of sushi – whether maki rolls, inari nigiri or some others – to naturally contain only plant-based ingredients. As such, when it comes to vegan sushi substitutes, it is more a case of simply picking the sushi that doesn't contain any fish (or other animal-derived ingredients).
Most sushi specialist food outlets and indeed many sandwich shops and supermarkets will offer sushi sets that are fine for vegans. These will usually include sushi rolls made up of seaweed, rice and cucumber, peppers, avocado or some other vegan option. Another popular choice is inari nigiri includes deep-fried Aburaage tofu, which is also perfectly vegan friendly.
Vegan Fish Sauce/Worcestershire Sauce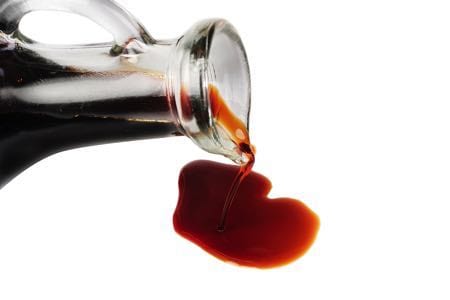 For fans of Worcestershire Sauce – and indeed Bloody Mary cocktails – we have some bad news: Lea & Perrins Worcestershire Sauce is not vegan. This is because it contains anchovies, which are fish. So, like with the fish sauces that are traditional ingredients in East and Southeast Asian cuisine, it would not be okay for vegans to consume.
Thankfully, though, there are plenty of vegan substitutes, with Sheffield institution Henderson's Relish being an exceptional vegan-friendly alternative to Lea & Perrins.
Other Vegan Substitutes
There are so many food items and other commercial goods that contain animal products that we could go on forever looking at vegan substitutes for all kinds of things. We'll limit this section to a few common products though, just to give you the idea. In short, though, you can almost always find a vegan-friendly alternative to just about any product that contains ingredients (or have involved processes) derived from animals.
Vegan Honey Substitutes
Because of the possible death and probable cruelty and/or exploitation caused to bees by taking their honey, it is almost universally considered the case that honey is not vegan. For those seeking something sweet to drizzle on their Weetabix (or whatever your favourite vegan breakfast cereal happens to be), toast or as a cooking ingredient, there are loads of alternative options.
Some of these are well known such as maple syrup (that is the sap of maple trees), while the likes of agave nectar, coconut syrup, molasses and date syrup also serve as good plant-based honey substitutes.
Vegan Cooking Oil
Given that there are so many plant-based cooking oils out there that vary in taste and function, there is never really an occasion when someone would need to choose to cook in an animal-derived fat. Indeed, very few people, even those who are not vegan, tend to use products like lard or dripping nowadays anyway.
Whether you seeking to cook at high temperatures or you need an oil to drizzle on your salad, there will be a good vegan oil available, and they tend to be healthy too, as we discuss in our article on the Healthiest Vegan Cooking Oils.
Vegan Leather/Suede Substitutes
Sometimes those considering changing to a plant-based diet don't necessarily consider something like leather being all that bad from an animal welfare or environmental perspective. But with an estimated billion animals slaughtered for their skins each year (according to PETA), it is certainly something vegans would want to avoid. So what can be used as vegan substitutes for leather and suede? As it turns out, quite a lot.
As we outline in our articles on Vegan Leather and Suede, there are numerous options for leather alternatives that don't come from animals. These are often synthetic materials such as those made from polyurethane. But there is a growing number of natural materials that are made to resemble leather or suede that are made from all kinds of plants such as cork, pineapple or walnut, while others are "grown" from fungi or even algae.
Definition of Veganism
Most people have a vague idea of what being a vegan means. It's like a vegetarian on (vegan-friendly) steroids, right? Well, kind of. But veganism, for most vegans, goes beyond what is excluded from a person's diet and incorporates most areas of life. The widely accepted definition of veganism by The Vegan Society (which was founded way back in 1944) states that veganism is:
A philosophy and way of living which seeks to exclude – as far as is possible and practicable – all forms of exploitation of, and cruelty to, animals for food, clothing or any other purpose; and by extension, promotes the development and use of animal-free alternatives for the benefit of humans, animals and the environment. In dietary terms, it denotes the practice of dispensing with all products derived wholly or partly from animals.
You might well have noted the "as far as possible and practicable" section of the definition and wondered what that might apply to. Well, that is open to some interpretation, but for us, it would cover things like vaccinations or medicines that might have been tested on animals at some point but which could prove life-saving to people taking them. It would – in our view and the view of most vegans – not be very practicable to forego a vaccine on animal welfare grounds only for you to catch a disease and die. Much better to stay alive and fight the vegan cause!
Vegan Substitutes – Conclusions
When it comes to food derived from animals, there is a decent vegan substitute for just about anything you can think of. And if there isn't, chances are there will be before too long (if the size of that particular market is big enough to attract plant-based food producers). The quality and variety of vegan food substitutes have increased markedly in recent years and we fully expect this trend to continue. Indeed, with the growing popularity of products like Beyond Burgers and the advent of lab-grown meat, it might not be too long before it is no longer cost-effective to produce meat from animals on farms. We live in hope.
The same goes for numerous other products that have traditionally been produced from animals, with plant-based leather substitutes being one example of where people's ethical consumer choices are driving real growth in new, sustainable industries. As veganism – and indeed environmental awareness – grows, we believe and hope that more and better vegan substitutes will appear in the years to come across all kinds of products, food and otherwise.