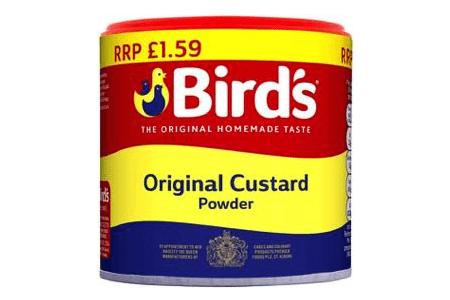 There's nothing quite like a nice homemade apple pie (using vegan pastry, of course) with lashings of thick custard, but is such an image just torture to those following a plant-based diet, or can vegans enjoy custard too? It might seem counterintuitive given that custard is traditionally made with eggs and milk (neither of which is vegan); but there are certain types of custard powder that are indeed fine for vegans, as long as you add a plant-based milk instead of the usually suggested dairy version, that is.
In this article, we'll first briefly explain what custard and custard powder are, then we'll explain why some are okay for vegans and others should be avoided. We'll also give details of the best ready-to-serve vegan-friendly custard options available at the time of writing.
What Is Custard?
Custard – as most people understand it – is a sweet sauce that is added to (or eaten as) a dessert or used as a constituent of a wider pudding recipe (such as when making trifle). It usually has a thick consistency (technically it is a weak gel) but it is still pourable, and it is traditionally made using milk, egg yolks and sugar, among some other ingredients, such as cornflour, while vanilla is often added to flavour it. Although usually sweet, there are savoury versions of "custard" used in certain dishes such as quiches.
What Is Custard Powder?
The first custard powder was developed way back in 1837 by a chap called Alfred Bird. The powdered version was developed as an act of love because Alfred's wife was allergic to eggs and so he produced a dried type of custard that contained no eggs. Apparently, the custard made with Bird's powder went down well with friends, so he decided to produce and sell it in greater volumes. Bird's Custard is still going strong today (see below). It's owned by Premier Foods who also own various other traditionally British brands, such as Oxo, Bisto and Mr Kipling.
Note that when making custard using traditional custard powder, you are instructed to add a certain volume of milk (and usually sugar too). But "instant" varieties of custard powder tend to require simply the addition of hot water. Water is, of course, vegan, so should vegans opt for instant custard powder?
What Stops Custard Powder from Being Vegan?
As dairy milk is not vegan, anything containing milk from cows (or any other animals for that matter) would also not be vegan. Some custard powders, and especially those labelled as "instant", contain some derivative of milk. Because you are only adding water, the milk, always some form of dairy-based ingredient, is already incorporated into the powder. For instance, Bird's Instant Custard contains the following ingredients:
Bird's Instant Custard Ingredients (Not Vegan)
Sugar, Whey Powder (from Milk), Modified Maize Starch, Palm Oil, Palm Fat, Milk Proteins, Anti-Caking Agent (Silicon Dioxide), Flavourings, Colour (Annatto Norbixin)
That might well be handy and convenient for those that consume animal products but it is rather problematic for vegans. Interestingly, though, if we look at the ingredients for Bird's Original Custard Powder (the more traditional version, in other words), there are no milk-derived ingredients:
Bird's Original Custard Powder Ingredients (Vegan)
Maize Starch, Salt, Flavouring, Colour (Annatto Norbixin)
Note that Annatto Norbixin is made from achiote tree seeds, so is fine for vegans. As such, vegans should opt for the more traditional style of custard powder and follow the preparation instructions but simply substitute in their favourite plant-based milk instead of using dairy milk.
Oat milk and coconut milk both work really well and it might depend on the nature of the dessert as to which plant-based milk option you choose. In general, we feel oat is the best option, especially one of the creamier styles or products.
Ready-to-Serve Vegan Custard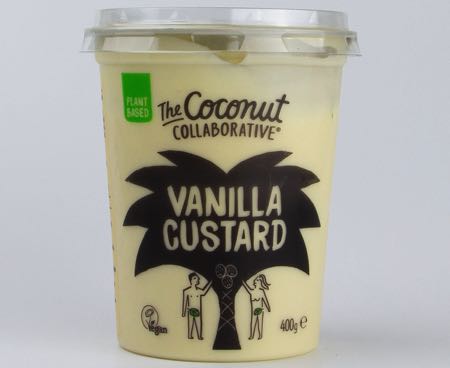 Apart from simply picking a custard powder that doesn't contain any animal-derived ingredients (and using plant-based milk to make it), there are some ready-made vegan custard options too. Here is the pick of them:
| Brand/Name | Notes |
| --- | --- |
| Oatly Whippable Vanilla Custard | Although more renowned for their oat-based milk, Oatly have branched out into various other products, and they do a very good job of them too. Their vegan ice cream, for instance, is very tasty, and so is their vegan custard. As you might have guessed, it contains oats, but also coconut and rapeseed fats that give it a smooth texture. |
| The Coconut Collaborative Vanilla Custard | Made with coconut oil, chicory root fibre, Peruvian carob and even a bit of fava bean protein for good measure, this vanilla custard from The Coconut Collaborative is nice enough. It arguably falls a little short on the texture and mouthfeel fronts, but it's still a very passable custard. |
| Alpro Dairy Free Vanilla Custard | This soya-based custard from plant diary-free giant Alpro is a solid choice and it's even fortified with vitamins (B2, B12 and D2) to give you a little boost. |
| WeCan Vegan Custard | Available in three flavours (vanilla, chocolate or strawberry), the WeCan Vegan Custard isn't as widely available as those mentioned above but you can find it in various health food shops and delis. Made with coconut cream, it is smooth and tasty with a very good mouthfeel. In other words, it's worth seeking out if you love good custard. |
There Are Plenty of Vegan Custard Options
Thankfully for people who love custard but who aren't massive fans of animal suffering, there are plenty of options for vegan-friendly custards. If you are going down the powder route, using traditional custard powder (such as Bird's) that requires the addition of milk, is the way forward – though of course be sure to use plant-based milk. Instant versions of custard powder tend to include powdered dairy milk (or similar) so are no good for those on a plant-based regimen.
Alternatively, try the ready-to-serve vegan options mentioned above and pick your favourite. Then serve it to your dinner guests on your vegan rhubarb crumble and see if anyone can tell it's plant based!