Many people who follow a plant-based diet are very aware of the many health benefits of veganism and indeed that might be the main reason they were drawn towards becoming vegan in the first place. But even the most health-conscious among us occasionally have cravings for a little bit of fast food. Or maybe you could be running late for a train and you need to grab something on the hop and you don't have time to check all the ingredients labels. Either way, this mini-guide to the best vegan fast food will give you an overview of the tastiest vegan-friendly fast food options available in the UK.
Let's kick things off with our top picks for vegan fast food, then we'll give a mini-assessment of the vegan offerings of the main fast food chains in the UK. Note that as well as those brands traditionally viewed as "fast food" like McDonald's and Burger King, we've also included "food to go" options like Pret and Greggs as they are in direct competition with the burger joints these days. We have also focussed only on nationwide brands here, rather than some of the smaller, regional companies that, whilst often better for vegans, are not options for many in the UK.
Disclaimer: The information is correct at the time of writing and could be subject to change. All the food chains mentioned handle non-vegan food in the same premises as they prepare their vegan-friendly offerings. As such, there is a chance of cross-contamination. This might not bother most vegans, but anyone with severe allergies to milk, egg or other foods should avoid most of these products.
Best Vegan Fast Food Options in the UK
This is, of course, completely subjective but here is a list of our Top 10 Vegan Fast Food Options in the UK.
1. The Vegan Works – Papa John's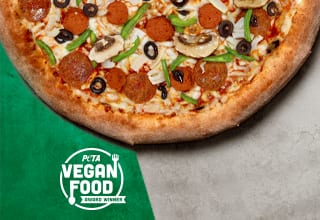 For pizza fans, vegan pizzas don't come much better than the Vegan Works from Papa John's. Their jackfruit "pepperoni" tastes almost like we remember the real stuff to taste, and the vegan sausage, chestnut mushrooms, green peppers, onions and olives blend perfectly with the vegan cheese and tomato sauce to bring a real treat of a pizza.
2. Falafel, Avo & Chipotle Flat Bread – Pret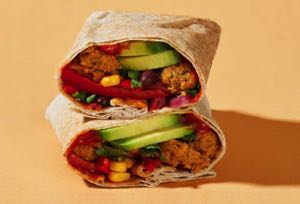 As sarnies go, this is pretty darn good. A nice mix of flavours and packed full of vitamins and minerals, this flat bread wrap from Pret is filling and tasty and well worth checking out.
3. Vegan Sausage Roll – Greggs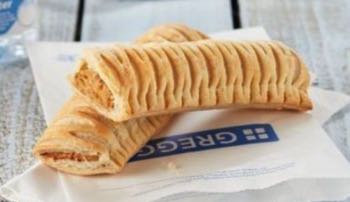 Okay, perhaps – objectively speaking – this isn't really the third-best vegan-friendly food item available… but we've got to give it massive kudos for the fact it was a real gamechanger of a product. Despite many people scoffing when it was released in 2019, the Vegan Sausage Roll proved a massive hit and it showed many food companies that vegan food is very popular these days… who'd have thought it, eh?!
4. Houmous & Falafel Mezze – Pret
This varied and thoughtful mezze/salad from Pret has a great range of nutrients with good doses of fibre and protein and plenty of vitamins and minerals. This is a relatively healthy light meal that is satisfying and flavoursome.
5. The Chick-Ain't – Domino's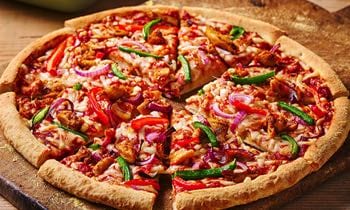 Though they don't have as many – or as imaginative – vegan pizzas as Papa John's, there is no disputing the fact that Domino's do make a darn good pizza. Their Chick-Ain't offering utilises soya strips in place of dead bird flesh, and if you throw on some extra jalapeños to go with the onions and peppers, this is quite a treat and also a good source of vegan protein.
6. Sticky Aubergine Hot Rice Bowl – Pret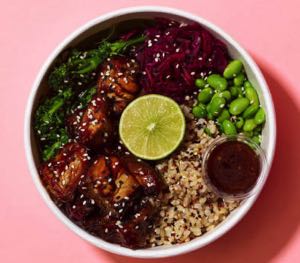 An imaginative and wholesome hot bowl dish available from the Dinners By Pret delivery service, this also contains plenty of vegan protein and a whole lot more besides. Long-stem broccoli, soya beans, pickled cabbage, carrots and the sticky hoisin aubergine… it really is quite a feast.
7. Vegan Royale – Burger King
Vegans who used to like the Chicken Royale (when they still lived on the omnivorous dark side!) will be more than satisfied with the vegan-friendly version, the Vegan Royale. The "chicken" part of the product was created by the Vegetarian Butcher and is a very good imitation of the original and the vegan mayo and iceberg lettuce set it off pretty well. This is bound to prove popular with vegans and non-vegans who want to cut down on their meat intake.
8. I Can't Believe It's Not Cheesecake – Pizza Hut
Pizza Hut are not famed for their desserts, but this vegan-friendly cheesecake with caramel and biscuit really hits the spot. If you have a sweet tooth – and any room left after one of Pizza Hut's very filling pizzas – this is certainly one of the best desserts available from any fast food chain restaurants.
9. Acai & Almond Butter Bowl – Pret
An almost refreshing bowl that incorporates sliced banana, apple, pomegranate seeds, acai berry puree and almond butter, this is a flavoursome and nutritious dessert or snack that is a little different from most vegan options at fast food outlets.
10. Vegan Chilli Freak – Papa John's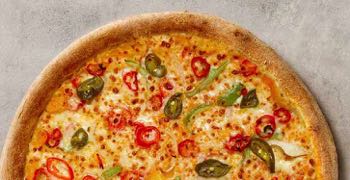 Some sure like it hot… and if that's you, this pizza will really hit the spot. It is smeared in yellow chilli sauce and is topped with vegan cheese, green peppers, jalapeños, onions and more fiery heat thanks to red chilli peppers. This is perfect for those looking to spice things up a bit.
Which Is the Best Fast Food Chain for Vegans?
We've included various brands that might be better described as "food on the go", but essentially they are all places from which you can get snacks or meals over the counter or delivered to your door (though some might also have sit-down restaurants). Here we've kept things nice and simple and given a mark out of 10 to each brand for the following:
Variety – Here we're scoring the company on the number of options available to those on a plant-based diet. Are they throwing in just a token plant-based portion of fries to tick a box, or are they providing a good choice of vegan-friendly options to customers?
Quality – This is the most subjective category, and a lot will depend on your particular tastes. But some dishes are head and shoulders above others when it comes to quality and we'll consider this for each of the brands we assess.
Effort – Here's where we assess whether the company has gone above and beyond when it comes to providing for vegans or whether they are just trying to cash in on the vegan pound.
Then we've totalled the three scores up to give an overall score out of 30. Like the best vegan fast food dishes above, this is fairly subjective, but it gives a quick overview to show where each brand stands on the vegan spectrum.
| Fast Food Brand | Variety | Quality | Effort | Total |
| --- | --- | --- | --- | --- |
| Pret | 9 | 8 | 9 | 26 |
| Papa John's | 8 | 9 | 8 | 25 |
| Greggs | 8 | 7 | 8 | 23 |
| Pizza Hut | 7 | 7 | 6 | 20 |
| Burger King | 6 | 6 | 6 | 18 |
| Subway | 5 | 7 | 6 | 18 |
| Domino's | 5 | 7 | 4 | 16 |
| McDonald's | 5 | 4 | 5 | 14 |
| Nando's | 1 | 3 | 2 | 6 |
| KFC | 1 | 2 | 1 | 4 |
As you can see, Pret tops our list of fast food brands, partly because of their launch of Veggie Pret outlets that serve vegetarian-only (and predominantly vegan-friendly) food, but also because they have clearly put a lot of effort and thought into their vegan products and not simply tried to do vegan versions of existing non-vegan options.
Papa John's is our favourite chain pizza joint from a vegan perspective as it offers a wide range of vegan-friendly pizzas without compromising on quality. The likes of Pizza Hut and Domino's have some room for improvement in our eyes – given the massive variety of vegan ingredients available, they could both be a little more imaginative with their toppings.
When it comes to the more traditional fast food outlets, Burger King strides ahead of their long-time rivals McDonald's and both of those make KFC and Nando's look as though their stuck in the 20th century. A special mention should go to Greggs, whose now-iconic Vegan Sausage rolls proved to many of the other chain food companies that vegan-friendly food could be highly profitable!
Vegan Drinks at Fast Food Outlets
We've focused on vegan food options at the various fast food and food to go companies for the simple reason that most drinks most of them serve are accidentally vegan friendly. Of course, there are some – such as milkshakes or coffee with milk or smoothies with milk that are clearly not vegan (because, just in case you'd missed the news on this one, dairy milk isn't vegan… unless it's breast milk from a human, that is!). But most fast food joints will serve the usual soft drinks such as Coke or Pepsi, that are both (mainly) vegan… note that Diet Pepsi and Diet Pepsi Caffeine Free are NOT vegan at the time of writing.
Most other drinks served at the food outlets mentioned are either obviously vegan, such as sparkling water, or obviously not. Those drinks that are vegan are invariably labelled as such, however, as they tend to be either recognisable brands or they come in bottles that list the nutritional information. If in doubt, ask a member of staff to check for you.
Conclusions: Vegan Fast Food Is Plentiful & Fairly Varied
Whether you want a tasty vegan pizza from Papa John's or Domino's or you'd prefer a hearty vegan-friendly sandwich from Pret or Subway, there are numerous options available for those on a plant-based diet. If you have a choice of options, for instance at a motorway service station, a train station or an airport, we'd certainly recommend Pret as your first port of call. They have the best variety and quality of vegan food options in our opinion. You could do a lot worse than popping into Greggs though for a Vegan Sausage Roll or a Vegan Steak Bake.
When it comes to fast food outlets to avoid, until they buck up their plant-based ideas, we'd certainly steer well clear of KFC and Nando's. Of course, it's up to you to make up your own minds about which fast food outlets float your boat. And, hopefully, it won't be too long before there are plenty of vegan-only fast food companies springing up in the UK and beyond!