Restaurant and fast food chains have spread around the globe and it is sometimes quite hard to escape some of the better-known food brands whether in the UK or abroad. Some people would much prefer to avoid such chains and would prefer to track down independent food outlets which are often more imaginative, especially when it comes to vegan cuisine.
But chain restaurants are not going away anytime soon and sometimes they are the best (or only) options available. As such, here we'll outline what vegan food options you can expect to find at the most popular chain restaurants and fast food outlets in the UK.
Note that in almost all of these food establishments, vegan food is prepared and/or stored on the same premises in which non-vegan food is prepared, handled or stored. As such, there is always a slight risk of cross-contamination with non-vegan foodstuffs. If you have any severe food allergies, particularly to milk or eggs, we would advise avoiding most of these or contacting the company in question for further information.
Quick Restaurant Finder
Vegan Options at Fast Food Restaurant Chains in the UK
At the time of writing, there are no vegan-only chain restaurants that have managed to make an impact nationwide throughout the UK. There are certainly some hopeful signs on that front though, from the Veggie Pret branches, that serve only vegetarian – and mainly vegan – food, to vegan restaurant brands that are starting to expand to have multiple restaurants, such as Stem & Glory.
Given that most of the chains mentioned are very recognisable, we won't go into details about their origins, how many branches they have and other such fun (not fun!) facts. We'll just focus on what they offer those following a plant-based diet. We'll focus first on the most popular chain restaurants and fast food outlets, some combination of which you will find in every city and most towns in the UK. We also go into a lot more detail about the vegan food available at each of the following:
McDonald's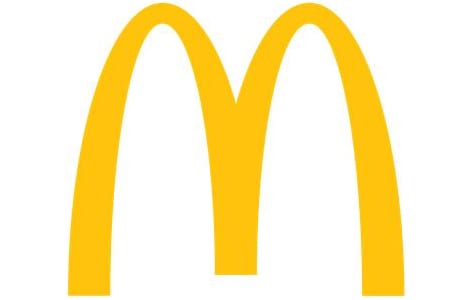 It's hard to visit a town without seeing at least one McDonald's but what do they have for vegans? Well, not a lot. Their rice and split pea-based Veggie Dippers are vegan-friendly and are reasonable enough without veering towards being particularly impressive.
These breadcrumb-covered goujons can be purchased on their own (with a sauce) or in a wrap they call The Spicy Veggie One which also includes a bit of salad and a dollop of relish. The McDonald's fries are vegan friendly, as are the hash browns. But really there isn't a lot for vegans to get excited about at McDonald's.
Domino's
Domino's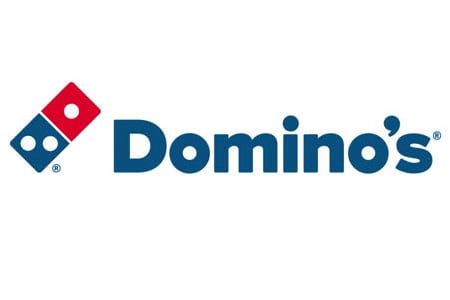 have some tasty vegan-friendly pizzas, with their Vegan Vegi Supreme and t,he Chick-Ain't being the highlights. You can also add extra toppings to create something more imaginative if you prefer. They also offer vegan nuggets, vegan-friendly potato wedges and various dips that are fine for those on a plant-based diet.
Pizza Hut
Pizza Hut have half a dozen or so vegan pizza options, including a very tasty Vegan BBQ Jack 'N' Ch**se option that includes jackfruit and BBQ sauce. They also have a delicious dessert entitled I Can't Believe It's Not Cheesecake. We can believe it and it's worth trying if you haven't filled up on pizza by that stage.
Subway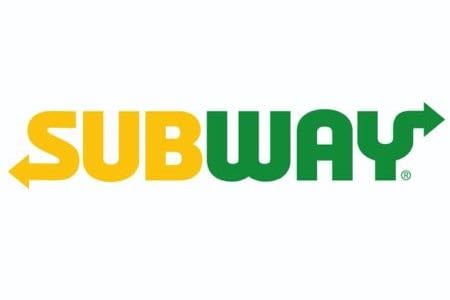 For those seeking filling and flavoursome vegan sandwiches, you could do worse than visit Subway (though, in our opinion, you could also do better… see Pret below). Subway have a range of vegan-friendly options including their T.L.C. (Tastes. Like. Chicken.), which does just about taste like chicken, the Meatless Meatball Marinara (great for a vegan protein hit), the Veggie Delite and the Plant Patty.
You can also create your own sarnie from the many vegan-friendly fillings, salad items, sauces and extras. Aside from their plant-based subs, Subway's vegan offering is a limited thing, with hash browns and a fairly unappetising Plant Patty Salad Box, though they do redeem themselves a little with a particularly tempting Vegan Double Choc Cookie.
Pret a Manger
Of all the high street food chains, Pret have – on the surface at least – made the most effort to accommodate vegans and those wishing to cut down on the consumption of animal products. As well as opening vegetarian-only outlets, called Veggie Pret, they have also developed a very good number of vegan-friendly sandwiches and dishes that go far beyond simply offering plant-based alternatives to existing products.
Notable examples include their Falafel, Avo & Chipotle Flat Bread, their Humous & Falafel Mezze, their Sticky Aubergine Hot Rice Bowl and their Acai & Almond Butter Bowl. The food tends to veer towards the healthy end of the spectrum too (compared to many of the chains mentioned in this article at least!) with good fibre and protein content and a range of fresh ingredients that serve up plenty of vitamins and minerals.
KFC
Where Pret have clearly made a decent effort when it comes to vegans, alas KFC clearly have not. Okay, they have an Original Recipe Vegan Burger, made by Quorn, which is edible (though far from being something you might go out of your way to track down). But other than that, there are very few options.
Even their fries aren't vegan as they "are cooked in the same oil as our Popcorn Chicken", according to the KFC site. With is a bit lame. But given how many other food chains offer a much wider variety of vegan options, we'd suggest just going elsewhere.
Burger King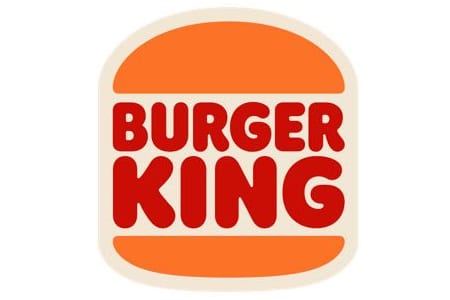 Burger King is somewhere in the middle when it comes to vegan food. It's certainly better than the likes of KFC or Nando's, but it is not quite up there with the likes of Pret or Papa John's. Their Vegan Royale – made by the Vegetarian Butcher – is actually pretty good though and well worth checking out. It beats McDonald's' the Spicy Veggie One hands down in our view.
Burger King's Vegan Bean Burger is less impressive, however. But at least their fries are vegan friendly. And, they also have specific Meat Free Mondays offers that encourage people to try their plant-based options, which is a positive step.
Papa John's
Papa John's produce some very nice pizzas… and some very nice vegan pizzas at that! From their Jackfruit "Pepperoni" to their Vegan All Day Breakfast and Vegan Chilli Freak options, they have pizzas to suit all tastes. Well, unless you want a real meat feast, of course. But you can almost cover that by getting a Jackfruit "Pepperoni" pizza with extra vegan sausage.
If you want anything other than pizza, Papa John's have some "Not-Chicken" Vegan Bites, which are nice enough, Cauliflower Wings with hot buffalo sauce, Vegan Cheese Potato Tots (with jalapeños if you like) and even Vegan Cheese & Marmite Scrolls (lumps of flavoured pizza dough). Pizza lovers who want to go plant-based will certainly find themselves well covered at Papa John's.
Nando's
Nando's is not good for vegans. At all. Their headline "vegan" product, the Great Imitator, might be "plant-based", but – as they mention on their FAQ page, "the wrap and baste contain shellac". This is a problem because, as we discuss in detail in our article entitles Is Shellac Vegan?, it isn't… as it comes from insects! So, with their one "plant-based" item seemingly off the menu for vegans, what else do Nando's offer? Er… corn on the cob.
To be fair, their sweet potato wedges are vegan friendly and they come with plant-based vegan "Perinaise". They also have a few other vegan sides kicking about, but really they have a long way to go to compete on the vegan front with even the likes of Burger King. So, like KFC, we'd advise vegans to pick somewhere else when hunger strikes.
Greggs
It could be argued that Greggs blazed the trail for vegan food to go with the 2019 launch of their Vegan Sausage Roll. The massive bump in profits the humble product prompted certainly caused other food chains to open their eyes to the massive money-making potential of plant-based foods. Greggs haven't rested on their pastry laurels since then, though.
They have since brought out a Vegan Steak Bake and have a Vegan Sausage Breakfast Roll and a Vegan Ham & CheeZe Baguette rolling out soon. They also have vegan mince pies, vegan doughnuts and vegan hot cross buns, at various times of the year.
Vegan Options at Other Restaurant Chains in the UK
Here we will outline the main vegan food options to be found at some of the other restaurant chains and food outlets that can be found dotted around the United Kingdom. As you will see, most chains are beginning to up their game when it comes to the range of vegan options they offer.
PizzaExpress
Often seen as a slightly classier pizza option than Pizza Hut or Domino's, PizzaExpress has a dedicated vegan menu that includes no less than 14 vegan-friendly pizzas at the time of writing. Their Leggera Vegan Giardiniera is a particular highlight with artichokes, mushrooms, olives, red onions and vegan cheese… and it's under 600 calories! They also have four vegan starters/sides and vegan-friendly sorbets for dessert.
J D Wetherspoon
Love it or loathe it, Wetherspoons is cheap, convenient and is actually pretty good when it comes to vegan food. They've partnered with Beyond Meat to include the Beyond Burger on their menu. They also have a hearty vegan breakfast (with vegan-friendly Quorn sausages amongst other things), a vegan roasted vegetable pizza, a five bean chilli, three vegan curry options and plenty more besides. The drinks are cheap too, including plenty of vegan beers!
Frankie & Benny's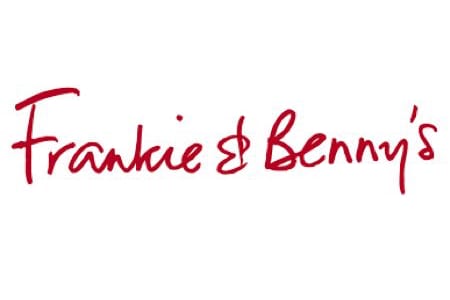 Commonly found near cinemas and bowling alleys, Frankie & Benny's are not bad at all when it comes to vegan food. Their Tower Beet Burger, which includes a beet burger patty and battered aubergine, is well worth checking out.
Other vegan food options they serve include: Vegan BBQ Wingz (made from jackfruit), Plantballs Italiano, Garlic Pizza Bread, Bruschetta Napoli, Plantball Hero Sub, Vegan Pepperoni Bake, Mediterranean Salad, and their tasty Vegan Pepperoni Pizza.
Toby Carvery
Many people of a certain age have fond (or not so fond) memories of visiting a Toby Carvery with grandparents in the 1980s and being amazed at how much food can fit on some people's plates without toppling onto the table. Don't they? Anyway, despite it being traditionally all about the big lump of meat, Toby has branched out a little and now offers a few vegan-friendly options too.
And, we mean a few. These include: Toby's House Salad, Toby's Vegan Sausage Roll, Roast Mushroom and Ale Pie, Apple, Blackberry and Redcurrant Crumble, Apple Pie, and Trio of Sorbet. So, they've certainly moved on from their previous meat and three veg model.
Harvester
Another restaurant chain that was big in the 1980s but has managed to continue well into the 21st century, Harvester has a decent enough range of vegan food including the following: the Vegan Breakfast, Vegan Nachos, Chilli Non Carne (vegan mince, jackfruit and sweet potato), the Purist (plant-based burger), the Bean Bean (vegan bean burger), Vegan Thai Green Curry, Vegan Sundae Best (non-dairy ice cream with raspberry or strawberry sauce).
TGI Friday's
For a restaurant chain of its size, we expected perhaps a few more vegan options from TGI Fridays. They don't have a terrible range, but there's certainly room to improve. Their current vegan offerings include: Garlic Ciabatta Bread, BBQ Bean Loaded Skins, Avocado Houmous, Garlic & Chilli Veg Fajitas, Fridays Vegan Burger (plant-based protein, beetroot and coconut oil), Crispy Fries, Fresh Fruit and Orange Sorbet Sundae.
Prezzo
Italian restaurant Prezzo has a few nice enough options for vegans to tuck into, including: Vegan Mushroom Pizza, Italian Hummus with Italian Flatbread, Penne Arrabbiata, Vegan Spaghetti Bolognese, Raspberry Sorbet, Salted Caramel Chocolate Tart.
It's fair to say Prezzo have not put a great deal of thought or imagination into their vegan offerings, but then the same could be said about their whole menu if we're being brutally honest.
Wimpy
The once-great(ish) Wimpy has limped on despite being massively overshadowed by more successful restaurant chains, but it still has a decent number of loyal customers who enjoy what they have to offer. Which is, frankly, quite bland food.
They have introduced a Vegan Burger fairly recently, which is a decent move, even more so in that they utilise Beyond Meat burgers, which always go down well. They also have a Spicy Southern Fired Quorn Burger, but they state this contains milk and egg so it's not okay for vegans. To be honest, it's not a great place if you are trying to follow a plant-based menu, so we'd advise going elsewhere.
Wagamama
Whilst Wimpy is rather backwards-looking, Wagamama is refreshingly forward-thinking in their outlook and they have designed a new vegan menu to stay with the times. They have plenty of tasty vegan options available from their Sticky Vegan "Ribs" (made from soya protein), to their Bang Bang Cauliflower with firecracker sauce.
Other vegan options include: Yasai Steamed Gyoza, Vegan Chilli "Squid" (made from pulled king oyster mushrooms), Vegetable Tempura, Tofu Raisukaree, Yasai Katsu Curry, Miso Mixed Vegetable Hiyashi Bowl, Yasai Pad Thai, Yasai Yaki Soba with Udon Noodles or Rice Noodles, and various sides and desserts (like Pink Guava and Passion Fruit Sorbet). This Asian-inspired chain certainly offers more flavour and variety than most when it comes to vegan food.
Bella Italia
A fairly generic Italian, Bella Italia offers up a much less extensive range of vegan food than even the likes of Prezzo. Bella Italia's vegan food includes a number of options that are vegetarian as standard but can be made vegan on request. With the only specifically vegan dish being a rather dull-looking Mixed Salad, we think there are plenty of better options available for vegans looking for tasty Italian cuisine.
Angus Steakhouse
For a restaurant chain whose whole model is based on steaks, it should come as no massive surprise that the vegan options are pretty darn limited. In fact, there is just one: their Vegan Burger, which comes on a butternut base with grilled cauliflower and tomatoes, and sweet potato fries.
Don't fancy that? Well, that's all there is, so pick somewhere else if that doesn't tickle your fancy. They will be plenty of vegans who wouldn't set foot in such an establishment anyway, of course.
Five Guys
Another establishment that often pops up in shopping malls or near cinemas, Five Guys has an American diner vibe and serves burgers, beef dogs, sandwiches and fries. But vegans shouldn't bother going there… there is literally nothing on the menu suitable for those on a plant-based diet other than their fries. Even their burger and hot dog buns contain milk and egg derivatives.
Brewers Fayre
The pub/restaurant chain Brewers Fayre offers a surprisingly wide range of vegan-friendly cuisine and though they fall a bit behind Wetherspoons, they have some good options. From their Cauliflower Bites with a peri-peri dip, to their vegan-friendly Sloppy Joe Burger (made with a Beyond Burger), they have put in more effort than some chain restaurants. They also have a Chilli Non-Carne, and a plant-based Chocolate Torte that looks nice enough.
Beefeater
Owned by the same parent company (Whitbread) as Brewers Fayre, Beefeater restaurants are similar to those of Angus Steakhouse in that they focus on animal flesh. Again there will be no prizes for guessing that the vegan provision here is not amazing.
It's actually very similar to that of their sister company (or cousin company?) Brewers Fayre, with a vegan Sloppy Joe Burger, a vegan Chocolate Torte and a Chilli Non-Carne.
Planet Hollywood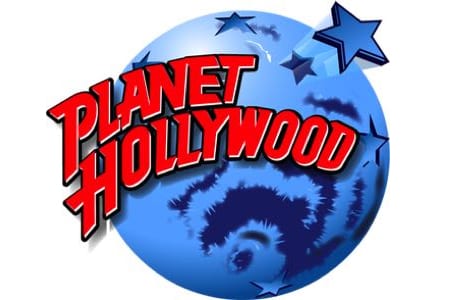 For movie fans, or fans of kitsch movie memorabilia, Planet Hollywood might hold some appeal. For vegans, it probably won't. They have a Moving Mountain Burger that is listed as vegan, made from "coconut oil, plant-proteins, mushrooms and beetroot juice", but not a whole lot else.
You can get a vegan Spaghetti Pomodoro, but that's a tad dull, and there are some sorbets for dessert, but all in all, it's fair to suggest Planet Hollywood are not really attempting to cater for those on a plant-based diet.
Zizzi
As with many Italian-inspired chain restaurants (such as Ask below), Zizzi has a decent enough range of vegan cuisine available. With starters, such as bruschetta and garlic bread, being vegan friendly, things bode well from the off.
Then they throw in vegan-friendly pizzas (Vegan Rustica Margherita and Rustica Jackfruit Italian Hot), a couple of vegan pasta dishes and a vegan-friendly dessert in the form of their Golden Millionaire's Slice, and you've got yourself a reasonably decent vegan feast.
Ask
Ask is owned by the same company (Azzurri Restaurants Ltd) as Zizzi and as such it has a few similarities in terms of the menus and the vegan food on offer. They have some slightly different vegan offerings (for example, the Super Green pizza and the Blood Orange and Chocolate Tart), but the gist is the same: reasonably nice Italian food that isn't going to break the bank but that is a step up in quality from some of the other chain restaurants mentioned here.
West Cornwall Pasty Co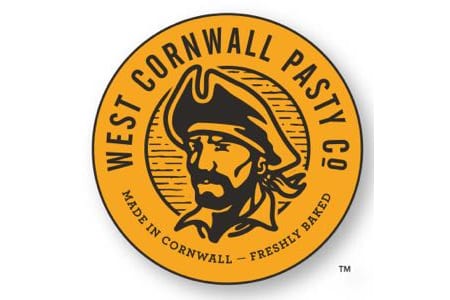 Cornish pasties aren't renowned for their vegan credentials, but the West Cornwall Pasty Co are a little more imaginative with their pasties and they have two vegan-friendly options: the Thai Green Vegetable Curry Pasty and the Wheatmeal Vegetables Pasty.
There's nothing else that's strictly plant-based on the menu, though, apart from many of their drinks. But if you are a pasty fiend and you fancy one of those for a train journey, they could very well fit the bill.
Gourmet Burger Kitchen
Despite being built mainly around traditional meat burgers, Gourmet Burger Kitchen cater fairly well for vegans. At the time of writing, they have six vegan-friendly burger options, including he Beyond (using a Beyond Burger), the Cluck Free Burger (fake chicken), and the Californian (pan-fried bean patte with vegan cheese, avocado, harissa mayo, relish and onions). Most of their fries (except the Truffle Cheese Fries) are also vegan friendly. There's even a Chocolate Vegan milkshake available!
Chiquito
Fans of Tex-Mex cuisine might well have made a beeline for a Chiquito restaurant over the years. But, how well does it do on the vegan front? Well, we are pleased to report that they do very well indeed. With seven vegan-friendly starters on the menu, including Pibil Jackfruit Tostada and Banana Blossom Croquettes, things bode well from the off.
And, there is a wide range of plant-based mains, including Vegan Paella, Vegan Enchilada, Vegan Fiesta Fajita, and vegan tortillas with various filling options. There's even a banana blossom burger. All in all, Chiquito has provided a very good range of vegan Tex-Mex food that shows they are not just making a token effort.
Giraffe
The family-friendly Giraffe chain is great for vegans when it comes to sides and nibbles, but less so with main dishes. Customers can request vegan versions of dishes that are not vegan as standard, such as Hoisin Duck Noodle Salad or Japanese Katsu Curry (usually made with chicken), but their site does not explain what is added to these in place of the duck/chicken. They do have a vegan-friendly Southern Chicken-less Burger, but other than that there appears to be a lack of imagination when it comes to the vegan offerings at Giraffe.
As you can see, there is a massive variety of vegan options available at the many chain restaurants that populate our towns, cities, airports, train stations, shopping malls and retail parks. Some are likely to appeal to vegans more than others, and there will always be vegans who simply don't want to bolster the profits of those chains that base their business model on selling animal products.
But for those who don't mind that, there is so much choice these days that – with a few notable exceptions – almost all well-known chain restaurants will have at least a couple of decent enough vegan-friendly food options available.
Vegan Options at Coffee Chains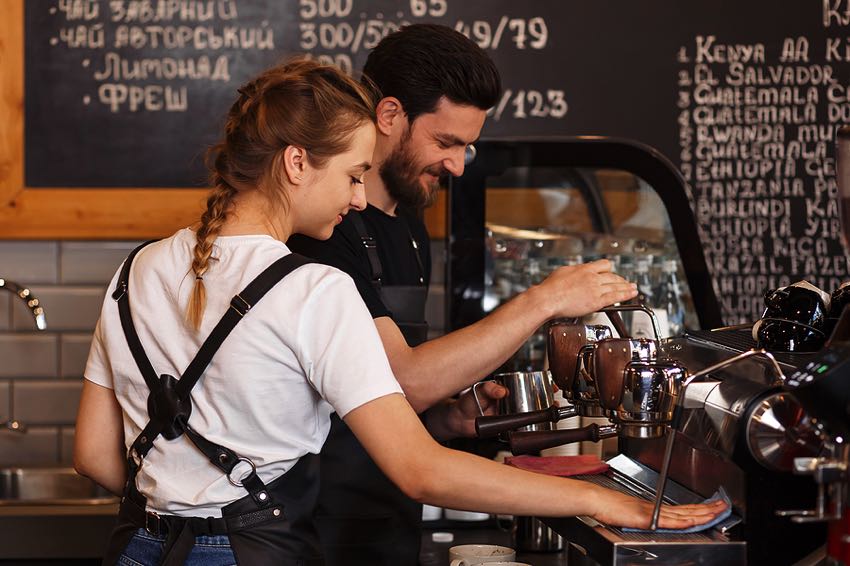 Coffee chains, by definition, put a strong emphasis on coffee (although some hardcore coffee heads might well question quite how committed many of the mainstream chains are!). But they all serve various snacks and/or meals too, which we'll examine here.
When it comes to the beverages, clearly anything with cow's milk (or goat's milk or the milk of any other animal for that matter) will not be vegan. But most coffee chains now offer vegan-friendly milk alternatives in many of their drinks, which we'll detail below.
Costa Coffee
On the milk alternatives, Costa offer a good range: coconut, almond, soya or oat that can be added to most milk-based coffees and other drinks from lattes to hot chocolate. On the food front, Costa have a Vegan Ham & Cheeze Toastie, a Vegan BBQ Chick'n Panini, and various snack options, including the BOSH! Ultimate Chocolate Slice.
Caffè Nero
Offering most of their milk-based coffees with soya milk, oat milk or coconut milk, vegan coffee fans need not settle for espressos here. On the food front, Caffè Nero has a very tasty Vegan Vegetable-Sausage Roll made from butternut squash, courgette and sweet potato.
Other vegan-friendly options include a Falafel & Houmous Salad, fruit salad, Roasted Tomato & Pesto Tostati, Vegan Meatball Panini, porridge (if plant milk is requested), Vegan Raspberry Croissant, Salted Caramel & Chocolate Vegan Cheesecake and various other slices and snacks. In short, Caffè Nero caters very well for their vegan customers.
AMT Coffee
Most coffee comes with the option of soya or coconut milk and some come specifically with oat milk. There is also a very good range of vegan food options at AMT that includes the following: Falafel & Houmous Tomato Tortilla Wrap, Jacket Potato with Brazilian Vegetable Stew, Jacket Potato with Baked Beans, Thai Red Vegetable Stew, Butternut, Lentil and Spinach Hot Pot, Indonesian Curry, Chunky Vegetable Minestrone, Fruit Salad Pot, Carrot & Houmous Snack Pot, and Tomato & Basil Soup, among various other snacks.
Coffee Republic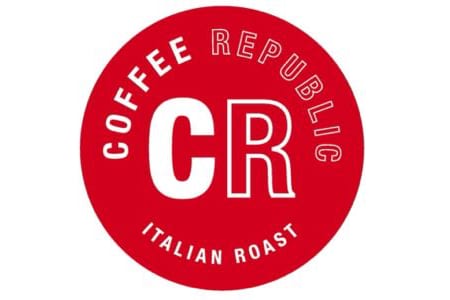 Not as strong on the milk alternatives as those mentioned above, you can ask for soya or coconut milk instead of dairy. Their website is not great on vegan info, but they have a few vegan-friendly food options including: Lebanese Beetroot and Hummus Wrap, Edamame Beans, Tomato & Basil Soup, Sour Cherry and Hazelnut Raw Bar and Banana & Chocolate Loaf. Again, not as good as some others… but better than Starbucks!
Starbucks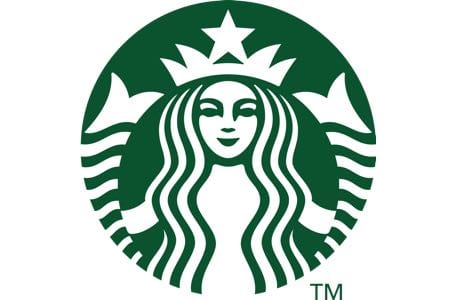 Starbucks do not appear to make too much effort to accommodate vegans as they make it quite hard to find out which food options they serve are plant-based. At the time of writing, it appears they offer no vegan options from their lunch menu at all, which is a bit rubbish. Their Five Grain Oatmeal Porridge is vegan, but other than nuts, crisps or fruit, that's about it.
They also don't make it easy to find out if they offer vegan-friendly milk alternatives on their site and whilst we know that they have almond, soy, oat and coconut, a little more info wouldn't hurt. As such, we'd advise choosing one of the million other coffee outlets, ideally,, a vegan-friendly and ethically-minded independent.
Vegan Drinks at Chain Restaurants
We haven't gone into much detail when it comes to the vegan credentials of the drinks offered at chain restaurants on the basis that most of them will offer more or less the same drinks. Usually, they will offer either Coke (which is vegan) or Pepsi (which is vegan other than the Diet Pepsi and one or two others). And, they will offer various beers, wines or other soft drinks.
If in doubt about whether any of the drinks on the menu are vegan, just ask a member of staff. If you are still in doubt, you can always be safe in the knowledge that good old-fashioned water is vegan.
Conclusions: Vegan Food at Chain Restaurants Is Improving
There are plenty of vegans out there who would not visit any of the abovementioned establishments on the basis that they serve animal products. Such a stance is understandable, especially for those who came to veganism for ethical reasons, but for many people, it can cause quite a few impracticalities.
Obviously, if you make your own vegan snacks to take with you on a train journey that's all well and good. Or indeed if you have a food outlet near your home or work that serves exclusively vegan-friendly food then you have that option too. But for those who don't mind giving money to food companies that also make money selling animal products, the good news is that the range of vegan food options is already wide and it is growing all the time.
As well as the varied and (occasionally) imaginative vegan options available at the various restaurant and fast food chains, there are loads of independent vegan-friendly cafes, restaurants and food vans/stalls that would really benefit from your custom. So, in general, when the choice is available, we would certainly urge you to support the smaller players in what is becoming an encouragingly busy vegan food market.