Leeds is one of the finest cities in the North and certainly Yorkshire's most cosmopolitan and bustling urban hub. Initially thriving as a centre of the wool industry, Leeds then became a key mill town in the period of the Industrial Revolution. A city since 1893, in more recent times it has become established as possibly the main financial and legal centre outside of London, as well as one of the best destinations for shopping.
With three universities, Leeds is a lively, modern, forward-thinking city, with a brilliant selection of historic pubs and hipster bars and restaurants. Whilst Yorkshire's most famous culinary export might be the eponymous (and non-vegan) pudding, Leeds has a fine selection of eating options including a growing number that are 100% vegan, as well as others that cater very well to those on a plant-based diet.
Our Leeds vegan restaurant guide takes a look at all of the best vegan restaurants in the West Yorkshire city. We'll explain what to expect, give you an idea of costs and also provide a bit of general information about the restaurant or café. So, whether you are a born-and-bred Loiner (as Leeds natives are known), or simply visiting the city, if you are looking for a vegan bite, our guide is a great starting point to the plant-based delights on offer.
Please be aware that the information is correct at the time of writing and from time to time we will update restaurant listings and information. Please check with the establishment in question for the latest menus and prices.
Cantina at the Old Red Bus Station
Leeds' old bus station is now home to a music, events and arts hub… as well as a cracking 100% vegan cantina that serves an exciting and eclectic menu
Typical Cost of a Main Dish – Less than a tenner
Example Dishes – Various burgers, seitan nuggets, Thai noodle soup, bangers and mash
This all-vegan canteen may not be the most glamourous spot in town but for top value and tasty vegan food it is hard to beat. The city's first 100% vegan restaurant offers a menu that is big enough to offer choice but not so big that the kitchen has to rely on cutting corners. What's more, the offering changes frequently so there should be plenty of new things to try each time you visit.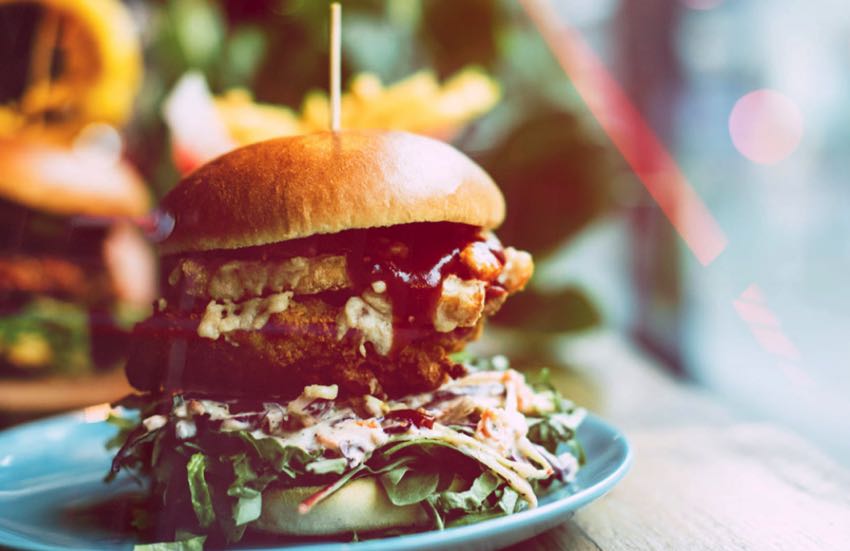 Both the Old Bus Station in general and the Cantina specifically are only open from Tuesday to Saturday inclusive. The former is perfect for the night owls, staying open till 4am on Friday and Saturday, with food available upstairs in the restaurant from 4pm until 10pm during the week and from 1pm until 10pm on Saturday. The Old Bus Station is a multi-events space and hosts live music, art exhibitions, DJ sets and even a "Drink and Draw" art social. However, we're here for the food.
They boast that they offer a mix of "classic diner munch and naughty junk food" but they may be doing themselves a slight disservice there as in fact their offering is more interesting than that. As said, the menu changes regularly but as well as the fairly standard options of burgers, loaded fries and the like you will also usually get a few Asian-inspired dishes, be they curries of the more sub-continental variety or South East Asian classics. For dessert, deep fried Oreos certainly ticks the naughty box (although note that some consider Oreos not to be vegan due to cross-contamination).
The Cantina is eminently down to Earth, with bright décor, and good people-watching from the upstairs windows is usually assured. For pure value it is hard to beat so if you are looking for a well-priced eat before a night out it is certainly a brilliant pick.
Meat Is Dead
Relative newcomer to vegan Leeds bucks trend of junk food to provide tasty, nutritious plant-based delights!
Typical Cost of a Dish – Small sharing plates mainly between £4 and £7
Example Dishes – Maple glazed figs with "feta" and pecans, salt and pepper courgette noodles, sprout bhajis, mushroom and tarragon pate, butternut gnocchi, daily curry bowl
Meat Is Dead is something of a divisive, love-it-or-loathe-it name (we love it) and as well as the daring moniker, they have been equally bold with their décor. The frontage is eye-catching and despite the location on busy Kirkstall Road, a couple of miles from the centre of Leeds, the 100% vegan restaurant is a treat.
Opened in June 2021 after the odd false start, Meat Is Dead is owned and run by Vic and Joe, a young couple who wanted to offer vegan food that was as good for the people eating it as it was for the animals it isn't exploiting or killing. In their own words, it is somewhere that people are able to get "great-tasting, clean, fresh food and feel free to let loose in a safe accepting space."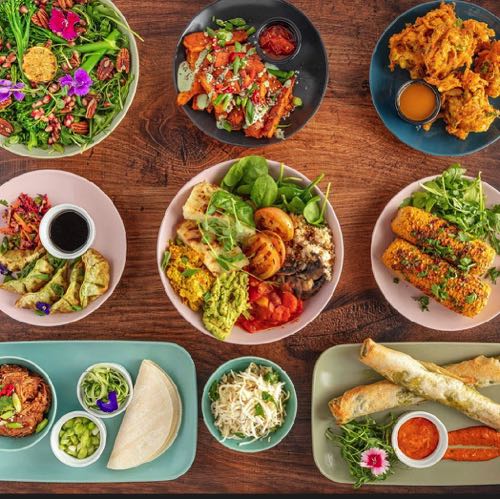 The menu changes regularly but from Tuesday to Saturday you can expect all-day dining offering a range of multi-national small plates. Some are classics, others are well-known dishes with a twist and still others are truly creative. With prices around the £6 mark, Meat Is Dead offers good value and is a great antidote to the slew of vegan junk food restaurants that tend to dominate the cheaper end of the vegan restaurant world.
On Sundays, you can tuck into a traditional (vegan) roast Sunday dinner, with two courses well-priced at £18 and three courses priced at the even better value £23.50. Northerners, and indeed anyone who loves gravy, can rejoice in the fact that all roasts come with bottomless gravy. Not quite bottomless booze but much kinder on the liver. Expect mains like a nutty carvery, aubergine steak or beet wellington, with a choice of starters and desserts, the latter including options like vegan brownies, maple and pecan pie, and (vegan) ice cream.
There is a decent range of vegan beers, ciders, wines and cocktails and if you are looking for somewhere to treat a vegan friend, Meat Is Dead may be the best choice in Leeds. You can walk from the city centre, get a bus or a cheap taxi and however you arrive you can be assured of a relaxed and friendly welcome and some hearty, nutritious, plant-based fayre.
Doner Summer
Brilliant and expanding chain produces vegan doner kebabs to fool any meat-eater, tasty "Teller Trays" and top-notch fried chick'n
Typical Cost of a Main Dish – Almost all will set you back around £10
Example Dishes – The limited menu is all about the kebabs, loaded fries and fried chick'n
Doner Summer follows the great pun-tastic tradition of your classic post-beer kebab shop but unlike the likes of Jason's Doner Van, Abrakebabra and the rest, everything is 100% vegan. And, rather than being just a kebab shop/takeaway, you wash down your delicious vegan fare with a craft beer or a glass of Malbec.
Doner Summer, which has outlets in Hull, Sheffield, Huddersfield, York and Manchester, as well as Leeds, won't be winning any Michelin stars and perhaps isn't the perfect choice for a first date. Some may question whether it is really a restaurant at all, but it serves food, alcohol, has tables and, even chairs as well, so we think it definitely is.
If you are looking for a quick bite to eat that is tasty, relatively healthy and very affordable, Doner Summer is certainly a brilliant option. Claiming to be inspired by Berlin's street food, they began life, as so many similar eateries do, at markets (in particular Sheffield's Peddler Night Market), as a pop-up and on the festival scene. You will still see them cooking up vegan delights at music festivals, beer festivals and, would you believe it, food festivals, but they have long since expanded into permanent restaurants and, seemingly, are set on taking over the North!
The Berlin Doner Kebab is the classic option and comes with tasty pickles, a cracking hot sauce (if you want it) and plenty of salad. Most of their meat substitutes are made with seitan and you'll often see post-gym protein-seekers in there – a Bad Girl Kebab, packed with doner and garlic chilli chick'n sure is tastier than a protein shake!
As well as a range of kebabs, they serve their "Teller Trays" – essentially loaded fries, topped with salad, sauces and the various protein-type products they offer – and also delicious fried chick'n. Whilst they may be styled as junk food, the freshness of the products, high protein content of virtually all the mains, and an array of salads, pickles and sauces that the dishes comes with, means they are actually pretty healthy. They are certainly tasty and definitely well worth a visit.
Oranaise Cafe
No-frills North African student favourite has embraced vegan eating with gusto… give it a try!
Typical Cost of a Main Dish – Around the £10 mark
Example Dishes – Classics, such as meze platters, kebabs and tagines, alongside rather less North African options, such as vegan pizzas and burgers
Situated on the outskirts of town in the student-centred location of Hyde Park corner, Café Oranaise has been around for about 20 years, having been founded in 2002. For much of its life vegan food was not a major part of the offering but in recent years they have really expanded in that regard. Their website has a dedicated vegan page and they have an expansive vegan menu.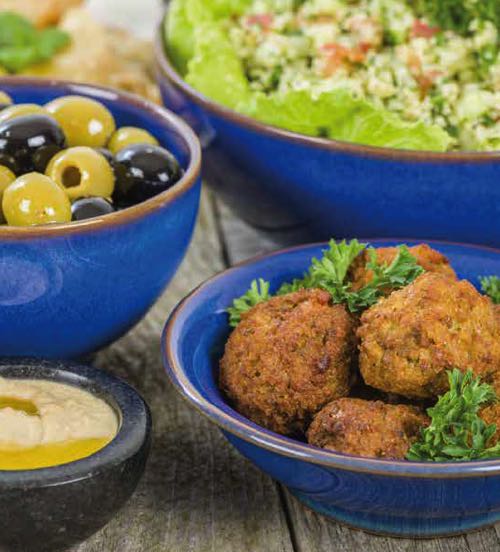 The site explains that due to the "high demand of vegan food" from their customers they tried to find out why so many people were vegan. Their research showed that the "main reasons are environmental and health" and upon looking into vegan food staples they found that many were "great to work with (their) type of marinated and slow cook food." They go on to tell us what we already know – that vegan favourites such as quinoa and tofu are the "best way for (vegans) to get proteins, but they are also full of nutrients and minerals."
Of course, you could get protein from vegan protein powders but we're sure you'll agree that a falafel and vegan cheese kebab with humous and harissa sauce sounds a whole lot more tempting – and is a bargain at just £7.95.
Café Oranaise undoubtedly knows its core demographic and the local student population are more interested in great food and keen prices than they are luxurious décor. Put another way, this restaurant's ambience is more homely and rustic than sumptuous and decadent but for great value vegan food of this type it really is a superb pick.
Whilst meat is traditionally a large part of many classic North African dishes, at the same time many dips, sides, starters and stews from this region and the Middle East are naturally vegan too. This means that it is easy for Café Oranaise to stick to much of its "normal" menu, whilst using meat substitutes, such as tofu, and soy- or wheat-based "fake meats" where necessary.
With skilful cooking, total mastery of spices and nuanced flavours, the results are superb. And for anyone who fancies something a little more junky, there are vegan pizzas, burgers and even the "Meat Free Full Breakfast" (served until 12pm and a bargain at £5.95).
Other Vegan Food Options in Leeds
Leeds may not be overwhelmed with full-service restaurants that are 100% vegan but in addition to the options above, there are a number of establishments where a vegan can get what locals might call a decent bit of scran. That is especially the case for those prepared to venture out into the suburbs.
There are too many, with more springing up all the time, for this list to be comprehensive, but these are some of our favourites. In addition to the main chain restaurants that serve vegan food, the following are all well worth seeking out.
Eat Your Greens
This modern, slightly hip place in the city centre, near the main bus station, began with a more plant-based ethos than it now seems to have. Nonetheless, for vegans who do not mind seeing meat and seafood on the menu it offers some exciting and tasty vegan meals that go well beyond meat imitations.
Prashad
Prashad shot to fame when being named runner-up as Britain's best restaurant in a Gordon Ramsay-led, televised search back in 2010. It is vegetarian, rather than vegan, and in a Bradford postcode (though a Leeds district!) but even so, this Michelin-recommended Indian restaurant in the unlikely suburb of Drighlington serves up top-notch food, with many dishes being naturally vegan.
Bundobust
Bundobust is a cracking place to try some amazing beers and some of the best Indian street food around. A collaboration between Prashad (above) and Bradford's brilliant Sparrow bar, you can have a full meal here but it is more of a beer-and-snacks vibe really. Vegetarian, rather than vegan, the (vegan) okra fries, crunchy and spiced with black salt and tangy mango powder, might be the best beer snack anywhere in the world!
Mog's
Another suburban option, Mog's is a café just a few miles from the centre of Leeds in Kirkstall. They offer great value vegan food that is a cut above many offerings, in part because they make their own seitan. Vegan junk food is clearly big in Leeds because once again, burgers, fried (meat-free) chicken, hot dogs and loaded fries are the order of the day. It is a great pit-stop if you are visiting the nearby abbey, which is hugely impressive and dates to 1152!
Manjit's Kitchen
Manjit's is a brilliant Indian restaurant that is vegetarian and leans towards Punjabi cuisine. There are plenty of great vegan options and as well as the main restaurant that is a great pre-cinema option in Kirkstall, there is also an outlet in Kirkgate Market in town. As well as the great food, and hilarious and eccentric social media presence, Manjit is something of a hope-not-hate charity hero too. Paneer aside, what's not to love?
Things to Do in Leeds
Leeds city centre is compact, which depending on your viewpoint can either mean small, or it can mean walkable and convenient. Walking from one side of the centre to the other will take less than half an hour, which makes it brilliant for exploring on foot. As well as all the great vegan restaurants we've mentioned, there are countless other exceptional places to eat for your non-vegan friends. From the Michelin-starred Man Behind the Curtain to any number of first-class Indian restaurants there is something for everyone and most have vegan options too.
Craft Beer
Leeds is one of the best beer cities in the UK too and with the majority of modern crafts beers being naturally vegan, there is no reason not to partake. Northern Monk and North have excellent taprooms, whilst for a taste of the Amazon check out the Venezuelan-owned Pig Love (note some of these options are on the outskirts of the centre). If 8% hoppy IPAs and 11% imperial porters are not your thing, Leeds has a huge range of bars and traditional pubs (don't miss the Adelphi or Whitelock's), as you would expect of a city with three universities and around 65,000 students.
Shopping
As well as eating and drinking, Leeds is also great for shopping as mentioned. The indoor market is great for bargains, whilst at the other end of the spectrum check out Harvey Nichols, John Lewis and any of the boutique outlets in the magnificent Victoria Quarter arcade for the best designer labels around.
Arts & Culture
If culture is your thing, then make a beeline for the Henry Moore Institute, Leeds Art Gallery, Royal Armouries, the West Yorkshire Playhouse, Grand Theatre or legendary City Varieties. Just beyond Leeds, the world-class Yorkshire Sculpture Park and Hepworth Gallery are also must-visit attractions.
Suburban Gems
What's more, if you are happy to travel beyond the centre, Leeds has some glorious suburban delights, with the bars, shops and restaurants of Chapel Allerton, Meanwood, Horsforth and Headingley all just a short bus journey from the city centre. Roundhay's magnificent park, one of the largest in Europe, is also worth a trip.
Sports
Leeds is also a very sporty city and Headingley is home to Yorkshire's cricket team (as well as regular England matches) and Leeds Rhinos, one of rugby league's most successful clubs. Football fans will know that Leeds United are once again in the Premier League (at the time of writing at least!) after a long absence and whilst getting tickets to see them is far from easy, you are assured attacking football and a raucous atmosphere if you manage to do so.
The Yorkshire Dales
For those who prefer their physical activity to be more about outdoor adventure than team sports, Leeds is less than an hour from the Yorkshire Dales. The stunning scenery of this national park is little more than 20 miles away, with the North York Moors further but again less than an hour by car (though both are accessible by public transport). Both are brilliant for cycling, running, walking and more, although equally well suited to a relaxing afternoon in the pub too!
Vegan Restaurants in Leeds: Conclusions
In truth, outside London vegan options in most places in the UK are somewhat limited. Whilst many non-vegans are cutting down dramatically on the amount of meat and animal products they consume, be it for health reasons or concerns about the environment, the number of fully-fledged vegans remains relatively low. Like most businesses, it is a case of supply and demand and as more and more people move to a plant-based diet we are sure to see the number of vegan restaurants in Leeds and other parts of the UK grow.
For now, there is no doubt at all that vegans in Leeds have a reasonable range of options and getting a plate of excellent, exciting and often very well-priced plant-based food should not be difficult. As well as a small number of 100% vegan outlets there is a selection of vegetarian and plant-forward establishments that have several vegan dishes on their menus. In addition to these more formal restaurants, there are various smaller cafes, pop-ups and takeaways serving up top-notch vegan delights.