Cambridge is a city that is steeped in educational excellence, historical significance and cultural eclecticism. It is also home to a lot of bicycles and is the perfect place to go punting along the river! But how does Cambridge measure up on the culinary front and, specifically, when it comes to vegan restaurants?
In our Cambridge vegan restaurant city guide, we'll give you the details of the best vegan restaurants in the city and we'll shine a light on what other delights (food and otherwise) are in store for vegan visitors to Cambridge.
Note that the information is correct at the time of writing and that we'll intermittently update restaurant listings and information. Please check with the establishment in question for the latest menus and prices.
Stem & Glory
After using crowdfunding to raise the cash for the opening of their first restaurant in central London, Stem & Glory repeated the process to cover the costs of their Cambridge restaurant. Located very close to Cambridge station, it is very convenient for anyone arriving by train, and it is also served by buses from all over the city and surrounding areas. But what of the food?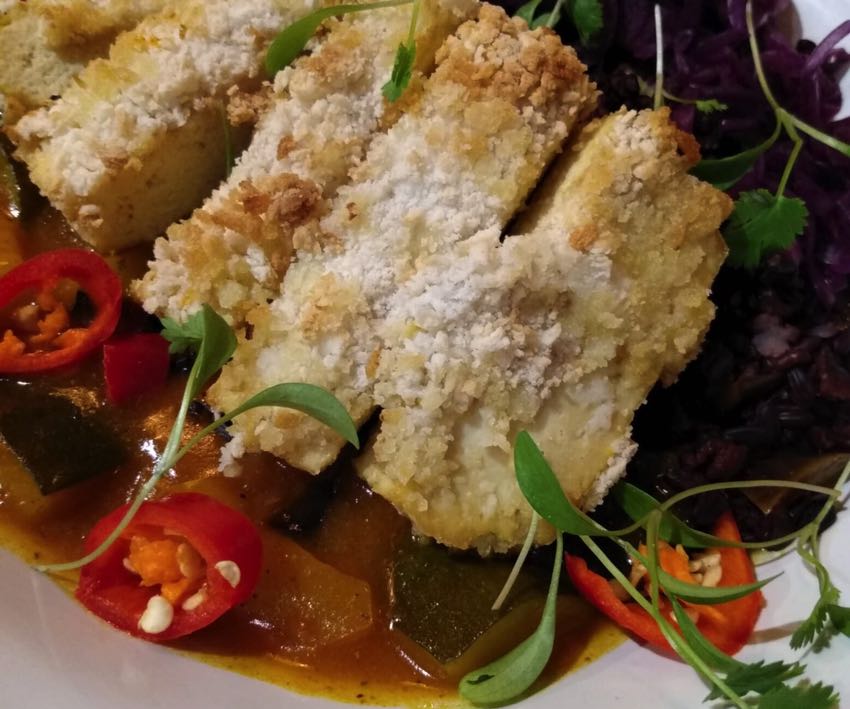 Though it could not be described as fancy in the way that Cambridge's double Michelin-starred (but non-vegan) Midsummer House might be, Stem & Glory is a cut above your average vegan eatery. Many vegan restaurants attempt to replicate tried and tested formulas used by non-vegan restaurants, and this can be very effective (as with Make No Bones in Sheffield, for instance). But Stem & Glory is a little more refined and offers dishes that are well-constructed and satisfying in their own right, rather than simply being vegan imitations of meat dishes. That said, they also offer some more familiar options that are vegan takes on typically meat-based dishes, so there is something for everyone.
Take their katsu curry, for instance, that combines tofu in panko breadcrumbs with black rice, purple kimchi and pan-fried veg in an authentic-tasting (but fully vegan) Japanese sauce. There is a depth of flavour and a variety of colours on the plate that makes it a pleasure to consume. Even their trio of dips (turmeric hummus, baba ganoush and red pepper muhammara) offers a varied feast for the senses, while their Swede gnocchi are well worth checking out.
If you fancy something a little simpler, they have a selection of vegan pizzas, which are perfect for a quick pre-gig or theatre bite. Toppings include Spicy Kimchi, Calabria Hot (with spicy king oyster mushrooms, among other things), and BBQ Pineapple (with maple barbecue sauce and smoke celeriac ham).
Doppleganger Burger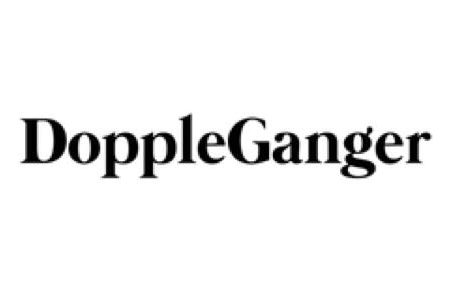 If you like burgers, whether you are a vegan or not, you will certainly be more than happy eating at Cambridge's top vegan burger joint, Doppleganger Burger. It is situated on Regent Street on the south-east side of Parker's Piece on the main route from the train station to the centre of the city, in amongst noodle bars, estate agents and an escape room company.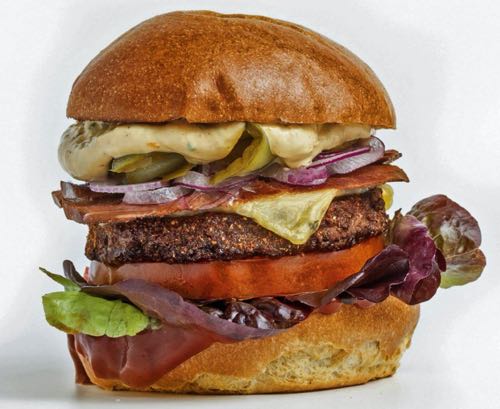 They have two main styles of burger, their Dopplepatty (or Dopplepatti) that resembles a beef patty, and their Dopplefillet, which resembles a crispy chicken fillet, though both are – of course – fully vegan. But their burgers stand out from the crowd because of the additional toppings they add.
These include things like celeriac pastrami, a bed of caraway kraut and basil tomato sauce (on the Reuben Burger), or jalapeños, buffalo sauce, ranch slaw (on the Hot Chirpy). They also have some more imaginative sides than many burger restaurants, with their Pizza Fries (topped with pizza sauce, melted vegan mozzarella, pesto and olives) and their Quack Fries (with vegan duck alternative, Korean BBQ sauce and spring onions) really drawing our attention.
All in all, their burgers are good enough to forgive them for spelling doppelganger wrong! Though it's not going to completely blow your mind, a trip to Doppleganger won't break the bank either and burger lovers should be well satisfied with what's on offer.
Thrive
Those looking for a down-to-earth vegan cafe that offers good value, nutritious food and a friendly vibe should pay a visit to Thrive. Located on Norfolk Street, near to the Grafton Centre and an avocado stone's throw from another vegan eaterie (Vegan Vice, see below), Thrive is a great stop-off point before/after a spot of shopping or culture in Cambridge. They also run a range of (often free) events including (mainly acoustic) music, art exhibitions, stand-up comedy and even yoga classes. Check their website for current/upcoming events.
Looking at the food they offer, it's fair to say the menu is not as extensive as some other places, but that is not to say it doesn't offer good value. They have a handful of breakfast options and then light bites and mains (served from 11.30) that are quite varied. For instance, as well as those dishes mentioned above, you could opt for sweetcorn fritters with charred pineapple salsa, lime cashew cream and slow-roasted tomato; or perhaps you'd prefer the creamy garlic mushroom pie with beetroot slaw?
If you just fancy a coffee and a cake, they have that covered too with plant-based cakes, homemade jaffa cakes, banana bread, cookies and croissants, among other things. You have a choice of vegan milk alternatives to go with your coffee. So, if you want to take a little time out from your day in a relaxed and nourishing bistro, drop in at Thrive.
Vegan Vice
Vegan Vice started out selling vegan burgers at street food events and then music festivals (including Glastonbury) where they became a firm favourite among vegans and non-vegans alike. They still attend various events, but they have established themselves in Cambridge where they have taken up residency in the kitchen of The Snug Bar on East Road (near the Grafton Centre).
This symbiotic relationship appears to work well, not least because the Snug Bar specialises in cocktails, most of which are vegan friendly, so you can sup a nice Old Fashioned with your ViceBurger of choice if you so desire.
Speaking of the burgers and these are big, brash affairs that don't scrimp on the fillings. For instance, their Peanut Butter BBQ burger includes their ViceBurger patty and is topped with smoky peanut butter BBQ sauce, onions rings, purple slaw, salad and gherkins. It could prove messy to eat, but it certainly offers plenty of bang for your buck (at £8.50).
As well as their ViceBurgers, they have several Tendercrop offerings, chicken-like crispy fried vegan fillets with various toppings. Alternatively, you could opt for the Tendercrop Strips with a choice of sauces or one of their wraps. Those with a sweet tooth (or those who don't fancy a cocktail) might grab one of the vegan ice cream-based milkshakes, such as the Coconut and White Choco Shake. If burgers are your thing, Vegan Vice should tick plenty of boxes for you.
Other Vegan Food Options in Cambridge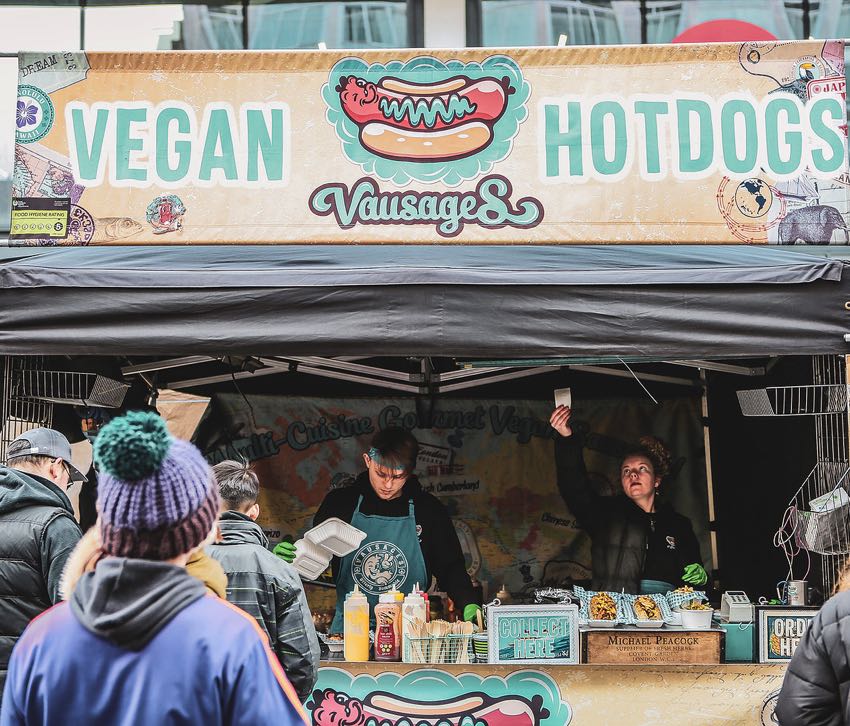 As well as the restaurants mentioned above, that are wholly or predominantly vegan, there are loads of restaurants in Cambridge that could be described as "vegan-friendly". In other words, they still serve animal products to those who want them, but they have very good selections of vegan dishes available (not just a token vegan burger or a three-bean chilli). There is also a growing street food scene that includes various stalls and food trucks that provide imaginative and good value vegan food (though note that most are not exclusively vegan).
There are numerous restaurants that have included more than just token vegan dishes, indeed too many to list here. And, it's increasingly possible to get vegan fast food from the usual high street chains. But here are some of the best and more interesting options for vegans and those who fancy some plant-based food:
The Wandering Yak
A food truck specialising in Middle Eastern cuisine and though it serves some non-vegan food, there are plenty of vegan options available. Vegan dishes include: Lebanese spiced potatoes; Falafel; Special Yak Daal, Kibbeh (Syrian bulger ball filled with veggie mince and drizzled with tahini sauce).
Taste of Cambridge
The oldest vegan and vegetarian eaterie in Cambridge (after the demise of Rainbow Cafe – see below), Taste of Cambridge has been offering their ethical and nutritious food to visitors to and residents of the city since 2009. Their distinctive mint-green food van has become a mainstay of Market Street (in front of Holy Trinity Church) and their falafel wraps and other dishes are very popular with shoppers and workers alike.
Pinchito
Often to be found in Cambridge Market in Market Square, Pinchito serves a range of vegetarian (and often vegan) Spanish food. Their bravas potatoes and their Spanish vegan sandwich (with olive pate, tomatoes, aubergine, lettuce and brava sauce) are worth checking out.
Chaiwalla Cambridge
Chaiwalla serve a range of vegan (and some vegetarian) Indian and Indian-inspired snacks and street food from their food stall on Christ's Lane. As well as samosas and daal, their bhaji roti wraps have proved a big hit.
Relevant Records
If you are a fan of music, why not combine a spot of record shopping with a cuppa and a tasty vegan cake? If that idea floats your boat, check out Relevant Records on Mill Road, not too far from the main train station. With stacks of records downstairs and a range of vegan-friendly cakes, bakes and other treats in the cafe upstairs, vinyl junkies will certainly enjoy this welcoming establishment.
Cambridge Vegan Market
If you fancy sampling vegan food from vendors that aren't permanent residents of Cambridge, the Cambridge Vegan Market could be well worth a visit. It takes place on several weekends through the year at the Guidhall and with a wide variety of vegan food and other products available to buy or sample, there's bound to be something that appeals to you.
Rainbow Café Restaurant (Now Closed)
Though we are focussing on the current vegan eateries in Cambridge, it would be remiss of us not to mention a former establishment that became something of an institution, The Rainbow Café Restaurant. It opened way back in 1988, serving vegetarian and vegan food when most people's ideas of such things were lentils and nut roasts. Over the 30 years before they closed their doors for good, they showed the people of Cambridge how brilliant vegan food can be.
They even made the national news in December 2016 for refusing to accept the (then) new £5 note because it contained animal products (an issue we address in our article Is Money Vegan?). This ethical stance earned them plenty of friends among the vegan community (and a few enemies among those who like to moan about such things!). But one thing is for sure, the Rainbow Café left big vegan boots to be filled in Cambridge and a fine legacy to live up to amongst those that followed in their plant-based wake.
Things to Do in Cambridge
In a city that is essentially built around its historic university colleges and the students who live in them, Cambridge has a youthful and vibrant feel to it. Indeed, visitors to the city regularly enjoy tours of some of the more famous colleges, many of which back onto the picturesque River Cam.
Architecture
Given that the university dates back to 1209, there is a great wealth and variety of architecture on display, not to mention the many stories of the famous alumni who have attended the various colleges over the centuries, from Sir Isaac Newton to Francis Bacon, Alan Turing to Stephen Hawking, as well as Sacha Baron Cohen and Salman Rushdie.
Punting Tours
Going on a punting tour is a must for most visitors to Cambridge and you will often get fed a wealth of information about the various university colleges and various buildings and bridges of note as you get gently propelled along the Cam. As you follow in the water trails of Charles Darwin, Ernest Rutherford and other world-changing alumni, you might even dream up your own invention or theory.
Or you could even try punting yourself – but even though these are very stable, flat-bottomed boats, do not be fooled: it's very easy to lose your balance and get a soaking, much to the amusement of any passing students or tourists.
Shops, Music & Theatres
Away from the river and the university colleges, Cambridge has a great number of retail options, with lots of independent shops, many of which focus on ethical practices. There is also a lot going on from a cultural perspective with music venues or theatres, such as The Junction, the Cambridge Arts Theare, the ADC Theatre and the Corn Exchange featuring all kinds of performers from pop, rock, folk and classical music, as well as theatre and comedy shows.
Pubs
There are numerous independent venues too, with The Portland Arms (on the north side of the River Cam on Chesterton Road) being one of the leading lights of the independent music scene in the city. And, then, of course, there are the many excellent pubs, many of which feature live music.
Green Spaces
For a relatively compact city, there is also a good amount of green space, with Midsummer Common, Coe Fen and the Cambridge University Botanic Garden all easily accessible from the centre. A little further afield and you can take a short trip to Granchester Meadows, a riverside beauty sport that includes Byron's pool (the famous poet's favourite spot for swimming).
Vegan Restaurants in Cambridge: Conclusions
Despite a couple of recent additions to the Cambridge vegan food scene, most notably Stem & Glory, it's fair to say that Cambridge lags a little way behind cities of a similar size and with such a large student population. The vegan restaurants that are currently operating in the city are of a very good standard and they must be enjoying the lack of competition as things stand.
Given the general shift towards veganism across demographics but particularly among young people, we predict more restaurants specialising in vegan food will open their doors in the coming years in Cambridge. And when they do, we fully expect them to prosper.
In addition, there are new food trucks and stalls that are either fully vegan or that offer good vegan options popping up all the time in Cambridge. This is something we also predict will only increase, especially while there are relatively few fully-fledged vegan restaurants in the city.