Tofu is a staple in many Asian countries and is increasingly popular in the UK and other western countries. However, many people may have not heard of tofu, or if they have are unsure what exactly it is and, crucially, whether or not tofu is vegan.
We've got just about everything you need to know about Tofu right here, and probably a fair bit that you don't need to know too! So, let's cut right to the chase and answer the question you were asking when you stumbled on this page.
Yes, Tofu Is Vegan!
Many of our is it vegan? series of articles are complex, with the answer almost always involving lots of "ifs", "buts" and comments, such as "yes, but be aware of…". Thankfully – vegans rejoice! – when it comes to tofu we can give the unequivocal of yes! Yes, tofu is vegan. Oh, actually, there is one "but". But, we'll get to that later…
In short, tofu is essentially made from soy beans, with one or two additives. None of these are animal-based and nor are any animal derivatives used in the production process. Hurrah, tofu is vegan! As we explain in our feature on soy milk and soy in general, the soybean, soy, soya bean, or for the scientists, glycine max, is a plant and is arguably the most versatile legume humans have been blessed with. We discuss some of its uses in the article listed above but the key thing to note is that it is a plant and is therefore perfectly vegan.
What Is Tofu?
Tofu uses soya beans as its starting point and is one of the many foods that does so. It is essentially "cheese" made from soy milk, using a similar process to the production of dairy cheese… obviously without the need to involve any animal-derived products.
Soya beans are of course vegan, simply being legumes from the Glycine max plant. Almost all of the many things that are made from them are also vegan friendly and are increasingly aimed at the vegan market, with tofu, edamame beans (young soya beans), tempeh, soy milk and miso just some of forms this miraculous food.
Tofu has traditionally been made in a vegan way, with no animal products or derivatives used to process the raw soy. Given that it is now closely associated with plant-based eating we don't see any reason why this would ever change and so it is 100% safe to say that tofu is indeed vegan… isn't it?
How Is Tofu Made?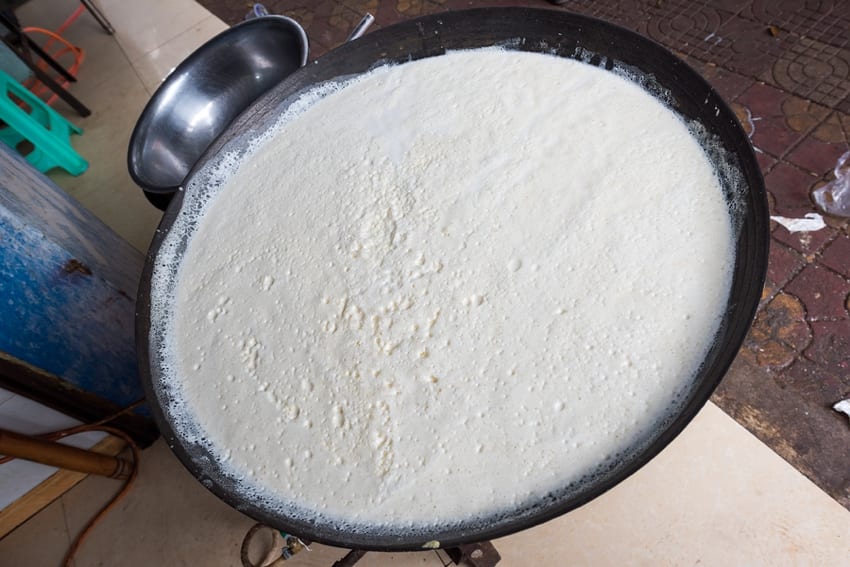 As said, tofu is made from soy beans and not too much else. There are various types of tofu that can be used for different dishes, both sweet and savoury, as well as regional variations from the many different countries where this soy product is eaten.
In short, soy milk is cooked before being cooled to around 78 degrees Celsius. An additive, which can be calcium or magnesium salts, an acid-based coagulant such as gluconolactone (that is used in some cheeses) or even acetic acid or lemon juice, or an enzyme coagulant is then added to curdle the milk.
Coagulation takes around 20 minutes, with the resulting "whey" being removed. The curds are then compacted for around 20 minutes whilst still warm. This produces blocks of tofu that are largely made up of water, with around 8% of the mass being protein and around 4% fat – both of which comes from the initial soybeans.
Slight changes to this process, either the agent used to cause the coagulation, when that process is undertaken, the way the curd is pressed or the subsequent processing of the finished product can create a whole range of different types of tofu. All are vegan and the differences are quite marked, so if you've only tried tofu a few times and think you don't like it, maybe you just haven't found the right tofu for you.
Types of Tofu
"Tofu" as said, actually covers a wide range of foods and you can see the main types in the table below, along with a little more information on each of them. Note that all of these iterations of tofu are vegan friendly.
| Tofu | Production | Uses | Notes |
| --- | --- | --- | --- |
| Extra Soft | Coagulated with nigari (magnesium and calcium salts) or seawater | Various soups and soft stews, sauces, as an egg or yoghurt substitute | Soft, loose curds, popular in Korea, sometimes sold in tubes |
| Silken | Coagulated in its package, unpressed, undrained and uncut to retain moisture and avoid curds | As a dairy or egg substitute and in desserts (often used in sweet dishes) | Available in soft and firm and used in most cuisines |
| Firm | Fresh tofu is pressed, usually coagulated with seawater or calcium sulphate | Stir fries, soups, curries, glazed, deep fried | Flexible and good for most savoury dishes and typical of Chinese tofu |
| Extra Firm | As per firm but with more moisture removed via pressing | As a paneer substitute, and as per firm but with more texture | Chewiest tofu and when sliced thinly can be crumbled |
| Fermented | Firm tofu is dried and pickled or fermented | Can be used in a range of ways but less common in the West | Various pickling and fermenting preparations exist in China, Japan and other countries |
| Frozen | Freeze soft or firm tofu to create a product that better absorbs flavours and has less water due to ice crystals creating pockets | Great in savoury dishes where you want the tofu to absorb flavours | Unusual for freezing to beneficially alter a food |
The Exception: Egg Tofu
Having said that tofu is that rare vegan food item with no caveats, it is now time for us to mention the one type of tofu that isn't actually vegan. Thankfully, the clue is rather obvious in the name: Egg Tofu. That said, names can and, in this case are, misleading. Egg tofu does indeed contain egg and therefore is not vegan friendly. However, it isn't actually tofu at all, assuming we accept tofu is a soya product.
Egg tofu, along with a range of other "tofus", such as almond tofu, isn't made from soy milk but is called tofu simply because the end product is very similar. Egg tofu, sometimes called Japanese bean curd, or Japanese tofu (which certainly could be confusing for a vegan), is made by steaming a mixture of beaten eggs and dashi. Given dashi may contain fish stock this is a double red light for those following a plant-based diet.
Tofu Nutrition: Another Great Vegan Protein
So, tofu is vegan and it's also cheap, but is it good for you? Unsurprisingly, given we've noted the tremendous nutritional benefits of soy in our main soy feature, the answer is yes. It really is an excellent choice for those wanting to increase their protein intake. The exact nutrition will vary between types of tofu but is broadly the same. The major exception to that is where calcium sulphate (sometimes referred to as gypsum, though that is different) is used to coagulate the milk. In this instance, the resultant tofu will also be an excellent vegan source of calcium.
In terms of protein, you can expect around 8g per 100g of tofu, whilst it also contains all nine essential amino acids in very good quantities. On top of that, tofu also boasts a good mix of healthy fats. There is 4.5g of fat per 100g, which is relatively high, but with that same serve only containing 77 calories those watching their weight really don't have to worry. Moreover, around 75% of those fats are either mono- or poly-unsaturated. It is also thought to help lower levels of LDL, or "bad cholesterol". There is virtually zero sugar in tofu too, making it great for the increasing number of people looking to cut down on their sugar intake.
With the minerals selenium, manganese and phosphorous, as well as iron and (often) calcium, not to mention smaller amounts of copper, magnesium, zinc and vitamin B1, tofu really is a top notch addition to a vegan diet from a nutritional perspective.
History of Tofu
Tofu was, according to Harold McGee in his food bible, On Food and Cooking, invented in China just over 2,000 years ago, but it only became more widespread around 1,500 years ago and, in fact, didn't become a daily staple until around 1300 years ago. Again, taken from McGee's sensational book, the first written European account of tofu came from a friar, Domingo Navarrete:
The most usual, common, and cheap sort of food all China abounds in … All the mass is as white as the very snow, to look at nothing can be finer … Alone it is insipid, but very good dressed as I say and excellent fried in butter.
Well, Friar Domingo, we do hope that was a vegan butter substitute!
From China to Japan
Tofu took some time to spread from China to Japan and other surrounding countries after its initial invention. It is not thought to have become a part of Japanese cooking until around 750, with William Shurtleff and Akiko Aoyagi's History of Fermented Tofu claiming it reached Vietnam in the 10th or 11th century.
Links with Buddhism
There are various theories about how it was first made and its origins and, in truth, we will probably never know precisely when, where, why or how it was invented. Many scholars believe its spread was linked with Buddhism, tofu being compatible with the vegetarian principles of the non-theistic religion. It also spread in subsequent years through the Chinese diaspora, with merchants, sailors and immigrants bringing this vegan delight to neighbouring countries.
Making Its Way to the Colonies
US President Benjamin Franklin was the first American to document tofu, having learned about it in 1770 in London. It is thought to have reached the west around 180 years before this though, with the late years of the Age of Exploration seeing Europeans come into contact with such foods. It is believed the first mention of tofu by an Englishman came from Captain John Saris in 1613, who encountered it in Japan.
It took some time for tofu and other soy-based foods to become widespread in the west but there is no doubting the fact that they are mainstream now. That's more than enough history though: they key thing is that, yes, indeed, tofu is vegan. So, our sincere thanks go out to the Han, the Chinese mariners and the 17th century explorers!
Does Soy Farming Contribute to Global Warming & Environmental Destruction?
Whilst tofu is made in a way that virtually everyone agrees is compatible with veganism, there are some (mainly non-vegan!) people who have doubts about its environmental impact. In the same way that palm oil is vegan but people are rightly concerned about its impact on habitat destruction in areas of great biodiversity, some have questioned whether the deforestation necessitated by the mass farming of soy also makes it problematic.
A recent BBC report quoted research stating that much soya from Brazil was "contaminated with illegal deforestation". As well as destroying the habitat for many wild animals, this is sure to have an impact on climate change as well. Relying on input from the WWF and RSPB the BBC report linked to above stated that, "The land required overseas to meet the UK's annual demand for soya between 2016 and 2018 equated to an area approaching the size of Wales."
It is easy to see how those looking to argue against veganism, or those simply not aware of the wider picture, might interpret such stories as reasons to avoid soya and related products. However, this overlooks one key issue: the vast majority of global soy is not used to feed vegans and other tofu fans but rather is it used to feed animals that will subsequently be eaten by humans.
Majority of Soy Production is Used to Feed Livestock
The exact percentages vary according to what source you believe is most accurate but the WWF, which most people would agree represents a reliable source, claim that around 80% of soy production is fed to livestock and One Green Planet say that, "Around 70 percent of the world's soy is fed directly to livestock and only six percent of soy is turned into human food, which is mostly consumed in Asia."
Budding anti-vegan Piers Morgan wannabees out there may claim that these sources are not impartial. However, they are backed up by US stats from the United States Department of Agriculture which say that 70% of their soy is used for animal feed.
Given this, it is disingenuous at best to blame tofu lovers for soy-based environmental negatives. This is even truer given that direct human consumption of plants is far more efficient than using animals such as chickens, pigs or cows as middlemen. Countless studies have shown that less resources, be that in terms of land, water or other resources, are needed to create the same calorific value when humans eat plants directly rather than the same crops being used to feed animals first.
Less Damaging Than Livestock Farming
In conclusion, therefore, any argument that tofu or other soy-based foods are not vegan due to the emissions they create or the land they require is invalid. The mass farming of any crop will, of course, have an environmental impact but this will always be a better, less damaging option, than livestock farming.
If you are concerned that your tofu may have been grown on land that was illegally cleared, looking out for Fairtrade certification or some other acknowledgement of sustainability is wise. Alternatively, for now at least, looking to avoid Brazilian soy may be the best option.
Anything Else to Look Out For?
Whilst we feel entirely comfortable saying that tofu is vegan in every sense of the word, that is not to say all tofu dishes are automatically vegan.
If you buy tofu yourself then you will have control of what you make and can ensure it is vegan. If, on the other hand, you are eating in a restaurant or buying from a street food vendor, some caution may be needed.
"Stinky Tofu"
There are a number of popular Chinese dishes, and ones from other parts of Asia, that combine tofu with meat and other animal products. Perhaps the most famous of these is "stinky tofu", which is eaten in many parts of China, plus places like Taiwan and Honk Kong and has, inevitably, made its way to the west too.
This is a fermented product and involves soaking tofu in a brine which is often made with fermented milk, whilst dried prawns and other seafood can also be added. Whilst vegan-friendly takes on stinky tofu can be found and are actually quite good, the chances are that if you come across this dish in a restaurant it will not be vegan.
As ever, we would advise caution if you are not preparing the food yourself. Unless a tofu dish is clearly marked as being vegan (or, even better, you are in a vegan restaurant), always check with staff before ordering.
Conclusion
Tofu is made from soy milk, this deriving from soya beans. Non-vegan additives are not used and there is nothing else about tofu production that should concern vegans. Whilst soy farming contributes to global CO2 emissions, soy grown for direct human consumption is a small part of this. Moreover, consuming tofu and other soy-based foods is a far more efficient use of land and other resources than when the soy is used to feed livestock.