Oreos, also known as Oreo sandwich cookies or Oreo biscuits, are one of the most popular snacks in the world. Since they were first sold way back in 1912, there have been more than 450 billion Oreos sold in the world and they are currently available in more than 100 countries around the globe, including, of course, the UK.
There is clearly no doubt about the popularity of Oreos, but the more pertinent question for us is simply: are Oreos vegan? But, before we answer that, just in case you are unaware of these ubiquitous biccies, let's briefly explain what they are.
What Are Oreos?
Made by Nabisco, a subsidiary of US food and beverage colossus Mondelēz International, the original and best-known Oreo consists of two circular chocolate biscuits with a crème-like filling sandwiched between said biscuits.
It is highly likely that you've seen them at some point in your life as they've made it onto the shelves of supermarkets and grocery stores from Bangor to Bangkok, St Kitts to St Petersburg.
But, Are Oreos Vegan?
Words such as "chocolate" and "cream" are sure to get the vegan antennae twitching, but interestingly, there are actually no dairy products amongst the ingredients of the Original Oreo biscuits in the UK. Does that mean vegans can get munching the cookies without a second thought? Well, not quite.
Despite Oreo biscuits not containing any ingredients that are strictly classed as non-vegan, there is the very real issue of cross-contact with milk products, which renders Oreos non-vegan. Sorry about that!
As you will see from the ingredients below, there are none that obviously render the final product non-vegan. There is no mention, for instance, of milk, and they specifically state that the lecithin they use is derived from soya. "Surely there isn't any actual milk in Oreos though", we hear the vegan cookie lovers cry. Often in such a scenario of apparent ambiguity we would recommend contacting the producer of the foodstuff in question.
But you don't have to, because in the FAQ section of the Oreo UK website, they actually ask the question: "Is Oreo suitable for vegans?" And, as much as it pains us to report (because we did rather like these in our pre-vegan days!), their answer to that question is:
No, Oreo have milk as cross contact and therefore they are not suitable for vegans.
As such, unless and until Oreo change their production methods, they remain out of bounds to anyone wanting to strictly adhere to a vegan diet.
What is Cross-Contact?
Cross-contact occurs when two (or more) foods come into contact and their proteins mix to the point that each will contain usually tiny amounts of the other food. This can be particular important for people who have strong allergic reactions to certain foods as, in contrast to many cases of cross-contamination, with cross-contact, cooking the food in question will not eliminate traces of the other food.
Some vegans who edge more towards the relaxed end of the plant-based spectrum might argue that trace elements of milk based on cross-contact during production does not contradict the principles of veganism. In contrast, more strict adherents will simply omit Oreo biscuits from their diet – it's hardly the biggest sacrifice to make! Whichever side of that fence you happen to reside, the good news is that there are a growing number of very tasty vegan-friendly biscuits and cookies that are well worth checking out.
Vegan-Friendly Alternatives to Oreos

Just because you want to lead a plant-based lifestyle, it doesn't mean you aren't partial to a nice biscuit from time to time, right? Here are some of the best vegan-friendly cookies and biscuits we've encountered, and there are new ones popping up all the time.
Against The Grain Cookies – This Surrey-based biscuit maker produces a range of vegan-friendly cookies with flavours, including Chocolate Chip & Hazelnut, Chocolate & Orange and Berry Delicious. They do contain palm oil but it is sustainably sourced.
Huntley & Palmers Biscuits – Bakehouse Classics – If you are seeking something special or a great gift item for vegans, the Bakehouse Classics biscuit collection could be for you. 100% vegan and available from GreenBay Supermarket, this fine collection of assorted biscuits comes in a vintage tin that originates in 1851. Oh, and the biscuits are very tasty too.
– German plant-based food brand Veganz are producing a growing number of vegan foodstuffs, and their sandwich biscuits might well appeal to those looking for something similar to Oreos. They don't quite have the sweetness of the original Oreo, but that might be a good thing in the eyes of many.
Nairn's Oats & Stem Ginger Biscuit Breaks – Nairn's are famous for their oatcakes (which are mainly vegan friendly), but they also have a few tasty biscuits that are suitable to those following a plant-based diet. The tastiest, in our opinion, is their stem ginger variety, which is surprisingly moreish. Not much like an Oreo, granted, but widely available and will certainly nourish a hungry biscuit fiend without harming any animals.
Tesco Free From Ginger Nut Biscuits – Tesco are one of the leading supermarkets to have really embraced veganism in terms of labelling (as they clearly spot the potential to make money from it!). They have an increasing number of own-brand products that are vegan friendly too, including these Ginger Nut biccies that go very well with a nice cuppa.
Make Your Own Vegan Oreos
Though it might not seem apparent when examining the sometimes extensive list of ingredients on a packet of your favourite cookies or biscuits, they are actually very easy to make with only a couple of ingredients.
Using ingredients such as rolled oats, cornflakes, baking powder, maple syrup and vegan-friendly cocoa powder, you can easily make vegan-friendly biscuits. Then if you want to copy Oreos, whisk up some coconut cream with a bit of vegan-friendly sugar, and sandwich that between two of the pre-baked biscuits. And, voila! If you're not good at experimenting, Chocolate Covered Katie also has a great vegan Oreo recipe that she swears tastes just like the real deal.
There is so much scope to experiment when making your own vegan cookies and biscuits, and you might fancy adding various chopped nuts or seeds, dates, ginger, cinnamon, raisins, peanut butter, vegan chocolate chips… frankly, anything you fancy from the vast palette of vegan-friendly ingredients increasingly available. Making them yourself both ensures all the ingredients are vegan friendly, but also that that are no preservatives or other additives.
What Are Oreos Made From?
The original Oreo biscuits, as produced for the UK market, contain a number of ingredients commonly found in many biscuits and similar products. Namely, flour, sugar, oil (in this case palm oil, which could be a cause for concern for some vegans who question whether or not palm oil is vegan), raising agents and flavourings. Most of the ingredients should be vegan friendly, though some flour and sugar is not suitable for vegans due to production methods employing animal-derived products (though neither is common these days).
All the other ingredients, including the flavouring vanillin, are derived from either plant sources or synthesised in the lab, based on the information we have. And so, despite Oreo saying their biscuits are suitable for vegetarians, annoyingly it is their production methods, rather than the ingredients themselves, that mean they are not in fact suitable for vegans.
Ingredients of Oreos
Here are the current ingredients of the Original Oreo as available in the UK. Please note the ingredients may change over time so always check the most current label, especially if you have any allergies! Of course, if you are a vegan, you won't be going for Oreos anyway but being the caring person you are you might want to offer them to your non-vegan or slightly "cheegan" friends.
Wheat Flour
Sugar
Vegetable Oil (Palm)
Fat Reduced Cocoa Powder 4.6%
Wheat Starch
Glucose-Fructose Syrup
Salt
Raising Agents (Potassium Hydrogen Carbonate, Sodium Hydrogen Carbonate, Ammonium Hydrogen Carbonate)
Emulsifiers (Soya Lecithin, Sunflower Lecithin)
Flavouring (Vanillin)
Are Other Oreo Products Vegan?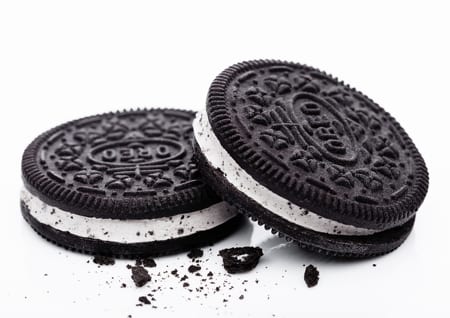 There have been loads of other Oreo products over the years aside from the Original Oreo biscuit, including other varieties of biscuits, ice creams, chocolate bars, cereals, birthday cakes and all manner of product spin-offs and tie-ins.
Many of the other Oreo products explicitly contain milk or milk-derived products, for example the Oreo Ice Cream, Cadbury Dairy Milk Oreo Bites and Cadbury Oreo Instant Hot Chocolate Drink. And, hence these are clearly no good for vegans and should be easy enough to identify as such.
That said, given that the Original Oreo doesn't contain any milk products but falls foul of cross-contact and isn't vegan, that means anything with Oreo in the title is also out of bounds for strict vegans. If they do release a vegan-friendly product in the future, we'll be sure to shout about it!