There is a great deal we like about Sheffield-based vegan comfort food establishment, Make No Bones, starting with that name. Many vegan restaurants, especially more modern ones, like with many food trucks, love a pun or a play on words and, make no bones about it, that's what's going on here. We also love the location, in the increasingly hip creative hotbed that is Kelham Island, about a mile outside the city centre of Sheffield.
The Area & the Ambience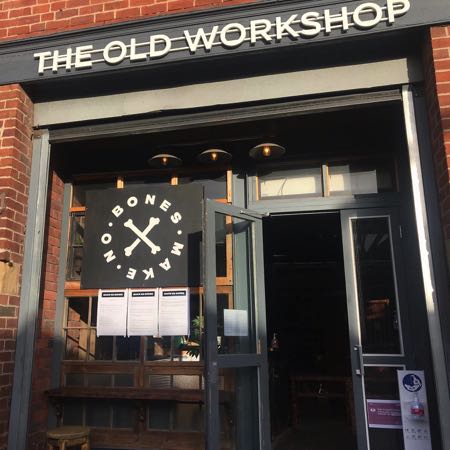 This manmade island was once the industrial and manufacturing hub of the city but now old factories and steelworks are being repurposed and now an army of apartment blocks is being formed like sentinels guarding over the old crumbling empire. There are now a huge number of exciting independent businesses melding the old and the new and Make No Bones, which was opened back in 2013, was one of the first.
The restaurant is a light, airy space, set in an old workshop, with the usual mix of exposed bricks, chipboard and plants. The staff were welcoming, trendy, cool, hip, or whatever the appropriate word is in 2021, and the raised bar at the back of the room had a good selection of local and local-ish craft beers. So far, so good. But what about the food?
Comfort Food with Zero Guilt
Vegan food is increasingly being eaten by a wide range of people. It is no longer just committed vegans concerned about animal rights and lentil-loving hippies that eat a plant-based diet. Reading about vegan ways and eating in vegan restaurants are the vegan-curious, the recently vegan, friends of vegans, people looking to eat less meat and people who are simply open to all sorts of food, even – shock horror! – if it doesn't necessitate the killing of animals.
Partly as a consequence of this, the type of vegan food available in restaurants has expanded. Vegan restaurants can be anything from a basic café serving lentils, stews, falafel, salads and the like, right up to the finest of fine dining. There is even a Michelin-starred vegan restaurant in meat-loving France! As well as these extremes, there is everything in between and there are plenty of vegan restaurants that cater to people's desire for comfort food with a junky, USA slant.
Make No Bones falls into that category, their website boasting "100% vegan comfort food since 2013". In menu terms, that means ribs, wings, burgers, kebabs, wraps and, for carb fans, a whole section dedicated to spuds, or "Tates" in Make No Bones parlance.
Drinks
In terms of drinks, they offer a fitting collection of fine IPAs, sours and pale ales from super-local Neepsend Brewery, Yorkshire producers such as Brass Castle and breweries from further afield, even venturing out of God's own country for the likes of brews by Cloudwater and Buxton.
In addition, they offer cocktails and all the other alcoholic – and non-alcoholic – goodies you would expect to find at a good bar and, this being a 100% vegan establishment, all drinks are entirely free of animal products.
"Chicken" Burgers
In the same way that all drinks are 100% vegan, so too, of course, is the menu. This means that, in keeping with several more modern vegan restaurants, you will see items such as "chicken burgers" and "chicken wings" on the menu. Fear not though, these are not made from chickens, and confusing though this might be for some, we kind of like it.
Wingwich
We sampled both the wings, via Wingwich, and the chicken burger and both were very good. The chicken burgers are made with soy protein and according to the restaurant, some wheat protein too. Textually, they are good and the accompanying condiments and tasty brioche bun mean that we fancy these would fool many a non-vegan into thinking they were chomping down real meat. The Wingwich was also a hit and good value given its considerable heft.
Philly Cheese Sub
The Philly Cheese Sub, the beef recreated with seitan, also went down well, with this sort of runny cheese, what they call "cheese whiz" in the States, something that vegan cheese can do pretty well. It lacked a little seasoning overall but, like the Wingwich, was hearty and filling.
BBQ Ribs
The BBQ ribs, poutine and sesame ginger slaw (that's three separate items by the way) were all passable without being mind-blowingly great. The ribs, again made with seitan, were a little too crunchy and synthetic tasting for us, whilst poutine is traditionally made with a cheese that simply cannot be readily recreated with almonds (at least based on this example).
Doner Kebab
We have it on very good authority that the Make No Bones doner kebab is very good and, having eaten a vegan version of this post-pub/club classic before we can well believe it. Seitan is perfect for recreating the chewy texture of doner meat and with the strong flavour of the spicing and pickles we think this is the perfect dish to try out on your vegan-doubting friends.
Sheffield Vegan Restaurant Hits the Spot
All in all, we would say that Make No Bones is a hit. To survive so long in the highly competitive restaurant world they must be doing something right and so if this sort of food is your idea of gastronomic comfort, vegan or otherwise, get yourself to Kelham Island and tuck in!