These days it is generally not too difficult to find vegan alternatives for most foods. Whether you are seeking tasty vegan burgers or vegan-friendly sausages or you fancy trying some vegan fish and chips, there are options aplenty. But, what about vegan sushi?
In this article, we'll first explain what sushi is (and what it isn't), then we'll go through the best vegan sushi options that are available to purchase in restaurants and supermarkets.
What Is Sushi (and How Can It Be Vegan)?
There is a common misconception that sushi refers to raw fish, but this is wide of the mark. Though sushi can incorporate raw fish, this is not a requirement. In fact, the common ingredient to all types of sushi is not fish, but rice; sushi rice to be precise, usually with vinegar and sugar added. Traditionally, sushi rice is medium grain white rice, though other types are used on occasion to add variety, especially at non-traditional sushi restaurants.
Sashimi Is Not Vegan
Often people (incorrectly) think that sashimi is sushi, or a type of sushi, but this is not so. Sashimi is fresh, raw fish (or seafood or sometimes meat) and though it is often served in restaurants that also serve sushi or indeed in pre-packaged "sushi" boxes alongside sushi, it is a distinct dish. Given that sashimi is made up of raw fish/seafood/meat, it should come as no surprise that it is not vegan.
Going back to sushi and it comes in various styles (see below) based on how it is prepared and presented with some being rolled within nori seaweed (which is not only vegan but also a great source of iodine which can be hard to obtain on a vegan diet). Other types of sushi have rice on the outside of the nori and others still come in a cone-shaped nori roll. Here's a brief explanation of the main types you are likely to encounter.
Common Types of Sushi
Maki – These common sushi rolls tend to include rice and some other ingredient or ingredients (whether vegetable, fish or seafood) wrapped in nori seaweed.
Uramaki – Similar to maki but the seaweed is wrapped around the filling (but not the rice) with a layer of rice on the outside of the seaweed, often with sesames seeds.
Temaki – Similar to maki but the nori seaweed is hand-rolled into a cone shape around rice and other fillings.
Nigiri – Usually a molded rectangle of rice onto which some kind of topping (vegetable, fish or seafood) is placed, sometimes with a strip of nori holding the topping in place.
Inari Nigiri – These are "pockets" or pouches made from deep fried Aburaage tofu in which tofu rice is stuffed.
There are many variations on the above and they might be given all kinds of different names based on the whims of the creators, but the above are the main sushi options that you are likely to come across.
What Is Vegan Sushi?
So, given sushi is technically more about the rice than the fish, it is fairly obvious that vegan sushi is simply made without the use of the animal protein that would often, though not always, be used. At the time of writing, there are no major attempts to imitate raw fish or seafood by vegan food companies. As such, vegan sushi tends to consist of the rolls, cones, pouches or pieces listed above, made with rice, seaweed and simple veg.
It would be no surprise to see a vegan company seek to replicate traditional fish sushi in the future but for now it seems getting the texture just right has proved too problematic. As such, most vegan sushi features items like carrots, edamame, peppers, avocado, cabbage, cucumber and other vegetables instead of the likes of salmon, tuna and prawns. Clearly, this makes vegan sushi quite a different beast to what many people think of as "normal" sushi. However, it should be remembered that many traditional types of sushi are naturally vegan or vegetarian anyway.
Are Sushi Accompaniments Vegan?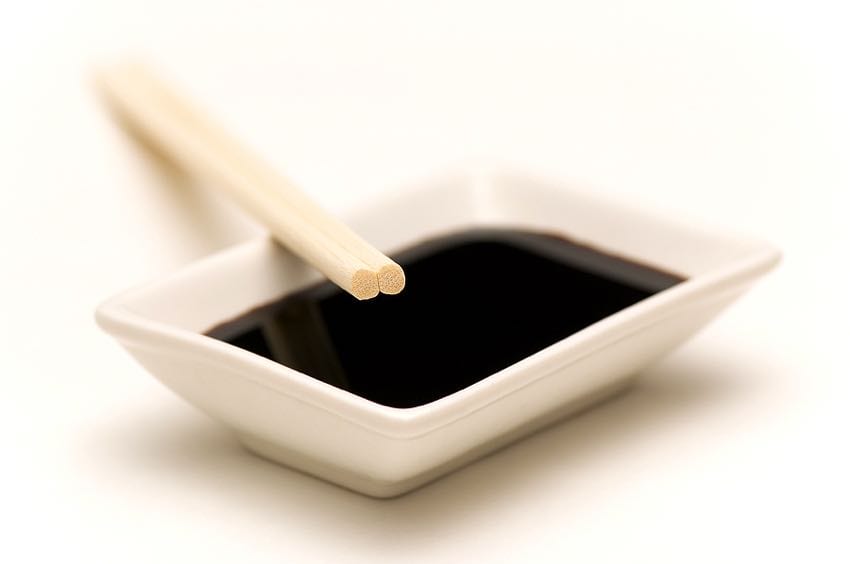 Sushi is commonly served with soy sauce (which is usually vegan), pickled ginger (called gari, which is vegan) and wasabi, which is a paste made from Japanese horseradish, which is a plant from the same Brassicaceae family as standard horseradish and mustard and is – you've guessed it – fine for vegans.
It's worth noting that a good deal of the "wasabi" that comes with sushi (especially pre-packaged, ready to eat options) in the UK is actually made from standard horseradish with food colouring added. It still gives a good kick though.
Best Ready to Eat Vegan Sushi
Here we'll go through some of the best vegan-friendly sushi options available as takeaway, ready to eat options and also in some of the more popular restaurants and chains that serve sushi and accommodate those following a plant-based diet.
Not so long ago, sushi was rarely seen outside of Japanese restaurants in the UK, but now it is readily available, often as part of meal deals in the sandwich section of supermarkets, service stations or other food retailers. Pre-packed, fresh, ready to eat sushi comes in various shapes and sizes. Sushi also comes in platters that can be good for work meetings or when entertaining. Here is a snapshot of some of the best vegan sushi options that are commonly found in the UK.
Wasabi Yasai Platter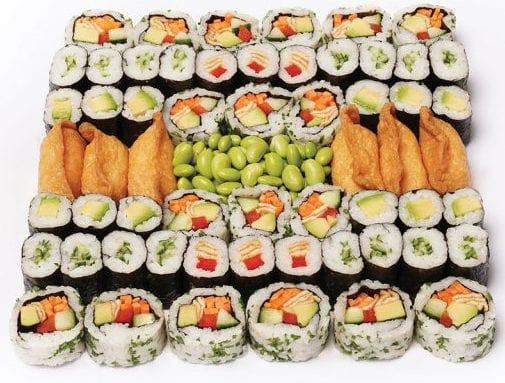 This platter from sushi and bento specialist Wasabi is definitely one to share. This veritable feast of vegan sushi includes 17 tofu chumaki rolls, six tofu pockets, six inari nigiri, 16 cucumber hosomaki and 12 avocado hosomaki and it is served with an edamame and wakame (edible seaweed) salad and the usual condiments.
Itsu Big Veggie Platter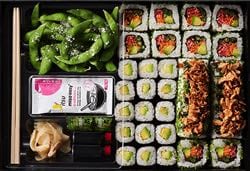 This is another fine vegan sushi platter, this time from East Asian-inspired restaurant and food chain, Itsu. With a total of 35 pieces of sushi, there's plenty to go around and the inclusion of veggie dragon rolls topped with teriyaki and oven-dried onions and a couple of miso soups adds some welcome variety to proceedings. Note that at the time of writing it is available for delivery only.
Tesco Vegetable Sushi (127g)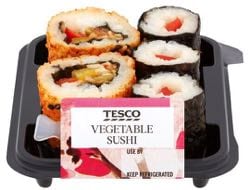 A nice snack-size selection of vegan-friendly sushi that includes chilli and pepper California rolls, pepper maki, chargrilled pepper nigiri and soya bean and coriander nigiri.
Yo! Vegan Selection (222g)
A nice mix of vegan-friendly sushi that is available from various supermarkets, this includes four cucumber maki, two yellow pepper maki, a carrot, cucumber and pepper roll, a red cabbage, pepper and rocket roll and two inari nigari, plus wasabi, soy sauce and pickled ginger.
Taiko Sushi Vegan Platter (750g)
Available from Waitrose Entertaining, this 34-piece vegan sushi platter includes a wide range of tasty sushi treats. With various hosomaki, inside-out rolls and vegetable nigiri and inari nigiri, it also comes with soy sauce, (vegan-friendly) kabayaki sauce, crispy onions, wasabi and pickled ginger.
Ocado Black Rice, Avocado and Mint Sushi (various sizes)
Supplied by sushi wholesaler Tonpopo, these sesame-coated inside-out rolls are made with black and brown rice and contain avocado, mint and carrot, with the usual accompaniments of soy sauce, wasabi and ginger included.
Best Sushi Restaurants/Chains For Vegans
There are scores of independent sushi-specialist and more general Japanese-inspired restaurants dotted around the UK. These range from the relatively cheap and cheerful, such as Yo! Sushi, to very high-end establishments such as The Araki, which is located between Regent Street and Saville Row and which offers a single Sushi "Omakase" Chef's Set Menu that costs a tidy £310 per person… but that's including VAT! (Note that it's not vegan!)
Yo! Sushi
Yo! Sushi is the sushi joint you are most likely to encounter outside of London. This conveyor-belt sushi chain (with a few dozen outlets) has a fair if not extraordinary range of vegan sushi options along with various vegan dishes, such as kaiso seaweed and pumpkin curry. We think they could perhaps extend the variety for those on a plant-based diet, however.
Wasabi & Itsu
Wasabi and Itsu (both mentioned above) often just have fast-food style outlets but sometimes they have seating for those wishing to eat in. These both have more vegan options than Yo! Sushi and are cheaper.
Independent Restaurants
Of the many independent sushi and Japanese restaurants, they tend to be concentrated around London and other large cities, though they do pop up elsewhere. The vegan options are very hit and miss in many cases, but – as in the USA and other places – we are starting to see specialist vegan-friendly sushi or Japanese-inspired restaurants open in the UK. These include Happy Maki in Brighton and others such as Veganushi who has three outlets at the time of writing and who operate on a delivery model.
We are hopeful that plenty more fully vegan sushi restaurants will open in the coming years as more people wise up to the problems caused by eating fish (as highlighted by the recent Netflix documentary, Seaspiracy) and backed up by various industry and ecological reports and studies.
Vegan Sushi Vs Non-Vegan Sushi: Health & Nutrition
Ultimately, any nutritional differences between vegan and non-vegan sushi will be based on the specific nutritional makeup of the non-vegan ingredients added to the latter. For instance, whereas a vegan maki sushi roll may include rice and cucumber (or some other raw vegetable), a non-vegan version might include salmon or tuna. In this case, the non-vegan version would be a little higher in calories, fat and protein and lower in fibre.
Nutritional Values of Vegan Sushi Versus Non-Vegan Sushi
To give you a more detailed example of how vegan sushi differs from non-vegan sushi, we've compared two similar products, one featuring vegetable sushi and the other sushi that includes salmon, prawn and mackerel.
| Typical Values (Per 100g) | Tesco Vegetable Sushi | Tesco Salmon, Prawn & Mackerel Sushi |
| --- | --- | --- |
| Energy | 605kJ / 143kcal | 661kJ / 157kcal |
| Fat | 1.1g | 2.7g |
| Saturates | 0.2g | 0.5 |
| Carbohydrate | 29.4g | 27.2g |
| Sugars | 4.9g | 4.7g |
| Fibre | 1.2g | 0.9g |
| Protein | 3.2g | 5.4g |
| Salt | 0.5g | 0.7g |
As you can see, there are no massive differences in the nutritional values, with the non-vegan option being higher in fat but still not being excessively high. The non-vegan option has a little more protein, but there's not a great deal in it. In short, even fish-based sushi isn't bad from a health point of view. But there is a significant difference between the two that might sway some people towards the vegan options: the environmental impact.
Vegan Sushi Vs Non-Vegan Sushi: Environmental Implications
Though it is possible to get sushi containing meat, invariably (non-vegan) sushi will include some kind of fish (with tuna, salmon and mackerel being common options) or other sea-dwelling animals such as crabs, prawns, clams, scallops, eels, octopuses or even sea urchins. As such, the environmental impact of non-vegan sushi relates to the problems caused by the fishing and seafood industry.
These problems are numerous, as explained in various articles, research studies and reports, and include things such as the following:
Bycatch – Whereby non-targeted species, such as whales, dolphins, sharks, sea turtles and carious endangered species, are caught up in fishing nets and either injured or killed as a result.
Depleted & Disrupted Ecosystems – There are plenty of fish in the sea… until they're all caught! Overfishing can swiftly deplete fish numbers and has led to various species falling drastically in numbers. In turn, this has knock-on effects for various marine ecosystems by disrupting the food chains.
Discarded Fishing Equipment – Fishing nets, hooked lines and lures and other equipment that has been discarded or forgotten about can cause devastation to sea-dwelling animals through what is known as "ghost fishing".
Whilst some more expensive sushi producers may source their fish in the most responsible and sustainable ways possible, some of these issues are unavoidable. Moreover, many of the more budget and mainstream options are unlikely to have such high standards. Clearly none of these issues arises with the humble carrot or cucumber, so vegetable-filled sushi wins hands down on the environmental front.
Conclusions: Vegan Sushi
There are always going to be those who associate sushi with fish and seafood, whether they are traditionalists or they just have an unquenchable appetite for the flesh of sea-dwelling animals. But with the growing number of very good vegan sushi options, there is at least more of a choice available for those seeking to follow a plant-based diet or those who want to cut down on their consumption of animals products.