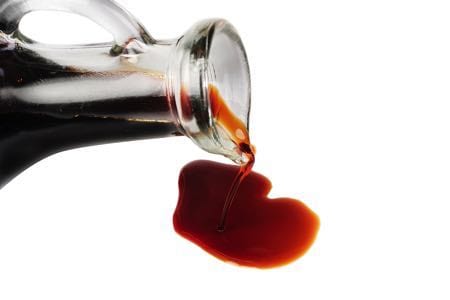 Worcestershire Sauce has been around a long time – since 1837 in fact – and, in that time, it has garnered plenty of fans who use this savoury, umami condiment in all manner of cuisines. Whether drizzled on cheese on toast, added to Bolognese sauce or used as an ingredient in Bloody Mary cocktails, there is no doubt that this dark, fermented liquid is versatile. But, is Worcestershire Sauce vegan?
Alas, the answer is no, Worcestershire Sauce is not vegan because it includes anchovies (a type of fish) amongst its ingredients. At least that is the case with the original and most famous Worcestershire Sauce made by Lea & Perrins (who are now owned by food conglomerate Kraft Heinz).
The good news for vegans who are partial to a Bloody Mary or who are seeking something to jazz up their vegan-friendly burger or chilli is that there are plenty of vegan-friendly alternatives to the original Lea & Perrins Worcestershire Sauce. And, if you are feeling particular motivated you can even make your own vegan-friendly version of the condiment. So, let's get straight to the best options for vegans seeking a Worcestershire Sauce-like condiment that doesn't include fish (or any other animal-derived ingredients).
Vegan Alternatives to Worcestershire Sauce
Sauce
Notes
Henderson's Relish
As much as a Sheffield institution as steel or the Arctic Monkeys, Henderson's Relish is not quite as old as Lee & Perrins Worcestershire Sauce (having begun life in 1885), but it has one key advantage from our point of view: it is vegan friendly!

There are no anchovies or any other animal ingredients in Henderson's, and it serves as the perfect vegan alternative to the original… it even comes in an uncannily similar bottle! It's available at many big supermarkets, especially in the north of England.

Chilli Mash Co VWorcs
This anchovy-free Worcestershire Sauce from chilli, sauce and jam maker Chilli Mash Co is a very good, if rather pricey, alternative to the original. It uses soy sauce amongst its ingredients to add that umami edge and is available from TheVeganKind Supermarket, amongst other outlets.
Biona Organic Worcester Sauce
The gluten free and vegan-friendly Biona Organics Worcester Sauce includes tamari (a Japanese soy sauce-like condiment) and a wide range of organically produced herbs and spices. Available from Planet Organic and various health food retailers, it is well worth buying if you happen across it as it is bursting with flavour.
Coconut Aminos
Made from the sap of coconut palms, this soy sauce-like condiment is seen by many to be healthier than soy sauce as it contains significantly less sodium.

It tends to be pricier than soy sauce but Rayner's Organic Coconut Aminos (available from Planet Organic and others) isn't too expensive. It can be a useful alternative to Worcestershire Sauce especially for marinades and seasoning.

Soy Sauce
If you are making a dish that requires umami flavours and it lists Worcestershire Sauce in a recipe, you can simply use soy sauce instead of and it will work well in many cases.

As we detail in the dedicated soy sauce article, most soy sauces are vegan friendly, though be sure to check the ingredients as some are not.

Marmite
Marmite is a godsend to many vegans due to the high levels of B vitamins and other nutrients it contains, and in some circumstances it can be used as a very good substitute for Worcestershire Sauce.

Clearly, it is not going to be ideal in a Bloody Mary, but if you are seeking a salty, umami addition to a recipe, a teaspoon of Marmite could be just the ticket.

Tamari
Similar to soy sauce but less salty in taste, tamari sauce, which is vegan friendly in almost all cases, bears a slightly closer resemblance to Worcestershire Sauce than does standard soy sauce. Because it contains no wheat, it tends to be gluten free too.
Miso Paste
This traditional Japanese seasoning doesn't taste too much like Worcestershire Sauce on the face of it, but when added to certain dishes it can add a similarly earthy, savoury flavour and in the absence of the above options it is worth considering as a vegan-friendly alternative ingredient.
What Is Worcestershire Sauce? What Makes It Non Vegan?
Some foodstuffs in the Is It Vegan? section of our site are rather ambiguous in terms of whether or not they are vegan. For instance, things like bread, beer or noodles can be either vegan or non-vegan, depending on how they have been made.
But when it comes to Worcestershire Sauce, at least the Lea & Perrins version, it is never vegan friendly simply because it contains fish and fish are animals. Vegans do not consume products that contain animals or animal-derived products, so the case is closed.
Ingredients in Lea & Perrins Worcestershire Sauce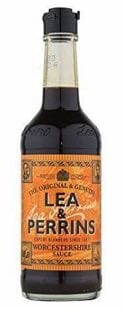 It is a shame really because the rest of the ingredients are vegan-friendly, and broadly similar – if rather distinct – liquid condiments, such as soy sauce and Tabasco Sauce, are both vegan. Here are the ingredients of Lea & Perrins Worcestershire Sauce:
Malt vinegar (from barley)
Spirit vinegar
Molasses
Sugar
Salt
Anchovies (fish)
Tamarind extract
Onions
Garlic
Spice
Flavourings
As we can see, aside from the anchovies, the rest of the ingredients are (almost certainly) vegan. It's hard to be 100% sure in terms of the rather vague "flavourings", but given that fish is included anyway we don't need to delve too deeply into this one.
How to Make Vegan Worcestershire Sauce
Though it is easy enough to buy vegan alternatives to Worcestershire Sauce, some people quite like the idea of making their own vegan-friendly version. The good news is that it's a relatively simple process that requires ingredients that are readily available.
Basically, the best way to start what is likely to be an experiment (based on your personal tastes) is to use the above ingredients minus the anchovies. Instead of anchovies we'd recommend using either soy sauce or tamari. In terms of spices and flavours, you can essentially pick whatever you fancy.
Adapting the ingredients of the Biona Organic Worcester Sauce, and experimenting with the quantities could also be a good option. Here is a guide to get you started:
Ingredients
8 tbsp Water
4 tbsp Apple Cider Vinegar
2 tbsp Tamari
2 tbsp Raw Cane Sugar/Brown Sugar
2 tbsp Fresh Lemon Juice
2 tbsp Fresh Orange Juice
1 tbsp Maple Syrup
1 tbsp Balsamic Vinegar
1 tsp Tamarind Paste
1 tsp Onion Powder
½ tsp Sea Salt
½ tsp Garlic Powder
½ tsp Chilli
½ tsp Ginger
½ tsp Cardamom
½ tsp Coriander
½ tsp Cinnamon
½ tsp Basil
½ tsp Parsley
½ tsp Nutmeg
½ tsp Black Pepper
½ tsp Cayenne Pepper
 Method
Mix the ingredients in a blender adding a little more water if required to get the right consistency.
Transfer the mixture to a saucepan and bring to the boil then simmer lightly for 10-15 minutes.
Remove from the heat, allow to cool then strain into a sterilised bottle (perhaps one left over from a previous purchase of Worcestershire Sauce, vinegar or similar) and store in the fridge.
Of course, if all that seems a little but too much hassle, just buying any of the vegan-friendly alternatives mentioned above would save you a lot of time, and probably a bit of cash too if you don't have all the ingredients in your cupboard already.
History of Lea & Perrins Worcestershire Sauce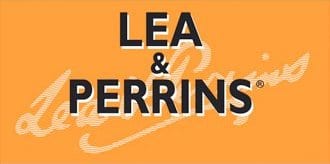 The story of Lea & Perrins Worcestershire Sauce is well documented, but we'll just give a brief synopsis in case you're interested. Unsurprisingly, given its name, the sauce comes from the cathedral city of Worcester in, you've guessed it, Worcestershire.
The sauce was created way back in 1837 by a pair of chemists from the area, John Wheeley Lea and William Henry Perrins, who realised that when the condiment they'd created had fermented, it actually tasted better. They promptly bottled it up, began selling it and it soon gained popularity and even a Royal Warrant (which was granted in 1904 and has been held ever since).
The history of fermented fish-based sauces goes way further back than 1837, however. One example is the fermented fish condiment that was known as garum and was popular in ancient Greece, Rome and Carthage. There are also plenty of examples of fish sauces in Eastern cooking throughout the ages. Sauces that contained anchovies specifically are thought to have been made in Europe for at least a couple of centuries before Lea & Perrins' sauce was created.
It Was the Best of Shires, It Was the Worcestershires…
The bottom line here is that while the original Lea & Perrins Worcestershire sauce is not suitable for vegans (on account of it including anchovies amongst their ingredients), there are plenty of vegan-friendly alternative available.
Whether you want a direct replica, such as Henderson's Relish or Biona Organics Worcester Sauce, or just something to add an umami flavour to a recipe, there are plenty of options that don't include any animal-derived ingredients. This is great news, because sometimes nothing quite cures a hangover like a good Bloody Mary!