Prep Time: 5 mins
Cooking Time: 35 mins
Serves: 4 adults
Difficulty: Easy
This warming, nutritious vegan-friendly recipe is simply souper (sorry!) easy, takes hardly any time to prepare and can be spiced up to match your personal requirements. A warming, earthy soup that is bursting with vitamins (mainly A, C and K) and low in fat, this is a healthy dish that doesn't compromise on flavour.
Ingredients
Carrots are the main ingredient in the soup and though any variety will suffice, it makes sense to get hold of some of the more flavoursome options out there. We opted for rainbow carrots, which add a nice sweetness, but any good quality, organic varieties will fit the bill (non-organic are obviously fine too).
We added some kale to boost the nutrition and you can spice it up as you like, picking whatever you have available and your favourite flavourings to get the perfect mix of tastes and chilli heat.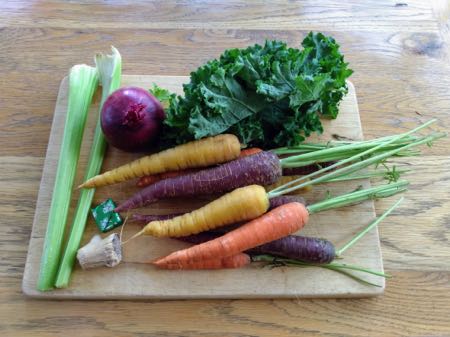 8-12 carrots, diced
1 red onion, diced
2-3 stalks of celery, sliced
80-100g kale, roughly sliced
2x2cm (approx) chunk of fresh ginger, finely sliced
800ml vegan-friendly vegetable stock
1 tbsp olive oil
1 tsp ground cinnamon
1 tsp ground turmeric
2-3 tsp chilli flakes (to serve)
Salt and pepper to taste
Ingredient Notes
The combination and quantities of spices is up to you, with cumin, smoked paprika and coriander all options that work if you prefer.
Method
Heat the oil in a saucepan and add the chopped onion and celery, and allow it to soften for around 10 minutes
Add the carrots, kale, ginger and other spices and a little salt and pepper and cook for a further five minutes
Add the stock, bring it to the boil then simmer until the carrots have softened (about 15-20 minutes)
Blend (we used a hand blender) until silky smooth (or you can leave some texture if you prefer)
Pour/ladle into dishes and sprinkle a few chilli flakes on top before serving with your favourite rustic vegan-friendly bread
This is a very simple soup that can be adapted as you see fit and other root vegetables, such as turnips and parsnips, can be added to the mix. You could add a little more kale (or other leafy greens) if you like, or replace the chilli flakes with a sprinkle of sesame seeds, nutritional yeast or sunflower seeds if you prefer.