Prep Time: 5 min
Cooking Time: 60 min
Serves: 6
Difficulty: Easy
This is our take on the Filipino dish, Mungo, a thick stew that is incredibly nutritious and easy to make. It somehow manages to be hearty and warming comfort food, and clean and light all at the same time, which we reckon is a great combination.
Ingredients
You can be really flexible with this dish and play with the ingredients and flavours. For us the only fixed items are the mung beans themselves, some form of leafy green goodness and the coconut milk.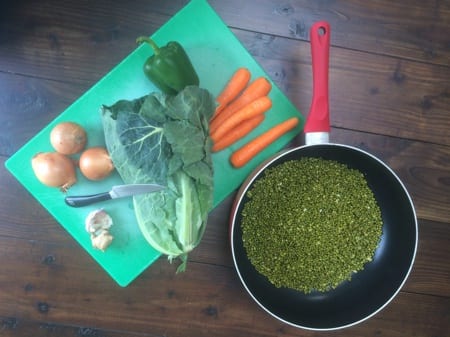 500g raw mung beans (soaked overnight)
1 x 400ml can of coconut milk
3 medium onions
5 medium carrots
1 green pepper
300g of greens (e.g. spinach, kale, spring greens or cabbage)
4 large cloves of garlic
Fresh ginger
1 teaspoon ground turmeric
Salt & black pepper
Zest and juice of one lime
Zest of half a lemon
500ml vegan stock
Ingredient Notes
Any greens would be great, from spinach and kale to spring greens; you can tweak the flavours to create more of an Indian feel if you like and it's also great whether you cook the beans right down almost to a mush or leave them with a little bite.
Method
Soak the beans overnight in cold water in the fridge. If you forget to do this, just rinse and cook a little longer. You can serve this with the beans broken down into a really thick soup or just cooked and still just holding their shape.
You can also gently sweat the onions, garlic and ginger in a little rapeseed or coconut oil first if you want. This gives a slightly deeper flavour but to reduce the overall fat we prefer to make our mungo as follows:
Place the pre-soaked mung beans in a large pan (ideally one that has a lid) with the coconut milk and most of the stock.
Cover and bring to the boil.
Meanwhile, dice the onions and finely chop the ginger and garlic. You can leave the skin on the ginger and garlic as it will break down in the cooking and adds extra nutrition.
Add to the mung beans, along with the turmeric and simmer for 15 minutes.
Dice the carrots and green pepper and add to the pan.
Simmer for around 35 minutes with the lid loosely on, stirring occasionally.
Add more stock if needed or remove the lid if the mixture remains a little wet.
Once the beans are cooked to your chosen texture and consistency, add the shredded greens and cook for approximately 5 minutes until wilted.
Add the lime juice and zest then season to taste with salt and pepper.
If you aren't watching your salt intake, remove the salt and add a good dash of soy sauce or Tamari if you like instead. To garnish, a few coriander leaves are great, whilst some sliced fresh chillies would add a little kick. This is a great meal in itself but you can also serve it with a vegan Quorn fillet or some steamed broccoli for even more nutritional goodness.