Prep Time: 5 min
Cooking Time: 5 hours*
Serves: 8-10
Difficulty: Easy
*Cooking (20-25 mins), Chilling (20 mins), Churning (25-40), Extra Freezing (3+ hours)
Flavoursome, creamy vegan-friendly vanilla ice cream with a hint of saffron, this uses coconut milk in place of dairy milk and can be used as a starting point for many different flavours.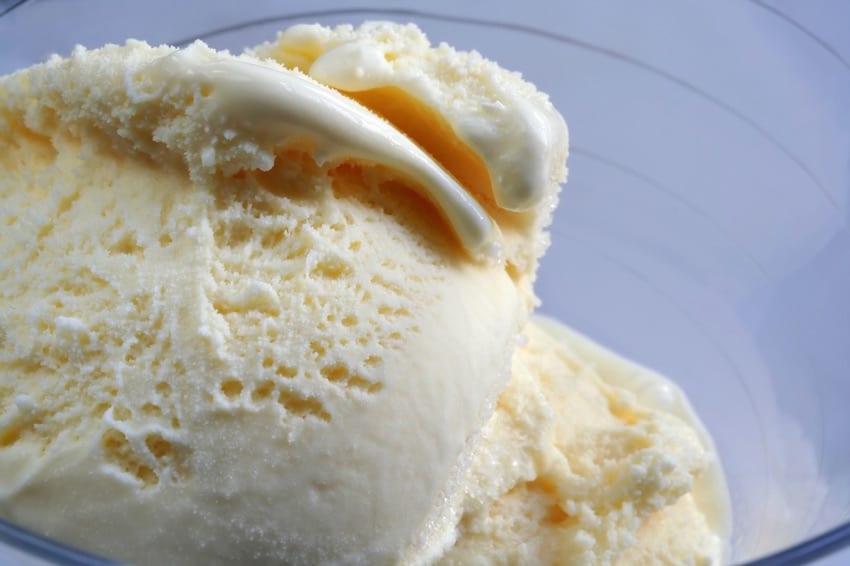 Ingredients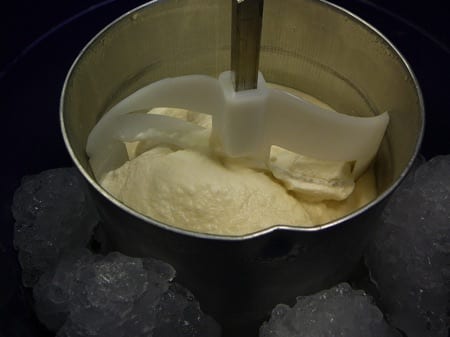 Ice cream is traditionally made with dairy milk or cream (as its name suggests), but there is no reason why you can't make non-dairy, vegan-friendly ice cream that is just as delicious, and usually a fair bit healthier too. Sometimes eggs or egg-derived products are also added to ice cream, but clearly we won't include anything egg-related here.
We go into detail about all the best shop-bought options in our dedicated Vegan Ice Cream article, but here we will give you some basic vegan ice cream recipes, techniques and flavour ideas.
For the best results, it really makes a difference if you have an ice cream maker. There are ways around this, but if you plan to make your own vegan ice cream regularly we would recommend investing in a proper ice cream maker (they range in price from around £30 to £150 or more, so it will depend on your requirements).
2x 400ml cans coconut milk
150g golden caster sugar
2 tablespoons cornflour
1 vanilla pod or 1 tablespoon vanilla extract
1 teaspoon sea salt flakes
½ teaspoon saffron
Ingredient Notes
When it comes to creating that recognisable creamy consistency that ice cream lovers crave, there is really little to beat canned coconut milk (avoid the reduced fat options) as your main dairy replacement in vegan ice cream. If you are allergic to coconut or just don't like it, you can use one of your favourite vegan milk alternatives, or something like oat cream can also work well.
For our basic – but extremely tasty – vegan vanilla ice cream, we use full-fat coconut milk, so there is a hint of coconut flavour that comes through. We think this adds to the taste, but you can always experiment with the quantity of vanilla extract to balance the flavours as you see fit.
Method
Add one and half cans of the coconut milk to a saucepan, putting the remaining half a can to one side
Add the golden caster sugar, sea salt and saffron and begin to warm on a low heat (set a timer for 10 minutes)
If using vanilla extract, add that now. If using a vanilla pod, cut it open and prise out the seeds and add them to the mixture; slice the empty pod into a few sections and add that too
Pour the remaining coconut milk into a bowl and add the cornflour; mix together until smooth then add that to the main mixture
Heat the mixture for a further 10 minutes or until the consistency is similar to custard (vegan custard, of course!), stirring all the while
Pick out the pieces of vanilla pod (if used) and pour the mixture into a bowl; cover and then, once it's cooled a little, put it in the fridge for around three hours
Once chilled, pour the mixture into your ice cream maker and get churning, we recommend around 30 minutes
Once churned, add the mixture to a sealable, freezer-safe container and put it in the freezer
No Ice Cream Maker?
Note that if you don't have an ice cream maker, you can simply add to your preferred freezer-safe plastic tub, put it in the freezer and give it a stir every 15 to 20 minutes until it becomes too frozen to stir.
This is obviously more labour intensive and is likely to produce an ice cream that is less creamy as it will probably contain ice crystals. None the less, it is probably worth trying this before investing in an ice-cream maker as these devices often feature on lists of the most unused cooking gadgets!
Top Flavour Options for Vegan Ice Cream
We describe a basic vegan vanilla ice cream recipe above, but when it comes to making your own ice cream, you really can allow your imagination to run wild. You could use some of the more interesting ice cream flavours (whether vegan or non-vegan) for inspiration and just adapt them accordingly, whether to make them vegan friendly or just to your taste.
Basically, use the above recipe but leave out the vanilla pod/extract and saffron, and add whatever else you fancy. Here are some fairly simple ideas to get you started, but the options are essentially endless.
| Flavour | Notes |
| --- | --- |
| Pistachio | Use 200g of shelled pistachios: finely grind 150g and finely chop the other 50g; add the ground pistachios and either 30g of ground almonds or a tablespoon of almond extract, which adds a nice depth to the flavour to the main mixture, and sprinkle the chopped pistachios onto the ice cream once it's been added to the freezer container. |
| Very Berry | Simply pick 150g of whatever type of berry or berries you fancy, freeze them, whiz them up and add them to the mixture just prior to churning |
| Chocolate | Use 150-200g of your favourite vegan chocolate and gently melt it before adding to the mixture; depending on the sugar content of your chosen chocolate it can be a good idea to reduce the amount of caster sugar you include in the recipe. |
| Watermelon | Cut your watermelon into chunks and freeze; due to the high water content of watermelons, it works better with coconut cream rather than coconut milk. Blitz the frozen water melon and mix into the cooled mixture prior to chilling and churning. |
| Peanut Butter & Cookie | Instead of the vanilla, add a generous dollop (around three or four tablespoons) of your favourite vegan-friendly peanut butter whilst the mixture is being heated. Crush up 10 of your favourite vegan cookies/biscuits and sprinkle them into the mixture prior to churning. |
| Cinnamon & Pecan | Instead of saffron, add one teaspoon of cinnamon, and throw in 100g or so of finely chopped pecans prior to churning. |
| Mint Choc Chip | Pick your three favourite mints – we go for peppermint, chocolate mint and spearmint – and blitz up around 50g of the leaves of each. Make sure this puree is smooth. Add the blitzed mint to the mixture as it warms. Then, once the mixture has cooled, add 50-100g of dark chocolate (vegan) chips, then chill, churn and enjoy. |
Note that there are various sorbets and ice-cream-like desserts that are vegan friendly, but they will be covered elsewhere on the site.
Prefer to Just Buy It?
If you don't have an ice cream maker or you just can't be bothered, we have also listed some of the tastiest vegan friendly ice creams on the market.