There are numerous occasions when you need to carry personal items around with you when you don't have pockets (or big enough pockets) and you want to keep your hands free for other things. Whether you need somewhere to store your phone, lipstick, cash or the latest novel you are reading, there is no doubt that a handbag comes in very, well, handy. Of course, vegans also have many uses of handbags, not least as somewhere to store the stash of animal rights leaflets that every vegan always has within easy reach (if you believe buffoons like Piers Morgan at any rate)!
Handbags (known as purses in the United States and some other places) can be made from any number of materials, but a good proportion of them are made from leather. As most people will undoubtedly realise, leather is not vegan because it is made from animal skin. Which is pretty disgusting when you really think about it. So, what is a good vegan to do? Get bigger pockets? Thankfully not.
Given that there are a growing number of vegan leather alternatives that are both attractive and hardwearing, not to mention much better for the environment than conventional leather, there are lots of vegan-friendly handbags available in numerous styles and to suit all budgets. In this article, we will explore some of the best options for vegan handbags available in the UK. We'll also go through the reasons some handbags are not vegan and, in case you don't know your muff from your clutch, we'll give a brief guide about the various types of handbags out there.
Best Vegan Handbags in the UK
To start things off, let's run through some of the top vegan-friendly handbag brands available at the moment.
Stella McCartney
Price Range – £235 to £1,425
Example Styles – Totes, Mini Totes, Shoulder Bags, Crossbody Bags, Hobo Bags and more

Since launching her own fashion house in 2001, Stella McCartney has become one of the most respected designers in the world. Her clothes, bags and shoes are innovative and beautiful and crucially, from a vegan perspective, "she has never used leather, feathers, skin or fur in any of her designs since day one" (as it says on her website. This means that the designer handbags she produces are made from either synthetic materials, such as polyurethane or recycled polyester (from waste collected from the oceans), or semi-natural materials, such as viscose.
In terms of the variety and style of the bags in Stella's collection, you really are spoiled for choice. From totes and mini totes to hobo bags and crossbody bags, the common denominator is that they are exceptionally well made (usually in Italy) and they ooze style. Some are emblazoned with Stella McCartney's name, others have a more subtle tag. Clearly these designer bags will not be the cheapest around, but if you are seeking a handbag from a world-class fashion designer, Stella's 100% vegan-friendly bags will certainly fit the bill.
Wilby
Price Range – £25 to £120
Example Styles – Clutch Bags, Tote Bags, Crossbody Bags, Satchels
A vegan fashion brand that is certified by PETA, Wilby have a good range of vegan handbags, many of which are made in the UK (and hence cut down on air miles and carbon footprint compared to some producers). They are also excellent value, with their Simple Vegan Clutch bags starting at just £25. Their cork leather satchels are also something of a bargain at just £50 a pop. They don't have as many styles and aren't as upmarket as some of the brands featured here, but if you are seeking a nice enough vegan bag at a reasonable price, you could do worse than opt for Wilby.
Poppy Lissiman
Price Range – £110 to £190
Example Styles – Crossbody Bags, Flap Bags, Tote Bags,

Australian fashion designer, Poppy Lissiman, produces a fine range of eye-catching handbags that will suit people who want to stand out from the crowd. Made with vegan leather alternatives, or other vegan-friendly materials, her designs certainly cause a stir. From the bright and innovative nylon Puff Bags to the faux leather zebra print Poison Pouchette Bag made from recycled plastic bottles, there is sure to be something that appeals to the imagination. We particularly like the Yin Yang Crikey Bags and the Mandarin Waistbags (or bum bags, if you prefer!).
Amazon
Price Range – £20 to £200
Example Styles – Hobo Bags, Crossbody Bags, Totes, Clutch Bags and more
Although Amazon might not be your first port of call when seeking a new handbag, they feature a large and growing number of vegan-friendly options. These are both from vegan-only brands (such as Dasein) and brands that also make non-vegan products but who are clearly attempting to cash in on the vegan dollar.
Whether or not you would prefer to stick to the purer all-vegan handbag producers is up to you, of course, but it's worth having a quick look on Amazon to see what they've got. One of the problems with Amazon is that even when searching for vegan handbags, quite a few leather handbags sneak into the results, which can be a little frustrating at times. But most real vegan brands will indicate their credentials very clearly in the product description.
Matt & Nat
Price Range – £21 to £285
Example Styles – A wide range of styles including Tote Bags, Satchels, Crossbody Bags, Backpacks, Briefcases and more
Originating in Montreal, Canada back in 1996, Matt & Nat (which they got from MATerial and NATure… and added a T, just for fun) have always done without leather or other animal products. And, since 2007, they have used only recycled materials for their linings. The bags they produce are perhaps a little less flashy than some brands, but they are certainly well-made (often from recycled bottles, of which it takes an average of 21 used bottles to make each bag they produce). We also love the Appleskin bags that are made from the natural waste from the apple juice industry.
What Stops Handbags Being Vegan?
The most obvious reason a handbag might not be vegan is that the materials it is made from have come from animals. And, one of the most obvious and common animal-derived materials used to make handbags and purses is leather. Given that leather is made from the skin of animals (and many different types of animals according to PETA) that are killed and rarely well looked after, anything made from it is clearly non-vegan. Other materials that derive from animals that would render a handbag non-vegan include the following:
Fur – Some bags (such as muffs, see below) incorporate some amount of animal fur and even those professing to be made from faux fur are sometimes actually made from the coats of real animals.
Suede – As we outline in our article entitled Is Suede Vegan?, it isn't. Suede is just a type of leather and is also made from the skins of animals.
Wool – Though some might argue that wool should be fine for vegans because sheep (or other animals) aren't killed for it, there are numerous documented accounts of harm coming to sheep and other animals to get their wool, as we discuss in our Is Wool Vegan? article. In addition, the animals are clearly exploited.
Silk – Silk is another material that derives from animals, and though the animals in question might only be worms, they are still animals and they are harmed and exploited by the process of harvesting their silk, hence silk is not vegan.
Animal Testing & Handbags
There is also the possibility that certain materials or substances (such as glue) used in the manufacture of handbags might have been tested on animals. This is often quite a difficult thing to get to the bottom unless you contact the manufacturer in question. We have more information about animal testing in our article on the difference between vegan and cruelty free products.
Of course many, if not most vegans, would avoid any products they know to have been tested on animals. Generally speaking, if a brand is selling or making only vegan-friendly products, you would expect them to ensure they only use products that haven't been tested on animals, but you can always check with them to make sure.
What Are Vegan Handbags Made From?
We go into some detail about vegan alternatives to leather and suede elsewhere on the site, including in the article on the best vegan shoes, so we'll not rehash that here. But here's a brief rundown of the most common vegan-friendly materials used to make handbags that vegans can carry with pride.
Cork Leather
Microfibre
Cotton
Hemp
Linen
Flax
Bamboo
Canvas
Polyurethane
Polyvinyl Chloride (PVC)
Recycled Bottles/Plastics
Note that, in general terms, the materials used for vegan-friendly handbags (and indeed many other things, such as vegan shoes or vegan clothes, fall into one of two categories: natural or synthetic. Natural would cover the materials such as hemp, flax, cotton and cork that come directly from plants, whereas synthetic would be fibres that are made from plastic and ultimately from oil.
Natural & Synthetic Fibres
There are some materials (often in the form of microfibres) that use a blend of natural and synthetic fibres too. For many vegans, particularly those who have environmental reasons to be vegan, opting for natural, plant-based materials instead of plastic-based ones tends to appeal.
Recycled Plastics
It's worth noting that there are a growing number of products being made from recycled plastics that at least keep some plastic bottles and other (otherwise potentially single-use) plastics out of landfill and the sea. Also, it is true to say that some plants are better than others in terms of their environmental footprint, for instance in how much water is required to grow them.
But most will be significantly better from an environmental point of view than almost all plastics, and certainly better than something like leather, which has a horrendous environmental footprint not least from the carbon footprint of the animals from which the leather comes, but also the water usage and chemical pollution caused by the tanning process.
Pineapples, Cacti & Fungus
There are new and innovative materials popping up all the time too, with vegan-friendly leather alternatives being made from pineapples, cacti and even fungus! As technology becomes more and more advanced and the consumer demand for greener and more ethical solutions gains pace, we are likely to see ever more environmentally sound options when it comes to handbags and all manner of other products in the coming months and years.
What Type of Handbag Should You Choose?
Well, obviously a vegan one! But once you've established the vegan credentials of the retailer or producer from whom you wish to purchase a bag, there are still many styles from which to choose. To help you out, here we'll run through the most popular types of handbags and purses, which differ markedly in appearance and indeed purpose.
Clutch Bag
Clutch bags, as the name suggests, are made to be held in the hand rather than slung over the shoulder. They sometimes have no straps at all though sometimes have either short straps (to hang on a wrist) or a longer strap that can be concealed within the bag but can be used if you need your hands free.
Often favoured for nights out when just a few crucial items are required, clutch bags can be made of just about any material and vary greatly in style, the one common denominator being their relatively small size.
Tote Bag
A tote bag is named after the verb to tote meaning to carry, which is apt as this two-handled, open-topped bag is often used as a shopping bag. Its straps are longer than the handles on a conventional plastic shopping bag and can thus be put over the shoulder and these bags are often made from canvas, jute and nylon. These also tend to be more casual and practical than many of the bags that fall under the handbag umbrella.
Satchel
Although for some the sight of a satchel will bring back memories of their schooldays, for good or ill, to many others, satchels have become something of a fashion accessory. Traditionally used for carrying books with a single strap that is worn diagonally across the body, satchels have become a more user-friendly alternative to the traditional briefcase for both men and women. Though often made from leather, there are many vegan materials that can be used instead.
Muff
A muff bag incorporates both pockets for whatever items you want to store and an opening or section into which hands can be slipped to keep them warm. The big problem for vegans about muffs is that, traditionally, they are made from animal fur, which is obviously completely against vegan ethics. There are synthetic faux fur options available that would generally be vegan friendly, but given that some fake fur is not fake at all, some vegans might well want to steer clear of this kind of bag, or at the very least only purchase them from certified vegan brands.
Messenger Bag
Originating from bags favoured by couriers who could wear them while cycling, messenger bags are similar to satchels but tend to be less chunky and clunky. They also tend to be weatherproof, which would clearly be handy for a courier delivering important documents. Though commonly found in leather, vegan options could be made from waxed canvas or one of the many vegan leather alternatives.
Hobo Bag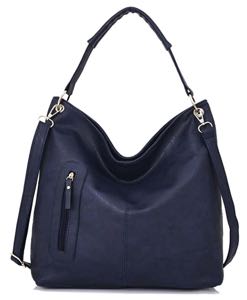 A generally crescent-shaped bag with a long strap that is designed to go over a shoulder, hobo bags usually have a zip. They are often made of relatively soft materials to allow the bag to slouch somewhat when placed on a surface.
Crossbody Bag
Though crossbody bags can come in many sizes, colours and styles, the common aspect here is that there is a single strap that loops over one shoulder and crosses the body with the bag resting around waist height. This kind of bag is what many people think of when they imagine a standard handbag. As well as the main long strap, sometimes such bags will have additional shorter handles for when holding it in a hand.
Bum Bag
Also known as a waist bag or – in the US – a fanny pack, the bum bag would generally be worn by middle-aged tourists who wanted to keep their valuables safe from pickpockets, but instead simply advertised where they kept said valuables. But post-modernism makes the strangest thing cool again and the humble bum bag has had something of a resurgence in certain sections of society. And there's no doubting the fact that they can be quite useful when on holiday.
Holdall
A holdall is veering towards being a travel bag rather than a handbag, but for those who like to cover many eventualities, holdalls can serve as a large handbag for everyday excursions or for work. They tend to have both a long strap and short handles and will have a greater capacity than the average crossbody bag.
Man Bag
Essentially any kind of handbag in the possession of a man (a man who deems it necessary to carry anything other than their wallet, keys and phone, that is… perhaps a man who doesn't like or know how to use pockets).
We haven't given a comprehensive list of handbag types above, but we've given some of the main ones to paint a picture of the variety on offer. Note that almost any of the above can range from relatively casual to complete luxury, with price tags to match. Most importantly, vegan versions of just about every bag you could think of are available, so there really is no need to buy any sort of bag that goes against your vegan beliefs.